I am realizing that as the kids are getting older, it is harder to do our own DIY Summer Camp! Now that we are trying swim team and school sports are already starting up, they have very busy schedules. All of this makes me happy. We are still excited to fit in a few weeks of creative fun though and kicked this off with some Fun Summer Art Week Activities.
We didn't make a dent in our Art Week bucket list but we still did some super fun things! Outdoor art activities are always fun especially during the summer. Plus I've included some of our all time favorite art activities that are sure to be a hit with your kiddos.
This post does include affiliate links. That means I could earn a tiny portion of any sale that is made through clicking on any of these products with no additional cost to you. All support is greatly appreciated!
Art Themed Books for Kids
Like most of our DIY Summer Camp weeks, we had a few themed books to inspire us. I always try to check the library first. Sometimes we also have books that go along with the theme in our home collection.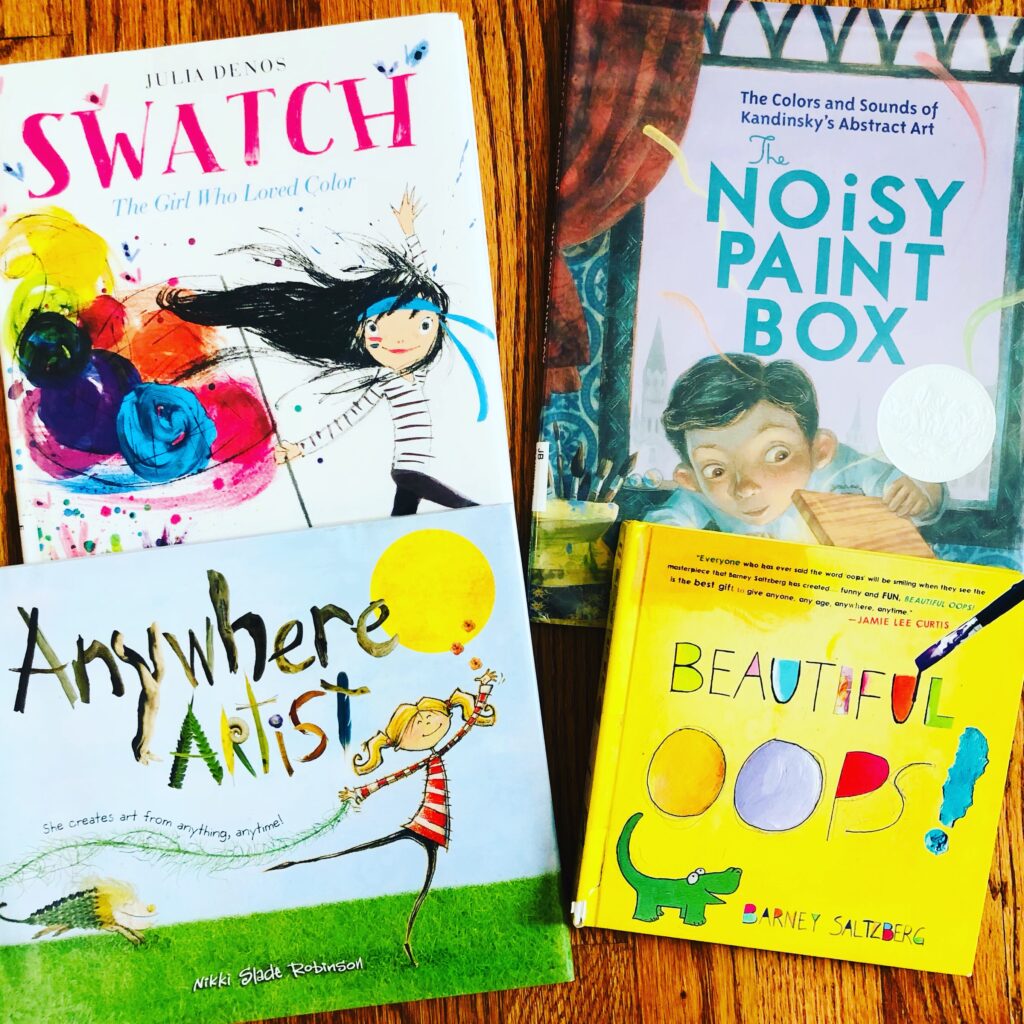 For Art Week we read four different books that I was able to find at our local library. I also found this amazing list of art-themed books for even more ideas.
Scribble Art
If you need a simple art activity for a rainy day, definitely try scribble art! It is super easy and not messy at all. Plus this art project uses basic supplies that you probably already have.
I found this tutorial, where they used crayons for the art project. We gave it a try with glitter markers and that was a big hit. The only other supplies needed were a black marker and white paper.
Sidewalk Chalk Art
Nothing screams fun summer activity like a box of sidewalk chalk! For their end of year summer fun baskets this year, I had included a brand new box. So we were ready for this. We did our own stained glass design for this Sidewalk Chalk Art Project.
Stained Glass Sidewalk Chalk Art became very popular during the pandemic! It was a fun way to add something beautiful outside for everyone to see at a distance. Plus all you need is a roll of masking tape and sidewalk chalk to do this activity.
Tie Dye Fun for Art Week!
Who doesn't love doing tie dye projects in the summer?! We are thinking it might be fun to do an entire week with a Tie Dye Theme. For this week we used a cute kit that we received as a birthday gift. It was a fun kit to create a tie dye tote and headband.
This kit turned out so cute and we even had enough supplies to tie dye a pair of socks. These will be perfect for Crazy Sock Day at school next year. For more ideas check out this post with ten more projects.
This process art activity is so much fun especially with a group of kids! All you need is bubble solution and gel food coloring. We used a muffin tin from Dollar Tree to set this up with a roll of white craft paper. (We have an entire post full of ideas using Dollar Tree supplies for Summer Camp.)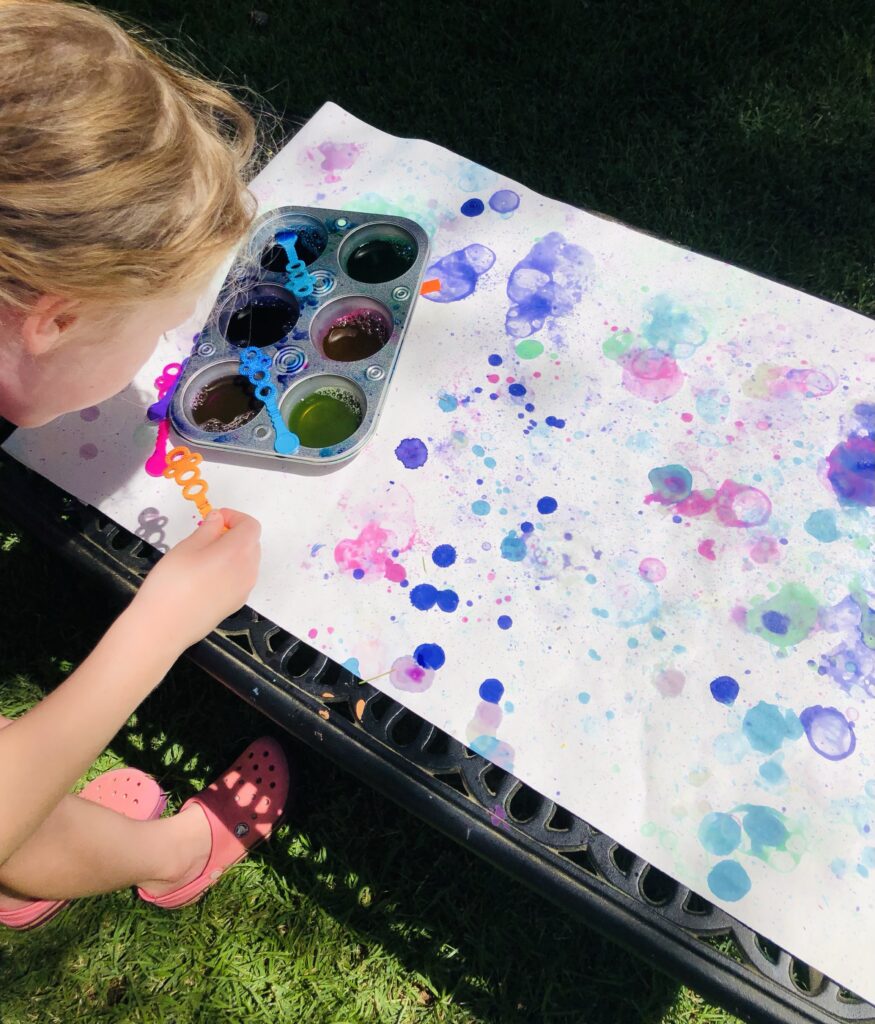 Bubble Painting is one of the best outdoor art activities! It is super fun for kids of all ages. I've never met a kid that didn't enjoy bubbles.
More Fun Summer Art Activities!
Those were just the summer art activities we were able to get to during Art Week. The beauty of DIY Summer Camp is you can do as much or as little as you want. Here are even more ideas for an awesome Summer Art Camp Week.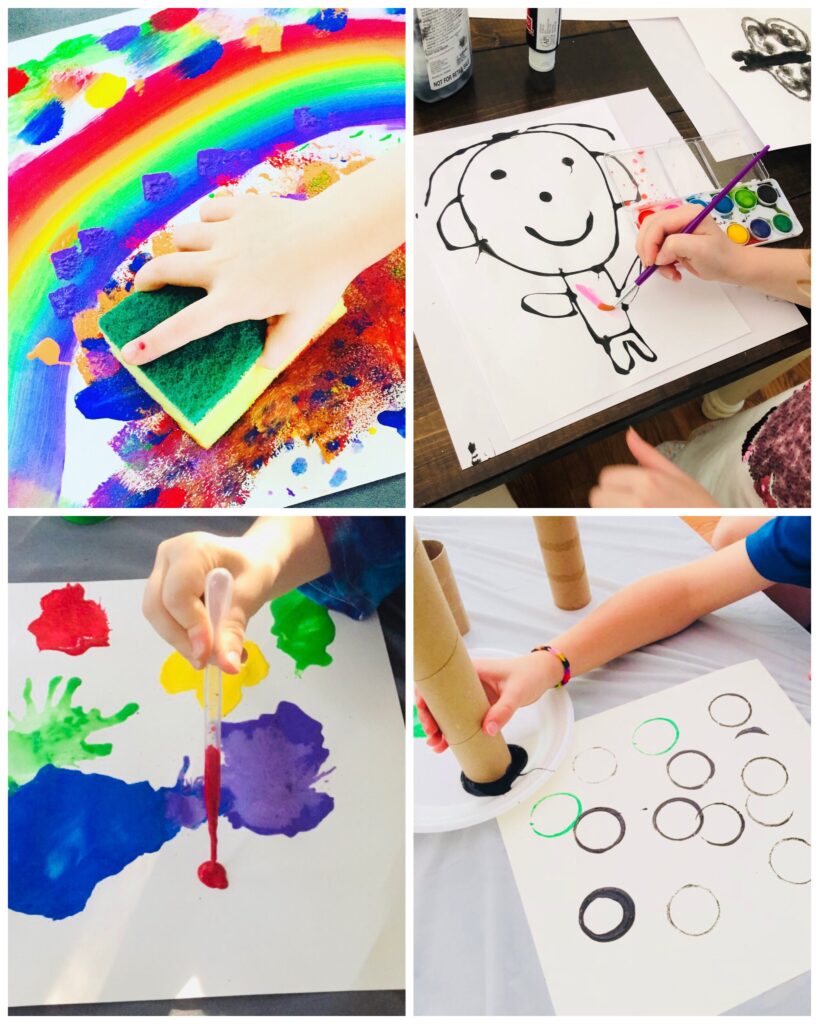 These are all fun ideas that kids will love! If you try some of them this summer, please let us know. We're hoping to get in a few more weeks of themed fun. Next up will be Donut Week!