Kids will be out of school for summer break in less than two weeks! I need to get organized for any activities we may want to do at home this year. We have done a DIY Summer Camp for the past few years that is really fun and an inexpensive way to keep the kids busy during the break. Here are some of our most used Dollar Tree Summer Camp Supplies that you won't find in the craft section.
Don't get me wrong! I'll also be stocking up on craft supplies at Dollar Tree especially now that they have expanded the craft section in all their stores. These are just a few items you might not think about and some fun activities to go along with them!
This post does include affiliate links. That means I could earn a tiny portion of any sale that is made through clicking on any of these products with no additional cost to you. All support is greatly appreciated!
There are so many fun ways to use this cheap muffin tin! Pictured below is a fun bubble painting activity. It is such an easy activity to set up. Kids of all ages will enjoy this one. Just add bubble solution and food coloring to the cups of the muffin tin. Then let the kids blow the bubbles onto white craft paper to make cool artwork.
This muffin tin gets a lot of use at our house. We have used it for creating a DIY Sidewalk Paint and also for making potions. For the potions, just fill the tin with baking soda and add vinegar. This was a fun activity for 4th of July since we added glitter and red and blue food dye.
The clear condiment bottles from Dollar Tree are perfect for making sidewalk puffy paint. Each package comes with two bottles so these are very inexpensive. Once you have the bottles, most of the ingredients for this are household items you probably already have.
If you have little ones at home, they would also just enjoy squirting water onto the sidewalk or filling empty buckets with these bottles. This would be a great way to develop fine motor skills similar to this activity using empty glue bottles!
A round cake pan can come in very handy to contain craft projects! It also makes a great base for holding a playdough volcano. We did this activity during science week and it was literally a blast!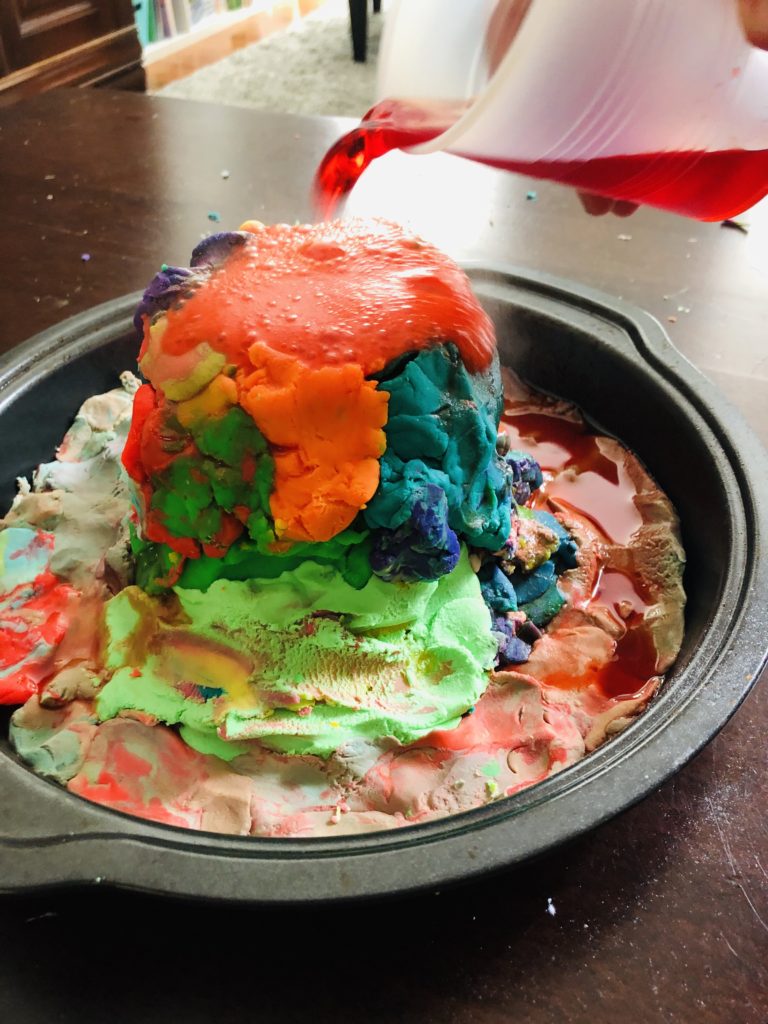 Cake pans are also great for holding beads while making bracelets. We also plan to use these pans to make DIY Stepping Stones during Garden Week this year.
You can find so many cool things for kids to use in the cooking section of Dollar Tree. I picked up funnels and measuring cups for a fun potion making activity. This one is a lot of fun to do with friends. If you do plan on a potion making party, be sure to pick up plenty of baking soda and vinegar!
We have also used these items in other activities. The funnels and measuring cups are great for making sidewalk paint, patriotic potions, and puffy paint. You can also just set up a bin of supplies for them to do imaginative outside play. These items would be perfect for that.
You definitely want to pick up a pack of ice cube trays for fun summer activities. Ice Cube Painting is the perfect process art activity for summer. Just mix washable paint with water in an ice cube tray. We added penguin toys to create a fun handle for the ice cube paints during Penguin Week last summer. You could use any plastic toy or even popsicle sticks to create this.
Using ice cubes as part of the activities is a great way to cool off in the summer! I found this list of twelve more ideas to use ice cubes to keep your kids busy this summer.
One of my favorite Dollar Tree Summer Camp Supplies is this dish pan! It is perfect for creating giant ice block activities. We have done this twice and the kids love it. I used blue food coloring the first time and froze toy sharks for them to get out of the ice. Last summer we used penguins in an ice block rescue activity.
In the picture above, we are using the dish pan to make Ocean Oobleck. Oobleck is simple make. You only need two ingredients that are probably in your house right now. The ingredients are corn starch and water. This container is perfect for letting the kids create and play with oobleck.
This chip and dip tray from Dollar Tree gets so much use during our crafting activities. Making fluffy cloud dough is a great rainy day activity. It is fun to add it to a tray like this with toys for even more activity. We used plastic bug and reptile toys from Dollar Tree for the tray below during Nature Week.
This tray might be the best dollar I have ever spent! We have used it for so many crafts and activities. It is great to set up for play dates, holiday crafts, and even more cloud dough play.
As you can see, there are so many great items at Dollar Tree to help you have a fun and inexpensive summer at home! Our summer is definitely looking busier than it did last year. We will still be doing a few weeks of DIY Summer Camp though. This year's themes include Art Week, Garden Week, Donut Week, and Water Week!