It is Shark Week for our DIY Summer Camp! We tried making oobleck for the first time and it is so cool. Add a little food coloring to turn it into Ocean Oobleck and it is perfect for playing with toy sharks.
Discovery Channel is also having their shark week and I honestly didn't even realize I had scheduled it at the same time. We don't have cable so we aren't able to watch it. Now I realized that we can find some of the older Shark Week episodes on Amazon Video so we are able to watch with our Prime Membership.
Back to the Ocean Oobleck though! Gavin had wanted to make oobleck during Science Week but somehow we never got around to it. He has seen it at school but I had never made it before.
This post does include affiliate links. That means I could earn a tiny portion of any sale that is made through clicking on any of these products with no additional cost to you. All support is greatly appreciated!
Only Two Ingredients!
Oobleck is actually super easy to make. You only need two ingredients that are probably in your house right now. The ingredients are corn starch and water.
Once I realized how simple the recipe would be, I decided we should definitely try it out! We had gotten a variety of shark toys just for this particular week of summer camp. It ended up being the perfect afternoon activity.
We started by gathering supplies for this Ocean Oobleck activity. If you don't have a dish pan, any bowl or plastic container would work. We found most of these supplies at Dollar Tree.
Measuring Bowl or Cup
Water
Blue Food Coloring
Plastic Rake and Shovel (optional)
Easy for kids to make themselves!
This is a great outdoor activity since it might get a little messy. I let the kids measure and pour the ingredients. It was nice to just let them do it on their own without worrying if they spilt something on the floor.
The recipe for oobleck is 2 cups corn starch and 1 cup water. You just mix those two ingredients together. So easy! We used a plastic rake and shovel I had picked up at Dollar Tree.
Once the mixture started coming together, we added a few drops of blue food coloring. If you want a brighter blue oobleck, you will need to add more food coloring. Our Ocean Oobleck turned out to be a light pastel blue color.
Add Shark Toys for more fun!
When the oobleck was ready, we added the shark toys! The kids had fun trying to push the sharks around in the oobleck. Then they just started dripping oobleck all over the sharks.
I had not touched the oobleck at this point. Once I put my hands into the pan, I couldn't believe how cool this stuff is. You can actually read all about the science of oobleck on Scientific American. Apparently it got it's name from a Dr. Suess book. Who knew?!
The cool thing about Ooblek is that the consistency changes as it moves. I picked it up and it was a solid. You can actually form a hard ball. As you pick it up though, then it starts oozing through your fingers. I couldn't stop touching it at this point.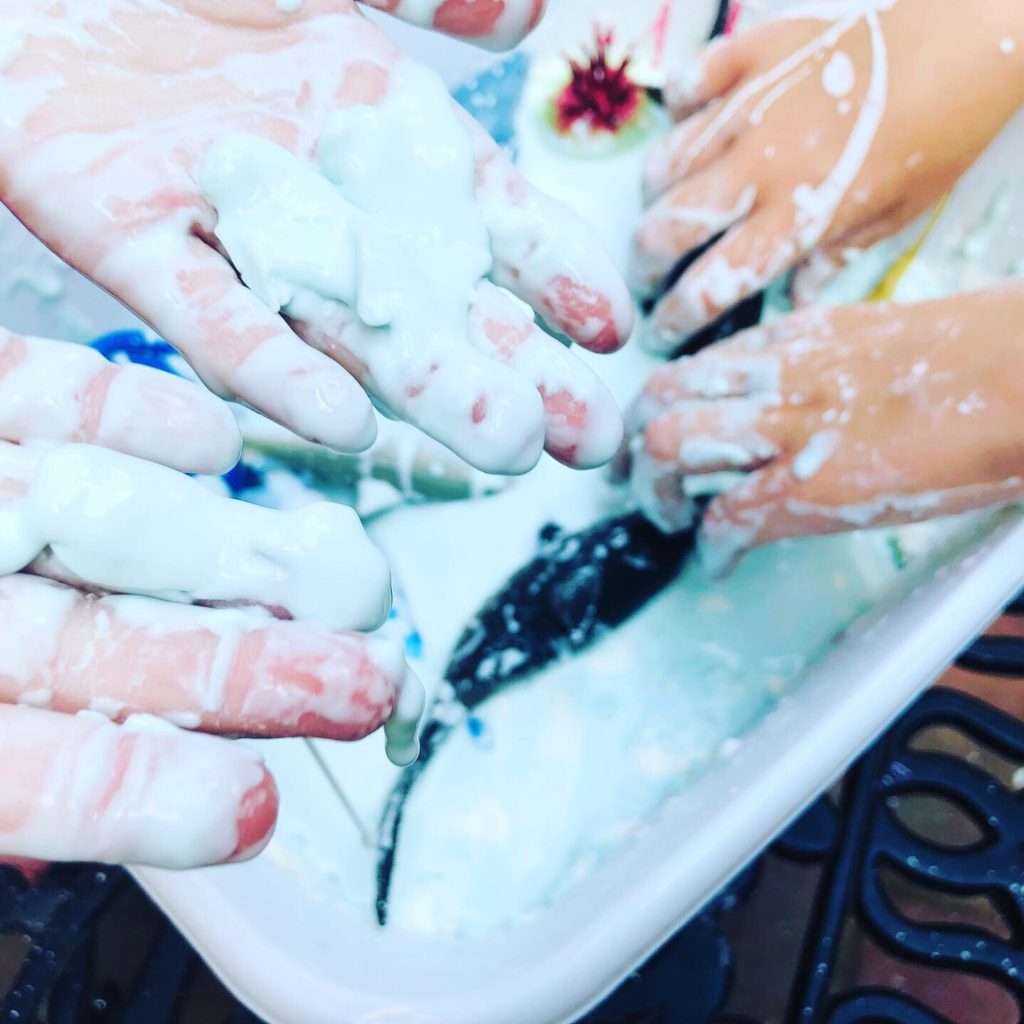 This is definitely messy play! It is so great for sensory development. If you don't mind messy play indoors, I can also see this as a great rainy day activity.
More play ideas: