Shark Week has been in full swing! In case you missed it, we made Ocean Oobleck earlier in the week. Yesterday the kids had so much fun with this Shark Week Ice Block Excavation Activity I set up for them. It is perfect for summer and super easy to create.
I'm sure you've seen similar ideas around Pinterest. The concept is simple and can work with almost any theme. The idea is to freeze a bunch of plastic toys inside a block of ice. Then the kids can get busy trying to hunt (or rescue) these items using various items.
This post does include affiliate links. That means I could earn a tiny portion of any sale that is made through clicking on any of these products with no additional cost to you. All support is greatly appreciated!
Great Activity for Shark Toys
Since our theme is sharks this week, we used a variety of plastic sharks for this activity. I purchased the Shark Tub pictured above from Amazon. Then I also found plastic sharks at Dollar Tree. They only had one variety in stock at our store so I only bought a couple of those to add to our collection.
Creating the Giant Ice Block
To make the ice block, I started a couple of days before the project was planned. Since the toys want to float to the top, it is better to create this giant ice cube in phases. I used the following supplies for this process.
Dish Pan (from Dollar Tree)
Water
Blue Food Coloring
Glitter (Optional)
Before you start, be sure to find a large spot in the freezer! Then add a couple of inches of water to the dish pan with a few sharks. I let that layer freezer overnight before I added another layer of water and sharks. I did sprinkle a little glitter in at this point.
The food coloring is not necessary but I love the ocean look and feel it gave this activity. After the two layers of water and sharks are frozen, you will need to top off the dish pan with water. There were a couple of sharks still trying to surface after the second layer.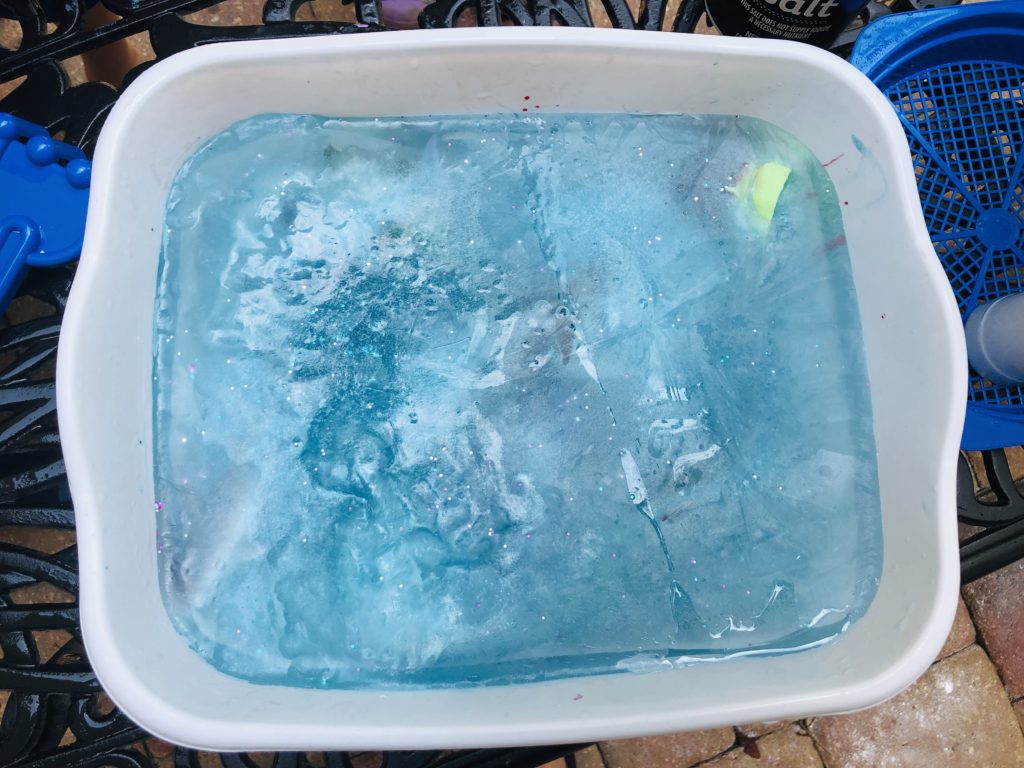 Ready for the Shark Week Ice Block Activity
Now you are ready for the Giant Ice Block Shark Hunt! The kids were really excited when I brought this out. We did this activity outside on an iron table. You could also place it on a patio or inside a plastic tub.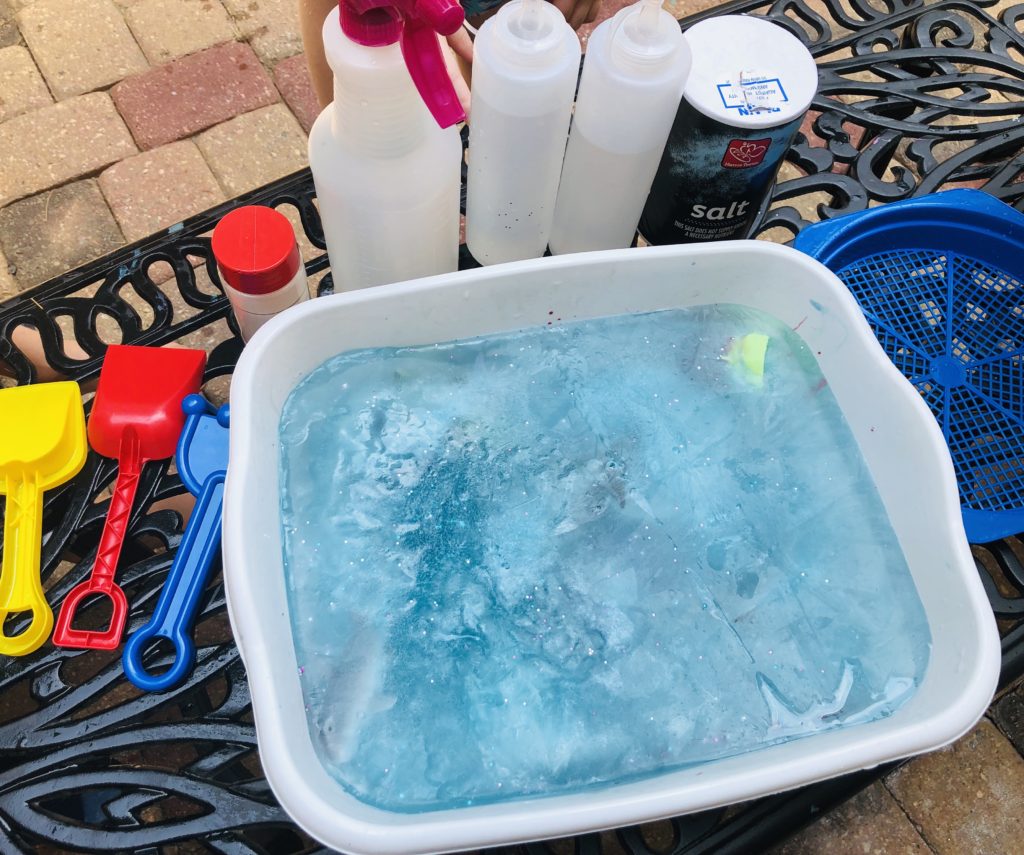 To easily get the block of ice out of the dish pan let it set outside for several minutes or add a little warm water along the sides of the dish pan. I set out squirt bottles and a sprayer with warm water. I also added some plastic tools and salt to experiment with.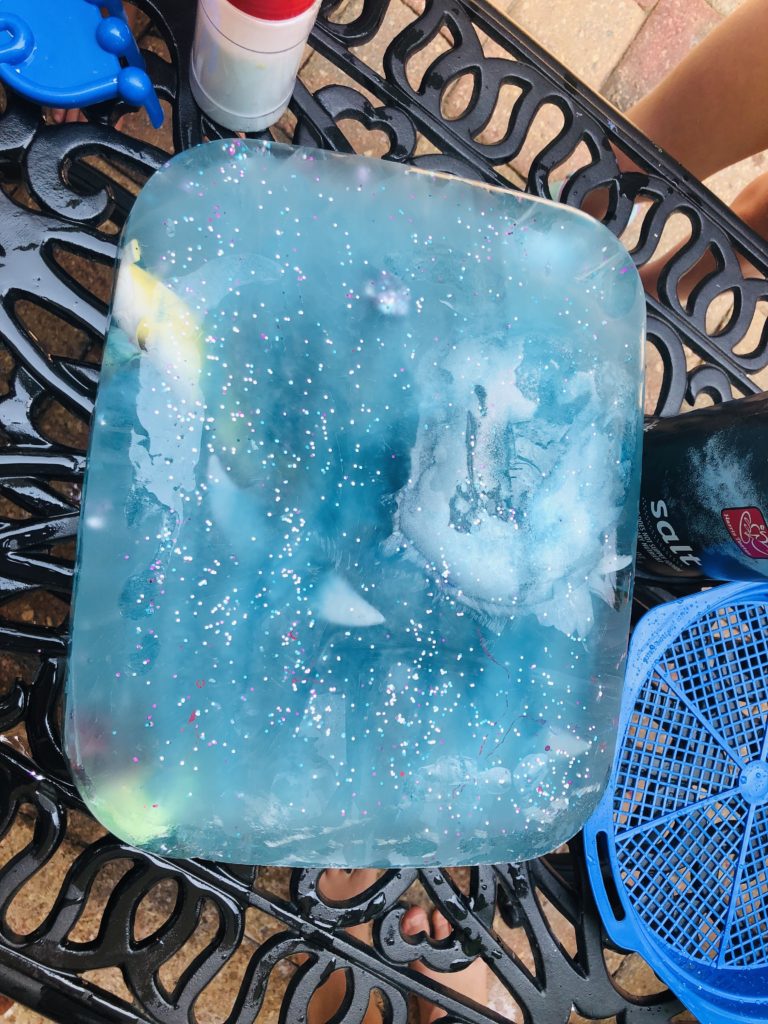 Once the block of ice was ready to come out of the pan, the kids quickly went to work. They made a game of seeing who could find the first shark. It actually took them a little while to break through the ice.
Fun Summer Activity with Ice
I did have to refill the squeeze bottles quite a few times. We were using warm water to help the process otherwise I would have let them refill the squirters themselves outside. Next time I may have a large bucket of water standing by as a refill station.
We had a total of eight sharks. There were three kids involved in the activity so it would have been nice to have a few more sharks. I would like to find some mini shark toys to add to the mix.
They had a blast pouring salt and squirting water until the sharks broke away from the ice! This activity is great for kids of all ages. It was a game to see who could find the most sharks. Then it also ended up being a game of teamwork when there were only a couple of sharks remaining.
They played this Ice Block Shark Hunt game for quite a while. When the last shark was found, they wanted to do it again. So it sounds like I may need to get busy freezing something else this weekend!
This would have been a great activity for Dinosaur Week too! I've also seen this done with a variety of random toys and they called it a treasure hunt. Whatever your theme is I think this makes an awesome summer activity!