We kicked off our DIY Summer Camp this week! Penguin Week was one of the themes both kids could agree on. There are so many cute activities to do with penguins so we are having a lot of fun. This Penguin Ice Cube Painting Activity is the perfect process art project for summer!
This post does include affiliate links. That means I could earn a tiny portion of any sale that is made through clicking on any of these products with no additional cost to you. All support is greatly appreciated!
Make Your Own Ice Cube Paint
It is super easy to make your own ice cube paint sticks! To make the paint, just mix washable paint with water in an ice cube tray.
We added the paint first. I filled 1/3 of the cube with paint. Then I added water. Don't fill it too much because then you need to stir them together.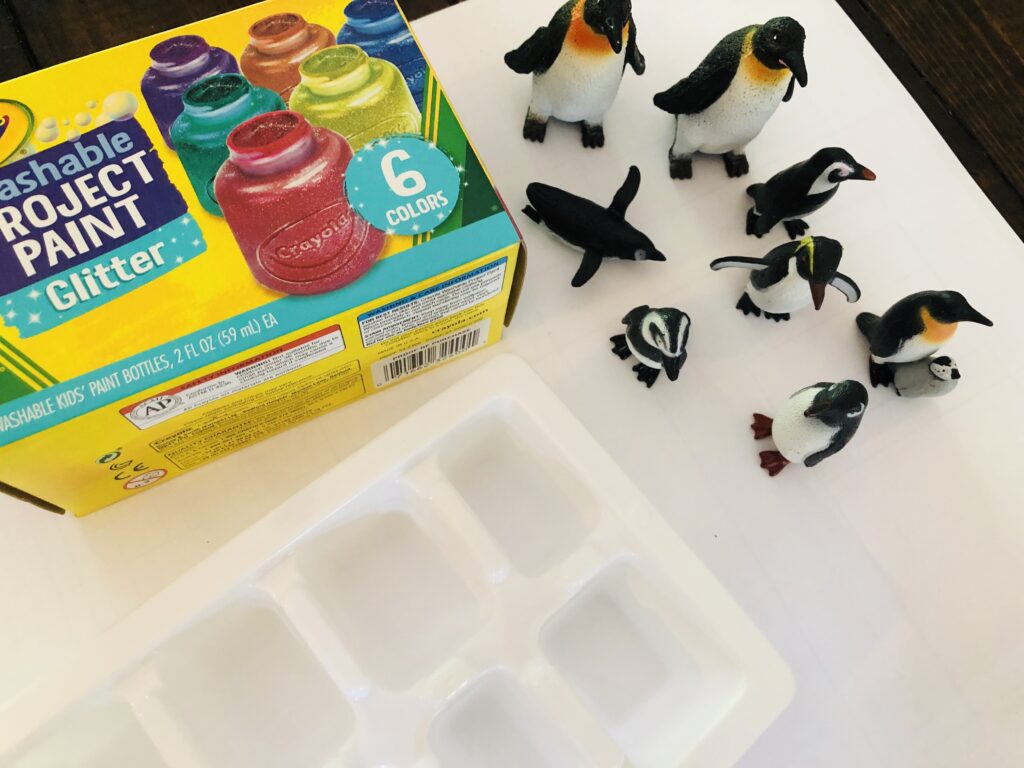 Once the paint and water are mixed together, then add one penguin into each cube. Place the tray in the freezer overnight. The paint will freeze around the penguin. The penguins will make a fun handle for the ice paint sticks.
Penguin Ice Cube Painting
Once the paint is frozen, the fun can begin! I did let the tray set out for a few minutes so it would be easier to remove the paint cubes. The penguin paint cubes popped right out!
I originally brought out just a few sheets of 12 X 12 cardstock to paint on. We ended up going through way more than that! The kids loved using these ice cube paints.
The washable paint I used did have glitter. It made the most beautiful process art! The penguins made it even more fun to create and paint.
We did our painting outside on the porch since it can get messy. I used an extra piece of cardstock to keep the penguin ice cubes together. That made clean up really easy.
I was a little worried that the paint might stain the penguin toys. My daughter gave them a "bath" right after we were done with the activity and the paint came right off.
The penguin toys have been the main attraction this week! I am currently working on freezing them in a giant ice block. Then they can rescue them from the ice tomorrow with tools and water sprayers. We did a similar activity last year during Shark Week!