Butterfly Week might have been my favorite DIY Summer Camp Theme from last year! For each week, we like to try at least one fun recipe to go along with the theme. These Butterfly Cookies were a hit and the perfect snack craft for kids.
I like to choose simple activities especially during summer break. These Butterfly Cookies are super easy when you use refrigerated cookie dough.
This post does include affiliate links. That means I could earn a tiny portion of any sale that is made through clicking on any of these products with no additional cost to you. All support is greatly appreciated!
Simple Butterfly Snack Craft
I baked sugar cookies in advance so they would have time to cool. You could also use your favorite homemade sugar cookie recipe for this activity.
Once the cookies were ready, I set up a cutting board with a variety of fruits. Then I placed a dollop of frosting on the cookie so the kids could spread it themselves.
This might actually work with whipped cream cheese as well. That would cut down a little on the sugar content if you are concerned about that.
When the icing is spread on the cookie, the kids can create their fruit butterflies on top! This is definitely the fun part!
We used mandarin oranges (from a can), strawberries, dried cranberries and blueberries. For the little antennae, I picked out a few sprinkles from a jar of rainbow sprinkles we had in the pantry.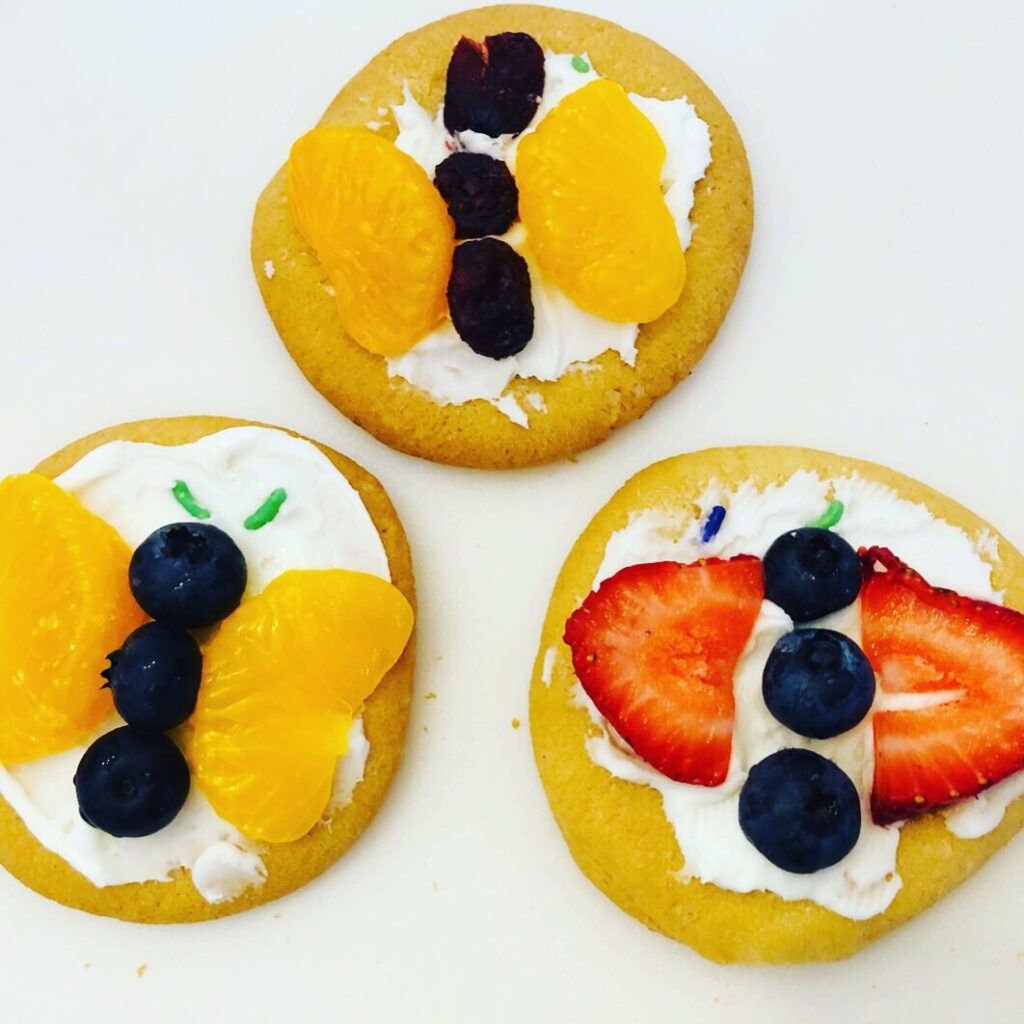 Obviously the best part of this activity is eating the cookies! These were delicious. My favorites were the ones with mandarin oranges. The sugar cookie and orange combo was amazing.
I also want to try this snacktivity with crackers and cream cheese. I know the kids really enjoy the sweet treats but it would still be a fun afternoon snack.
Butterfly Week Activities
This cookie snack craft would be fun at a party. It is also perfect for a butterfly themed week of preschool or DIY Summer Camp! Be sure to check out all of our fun activities from Butterfly Week!
Butterfly Fruit Cookies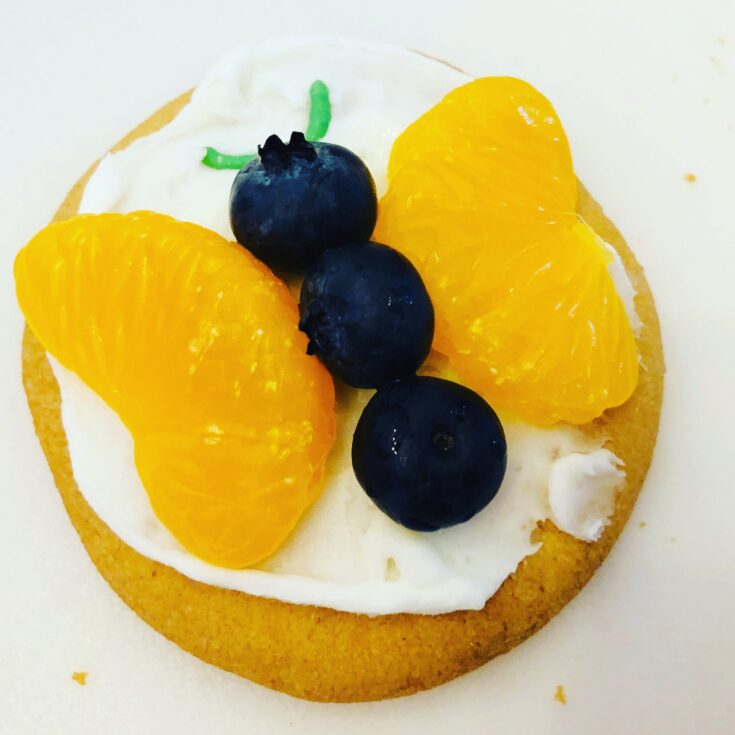 Ingredients
Sugar Cookies
Cream Cheese Frosting
Variety of Fruits
Sprinkles
Instructions
Bake sugar cookies in oven.
Allow cookies to cool.
Spread frosting on cookies.
Decorate cookie with fruit into the shape of a butterfly.