This year's first week of DIY Summer Camp was definitely a success! I think we were all ready for a break from remote learning. Luckily we have been doing Summer Camp at Home for three years now. This week was full of fun and easy Penguin Week Activities.
Picking a theme can sometimes be the hard part. There are so many options and I want both kids to enjoy the activities. That is getting a little harder now that my son is older. He is usually a good sport though! I make sure they are both involved in picking a theme and most activities. Penguin Week was actually one that my daughter picked out but they both agreed on.
This post does include affiliate links. That means I could earn a tiny portion of any sale that is made through clicking on any of these products with no additional cost to you. All support is greatly appreciated!
The largest expense for this week's Penguin Activities was this $10 set of toys. It was definitely money well spent. My daughter spent a lot of time doing imaginative play with them.
We used these toys in a couple of the activities below. They also make story time even more fun. Our library finally opened back up so we were able to pick up a few penguin books to read in addition to what we had in our home library.
Penguin Snack Crafts
We actually did two different snack crafts during Penguin Week! This type of activity is always a hit with both kids. Who doesn't love a good snack?!
We started with a snactivity for Penguin Cookies that we have actually done before. This one is very simple. You just make penguins from Oreo cookies, fruit snacks, and candy eyeballs.
The next snack craft we tried was Penguin Marshmallows. I found this idea on Pinterest. The kids really enjoyed this one because they felt like we were on the show Nailed It!
Our penguins are not quite as cute as the ones on Pinterest but we had a great time making them. We used our candy eyeballs again for this project along with marshmallows, chocolate chips, and mini M&Ms.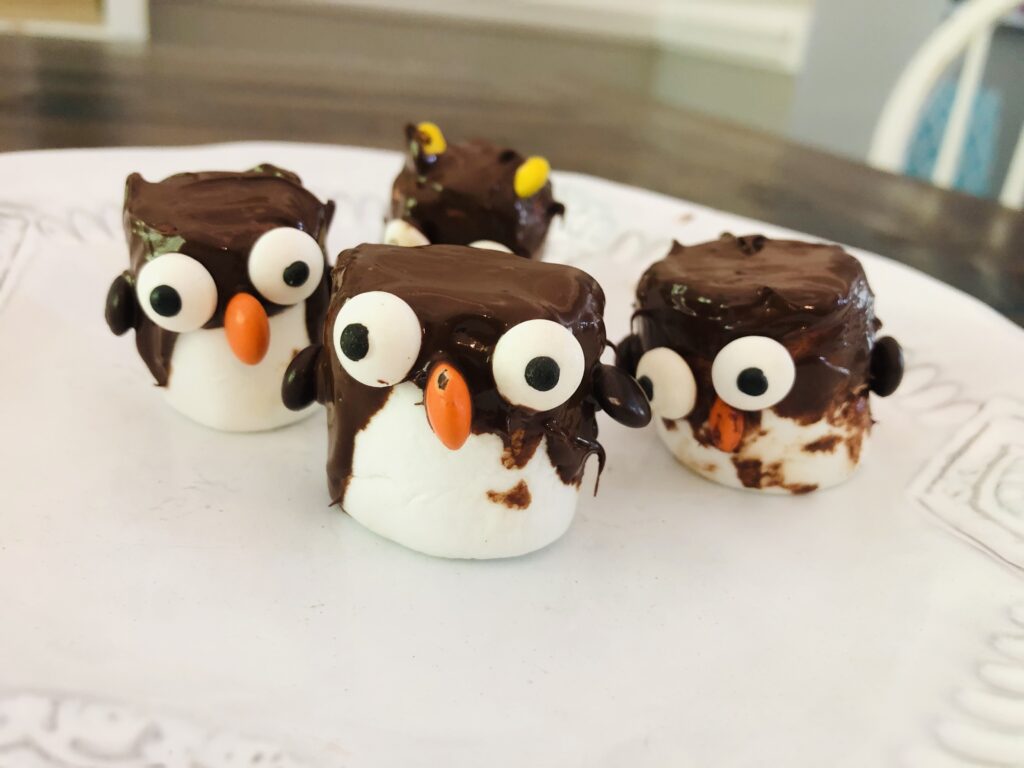 We had a blast with this activity! Penguin Ice Cube Painting involves creating fun process art with DIY frozen paint cubes. I used our penguin toys to create these fun paint sticks.
Make sure you have plenty of paper for this one! This was so much fun that we went through several sheets of white cardstock. It looks like this would be a super messy activity but it was actually really easy to clean up. Plus my daughter was more than happy to give the penguins a bath after we were finished painting.
Penguin Rock Painting
Painting rocks is always a good idea! I found a super easy tutorial for how to paint a penguin rock. You only need three paint colors – black, white, and orange.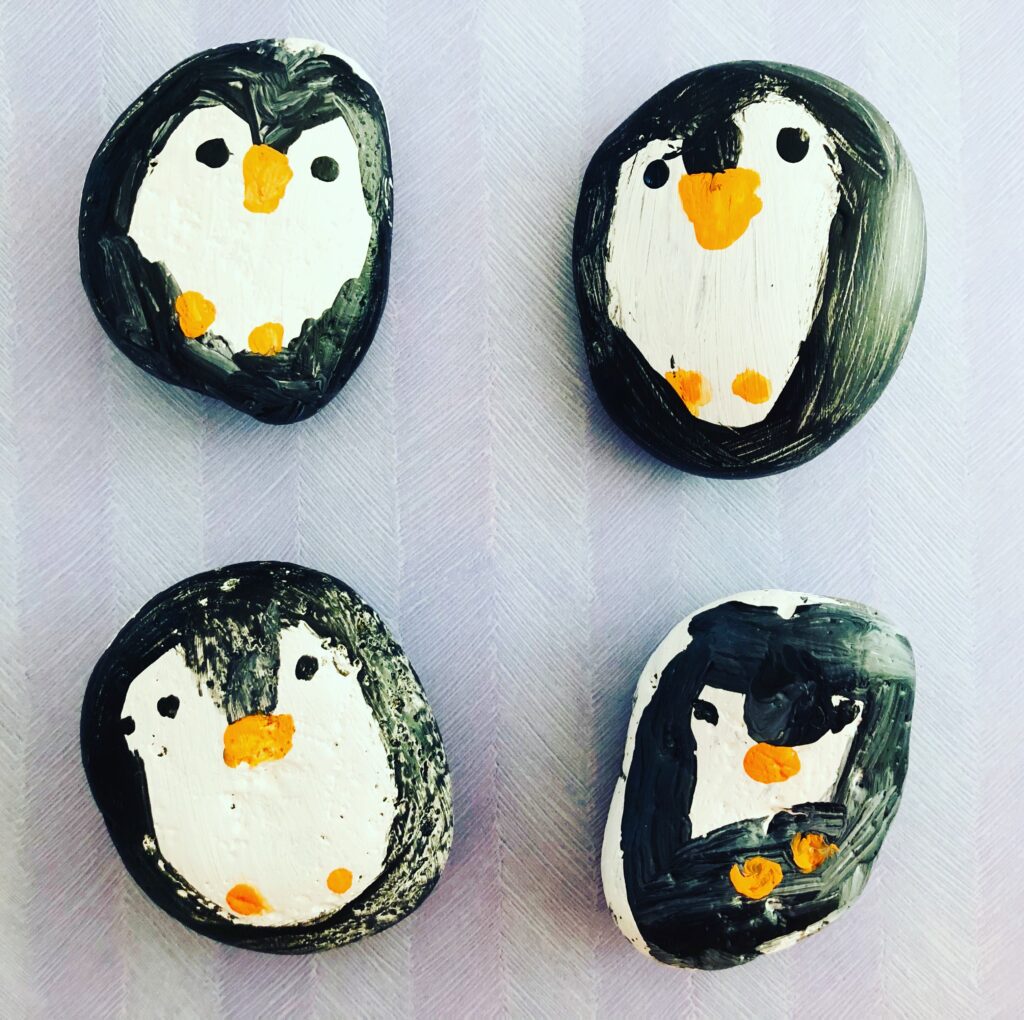 My 11 year old really enjoyed this craft. They turned out really cute and gave us something fun to do as an afternoon project.
Easy Penguin Artwork
If you don't have any Make-a-Face Sticker Sheets, check them out now! I ordered these to go in birthday cards and to stick in mailboxes for neighbor kids. My daughter quickly became obsessed with them.
Using the sticker sheets, we made this super easy penguin artwork. All we needed was blue cardstock, a white paint stick, and snowflake stickers in addition to the make-a-face sticker sheets.
Penguin Ice Block Rescue
This is one of my favorite summer activities to set up for the kids! It works for any theme. This time I froze the plastic penguin toys and they used spray bottles, squirters and rocks to "rescue" the penguins from the ice block. Last year we did a similar activity for a shark hunt.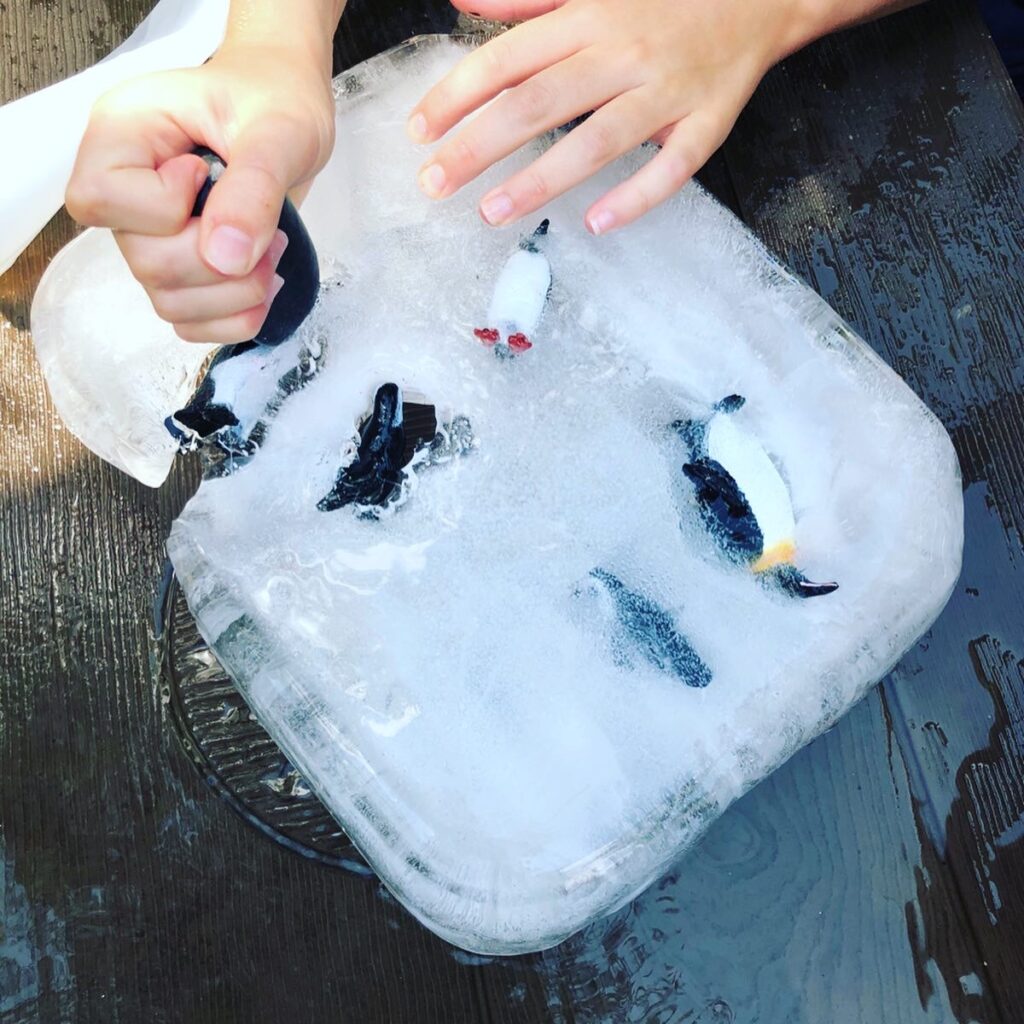 This is so great for summer since the ice obviously cools everyone off! Plus the kids love getting wet while trying to rescue the penguins. After the penguins were rescued, my daughter continued playing with all the buckets of water and penguin toys.
That is a wrap on Penguin Week Activities! We are looking forward to starting STEM Week soon. I love when we can make these weeks somewhat educational while still having lots of fun.