We are continuing our Science Week Fun by building a Play Dough Volcano. This activity is great for preschoolers but kids of all ages will enjoy this one! My son is 10 years old and really enjoyed building the volcano and then performing the fizzy experiment at the end.
This experiment is part of our 2nd annual Summer Camp at Home series. This summer we chose five themes and Science Week is the fourth theme on our list. We also did a week for butterflies, sports, and 4th of July. It's just a fun way to choose summer activities and make memories.
This post does include affiliate links. That means I could earn a tiny portion of any sale that is made through clicking on any of these products with no additional cost to you. All support is greatly appreciated!
Creating the Volcano
If you have kids, you probably have lots of play dough around the house. This was a great way to use up all the old play dough. I almost made a fresh batch of play dough until I remembered we probably had lots of used jars in our playroom. We are definitely "mixers" when it comes to playdough so a lot of these needed to be used up.
We used the following supplies to create our Play Dough Volcano.
Cake Pan (or other dish to hold the project)
Small Disposable Cup
Baking Soda
Vinegar
To get started, place the small disposable cup in the center of the pan. You definitely want to do this project inside a container of some sort. Once the lava starts flowing it could get messy!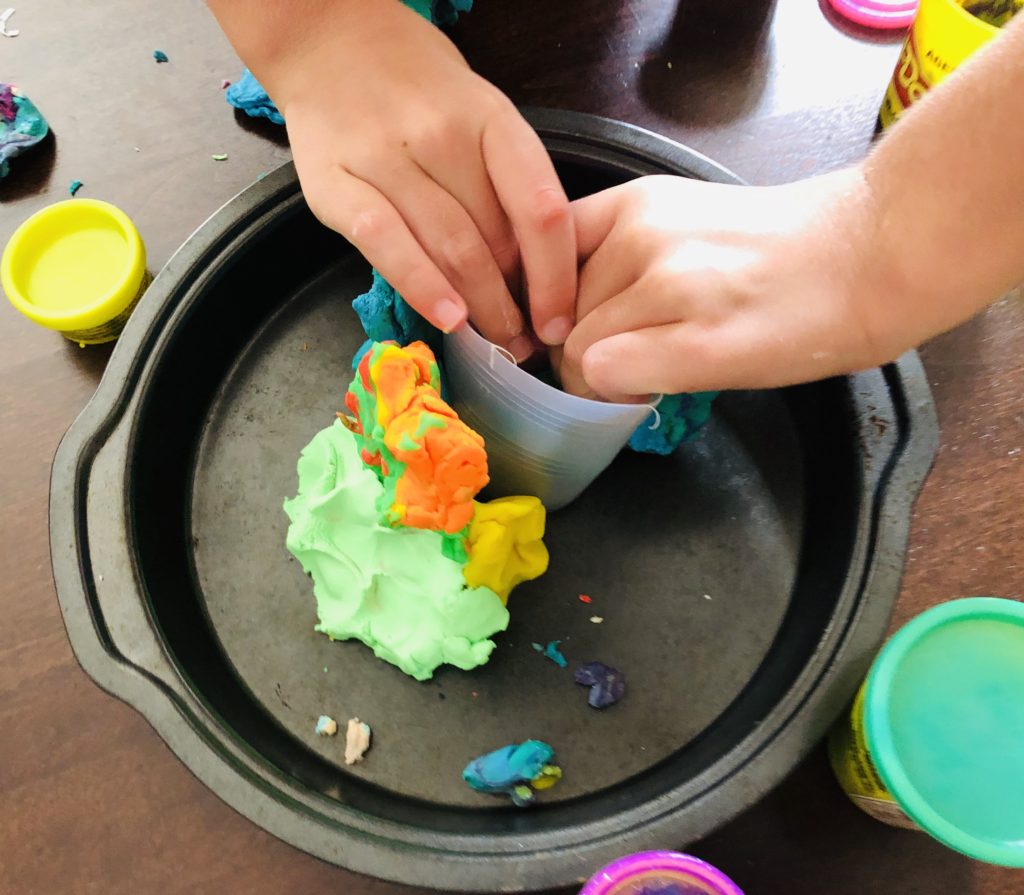 Start building the volcano by putting play dough around the plastic cup. If you are working with small children, it might be a good idea to tape the cup to the bottom of the pan. This would help secure it and make it easier for them to work with the play dough.
Our volcano turned out pretty crazy looking! I just emptied all the play dough containers and let them build. All the colors make me happy and I love how colorful it turned out. They put some of the really hard pieces inside the cup too.
Play Dough Volcano Experiment
Once the kids are finished building the volcano from playdough, it is time to add the baking soda. I poured about 1/4 cup of baking soda into the disposable cup.
After pouring the baking soda into the volcano cup, I prepared the vinegar. I poured about 3/4 cup of vinegar into a different plastic cup. Then I added two drops of red food coloring and mixed it together.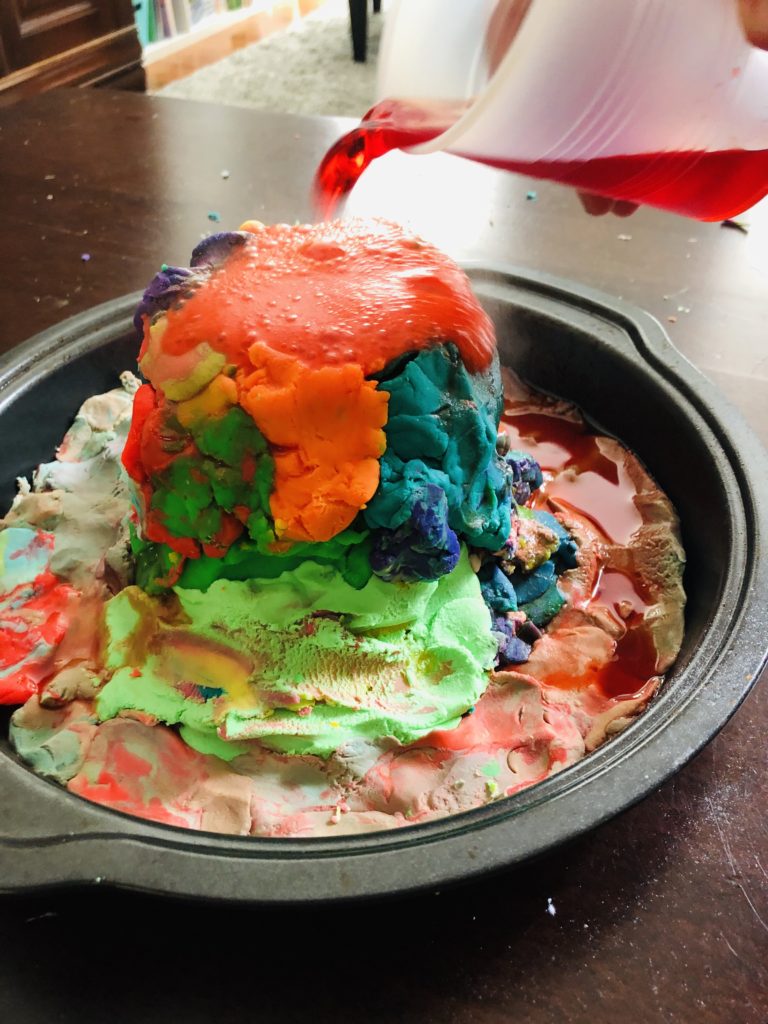 When we poured the red vinegar into the middle of the play dough volcano, it was magic! The fizzy red "lava" poured out of the top. We did this quite a few more times because we just couldn't stop recreating this experiment!
We love working with baking soda and vinegar. Experiments like this top the list for summer fun! To read about the science behind this reaction check out the details on ScienceLine.