Last week during DIY Summer Camp, we finally tried water squirter painting. It was so much fun and definitely did not disappoint! Since it was Patriotic Week, we used red and blue paint and the effects looked totally like fireworks. It was the perfect activity.
I always love process art projects. The problem is that I hate to throw them out but I can't possible keep them all. The water squirter painting turned out so cool that I knew we had to do something with this artwork. So this week I turned it into a game for the kids. Stay tuned to the end of the post to check it out!
This post does include affiliate links. That means I could earn a tiny portion of any sale that is made through clicking on any of these products with no additional cost to you. All support is greatly appreciated!
Fireworks Painting with Water Squirters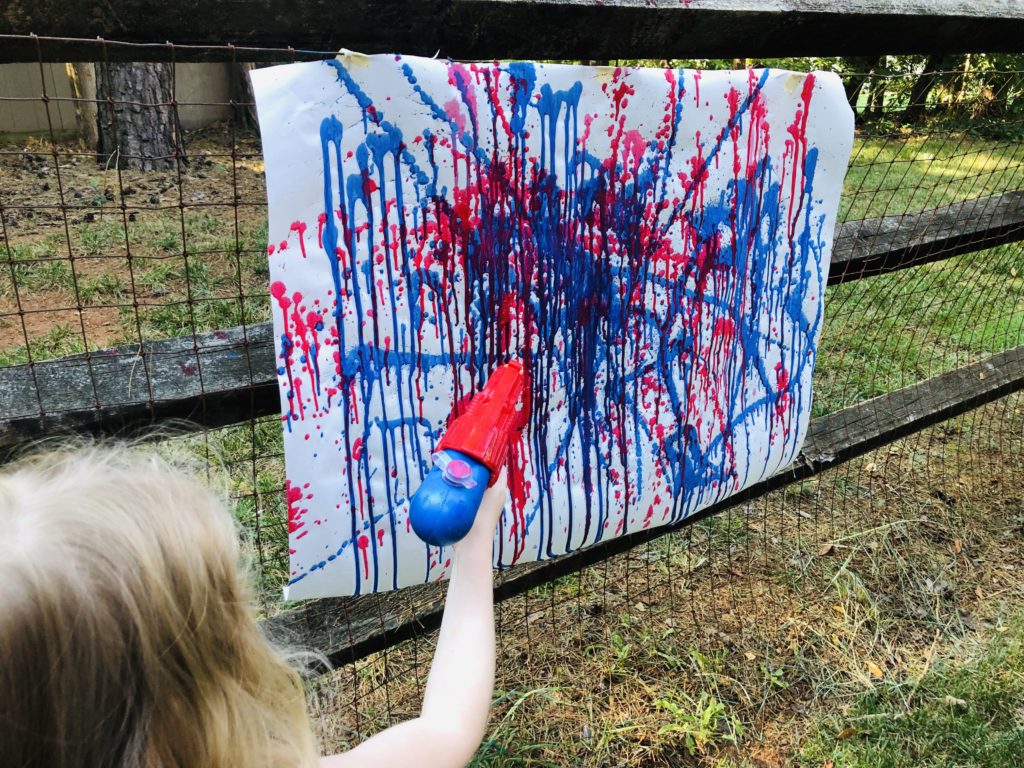 First let me tell you how to set up the water squirt painting. It is super easy! Plus all the supplies came from Dollar Tree so it also a very inexpensive activity.
I used a roll of white gift wrap. I cut a long piece from the roll and taped it to our fence outside. You definely want to do water squirting painting outdoors. I would also recommend play clothes. The paint we used was washable but only if you handle it right away.
Once I had the paper hung, I got out two water squirters. I was a little concerned about using the cheap Dollar Tree ones but they worked great. Plus if they get too mess, you can just toss them instead of trying to clean them.
I mixed the paints with water in a plastic cup. We used red and blue acrylic paint since we were going for a 4th of July theme. I would love to do this again with hot pink, purple, and turquoise since those are my personal favorites!
Once I had the paint diluted with water, I poured it into the water squirters. Be careful not to dilute the paint too much so the colors remain vibrant. It would also be helpful to use a small funnel for this step. I learned that one the hard way.
Time to Paint!
Now the kids are ready to paint! I took them by complete surprise with this. I had set up the paper and water squirters while they were playing upstairs. When I called them outside, they were pretty excited to get started.
I just told them to start squirting at the paper and we were all amazed at the effects of the paint. Gavin said it reminded him of graffiti and thought that was pretty cool. I let them switch squirters after a little while so the colors would be more evenly distributed.
Doesn't it look cool? We think it would make a fun party banner or even would be a fun way to decorate a sign. Once it was dry, I carefully removed the tape and brought it onto our porch to prepare for the next project.
Tin Can Toss Game
I was actually already planning to make a Tin Can Toss Game for Patriotic Week. Originally, the plan was to use patriotic themed scrapbooking paper from my stash. I actually like the idea of using their arwork even more though!
The tin can toss is such a simple idea. I used six cans that I had saved over the past couple of weeks. I cut the paper to fit the can and just used packaging tape to adhere it to the cans.
I love how the cans turned out! They looked so cool with the water squirter art and reminded me of paint cans. Wouldn't this be a fun party decoration for an art or slime party?
I found a three pack of plastic baseballs at Dollar Tree that were perfect for this game. We actually used them to play during Sports Week. Now the kids can take turns knocking down the cans. It's a great backyard game and perfect for keeping kids entertained this summer!