The past three weeks of social distancing have had their ups and downs. Most of the "ups" have included lots of outside time. This week's Painting With Nature Activity was definitely one of the highlights from last week.
Early in the week we had gone on a nature hunt for materials to build fairy houses. That was a huge hit and really turned our week around.
I wanted to keep that positive momentum going so I suggested we try Painting with Nature. This time we hunted around our backyard for natural materials.
This post does include affiliate links. That means I could earn a tiny portion of any sale that is made through clicking on any of these products with no additional cost to you. All support is greatly appreciated!
Go on a Nature Hunt to gather materials!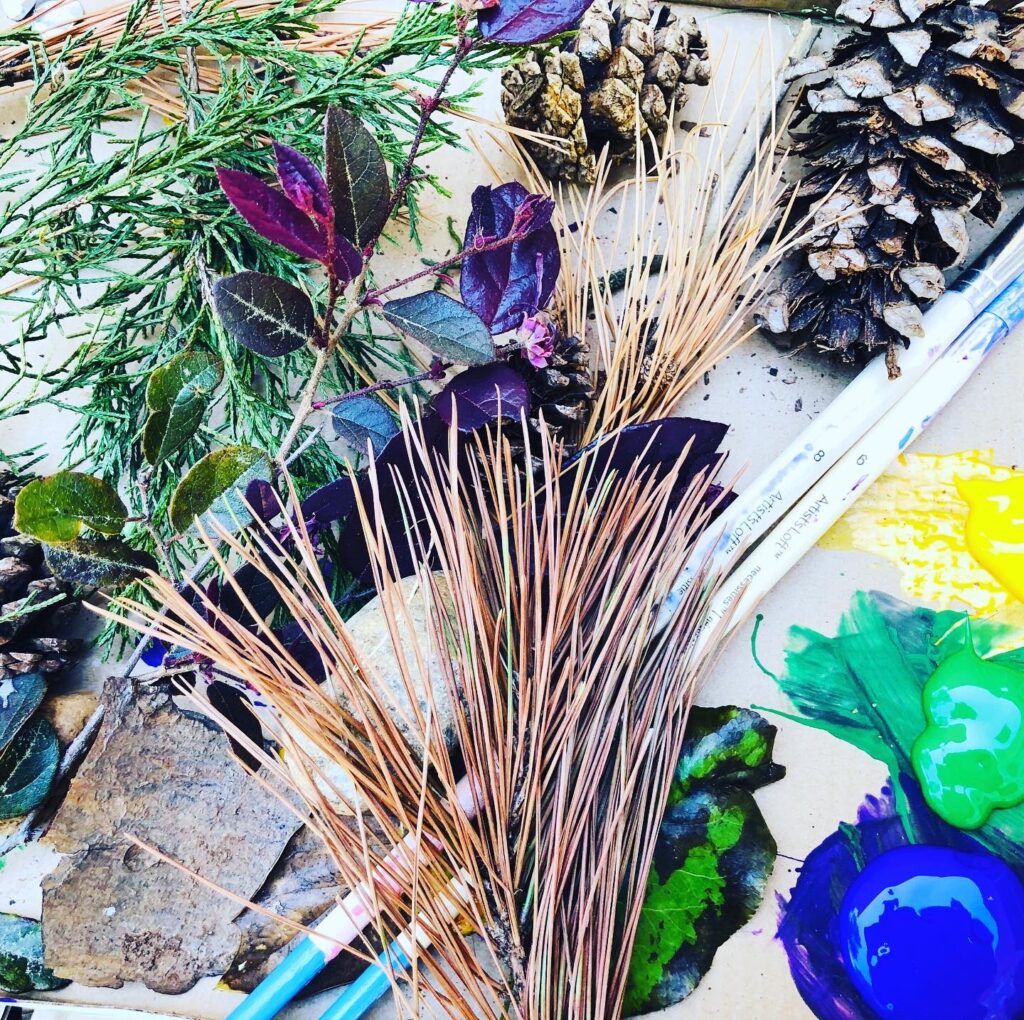 During our backyard nature hunt, we found lots of pine cones, bark, leaves, rocks and branches that would be perfect for nature painting. This is really an activity of it's own especially for little ones!
Back when we had just received word that everyone should stay at home and schools were closed, I made a quick trip to Dollar Tree. I found some activity books and craft supplies that would help us get through these days.
Supplies Needed for Nature Painting
Natural Materials
White Paper or Cardstock
Paint Brushes (optional)
We broke out the paint for this activity! I love the yellow, green, and purple colors together. Then we used a flattened cardboard box to set up our supplies.
Once we had all of our painting supplies and natural materials, I pulled out white cardstock for us to paint on. You could also just paint on the cardboard box if you don't have paper or card stock on hand.
Techniques for Painting with Nature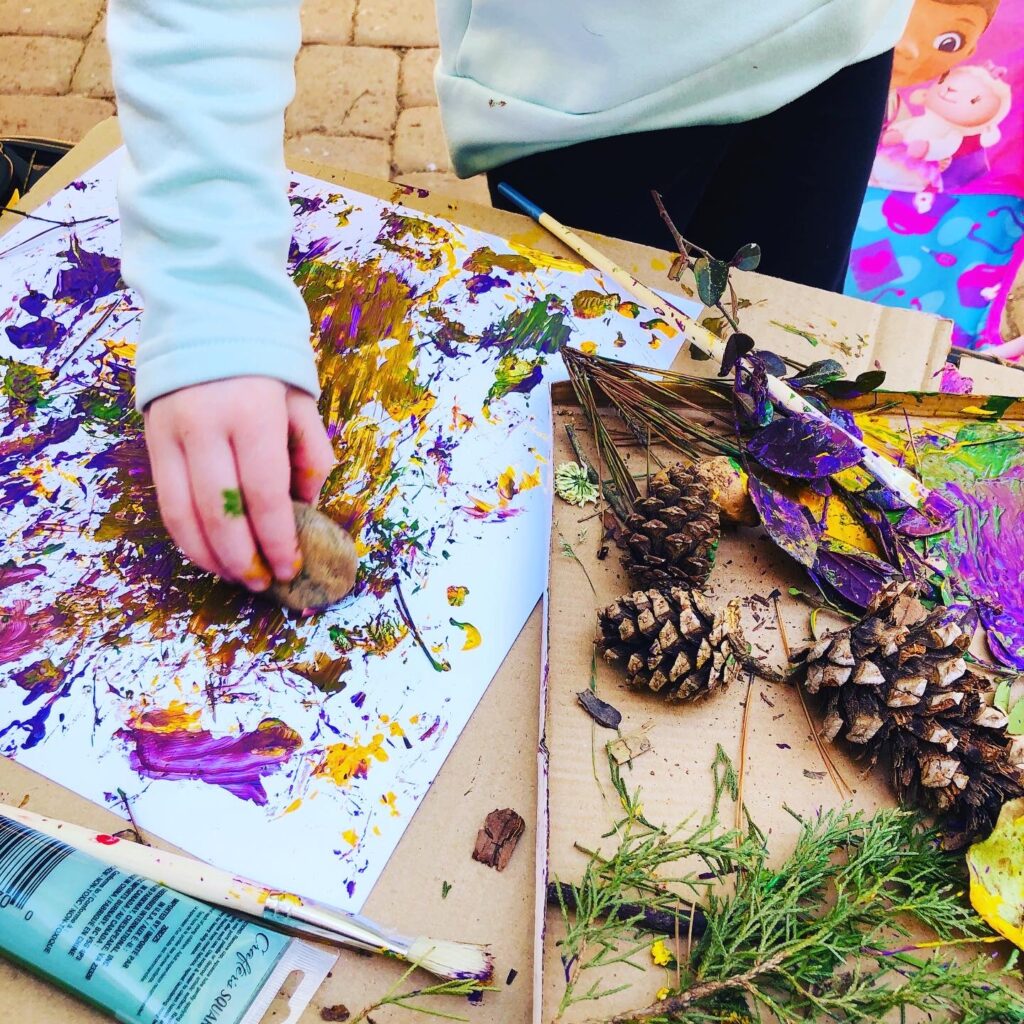 Kids can paint with nature in a variety of ways! They can dip the natural material in the paint to add prints to the paper. We also enjoyed using a paint brush to add the paint onto some of the materials.
One of my favorites was a scraping technique we used with pieces of bark. Some of the pine cones left little globs of paint on the paper. We used the bark to scrape the paint over the paper creating a cool pattern.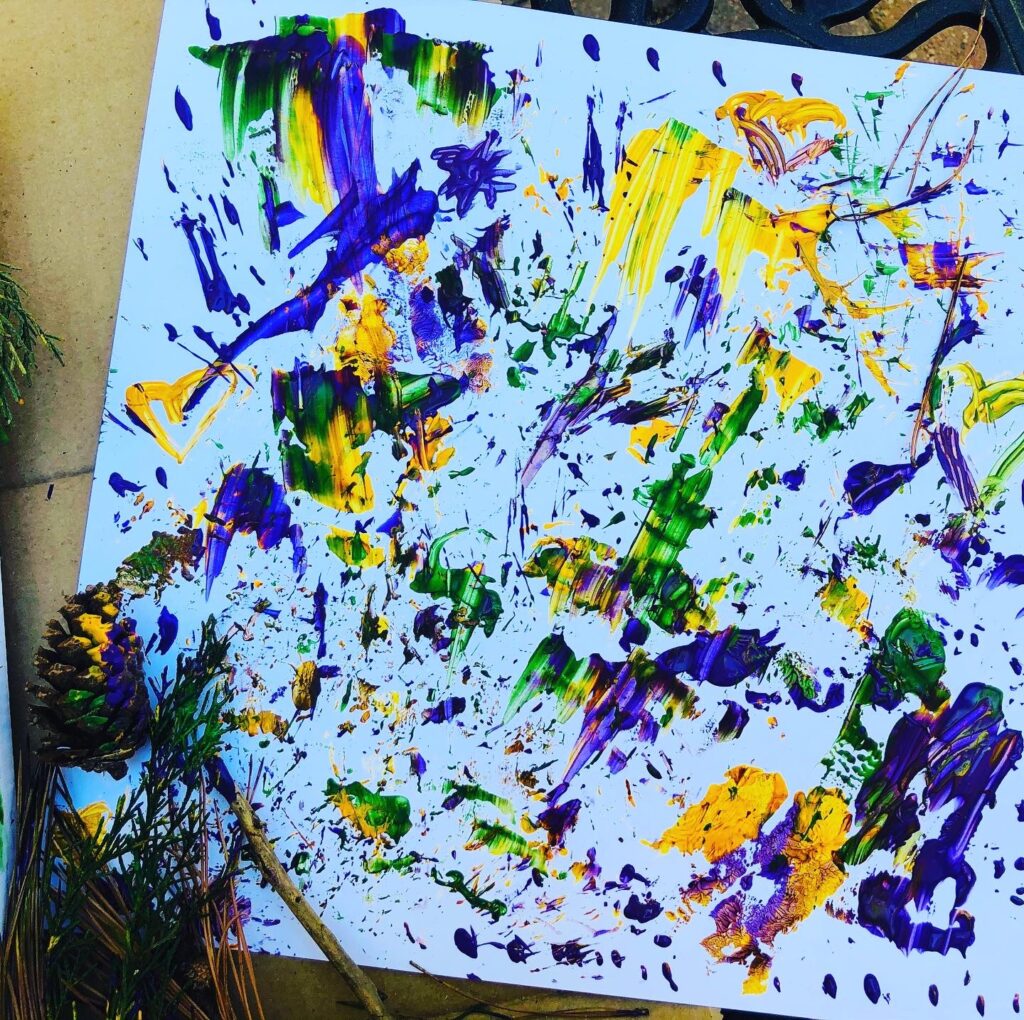 We also used sticks to draw hearts with the paint. It would also be fun to try to write letters that way. We may try this again for sight word practice!
If you start getting in a funk, I hope you will try this. It can be really hard to stay home and come up with activities to do for this many days. You may also enjoy creating Cardboard Tube Bird Feeders or doing Bubble Painting.