The kids will be out of school on holiday break soon! Here are some fun Christmas Book Inspired Activities that would be fun to do with them to celebrate the holiday season.
This list is just a variety of books and activities to get you started. Check out your collection of books or take a trip to the library. Most of these activities can be enjoyed with lots of different holiday books.
This post does include affiliate links. That means I could earn a tiny portion of any sale that is made through clicking on any of these products with no additional cost to you. All support is greatly appreciated!
This classic ornament craft is perfect for working on fine motor skills. When I saw the book Katie the Candy Cane Fairy, I knew this would be a cute activity to go along with it.
This is such a fun book series! This one in particular has a wonderful message about not giving up and believing in yourself.
Set up a Cookie Play Dough Activity Tray to go along with the sweet board book Christmas Cookie Day! Kids will love rolling out the dough and using cookie cutters. Then they can decorate with an assortment of supplies.
This book even has a great recipe included to bake cookies together. We have tested it out and the cookies were delicious!
Kids of all ages love snack crafts! Especially ones that involve donuts! This book inspired donut craft is really simple and turns out adorable.
The best part is that this craft works well with any snowman themed books. We picked out a few from the library and our collection. It is a great afternoon snack activity to encourage reading. Our winter themed book list includes so many great snowman themed books if you need recommendations.
The paper plate wreath is one of my go-to crafts for groups. It is great for class parties or playdates. This one is gingerbread themed and turned out so cute! It was very simple using Kwik Stix paint sticks and foam stickers.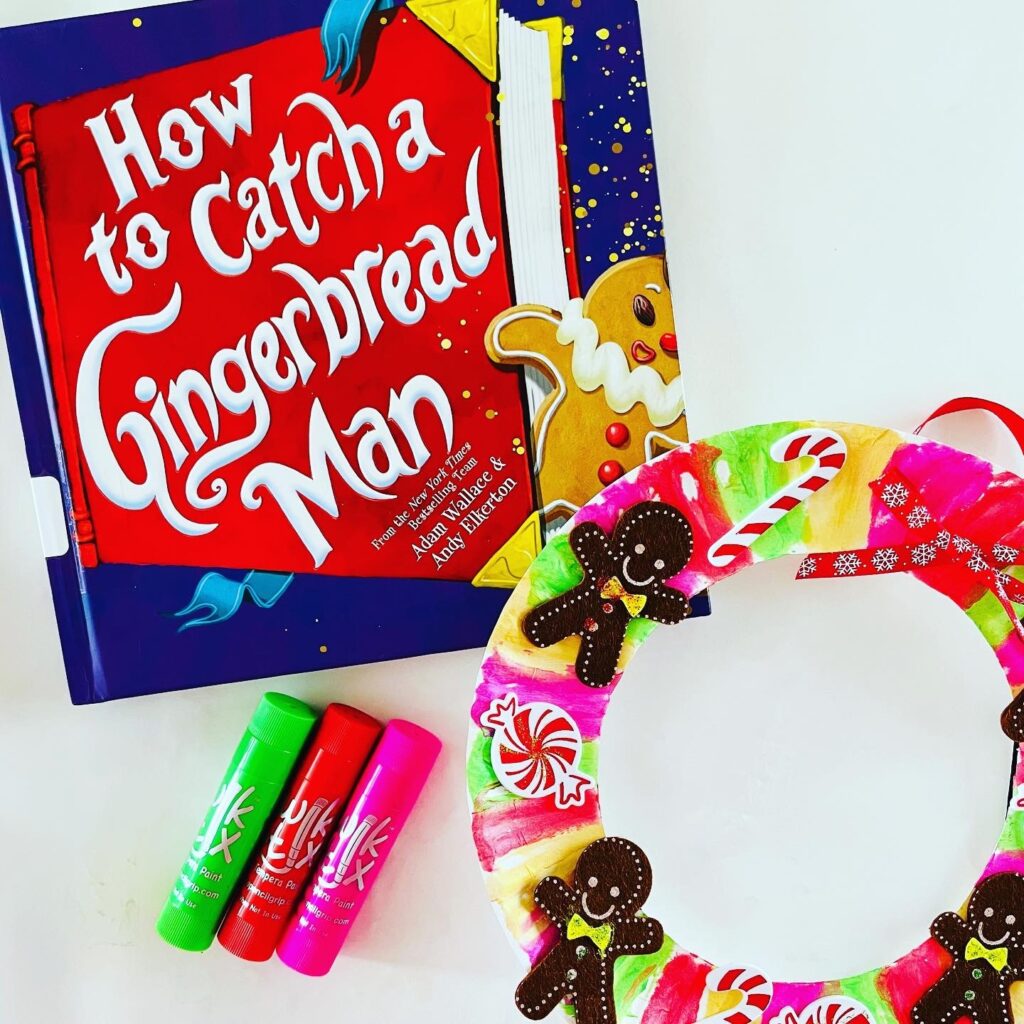 Once again, any gingerbread themed book would work great for this craft. We really enjoyed reading How to Catch a Gingerbread Man for this one though.
Tough Cookie Ornament Craft
The Gingerbread Ornament Kit I found at Michaels was the perfect activity to go along with our Tough Cookie Book! If you prefer something similar that isn't a food item, this Gingerbread Craft Kit from Amazon is similar.
The book is so fun. It's about a gingerbread cookie who didn't realize he wasn't a sweet and yummy cookie so he and a fox work together to help him find his purpose.There is even a recipe in the back so you can make your own ornaments.
This simple snowflake craft is a great way to use all of your paper scraps! It is great because you can combine lots of colors and patterns. We also used Wonder Stix, glitter glue and gems to create these beautiful snowflakes. Then we also used them to create cute cards.
The Little Snowflake is the book I chose to go along with this craft but any snowflake themed book would work great. This cute book actually illustrates and describes the life cycle of a snowflake.
Have Yourself a Hairy Little Christmas is such a cute story about how Santa wants a new style. The elf tries lots of fun beards and each one is a "touch and feel" sensation! We loved this book so much we decided to try a Santa craft inspired by his glitter beard.
The book and the craft are perfect for preschoolers. The supplies and the "touch and feel" pieces provide lots of sensory items.
It was so much fun to create this book activity at home! We read the sweet book I'm Going to Give You a Polar Bear Hug. This book is a super cute picture book with a rhyming text. A number of cold weather animals are featured in this book. We chose to focus on the polar bear and created Polar Bear Marshmallows to go along with the book.
These Polar Bear Marshmallows are the perfect addition to hot chocolate. This book and activity are the perfect way to enjoy a winter day.