We really thought we might see some snow last weekend! That was a big disappointment but we are excited to celebrate winter anyway. We read a sweet polar bear book this week and have a fun polar bear activity to share with you. I hope you enjoy this Polar Bear Book and Activity as much as we did!
Having seasonal books in our reading nook makes me happy! During this pandemic I have had to limit trips to the library. The kids and I used to go almost weekly and participate in a lot of the activities there. Be sure to check out this list of Fun Winter Books for Kids of All Ages.
This post does include affiliate links. That means I could earn a tiny portion of any sale that is made through clicking on any of these products with no additional cost to you. All support is greatly appreciated!
Polar Bear Book
It was so much fun to create this book activity at home! We read the sweet book I'm Going to Give You a Polar Bear Hug. This book is a super cute picture book with a rhyming text. A number of cold weather animals are featured in this book. We chose to focus on the polar bear and created Polar Bear Marshmallows to go along with the book.
Polar Bear Marshmallows
To create these cute Polar Bear Marshmallows you will need the following supplies.
Each child gets one jumbo marshmallow, two miniature marshmallows, one white wafer, two candy eyeballs and one candy piece. The candy piece is for the polar bear nose so they can choose the color. We went with blue but I've also seen brown used a lot.
You will need to melt some of the white chocolate wafers. This will be the "glue" to attach the pieces together. I put the melted white chocolate in a baggie and cut one tip to use for squirting.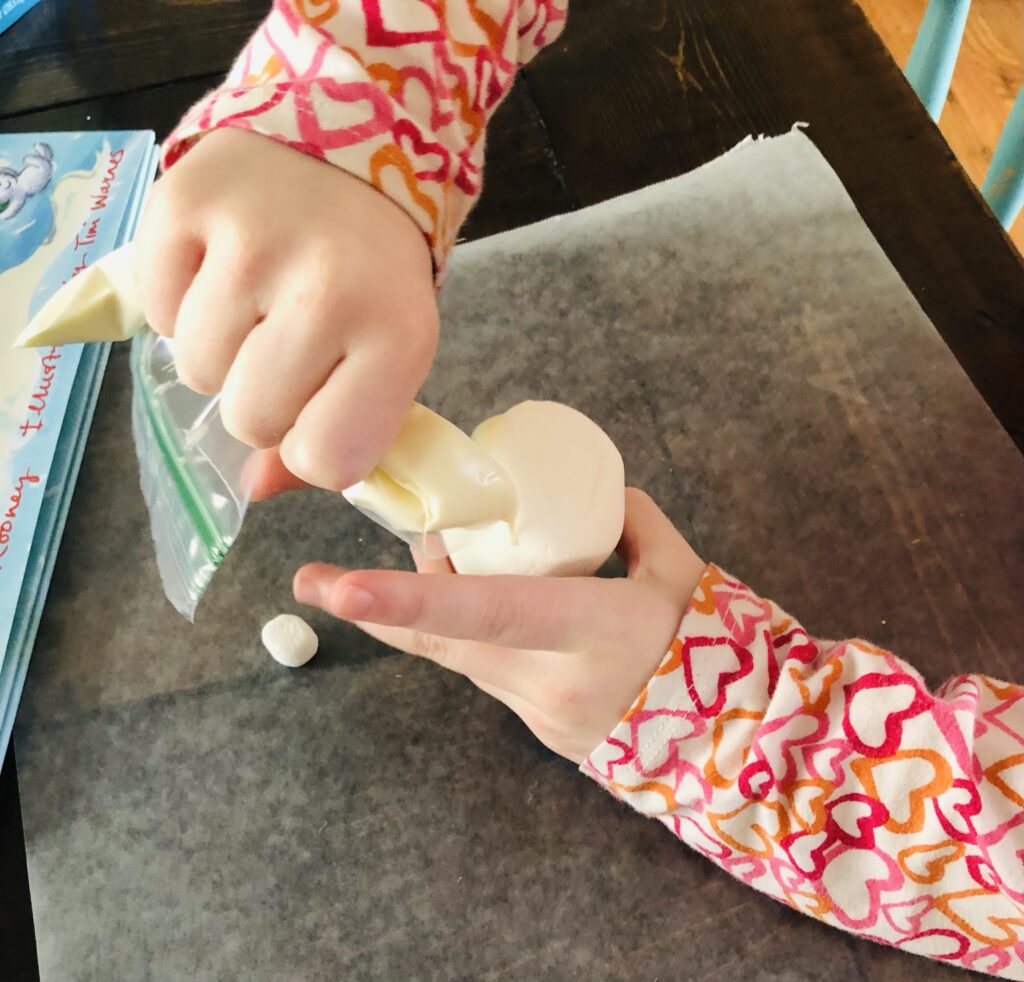 Attach two miniature marshmallows on each side of the jumbo marshmallow for the polar bear ears. Then add more of the melted white chocolate to the top of the jumbo marshmallow to attach the eyes and nose.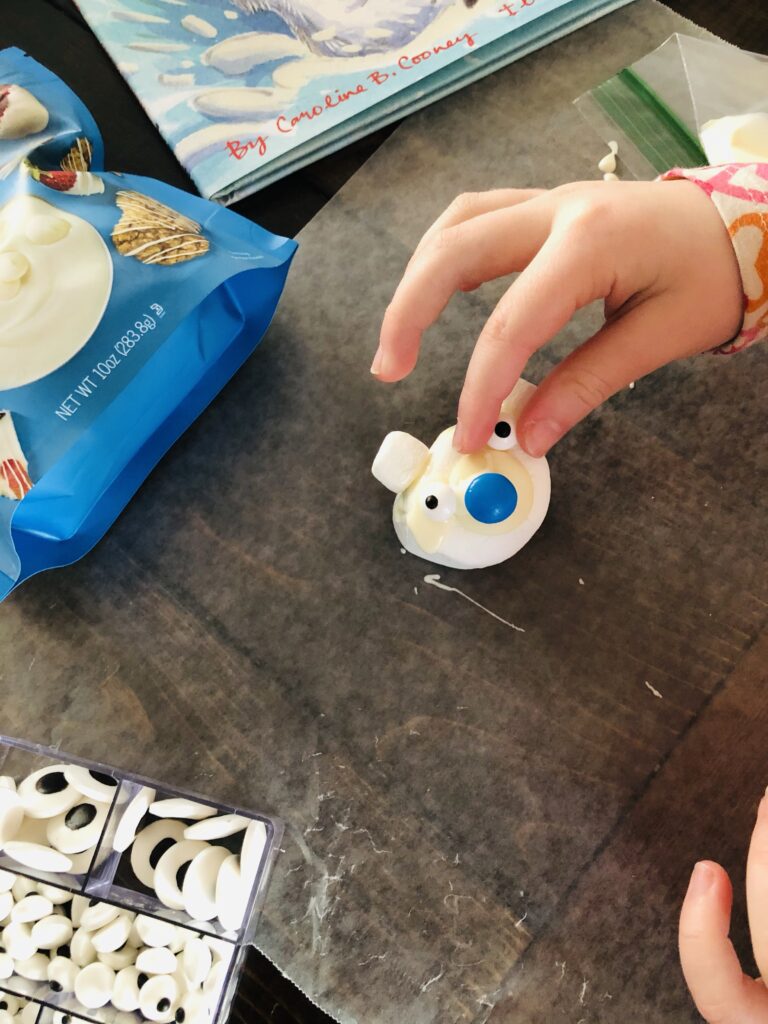 Polar Bear Hot Chocolate
What could feel more like a warm hug than a cup of hot cocoa?! These Polar Bear Marshmallows were the perfect addition to our mugs of hot chocolate. This book and activity are the perfect way to enjoy a winter day.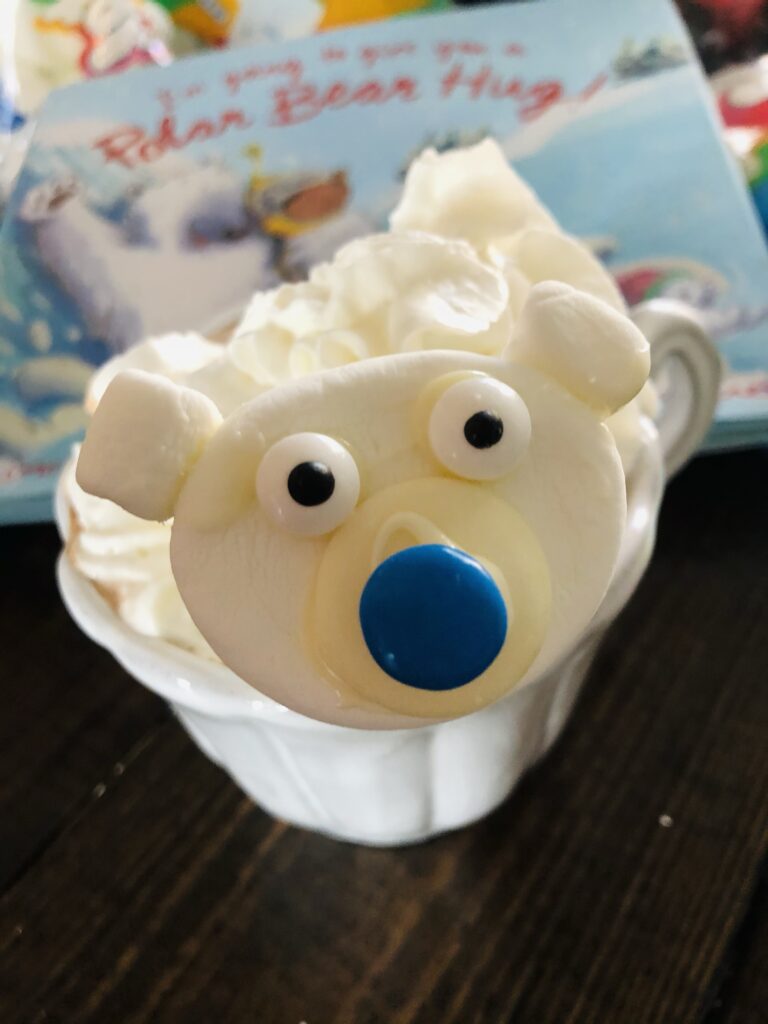 For more fun winter snack crafts, check out our Snowman Donuts and Penguin Cookies. These were also created during winter story time and included in the full list of Winter Crafts and Activities for Kids.