My kids get home from school pretty early. That means we have a lot of time in the afternoon which is really nice. Once they get home, it's time for snack, homework and reading. This week we mixed things up a bit and combined reading and snack with this fun Snowman Donut Snack Craft.
We did something similar last year with a penguin theme. It was a lot of fun so this time I thought I would try a snowman theme. Fortunately, we had gotten lots of great snowman and other winter themed books from the library.
This post does include affiliate links. That means I could earn a tiny portion of any sale that is made through clicking on any of these products with no additional cost to you. All support is greatly appreciated!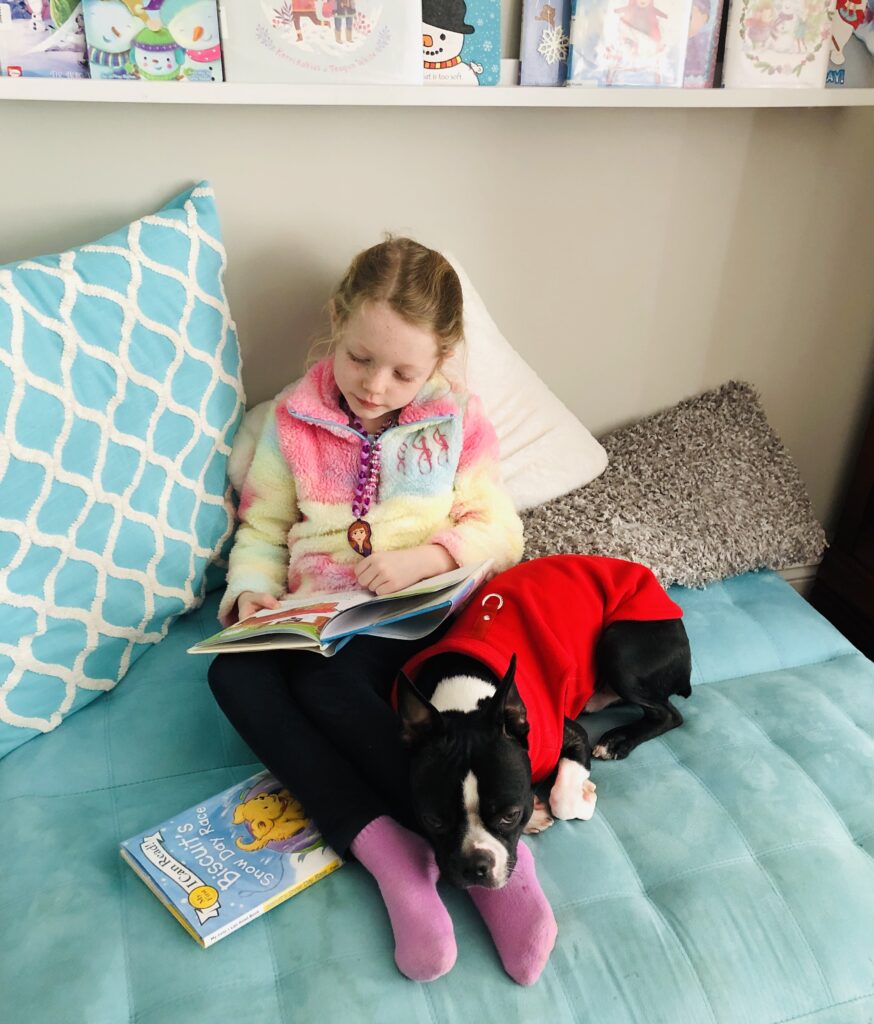 Favorite Snowman Books
Our reading nook has been updated with lots of winter books. Graylie is just learning to read and is really enjoying Biscuit's Snow Day Race and Pete the Cat: Snow Daze.
Also, we have been enjoying lots of fun snowman books. Here is a list of some of our favorites.
Setting up the Snowman Donut Snack Craft
Before the kids got home from school, I set up the Snowman Donut Snack Craft. I gathered all the snowman books that we had. Then I put together the supplies we would need for this activity.
To create the Snowman Donuts you will need the following supplies.
Mini Powdered Donuts
Orange Peanut M&Ms
Mini M&Ms
Mini Chocolate Chips
I placed all the ingredients in small glass bowls. For the Orange Peanut M&Ms I had to sort through the bag to find all the orange ones. These are so perfect for the snowman nose.
I also created a snowman myself to use as an example. I just couldn't resist!
When the kids got home, I told them I had a surprise! They were pretty excited. Powdered donuts are a treat for us and not our normal snack.
Book Inspired Snowman Craft
They created their snowmen donuts with the ingredients I had laid out. We used the mini M&Ms for the eyes, the orange peanut M&Ms for the nose, and mini chocolate chips for the mouth.
The mini chocolate chips were a little harder to work with because they are so small. That's when I realized this is a great activity for fine motor skills.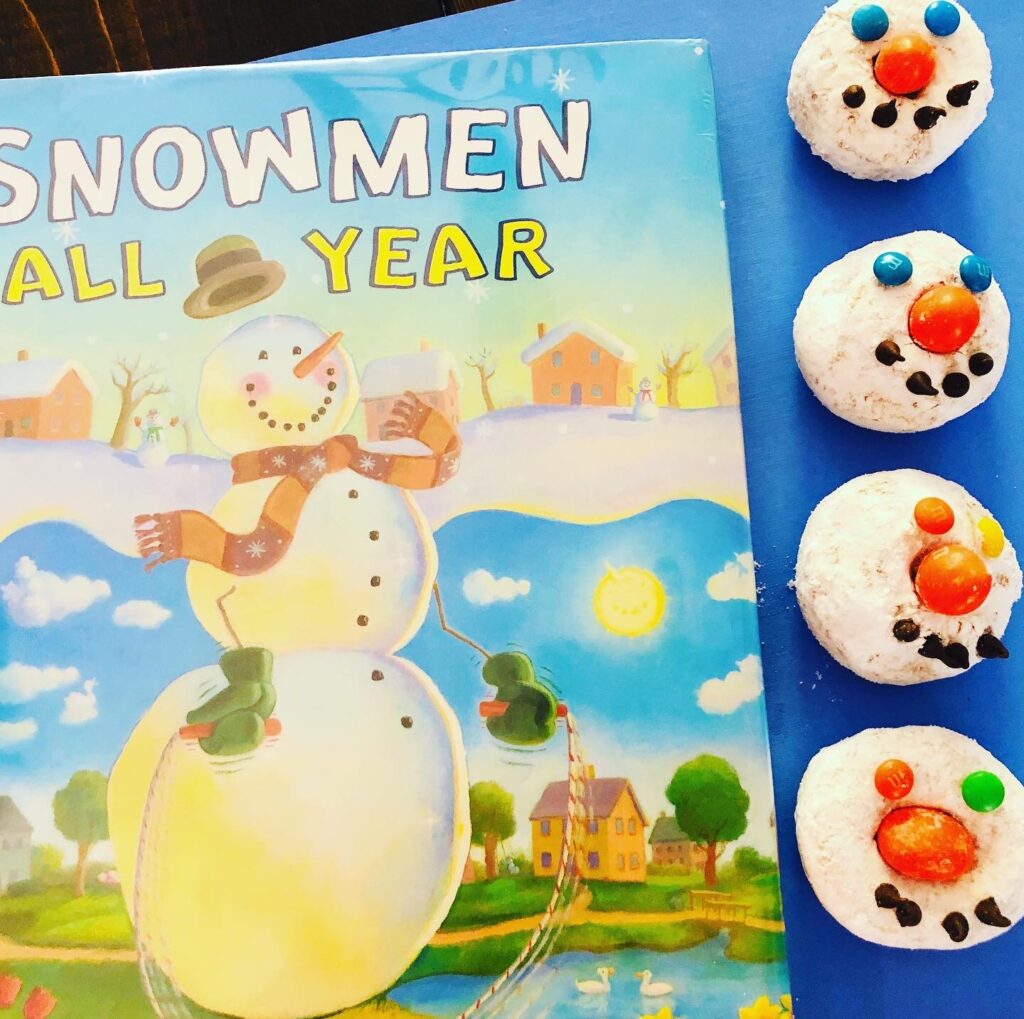 Once they created their little snowmen, they did eat them! While they had their snowman snack, I read some of the books to them.
These snowman books are all so cute. I love the playful and magical theme to all of these books.
This was a nice change of pace for us. It has been hard getting back into a routine after Winter break. This made it more fun to get that extra reading time in.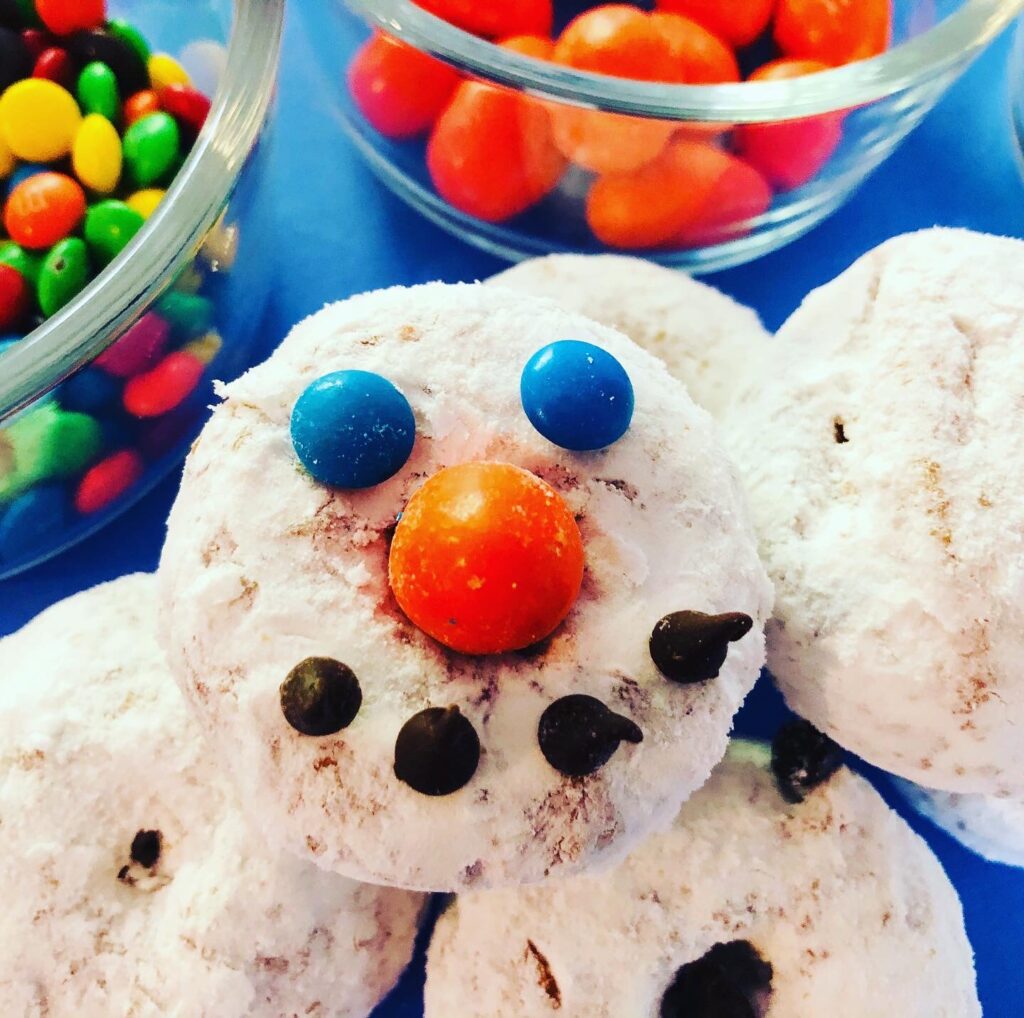 These little donut faces are adorable! This donut craft is a great winter activity to do with kids. It would also be a lot of fun to do at a party or playdate. I can also see these as a new addition to our Elf on the Shelf Arrival Breakfast!