We are back with another fun snowflake craft! This one is just as simple as the Paper Plate Snowflakes. Both craft projects are great for preschoolers or kids of any age. This time we are making Coffee Filter Snowflakes with Washable Markers.
We have not done a lot of coffee filter crafts. We did butterflies back in the summer. Now that I have this big pack of coffee filters, I feel like I need to find more crafts to do with them.
This post does include affiliate links. That means I could earn a tiny portion of any sale that is made through clicking on any of these products with no additional cost to you. All support is greatly appreciated!
Supplies for Coffee Filter Snowflakes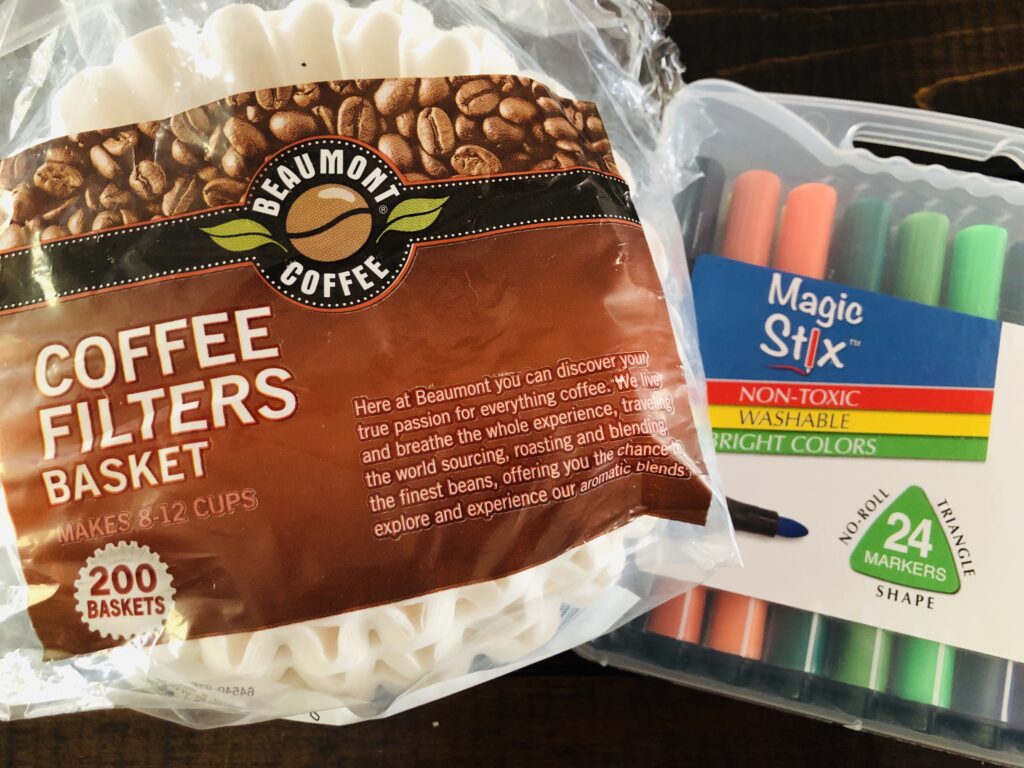 Obviously you will need coffee filters for this craft project. We also used Magic Stix Washable Markers. The great thing about these markers is that they won't dry out for seven days if you leave the cap off. That may not ever happen at your house, but we have an entire bag of dried out markers I am saving to do something with.
To get started let the kids decorate the coffee filters with the markers. This is a great activity on it's own. The brighter the colors they use, the better results they will get for this project. You will also want to encourage them to color as much of the coffee filter as possible.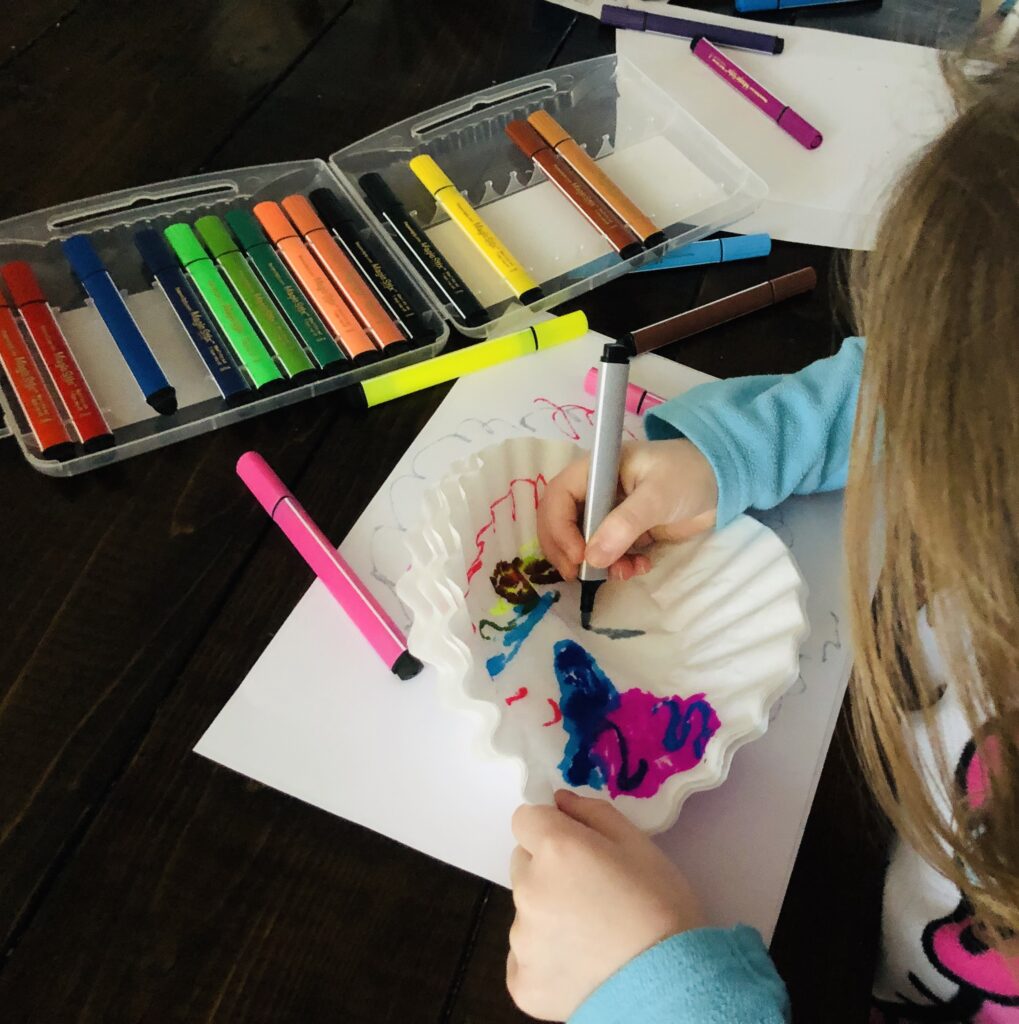 This winter craft is even great for toddlers!
As we were doing this, I realized this would be a great project even for toddlers. Some of the best snowflakes came from lots of colorful scribbles or doodles! It's always great to get the little ones involved.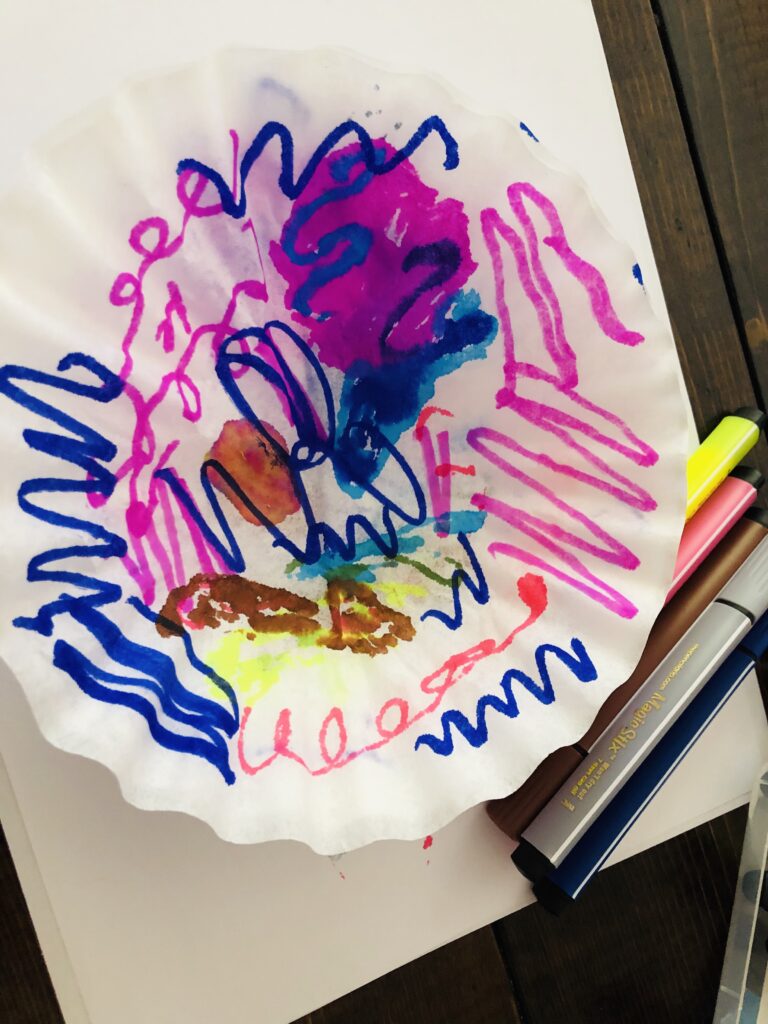 Color Blending with Water
Once they are finished coloring, use a syringe or pipette to drip water onto the coffee filters. Try not to drown the coffee filter in water. We made that mistake this summer and all of the color came off the coffee filter.
We did this step in an old cake pan to contain the water and possibly any mess. A cookie sheet or dish pan would also work well.
Once we were done dripping water onto the coffee filters, I laid them on an old dish towel to dry. You could also set them outside to dry in the sun. It really only took a couple of hours at most for our filters to dry this way.
Creating a Snowflake from Coffee Filters
Once the coffee filters are completely dry, you can fold them into a triangle to cut the snowflake patterns. I fold the coffee filter in half three times to get a triangle. I also found these instructions on how to make a 6-Point Snowflake. I'm excited to try that next time!
Once the coffee filter is folded into a triangle, just make various cuts around the outside to get a cool pattern for your snowflake. I personally enjoy doing hearts and triangles. Older kids will definitely be able to handle this part of the project. The little ones might need some assistance.
This was a very fun craft to do with the kids! Once we were done creating the snowflakes, I used a few glue dots to hang them in the window. They look so pretty there especially since we probably won't see any real snowflakes here!
It can be challenging to find activities to do with kids during the winter months. We also enjoy making Frozen Glitter Jars from plastic bottles or Snowflake Wreaths from paper plates to celebrate the season!