It is the first week of 2018. Can you believe it? I am still trying to get organized after traveling for the holidays. The decorations still need to be taken down. All the new toys need to be organized. It will get done eventually!
This year I decided it would be fun to do a series called the 52 Weeks of Pinterest. The idea is to actually do one of the thousands of pins that I have saved on Pinterest each week. I'll be honest. I spend a lot of time on Pinterest. I love it. I enjoy looking at all of it. If you look at my boards, you would think I was a gourmet chef who works out all the time with an immaculately decorated house.
The first pin I chose to do was one for Glitter Jars. It has been incredibly cold here so I thought this would be a nice indoor activity for the kids to do in the afternoon. I decided to go with a Winter/Frozen theme for our bottles. Glitter Jars are also known as Calm Down Jars and can be used to "calm down" or relax stressed out children. We will definitely be trying this with our jars.
Upcycle plastic bottles for this fun winter craft activity.
I had actually been saving a couple of Snapple bottles since I thought they would be perfect for a project like this. I love being able to reuse or up-cycle bottles and jars!
Watch for markdowns on seasonal craft supplies.
Once I knew I wanted to make the Frozen Winter Glitter Jars, I went to the pin to see what other supplies we would need. It turned out that we had everything we would need. I had bought some fun snowflake glitter and glitter glue pens at the Dollar Tree last month. I had also found the winter pom poms when Michael's was having 70% off all of their holiday crafting supplies.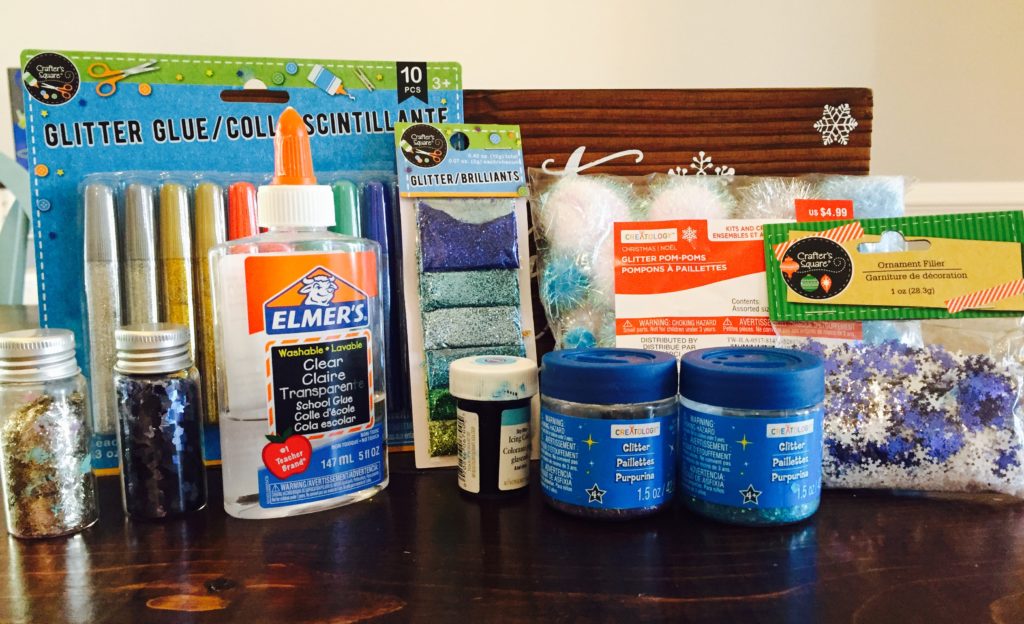 We used the following supplies:
Jar or Bottle
Warm Water
Glitter Glue
Glitter
Gel Food Coloring
Pom Poms (optional)
I would suggest using a plastic bottle if you are doing this with children. The article even suggested that you could glue the lid closed once you are done. I may have to do that since I'm a little concerned they may be able to get it open and what a mess that would be!
Easy set up for creating Frozen Winter Glitter Jars
While Graylie was napping, I got all the supplies laid out. I went ahead and got out the clear glue since we didn't have a big bottle of glitter glue.
Here are the steps for this project:
Fill bottle up about a third of the way up.
Add glitter glue and stir until it combines with the water.
Add a little bit of food coloring. You really don't need very much at all. I think we used too much since our bottles came out so dark.
Add glitter and pom poms. You could also add plastic buttons or any other plastic figures.
Stir again and fill the remaining bottle with water. You will want to leave a little space at the top so the mixture can move around.
The kids had a lot of fun doing this. I let them take the lead and add whatever they wanted to their bottles. They commented that they were making potions. Graylie keeps saying that hers is Elsa's Dark Magic. They seem to be mesmerized by the glitter and flakes flowing around in the bottle.
Well, I would say the first week of the Pinterest Challenge was a success. If you are like me and trying to actually do some of your pins this year, please join my 52 Weeks of Pinterest Facebook Group. We enjoy sharing pictures of all kinds of projects, recipes and activities. There is no pressure to post every week. It's just a fun way to share ideas!
If you make these Winter Frozen Glitter Jars, I would love to see them in the group or on Instagram. Please feel free to tag me. I would also love to hear any other ideas you have for keeping kids busy in the winter.
Have a great weekend and try to stay warm!
This post does include affiliate links. That means I could earn a tiny portion of any sale that is made through clicking on any of these products with no additional cost to you. All support is greatly appreciated!