This weekend Chippy and Snowflake made their grand return! Gavin had been asking when Chippy would be back since some of his friends had already seen their Elf on the Shelf over Thanksgiving weekend.
Chippy and Snowflake like to bring breakfast on their first day back and that is always more fun on the weekend! On the morning of their return, breakfast magically appears in the dining room. Check out our Simple Elf on the Shelf Arrival Breakfast!
I almost didn't share this. It really isn't "Pinterest Worthy" with elaborate food or decorations. If you haven't already noticed, I like to keep things simple.
Keep it simple!
This simple little breakfast has always been special to the kids. Chippy and Snowflake always bring powdered donuts which is something I don't usually buy. That makes it an extra special treat for them!
Use what you have on hand.
I had already covered the table with a table cover from the Dollar Tree earlier in the week for a craft event I had hosted. The elves decided to leave that on for a little festive feel. They also used holiday plates and napkins that we already had.
Raspberries are one fruit that both kids agree on. It is definitely one of their favorites. They also created a fun yogurt cup with diced strawberries. mini chocolate chips and a candy cane.
Serve special treats that they don't normally have.
The kids devoured their breakfast while I made hot chocolate for them. Graylie kept looking up and telling them thank you for her breakfast. She can be super sweet when she wants to! 😉
I think Chippy and Snowflake did a pretty good job! Graylie keeps asking if we can set the table up again so I know she really enjoyed it.
Simple Elf on the Shelf Arrival Breakfast
This Simple Elf on the Shelf Arrival Breakfast is always a hit. I look forward to it every year too. It will definitely be something we remember for years to come.
Here's one more picture of our table from the following year! The table was pretty much the same. I just decided to put out packets of Swiss Miss. That went over really well and was even easier for me!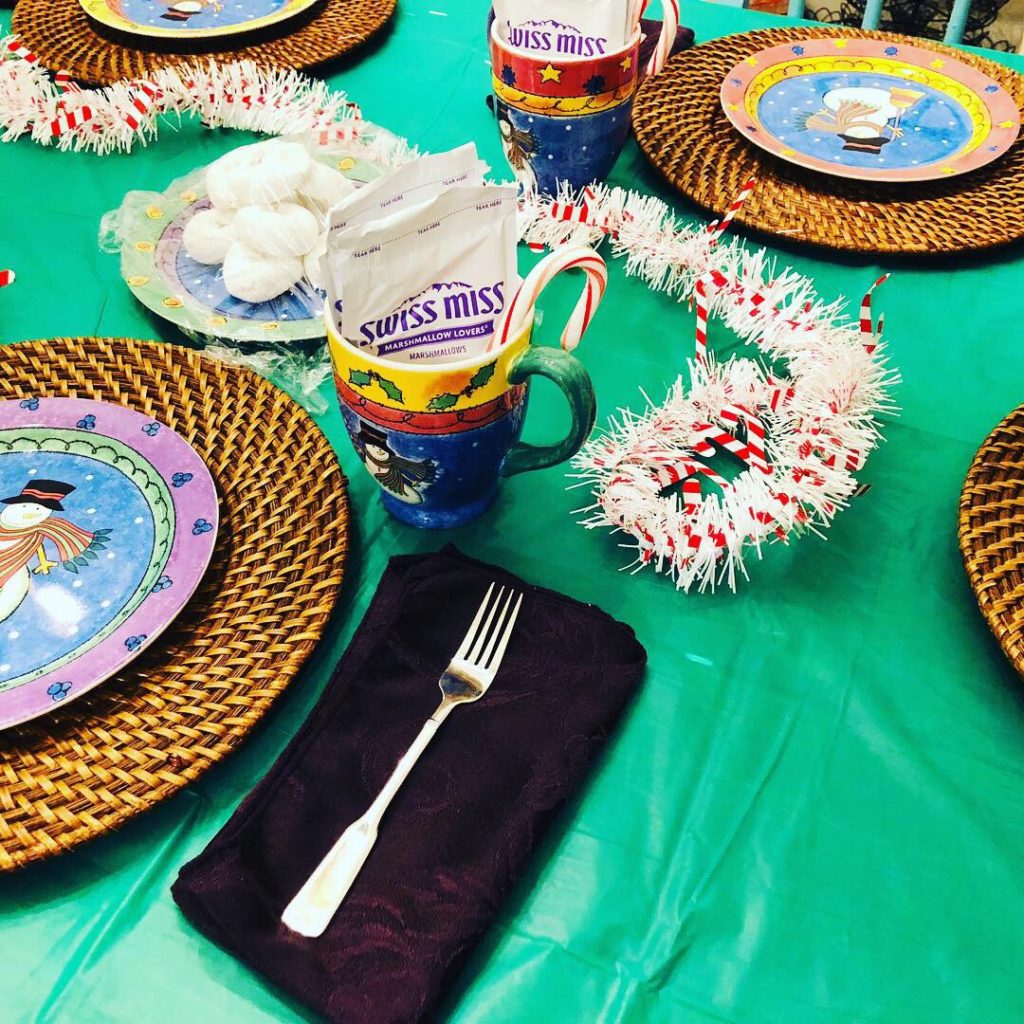 They love being able to look for their crazy elves every morning to see if they have gotten into anything in the night. What about you? Do you have an Elf on the Shelf?
If you need more Elf on the Shelf Inspiration, be sure to check out our Elf on the Shelf Candy Cane Hunt for a super simple idea for elf season. I also have lots of tips to keep you sane in the Elf on the Shelf Survival Guide for Busy Moms.
This post does include affiliate links. That means I could earn a tiny portion of any sale that is made through clicking on any of these products with no additional cost to you. All support is greatly appreciated!