Here is a fun and easy craft idea for you this week! This Gingerbread Paper Plate Craft would be a cute activity to do with the kids over the holiday weekend. I know I can use all the easy ideas I can get right now!
You can do this easy paper plate wreath craft for any occasion. This craft is also great for groups of kids. It was always my go-to craft when my daughter was in preschool.
This post does include affiliate links. That means I could earn a tiny portion of any sale that is made through clicking on any of these products with no additional cost to you. All support is greatly appreciated!
Gingerbread Paper Plate Craft Supplies
For the Gingerbread Paper Plate Craft we kept the supplies pretty simple. I love using foam stickers and Kwik Stix paint sticks.
You can also just use crayons and markers instead of Kwik Stix. The paint markers are awesome though! They go on so smooth and have really vibrant colors. It is the look of paint but it is completely dry in 90 seconds.
Here is a list of supplies you will need for this paper plate craft:
paper plates
Kwik Stix Paint (crayons or markers can also be used)
glitter glue (optional)
Ribbon
Scissors and/or hole punch
How to Create a Paper Plate Wreath
To get started, you will need to cut the middle out of a cheap paper plate. I recommend this step be completed by an adult unless you are crafting with older children.
Once the middle has been removed from the paper plate, let the children decorate their wreath with the supplies. Color the paper plate first and then add stickers and glitter glue if desired.
Once the kids finish decorating their wreaths, it is time to add the ribbon. Punch two holes at the top of the paper plate wreath. The holes are there so you can thread ribbon through the paper plate. This enables you to create a loop to hang the wreath on a door or hook. The kids love picking out a pretty ribbon for their wreaths.
Gingerbread Man Themed Book and Craft
This easy paper plate craft goes along great with any gingerbread themed books. We have been enjoying the book How to Catch a Gingerbread Man. My daughter loves all the books in the "How to Catch" series so I knew this one would be a hit.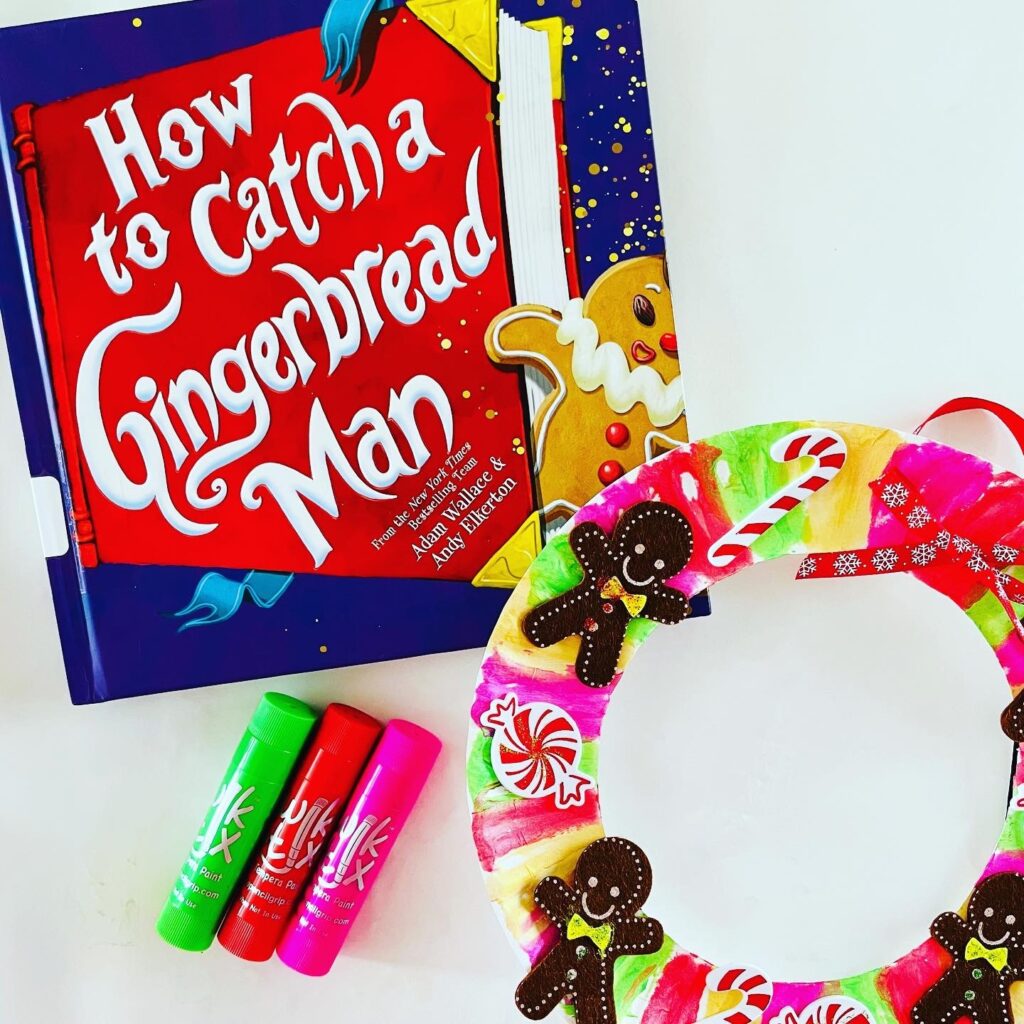 This is a really simple craft and lots of fun to do together! If you don't want to do a gingerbread theme, any holiday stickers would also work. We made this one a few years ago that is more of a basic theme. You can also use the circles from the inside of the plate for this ornament craft.