This week I tried something a little different with my meal plan. I decided to only shop at Trader Joe's this week. I made a list of simple meals that I knew I could find there. Honestly I was a little nervous about going over budget. This Trader Joe's Meal Plan for Busy Moms worked great for us though.
This post does include affiliate links. That means I could earn a tiny portion of any sale that is made through clicking on any of these products with no additional cost to you. All support is greatly appreciated!
As I've mentioned before, I try to keep my grocery budget around $125 each week. I was very excited to see that I had come in under budget on my Trader Joe's shopping trip. You won't believe what all I got for $111.21!
Trader Joe's Grocery Haul
The key to staying on budget at Trader Joe's is sticking to your list. There are so many tempting treats and snacks in that store! It can easily get you off track. I lose my mind when they bring out all the fall seasonal items!
I purchased so many groceries, I wasn't able to get them all in one photo! See below for a list detailing all the items. This grocery haul includes food for breakfast, lunch, and dinner.
This Trader Joe's Meal Plan also includes some easy convenience foods to help get dinner on the table quickly. My family can be a little picky and most of these foods have already been approved.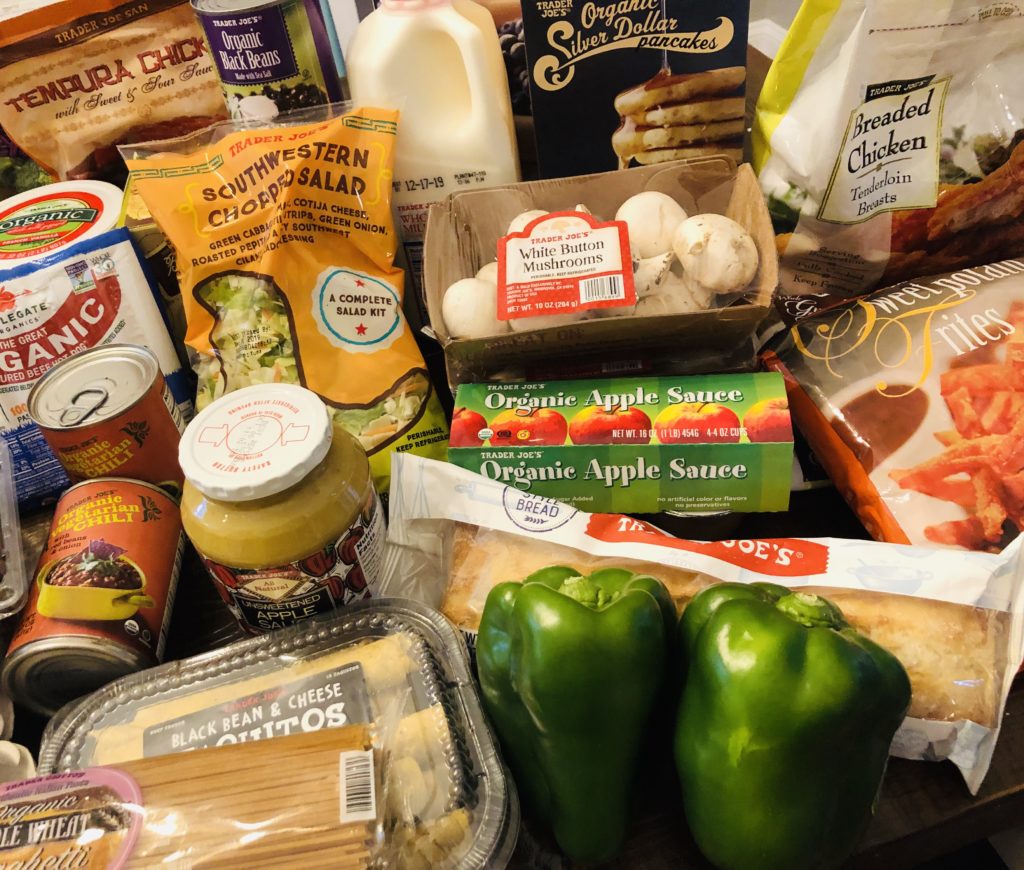 Here is a list of all the items purchased and the prices. Some of these items are definitely cheaper at Aldi. My goal this week was to only shop at one store though.
Frozen Brown Rice – $2.99
Frozen Green Beans – $2.29
Pie Crusts – $3.99
Frozen Blueberry Waffles – $1.99
Black Bean & Cheese Taquitos – $3.99
Tempura Chicken – $5.99
Sweet Potato Fries – $1.99
Silver Dollar Pancakes – $2.29
Breaded Chicken Tenderloins – $7.99
Shredded Sharp Cheddar Cheese – $3.99
Quart Vanilla Yogurt – $3.49 (for smoothies)
Half Gallon Milk – $1.79
Shredded Mozarella Cheese – $3.99
Applegate Hot Dogs – $5.99
Broccoli Florets – $2.29
Southwest Salad Kit – $3.29
Two containers mushrooms – $4.58
Baby Spinach – $1.99
Unsweetened Apple Sauce – $1.99
Vegetarian Chili – $2.29
Pizza Sauce – $1.99 (for lunchables)
Tomato Basil Marinara – $1.79
Ketchup – $1.99
Two Hothouse Cucumbers – $2.98
Blackberries – $3.99
Two Dozen Eggs – $2.78
Bananas – $1.33 (for smoothies)
Two lb bag of apples – $2.99
Salsa – $1.99
Vegetarian Chili – $2.99
Can of Black Beans – $0.99
4 Pack Apple Sauce Cups – $1.99
Vegetable Radiatore Pasta – $1.99
3 Pack Peppers – $4.49
Whole Wheat Spaghetti – $1.49
Ciabatta Baguette – $1.29
Corn Chip Dippers – $1.99
Whole Wheat Pita Bread – $1.49 (for lunchables)
Trader Joe's Meal Plan for Busy Moms
This meal plan is great for busy times of year like the holidays! As long as you are okay going off the meal plan list, you could even pick up a few gift items while you are at Trader Joe's.
With this Trader Joe's Grocery Haul, here is what the meal plan will look like. This does include a few pantry items I already had on hand such as olive oil, butter, salad dressing, pepperoni, a few potatoes and seasonings.
Breakfast Options
During the school week, the kids have a Peanut Butter Chocolate Banana Smoothie every morning. They will also have a waffle or pancakes with it. We will usually have smoothies, eggs or waffles. On the weekend, we eat a lot of omlettes with sauteed veggies.
Smoothies
Blueberry Waffles
Silver Dollar Pancakes
Eggs/Omlettes
Lunch Options
For school lunches, the kids like to take pasta in their thermos or pizza lunchables. We also just discovered that the Bean and Cheese Taquitos do well in the thermos too. The adults will usually eat leftovers from dinner unless I take the time to lunch prep for the week.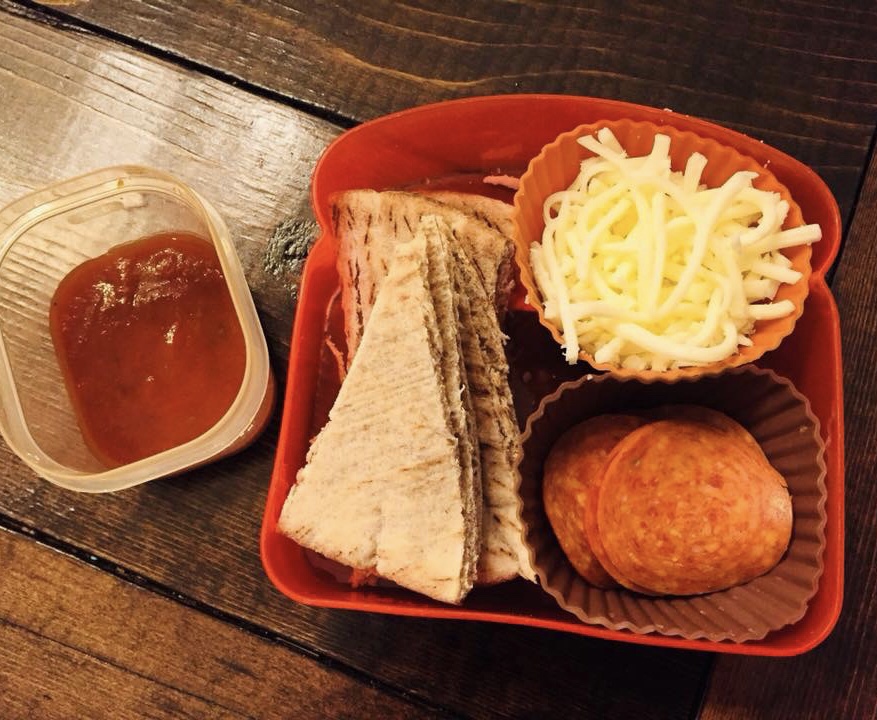 Pasta with Sauce
Pizza Lunchable
Chicken Tenders
Beef and Cheese Taquitos
Dinner Leftovers – Quiche, Salads, etc.
Dinner Options
We all hate that dreaded question. What's for dinner? Having a meal plan is such a lifesaver. I came up with seven simple dinner options for this Trader Joe's Meal Plan.
Easy Weeknight Chicken Parmesan
This Chicken Parmesan recipe is so easy and so good! If the kids don't like sauce on their chicken, you can serve this deconstructed.
Basically, you just cook the chicken tenders according to the package directions. Then boil the pasta and heat the sauce while the chicken is baking.
Simple Quiche
This quiche comes together really quickly with a refrigerated pie crust. It also makes great leftovers for lunch or breakfast.
The best part is you can add meat or veggies to the quiche or just keep it plain. Serve with fruit or salad and dinner is served!
The Southwestern Chopped Salad Kit is one of my favorite Trader Joe's products. This meal comes together super fast! Cook the taquitos according to the directions. Then use kitchen scissors to cut them into pieces to put on the salad. You can use the dressing in the kit or top it with salsa.
Since the kids are not a fan of salad yet, they will have their taquitos with sweet potato fries and sliced cucumber. They tend to eat sliced cucumbers, bell pepper strips and/or fruit with every meal.
Tempura Chicken with Rice and Green Beans
Does it get much easier than this? I try to keep these three items in my freezer at all times. It is definitely my backup meal.
The brown rice microwaves in three minutes. I cook the Tempura Chicken in a skillet but you could also bake it in the oven. Then serve together with green beans.
Vegetarian Chili Pie
Anyone else have memories of Sonic Drive-in Chili Pie? It was one of my favorites! I thought I would try to recreate it with this Vegetarian Chili. This chili makes a great lunch and would be great over a baked potato too.
To make the chili pie, just heat the chili in a saucepan. Then pour it over the corn dippers and top with cheese and sour cream. We will probably add some jalapenos or avocado too.
Hot Dog Foil Packs
These Applegate Hot Dogs are so good and it doesn't get more kid-friendly than this. We even ate these during our last Whole30. To make the Hot Dog Foil Pack, just wrap up the hot dog with sliced potatoes and peppers. This recipe is meant for a campfire, but it also works great in the oven.
Foil Pack Dinners are amazing! They are super easy to make and the clean up is a breeze.
Homemade Pita Pizzas
Instead of ordering pizza, make your own! It is super easy to make Pita Pizzas. Then you can add veggies or other toppings since we all know the kids just want cheese. Then I serve this with salad or fruit.
I hope this meal plan is helpful! Always remember, meal planning doesn't need to be complicated. Just having a simple plan can make your week go so much smoother. If you have a crockpot, I love this list of easy dinner ideas too.
We have all been enjoying this Trader Joe's Meal Plan. It's one of my favorite places to shop so I know I'll be back there again soon. I'm just happy to know it is possible to stick to my grocery budget there! I did a very similar plan at ALDI just to compare prices. Be sure to check out how that turned out!