Last week I shared an easy ALDI Meal Plan! Who doesn't love easy dinner ideas? There were seven easy dinners included in that meal plan. One of them was a super simple Taquitos Salad.
This salad couldn't get any easier. It makes a great dinner salad or quick lunch. I've had it as both!
This post does include affiliate links. That means I could earn a tiny portion of any sale that is made through clicking on any of these products with no additional cost to you. All support is greatly appreciated!
Two Ingredient Salad
What makes this salad so easy? You only need two ingredients for this easy meal idea! I found these at ALDI but I know you can find very similar ingredients at a large variety of grocery stores.
What are the two ingredients? Glad you asked! You only need a Southwest Chopped Salad Kit and a box of Frozen Taquitos for this recipe.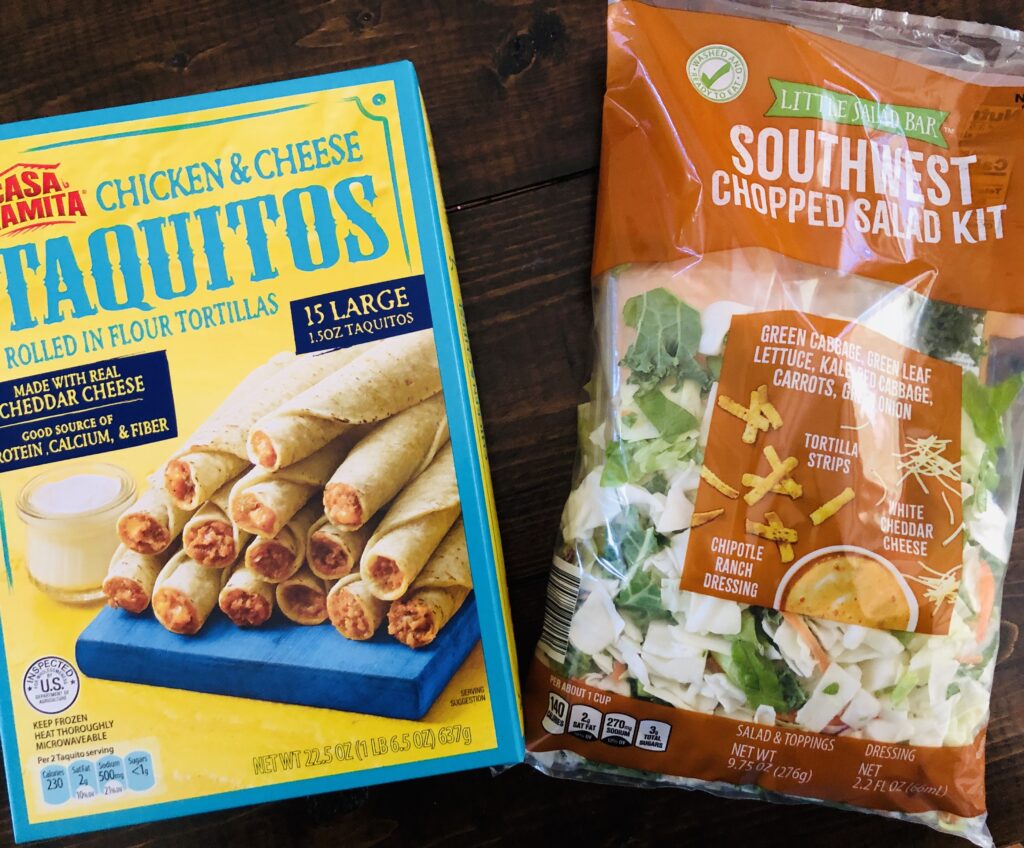 I've used ingredients from both Trader Joe's and ALDI for this Taquitos Salad recipe. My absolute favorite combination is the Southwest Chopped Salad Kit from ALDI with the Black Bean and Cheese Taquitos from Trader Joe's.
Taquitos Southwest Chopped Salad
This meal comes together super fast! Just prepare the salad according to the kit while you bake the taquitos in the oven. Cook the taquitos according to the directions. Then use kitchen scissors to cut the taquitos into bite size pieces to put on top of the salad. You can use the dressing in the kit or top it with salsa.
The kit comes with tortilla strips, shredded cheese and a very yummy dressing! If you are counting calories, substituting the dressing for salsa might be a good option.
I also added some grape tomatoes and diced cucumber to mine just to get in a few more veggies. This salad would also be amazing topped with avocado slices.
If you are feeding this meal to your family and they don't like salads, you can always serve the taquitos on their own. My kids love them! I usually serve them to the kids with sweet potato fries, sliced cucumbers and fresh fruit.