Over the holidays, I shared an easy, family-friendly meal plan from Trader Joe's. I've been curious about how the prices at Trader Joe's compare to the famous ALDI prices! So I decided to prepare a very similar meal plan and then shop for the groceries at ALDI. So now we have a very simple ALDI Meal Plan for Busy Moms!
Can you believe these two shopping trips were only a couple of dollars different in price? I may have gotten a few more items at ALDI. I haven't really analyzed it completely. The good news is I was able to stay under my $125 grocery budget this week as well.
This post does include affiliate links. That means I could earn a tiny portion of any sale that is made through clicking on any of these products with no additional cost to you. All support is greatly appreciated!
I've been shopping at ALDI for a couple of years now. In my opinion, their produce prices can not be beat. However, I do hear a lot of people struggle with finding fresh produce in their ALDI store. We have a very busy store and the produce always seems very fresh.
ALDI Grocery Haul for Budget Meal Plan
To stay on budget at any store, the key to success is to make a list and stick to it! I shop ALDI enough to know exactly which items I need though. Sometimes they do tempt me with the ever popular ALDI Aisle of Shame!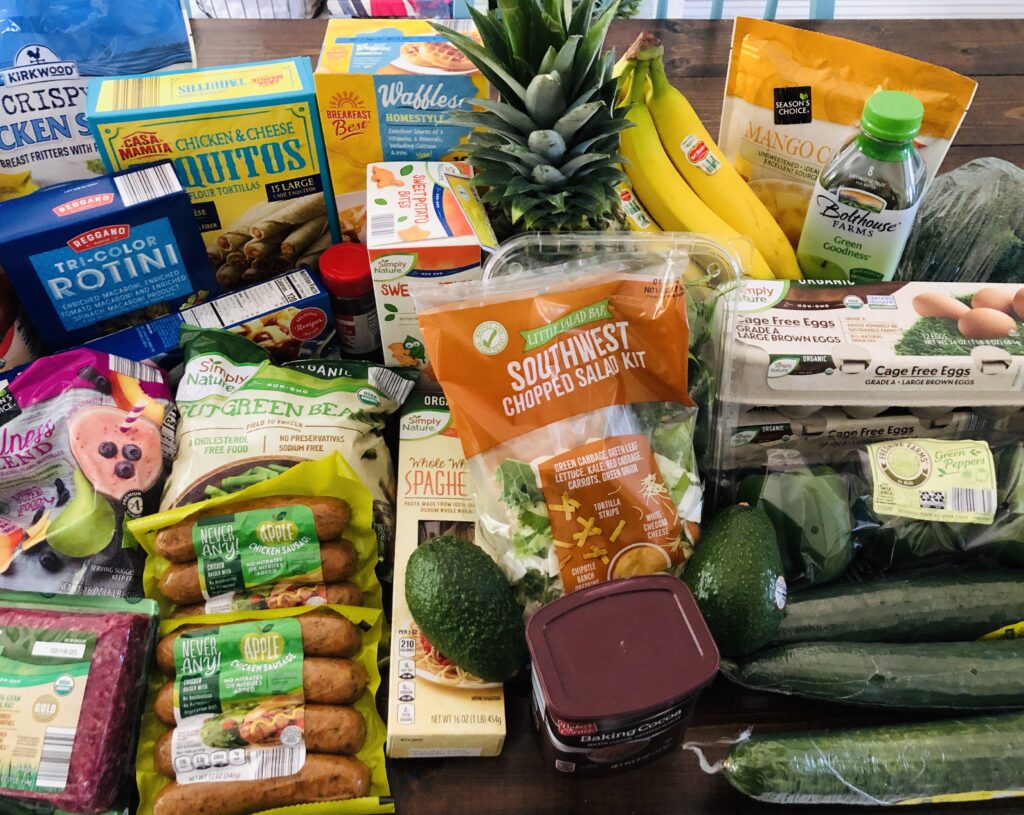 I was able to find everything on my meal plan list! I knew I would have to modify my Trader Joe's Meal Plan since a lot of those items were store specific.
It can be tough to stay on budget, eat healthy, and feed picky eaters! I feel like this meal plan is a great balance. Of course we could make some healthier choices here but this works great for those of us trying to ease our way back into healthy eating and getting the family on board!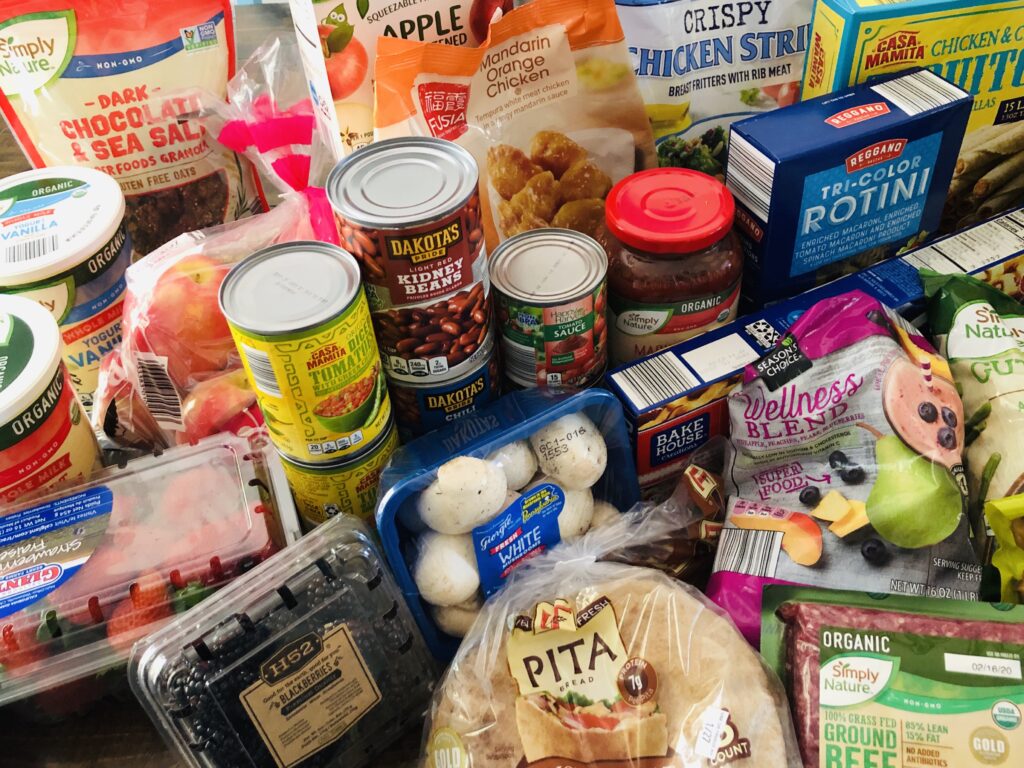 So yes, this meal plan does include some convenience items to help get dinner on the table quickly. I wish I had the time and motivation to make things like pie crust from scratch every week. Don't get me wrong….I have definitely made my own before along with homemade granola and tortillas. It's just not something that happens on a regular basis.
ALDI Grocery List
Let me break down everything I purchased for this family friendly meal plan in a list. I'll list out the prices too. This information could definitely vary by store but it could be helpful.
Super Foods Granola – $2.99
Frozen Mango – $2.08
Frozen Waffles – $1.15
Two Bags Frozen Green Beans – $3.98
Organic Baby Spinach – $1.99
Taquitos – $3.79
Two Dozen Organic Eggs – $5.58
Shredded Mozzarella Cheese – $2.49
Green Grapes – $2.88
Southwest Salad Kit – $2.89
Three English Cucumbers – $2.85
Refrigerated Pie Crust – $1.49
Bolthouse Farms Green Juice – $3.29
Shredded Colby Jack Cheese – $2.22
Whole Wheat Spaghetti Noodles – $1.09
Organic Whole Milk Vanilla Yogurt – $2.49
Organic Whole Milk Plain Yogurt – $2.49
Two 8oz Cartons Mushrooms – $2.38
Sweet Potato Kids Bites – $3.49
Grass Fed Ground Beef – $5.29
Two Packs Chicken Apple Sausages – $5.78
Two Avocados – $0.78
Two Cans Tomato Sauce – $0.38
Two Packs Applesauce Pouches – $2.98
Whole Wheat Pita Bread – $1.69 (for lunchables)
Can of Kidney Beans – $0.48
Can of Chili Beans – $0.48
Popcorn – $1.99
Mandarin Orange Chicken – $5.29
Frozen Fruit Blend – $2.99
Tri-Color Rotini Pasta – $0.75
Broccoli Crowns – $2.50
Chili Powder – $0.79
Half Gallon Organic Milk – $2.89
Frozen Chicken Strips – $4.52
Marinara Sauce – $1.89
Strawberries – $1.79
Blackberries – $1.89
Two Cans Diced Tomatoes $0.78
Bag of Pink Lady Apples – $3.89
Green Bell Peppers – $1.89
Pineapple – $1.79
Baking Cocoa – $1.79 (for smoothies)
Bananas – $1.13
ALDI Meal Plan for Busy Moms
This meal plan is perfect for busy families! I also find a meal plan like this is a life saver during the holiday season. It's so tempting to go out for meals. Having a simple meal plan can really save you time and money.
With this ALDI Grocery Haul, here is what a simple meal plan will look like. I did already have a few items on hand such as peanut butter, olive oil, rice, potatoes, salad dressing, seasonings, and pepperoni.
Breakfast Options
The kids have a Peanut Butter Chocolate Banana Smoothie or fruit smoothie every morning during the school week. They will also have a frozen waffle with it. The adults will usually have smoothies, eggs, yogurt with granola or waffles. On the weekend, we eat a lot of omlettes with sauteed peppers and mushrooms.
Smoothies
Frozen Waffles
Yogurt with Fruit and Granola
Eggs/Omlettes
I am back on a yogurt and granola kick this week. This Dark Chocolate and Sea Salt Granola I found at ALDI is amazing! Pair that with sliced strawberries and plain yogurt for a filling and healthy breakfast.
Lunch Options
I pack school lunches for the kids most days. They like to take pasta in their thermos or pizza lunchables. They also enjoy soups and chili in the thermos too. The adults will usually eat leftovers from dinner unless I take the time to lunch prep for the week.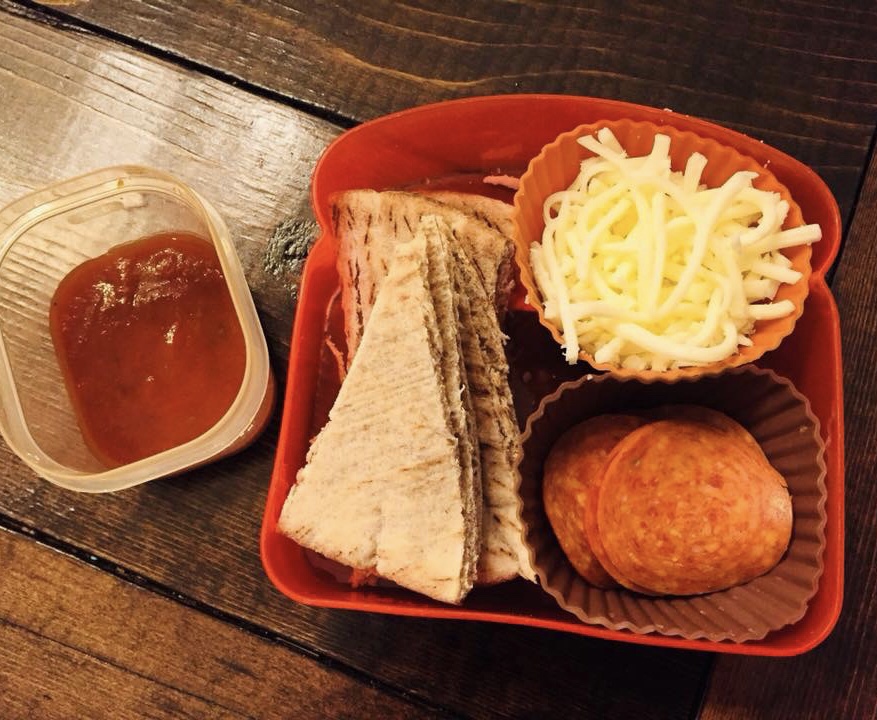 Tri Color Rotini with Marinara Sauce
Homemade Pizza Lunchable
Chicken Tenders with Fresh Fruit
Taquitos with Sweet Potato Bites
Dinner Leftovers – Quiche, Salads, Chili etc.
Dinner Options
What's for dinner? I think my kids ask me that 20 times every afternoon after school! Having a meal plan makes life so much easier. Here are seven simple dinner options for this ALDI Meal Plan.
Mandarin Orange Chicken with Rice and Green Beans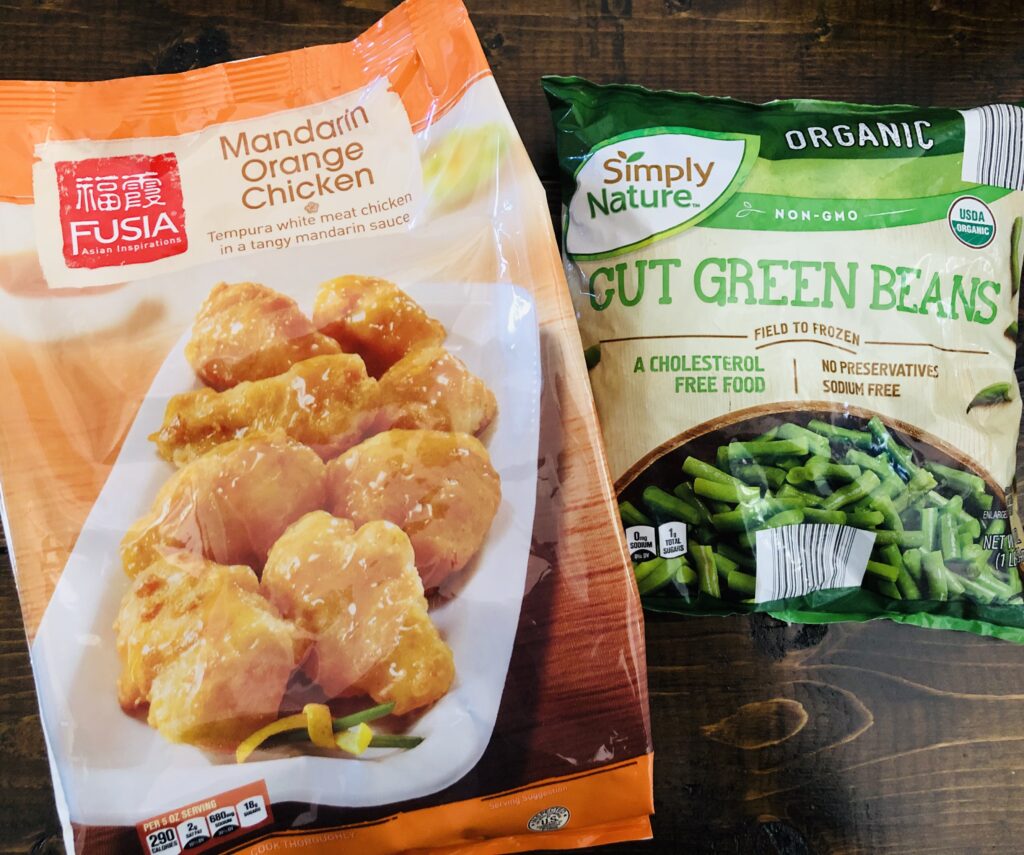 I love having meals like this in the freezer for busy nights! This Mandarin Orange Chicken is in the frozen section. We bake it in the oven and then toss it with the sauce. It is great served over brown rice with green beans.
Crockpot Chili
Chili is the perfect winter meal! It is also great for providing leftovers. I used this Crockpot Chili Recipe and the whole family enjoyed it. My plan was to make it in the crockpot but I ended up doing it on the stovetop.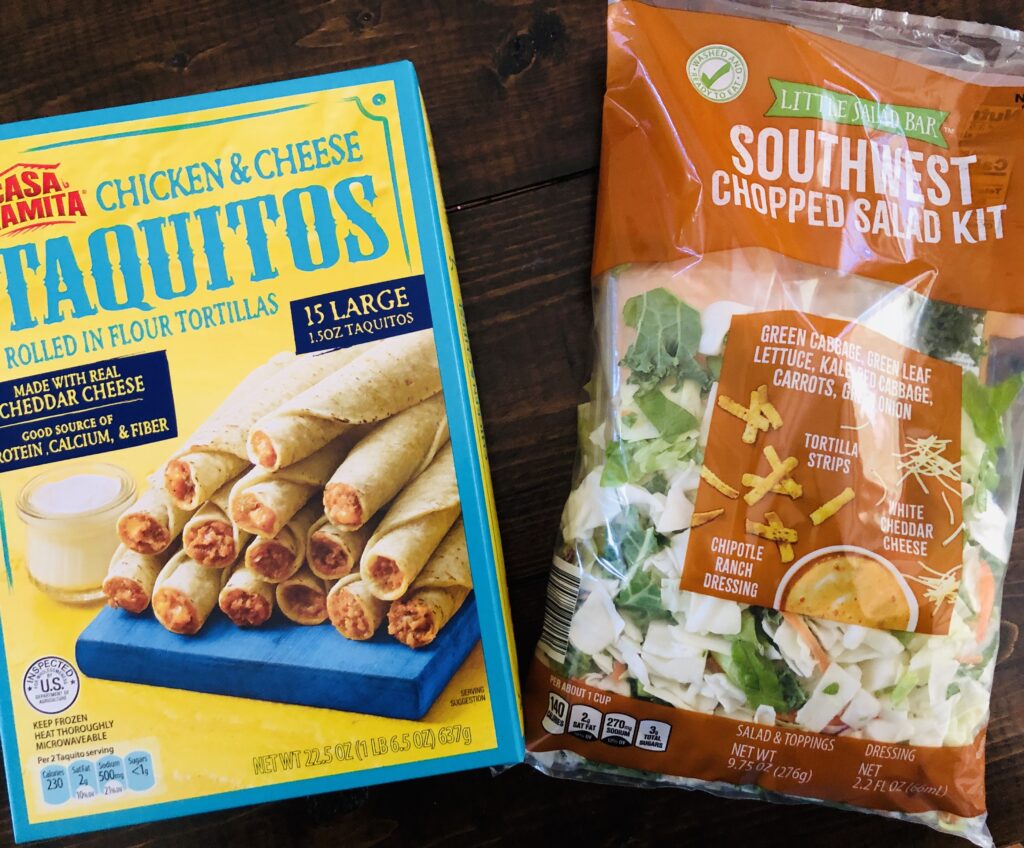 The Southwest Chopped Salad Kit from ALDI is really good! I actually prefer it over the Trader Joe's version. On the other hand, I prefer the Black Bean Taquitos from Trader Joe's over these Chicken and Cheese ones. Oh well! When you are trying to only shop at one store per week, sometimes you have to be flexible.
This salad is super easy to prepare and makes a great dinner salad. Just prepare the salad according to the kit while you bake the taquitos in the oven. Then use kitchen scissors to cut the taquitos into bite size pieces to put on top of the salad.
Roasted Sausages, Potatoes, and Bell Peppers
This is another week night dinner we have on rotation! You can use any type of sausage. We were able to find Whole30 approved sausages and had this regularly on our Whole30 Meal Plans.
I just cut up potatoes, sausages and bell pepper for this meal. Then toss it in olive oil and seasoning salt. Roast in the oven on 400 degree for about 30 to 40 minutes depending on the potatoes. Sweet potatoes are also great in this dish. Then I prepare the green beans while that is in the oven.
Quick and Easy Chicken Parmesan
This Weeknight Chicken Parmesan dish has been a hit with the whole family! Even your pickiest eaters will eat this. If they don't want chicken, just serve them the pasta and sauce. I like to serve this with a green vegetable like green beans or roasted broccoli.
Make Your Own Pita Pizza
Most kids love making their own pizzas! It's super easy when using these whole wheat pizzas as the crust. Let them choose from a variety of toppings like pepperoni, ham, mushrooms, peppers, and olives. Serve these easy pizzas with a salad and fresh fruit.
Customizable Quiche with Pie Crust
Quiche is one of my favorite weeknight meals! I can easily customize this simple quiche recipe for my family. One half gets sautéed mushrooms and peppers and the other half is only cheese. This dish is also great for leftovers. I eat this for lunch or breakfast the next several days.
Those seven dinners will definitely get us through a week! Since we eat a lot of leftovers for lunch, I usually need to cook a different dinner most nights.
I feel like shopping at ALDI definitely saves me money. I didn't think I could get everything there in the beginning. Now I shop there almost exclusively. Are you an ALDI shopper?