Last week we had the opportunity to try something new! Both kids really enjoy art but we've never taken classes. They do a lot of fun art at school and would love to do more. So when I learned about Guide Dots, I knew it was something we would be interested in. It is essentially Online Art Classes for Kids.
Guide Dots makes it easy for kids to take art lessons at their own pace and on your own time table. Each kit includes high quality art supplies along with the drawing roll and light table used with the instructional videos.
I was given this product in exchange for an honest review. This post may include affiliate links. That means I could earn a tiny portion of any sale that is made through clicking on any of these products with no additional cost to you. All support is greatly appreciated!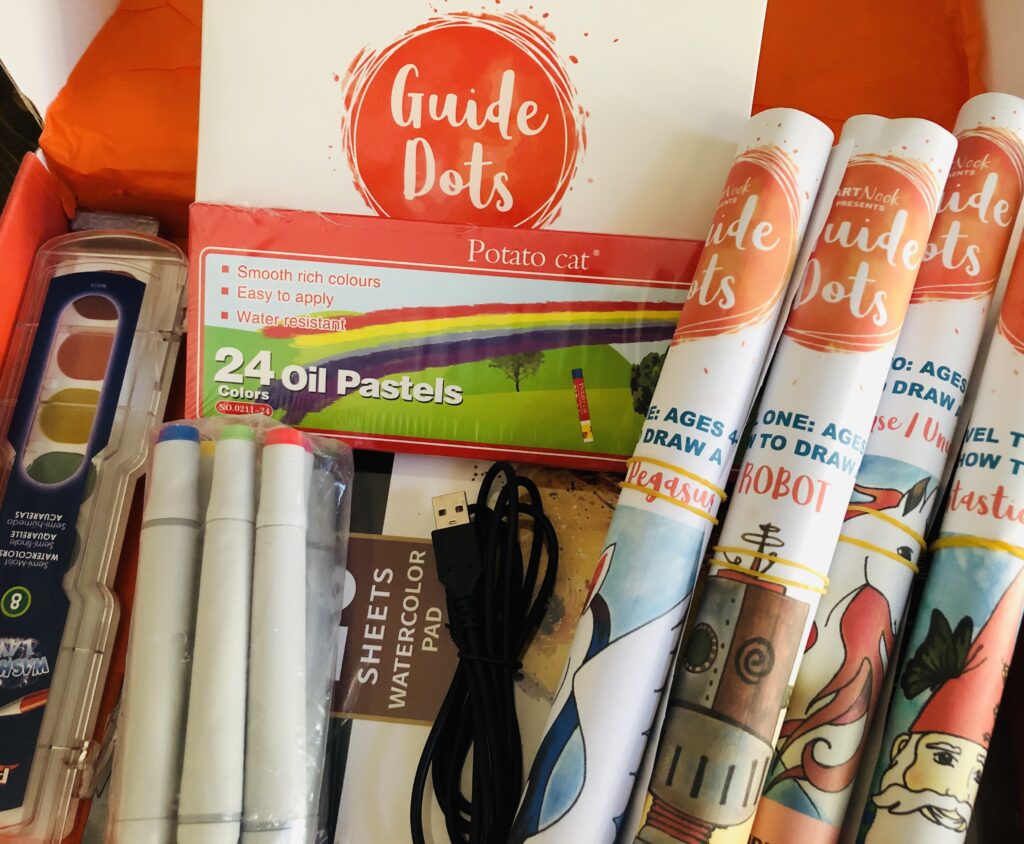 What Ages is Guide Dots for?
Guide Dots will send you a starter kit with your subscription. They have two different levels. The Discover Art level is geared for ages 4 to 6. Then the Art Confidence Level is for older children geared for ages 7 to 9.
If you have multiple children, they can even share the starter kit. We were able to get one starter kit for both kids to use. Since she knew we were sharing the kit, we received drawing rolls for both levels. The online video instruction was available for both levels so it worked out great!
Online Art Classes for Kids
After watching the introduction video, we let Gavin start his project first. Ms. Cindra, Guide Dots founder, is an experienced art teacher and does an amazing job with these videos. There are multiple sections so you can stop and work at your own pace.
He was able to follow the online art videos on his own. This is a great activity for older ones when they need independent time.
Art Classes at your own pace!
Each project includes two videos. The child completes the drawing tutorial first. This is nice if you need to break this down into two time periods. Then they begin the tutorial for adding color.
Gavin was SO proud of his artwork! He just kept saying that and how much he enjoyed creating art with the online videos.
Graylie's Drawing Roll was from the Discover Art Level. This level was perfect for her. Each section is a bit shorter to help keep their attention.
The drawing rolls do have to be moved with each section so I did have to help her a little with that part of this online art class. With some practice I can see this not being an issue after a while. It also will depend on the child.
Ms. Cindra does a great job reminding the child to watch her first with this level. I found that very helpful for my daughter.
Look at that face! You can tell how proud she is of her artwork. Now that they have completed one lesson, they still have another drawing roll they can do this month.
Each starter kit comes with two drawing rolls and then two more months of drawing rolls. This would be such a great activity for the kids to do during summer break too!
Coupon Code for Starter Kit
If this is something you are interested in trying for your kiddos, be sure to check out all the Guide Dots subscription options. Plus use coupon code @glitteronadime to get $5 off a Guide Dots Starter Kit!