January is the month most of us make resolutions to eat healthy or start a new diet plan. I am no different. Two years ago we did a January Whole 30. This year I'm just trying to take what I learned from our two rounds of Whole30 and do a better job limiting sugars, carbs, and processed foods. That is where this yummy Bacon Ranch Burger Salad fits into my life.
I don't do well with strict diets. Take away my wine and chocolate and I am a complete mess. Sure I can do it for 30 days. It's what happens after the 30 days that becomes the problem.
We had some amazing meals while doing Whole30 so I definitely want to incorporate a lot of those into our normal weekly meal plans.
This post does include affiliate links. That means I could earn a tiny portion of any sale that is made through clicking on any of these products with no additional cost to you. All support is greatly appreciated!
Bacon Ranch Burger Salad Ingredients
The ingredients I used in this Bacon Ranch Burger Salad are all Whole 30 approved! They are also great for the Keto or Paleo diets. If you aren't following a specific diet, feel free to substitute your favorite ingredients for some of these products.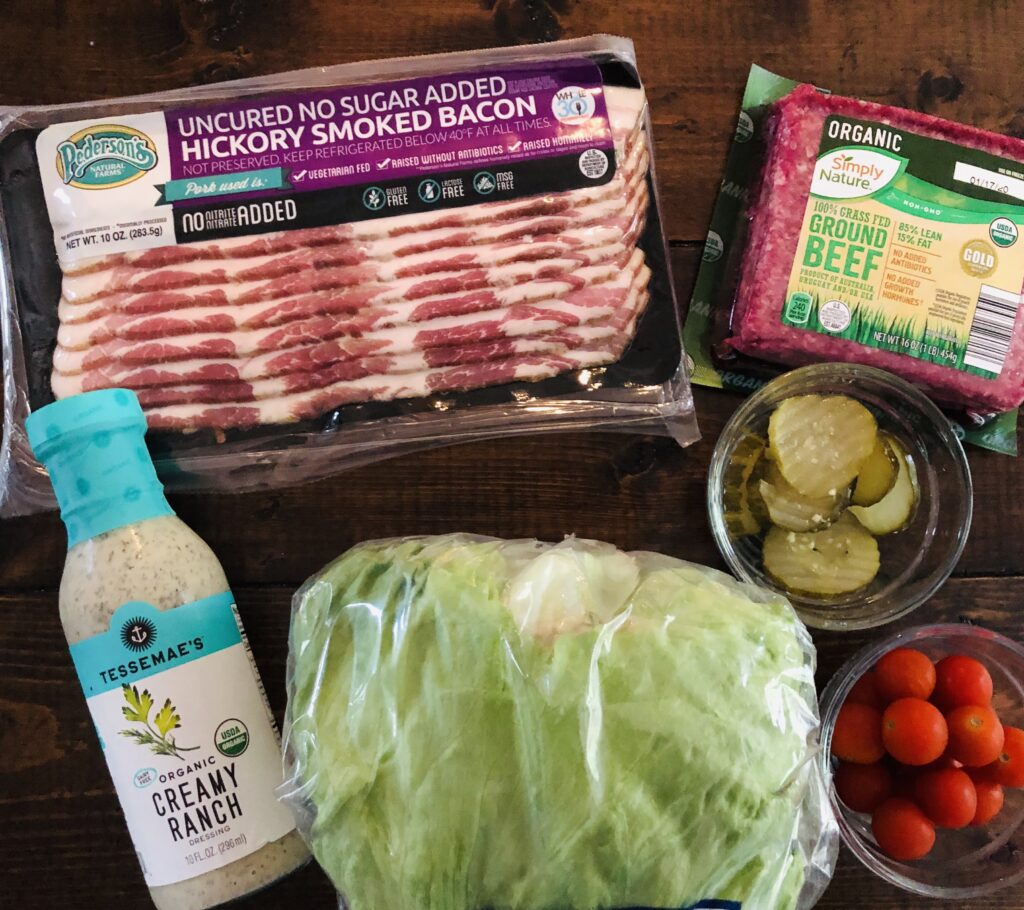 I love the Tessemae's Creamy Ranch Dressing. If you prefer homemade dressing, I've made the Whole30 Dump Ranch. It would also be amazing on this salad.
This ingredient list is very short and simple. You'll be wondering why you don't make this amazing salad every day!
Ground Beef
Bacon Crumbles
Iceberg Lettuce
Grape Tomatoes
Diced Pickles
Ranch Dressing
Meal Prep Bacon
To prepare for this salad recipe, start by cooking the bacon. You can easily meal prep bacon a couple of days before or even freeze it. I like to cook my bacon in the oven but you can also prepare it in the skillet.
It can be challenging to find Whole30 approved bacon. Why do they have to add sugar to everything??? I find the Pederson's Farms Bacon at my local Harris Teeter grocery store. Amazon also carries this sugar free bacon but I haven't tried it yet.
Best tool for browning ground beef.
While the bacon is in the oven, I brown my ground beef. I use the Pampered Chef version of this tool for browning ground beef. It is one of my favorite kitchen tools and makes cooking ground beef so much easier.
I season ground beef and pretty much everything with Jane's Krazy Seasonings. You could use any seasoning salt or spices that you enjoy.
Assembling the Bacon Ranch Burger Salad
Once the bacon and ground beef are cooked, it's time to get the vegetables prepared. You will need to wash the lettuce, quarter or half the grape tomatoes and dice the pickles.
To assemble one salad, I start with almost two cups of iceburg lettuce. Then add about 1/2 cup of browned ground beef. Continue assembling this salad by adding the pickles and tomatoes. Then top it off with one slice of crumbled bacon and drizzle with ranch dressing.
Can I just say this salad is A-MAZING?!?! The key to succeeding at any healthy eating plan is not to deprive yourself. Find food and meals that satisfy you! This salad is definitely that kind of meal for me.
If you aren't doing Whole30, feel free to sprinkle on some cheese and turn this into a cheeseburger salad. That sounds delicious and totally Keto friendly!