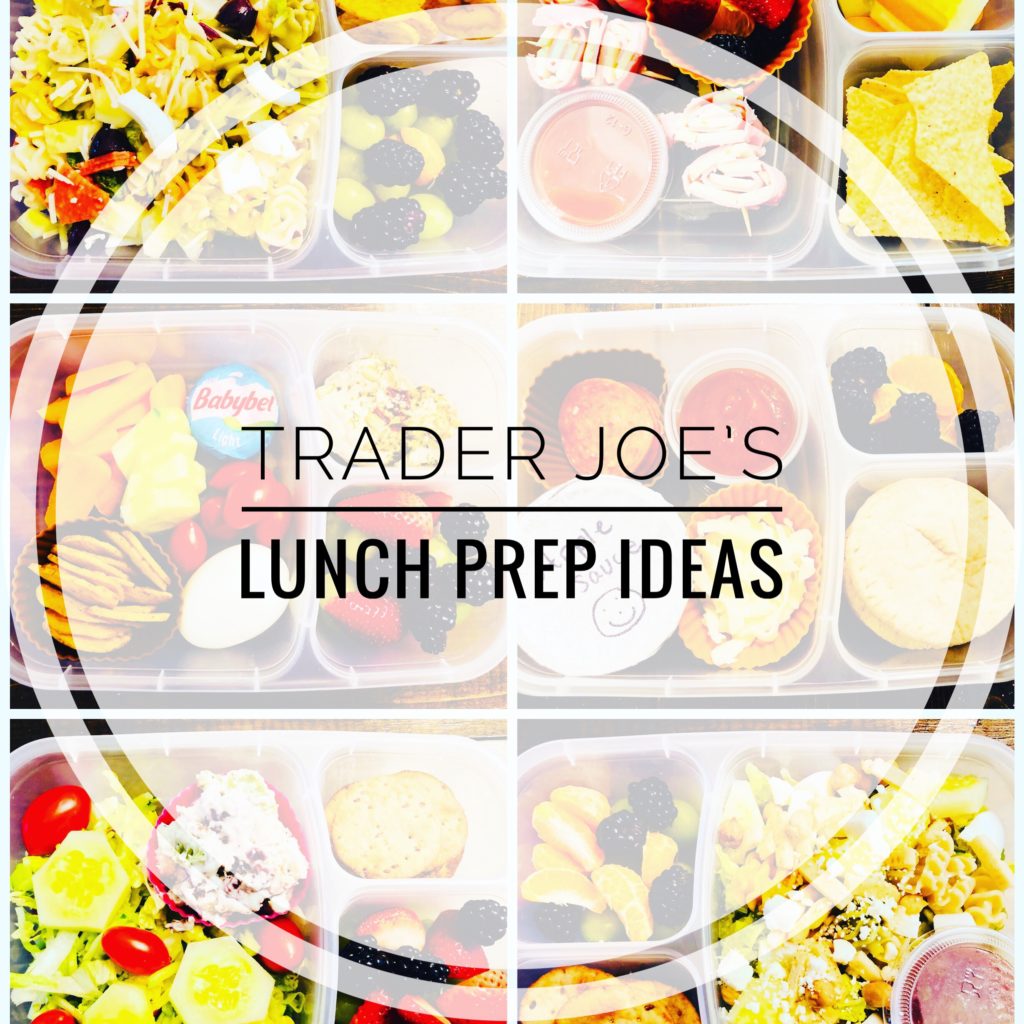 After doing a couple of weeks of Aldi lunch prepping, I decided to branch out and try Trader Joe's. There are a few items that we always need there so I try to go at least once a month. I always end up with way more than I need. They have the best snack foods! This time I was armed with my list and focused on getting what I needed for this yummy Trader Joe's Lunch Prep.
This post does include affiliate links. That means I could earn a tiny portion of any sale that is made through clicking on any of these products with no additional cost to you. All support is greatly appreciated!
Lunch Items from Trader Joe's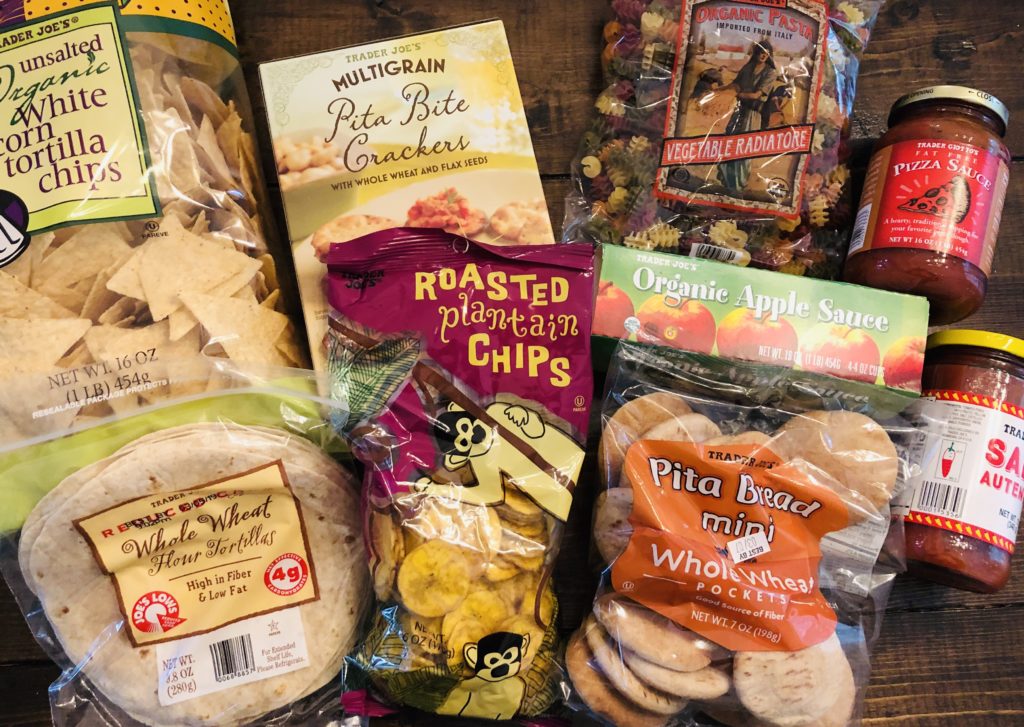 Besides snack food, the main thing we always need from Trader Joe's is salsa. Is anyone else picky about their salsa? We discovered this one while we were doing Whole 30 last year. It is amazing and contains all natural ingredients and no sugar. Besides all of that it tastes amazing!
Here are the groceries I purchased from Trader Joe's for this week's lunch prep. I ending up spending $61.80 which is almost double what I spent at Aldi. I do have even more extra food left this week though.
Pizza Sauce – $1.99
Vegetable Radiatore Pasta – $1.99
Roasted Plantain Chips – $1.79
Apple Sauce Cups – $1.99
Pita Crackers – $2.49
Mini Whole Wheat Pitas – $1.69
Salsa – $1.99
Tortilla Chips – $2.69
Mediterranean Salad Kit – $3.99
Baby Carrots – $1.49
Strawberries – $3.99
Grapes – $5.49
Blackberries – $3.99
Light Babybel Cheese – $3.49
Sliced Cheese – $3.99
Applegate Ham – $3.99
Mediterranean Hummus – $3.99
Pepperoni – $3.29
Whole Wheat Tortillas – $2.99
Wine Country Chicken Salad – $4.49
A lot of the items I purchased this week were also organic. Trader Joe's has a larger selection of organic items and that is sometimes the only choice. The only thing I wasn't able to find was their southwest salad mix. I was hoping to compare it to the one we have been eating from Aldi.
Trader Joe's Lunch Ideas
The lunch prep process was a bit slower this time. It is always harder to come up with new ideas. Plus I wasn't able to get the individual containers of hummus and guacamole there. Those items make it really quick to throw together a healthy lunch. Here are the lunch containers I was able to create.
I was super excited to try the Wine Country Chicken Salad. It did not disappoint! I used some of the Mediterranean Salad Mix and added a few grape tomatoes and cucumber. I put the chicken salad in a silicone baking cup to keep my salad from getting soggy. I also added pita crackers and fruit.
This lunch includes ham and cheese roll-ups, chips and salsa, fruit and veggies. The Applegate Ham was much easier to work with than the ham I have been using from Aldi.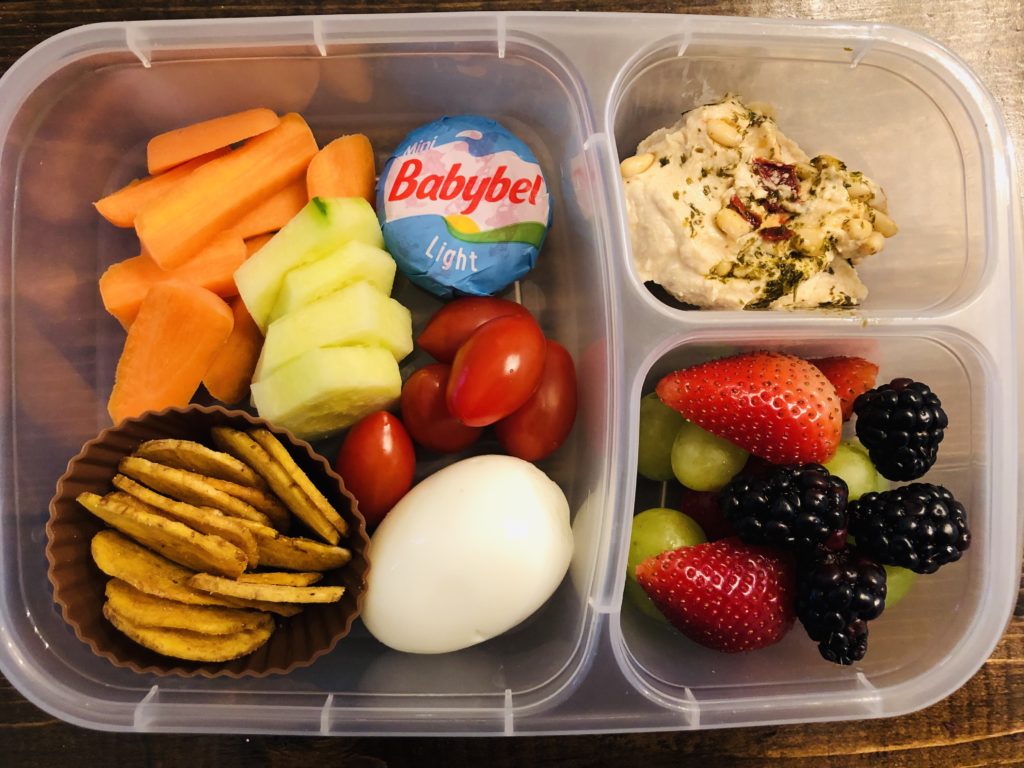 I love a good snack lunch! I was so surprised by how much these type lunches fill me up. This lunch includes plantain chips, hummus, veggies, hard boiled egg, fruit and a Babybel Cheese. I usually prefer plain hummus. The only exception is this amazing Mediterranean Hummus from Trader Joe's. It has roasted pine nuts on top and the flavor is phenomenal.
My husband was such a fan of the Southwest Salad Mix the past couple of weeks. I hope he likes this new mix! I used the salad mix and added some boiled egg whites and pasta to it. I also included pita crackers and fruit in this lunch.
This is one of the lunches I made for my fourth grader. It is a homemade pizza lunchable. I used the mini pita bread, pizza sauce, pepperoni, and shredded mozzarella cheese. I also included apple sauce and fruit.
Here is another lunch for my husband. I made ham and cheese wraps this time. I also included plantain chips, salsa, veggies, and fruit.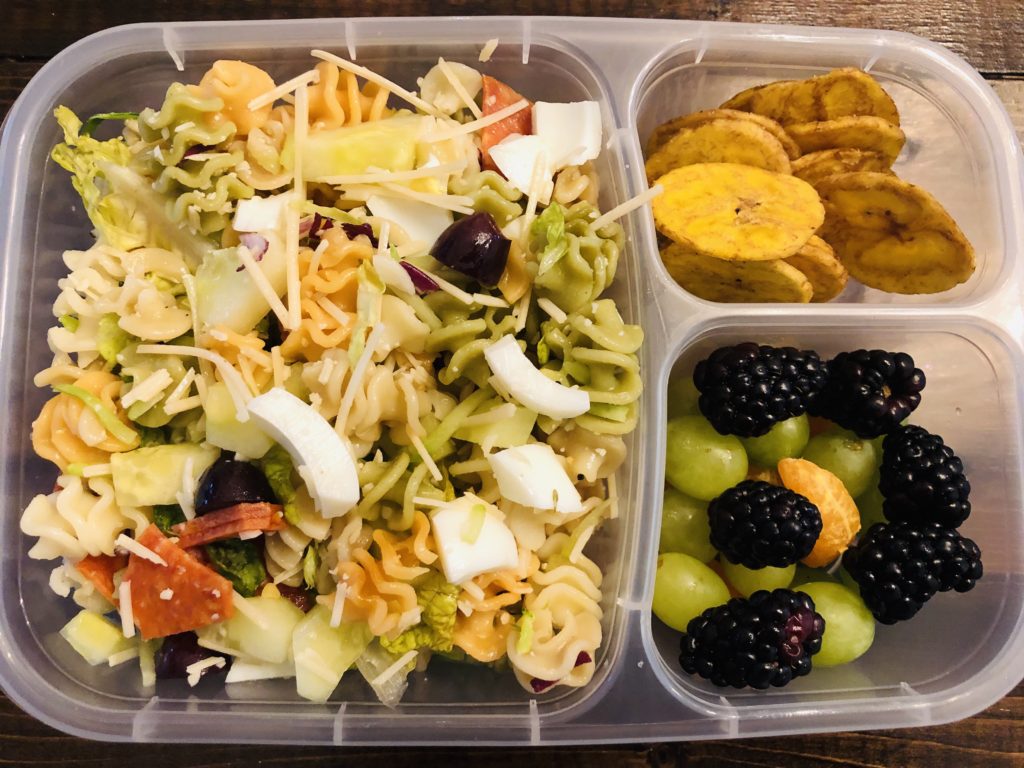 We really enjoy pasta salad for lunches. For this salad I just tossed together pasta, diced pepperoni, kalamata olives, boiled egg whites, cucumber, Parmesan cheese, leftover salad mix, olive oil, and seasoning salt. I also included plantain chips and fruit.
I love seeing all the lunches once they are finished! I've started using the lids as a color coding system. My husband knows his are orange and yellow. My son gets blue and green. The pink and purple ones are mine. I usually make ten lunches since I have ten containers. These last about three days for us. I think I've become addicted to prepping lunches. It's actually like crafting to me and I get such satisfaction from it. Plus my family has really enjoyed it too!
Related articles:
Back to School Favorites from Trader Joe's
Trader Joe's Meal Plan for Busy Moms