It is my favorite time of year! Fall is here bringing cooler temperatures, beautiful falling leaves, pumpkins and all kinds of yummy fall treats!
One of my favorite places to shop for treats is Trader Joe's. When we went a couple of weeks ago, we were excited to see all of the fun fall items out. We loaded up our cart with all kinds of yummy items!
A few months ago, we shared our Back to School Favorites from Trader Joe's. We thought it would be fun to share a few of our Fall Favorites now!
Pumpkin Bread & Muffin Mix
This is our top pick for fall items at Trader Joe's. Every year we have to stock up on multiple boxes of this mix. As you can see from the box, it is super easy to make. Just add eggs, oil and water. Since I am right in the middle of a freezer challenge, I feel like I should tell you these muffins freeze great too.
Pumpkin Pancake & Waffle Mix
The Pumpkin Pancake & Waffle Mix is also a must have for the fall season. We enjoy making these into both. What I really like to do with this is make them into mini donuts. I prepare the entire box and cook up an entire gallon freezer bag of mini donuts. These are awesome to have on hand for breakfasts or snacks for the kids!
Frozen Pumpkin Waffles
If you really don't feel like making your own waffles, check out these Frozen Pumpkin Waffles. I had not tried them before and was pleasantly surprised by how good they were.
Pumpkin Cream Cheese
If you are going to pick up the Frozen Pumpkin Waffles, you definitely need this Pumpkin Cream Cheese to spread on them. Super yummy! This would probably be really good on the muffins and bread too!
Pumpkin Ice Cream
This may not sound good to some people, but what is the saying…..Don't knock it til you try it! This is delicious! Make sure you grab some of this to take to your Thanksgiving feast.
Pumpkin Toaster

Pastries
I was a little skeptical about this one until I tried it. It had a very nice, mild flavor. These were a hit with the kids!
Pumpkin Joe-Joe's
Yes, I might be a little pumpkin obsessed! I promise this is the last pumpkin item on my list. Who can go to Trader Joe's and stay away from the Joe Joe's? These pumpkin ones were fun and tasty too!
Spiced Cider
This Spiced Cider is amazing and we love having it around the holidays. It is perfect warmed up on the stove on a cold night! Make sure you stock up on it before Christmas because it will be gone.
Smashing S'mores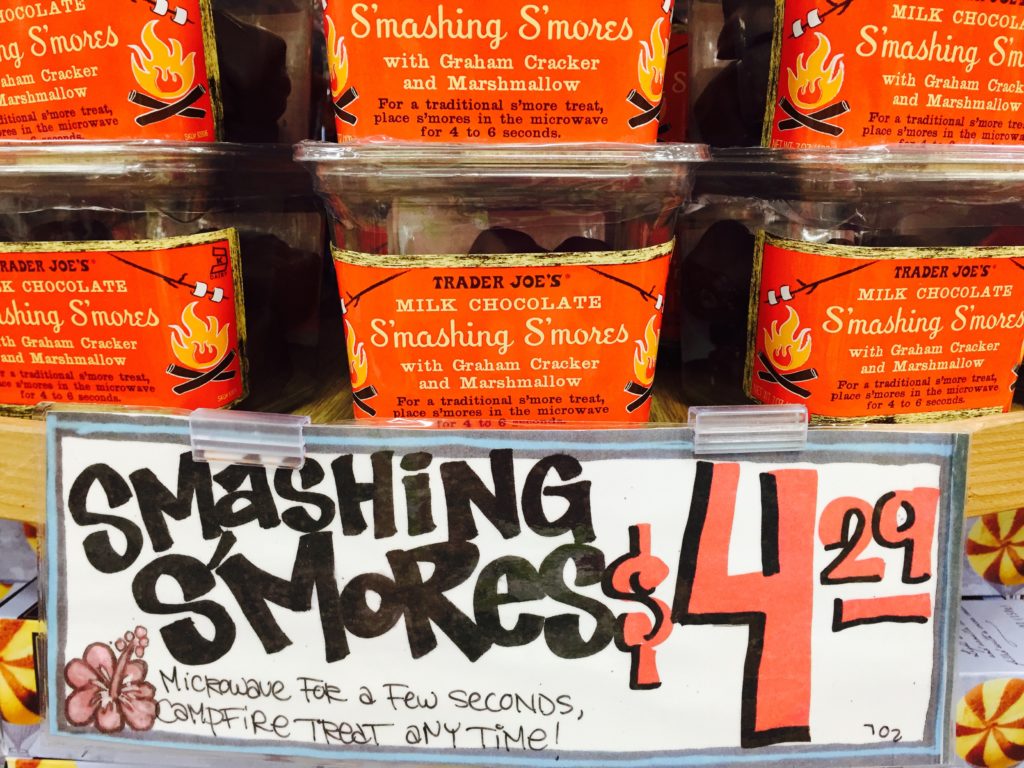 Wow! These little treats are amazing. Place them in the microwave for five seconds and the middle becomes perfectly melted. These did not last very long in our house!
Dearly Beloved I Thee Red Wine
If you are a wine drinker, you definitely need to try this. What a cool bottle! This would be the perfect hostess give for that Halloween party you're going to! 🙂
Haunted House Chocolate Cookie Kit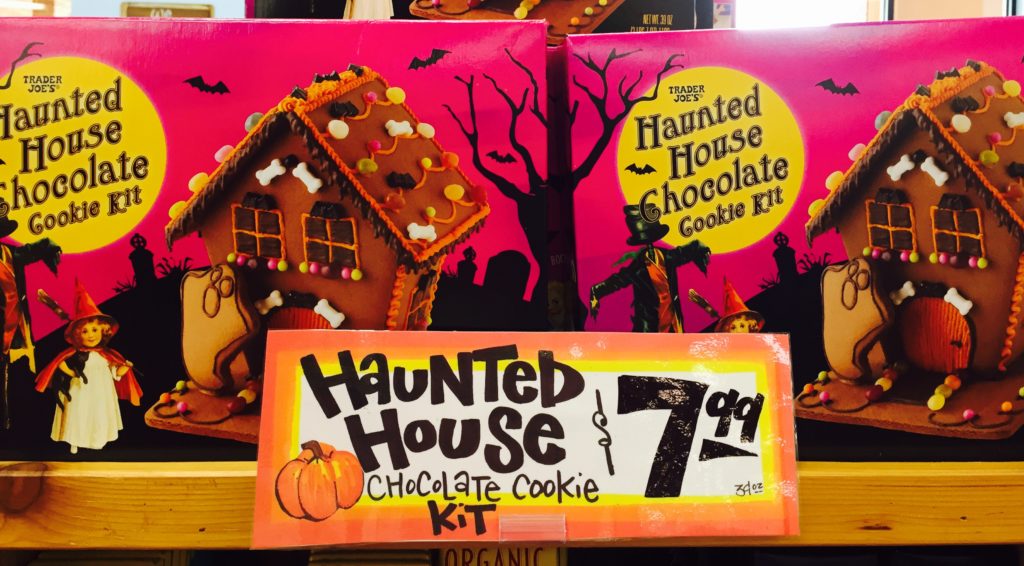 We have always gotten our annual Gingerbread House Kits at Trader Joe's. So when I saw this Haunted House Kit a couple of years ago, I knew we had to have it. It did not disappoint and it is the perfect rainy day activity! Grab a glass of Dearly Beloved and a couple of Smashing S'mores and have some fun!
I hope you enjoyed our list of Fall Favorites from Trader Joe's! What is your favorite fall treat?
This post does include affiliate links. That means I could earn a tiny portion of any sale that is made through clicking on any of these products with no additional cost to you. All support is greatly appreciated!