The school year is back in full swing! That doesn't mean everyone is back in the classroom this year though. A lot of us are learning from home. It can be a big challenge to keep everyone on task. If you have little ones around, check out these easy preschool activities to do at home.
The set up for these activities is simple and most of them are mess free. With everything going on, we don't have a lot of time for extra cleaning and complicated activities to set up!
This post does include affiliate links. That means I could earn a tiny portion of any sale that is made through clicking on any of these products with no additional cost to you. All support is greatly appreciated!
Name Recognition Activities
When my daughter was a preschooler, we struggled a little with name recognition. She did have a rather hard name to learn. This is one of those times you start to rethink your choices on naming your children!
One of her favorite activities was this Fruit Loop Name Recognition Activity. It is super simple to set up. The only supplies you need are a piece of paper, school glue, and fruit loops. Really any cereal would work for this activity.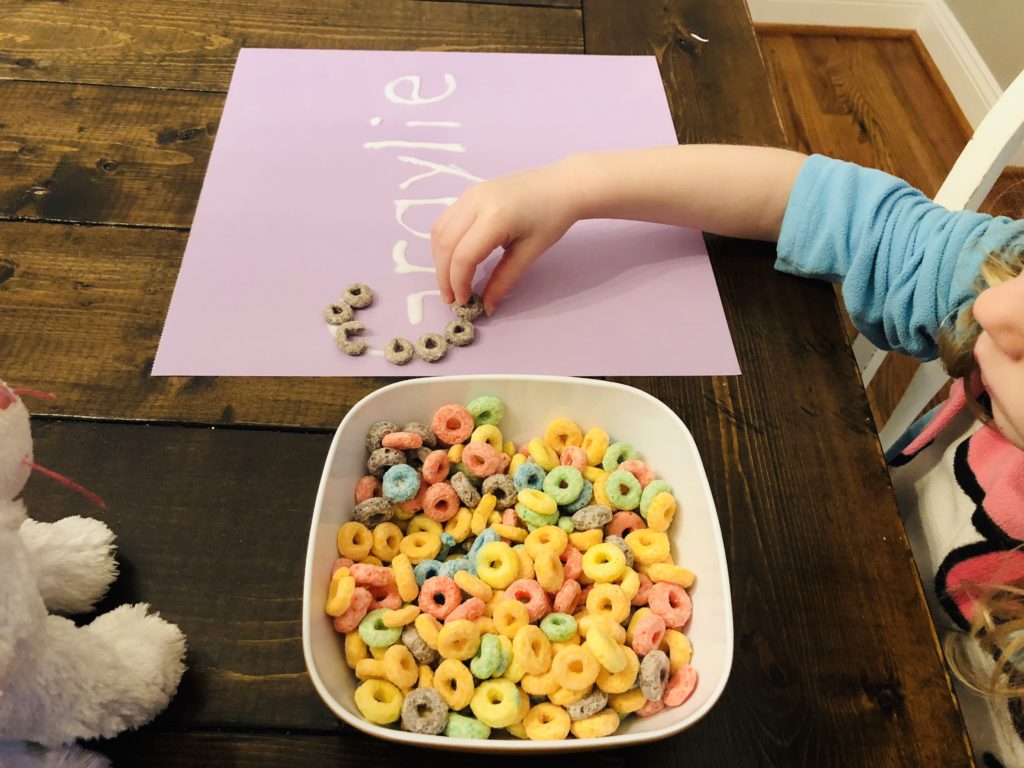 There are many other fun name recognition activities you could try. Simple activities such as writing with sidewalk chalk or using a name puzzle are also effective.
Color Sorting with Legos
If you have Lego fans at your house, this is the activity for you! Have your little ones sort the basic bricks by color. This color sorting activity is great for toddlers or preschoolers. We used the large Lego Duplo bricks for this activity.
Once they have the bricks color sorted, it is fun to build a Lego Rainbow. Depending on your child's age, they might need help from you or older siblings to do this part of the activity. For a more independent activity, have them build colorful towers from the bricks!
For a fun art project about colors, check out our blow painting activity. This is a fun one based on the book Monsters Love Colors.
Playing with alphabet stickers is great for preschoolers! Create this simple activity by writing letters of the alphabet on paper. Then let your little one use alphabet stickers to match those letters.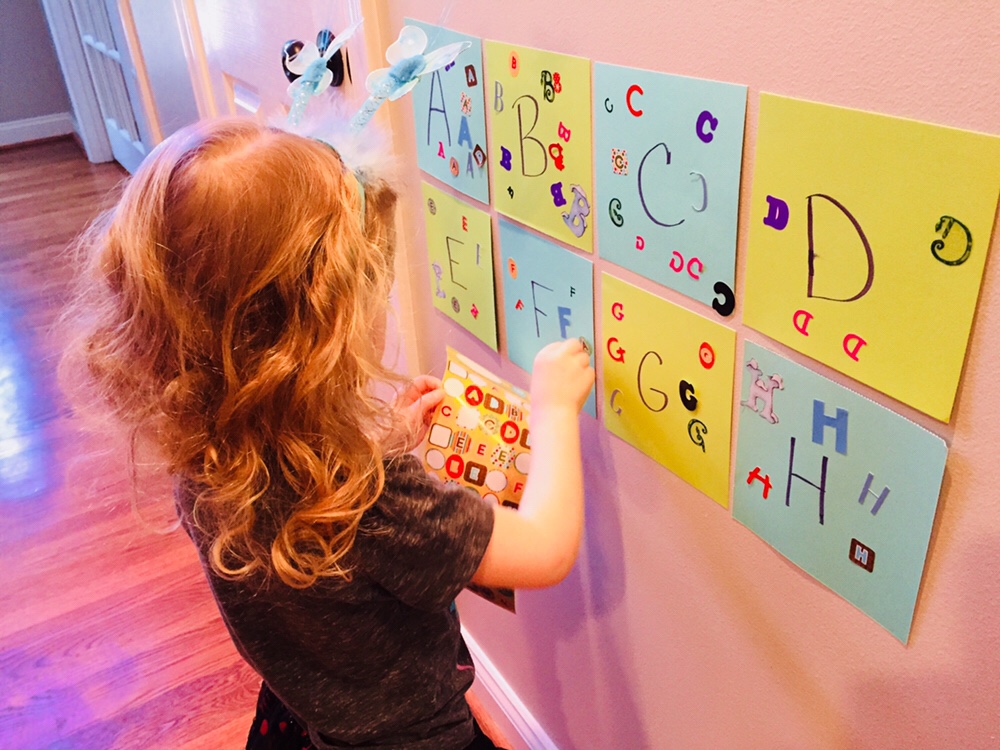 This is so much fun for practicing letter recognition. Another great idea is to use a cardboard tube for an additional letter matching activity.
Mess Free Crafts
We love crafts! I just don't always love the mess that crafts can create when we have a lot of other things going on at home. That is why I love easy and mess-free paper plate crafts like this Space Themed Craft.
Another fun idea is to make a paper plate wreath to celebrate any season or holiday. These crafts all use simple supplies such as Kwik Stix Paint and foam stickers.
Fine Motor Activities
There are so many great activities that help preschoolers with fine motor skills! An easy one is this Fruit Loop Tower Activity. Just use play dough, dry spaghetti, and any o-shaped cereal to set this up. We have also done a similar activity using beads.
I love the easy setup of this activity. For a couple more crafty ideas for fine motor skills check out this Butterfly Feeder Craft or these Bead and Button Pipe Cleaner Bracelets.
More fun ideas for preschool activities at home!
Another fun idea for your preschooler is a kinetic sand set. We had a basic set and added small dinosaur toys for additional play. I like that it comes with a tray to keep everything contained. My preschooler was able to play at the counter while I helped my older child or started dinner.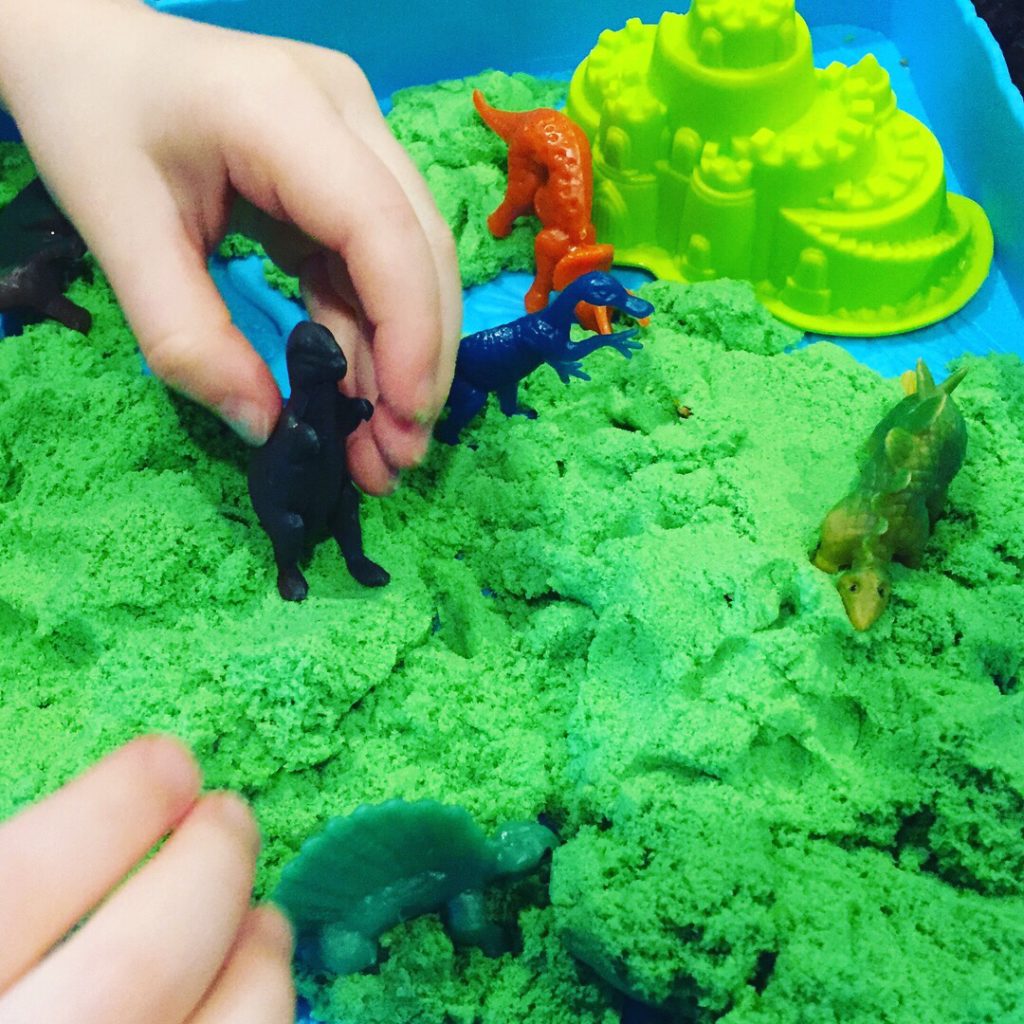 My son always enjoyed the Melissa and Doug Reusable Sticker Activity Pads. They are easy to use another mess-free idea. Also, the dry erase books for learning to write letters are numbers are fabulous!
I hope some of these ideas are helpful! Try not to stress especially when it comes to your preschool aged children. They learn so much just through playing and interacting with you and their friends and siblings.