I have a super easy idea for you today but the kids will love it. Grab a bag of heart marshmallows and some toothpicks and you will be all set for this Simple Valentine STEM Activity!
I've been buying heart marshmallows for a couple of years now for our Coffee and Hot Chocolate Bar. They are so fun and festive! I can usually find them this time of year at Target.
This post does include affiliate links. That means I could earn a tiny portion of any sale that is made through clicking on any of these products with no additional cost to you. All support is greatly appreciated!
What is a STEM activity?
S.T.E.M. actually stands for Science, Technology, Engineering and Math. A STEM project is anything that teaches your kid something about one of these topics. This simple marshmallow building activity focuses on introducing the Engineering aspect of STEM.
We actually did a STEM Week last summer as part of our Summer Camp at Home series. That week we used pretzel sticks and marshmallows to build structures. It ended up being a lot harder than using toothpicks!
Building With Heart Marshmallows
To create Heart Marshmallow Toothpick Structures, you really only need two supplies….toothpicks and heart marshmallows! I set this up on a red paper plate to make the clean up even easier.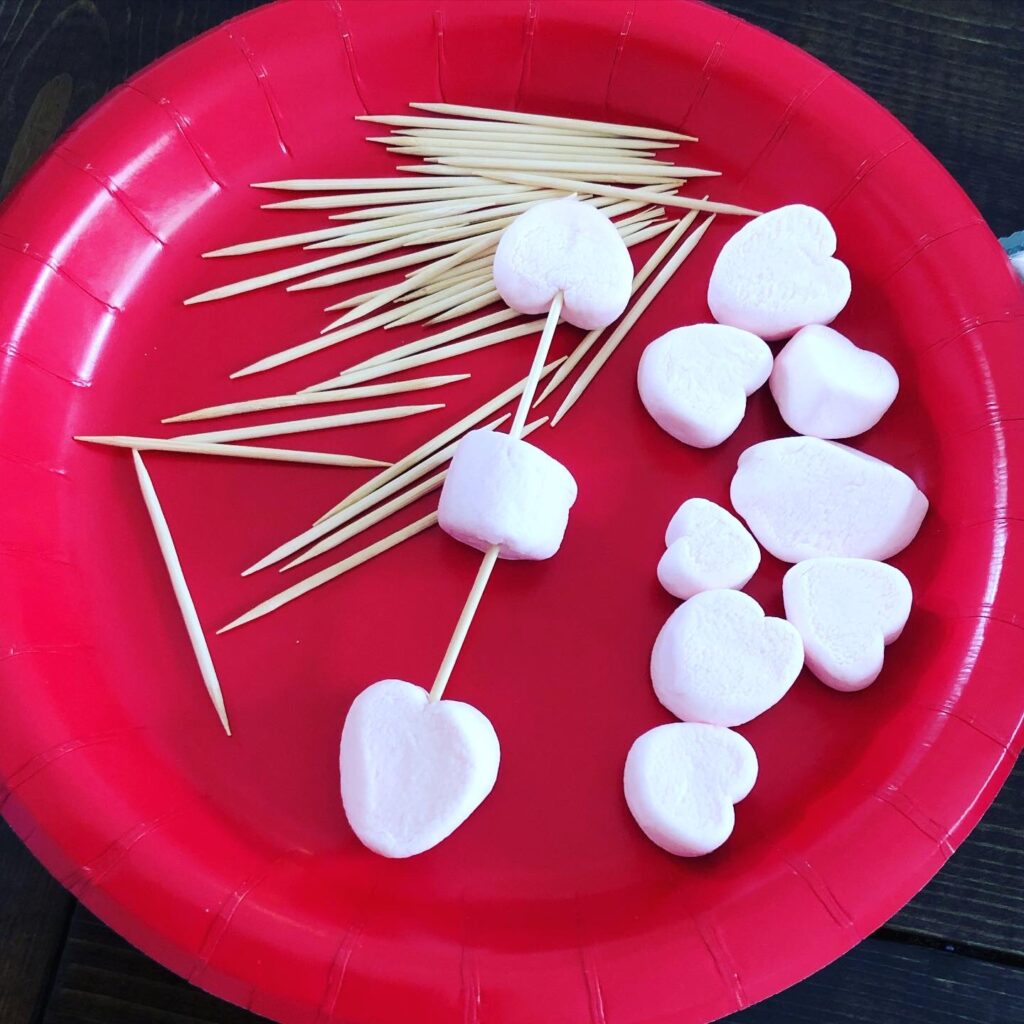 I love this activity because there is essentially NO PREP involved so I just had to pull out the supplies. It's perfect for those remote learning days when the kids are finished with school work super quickly.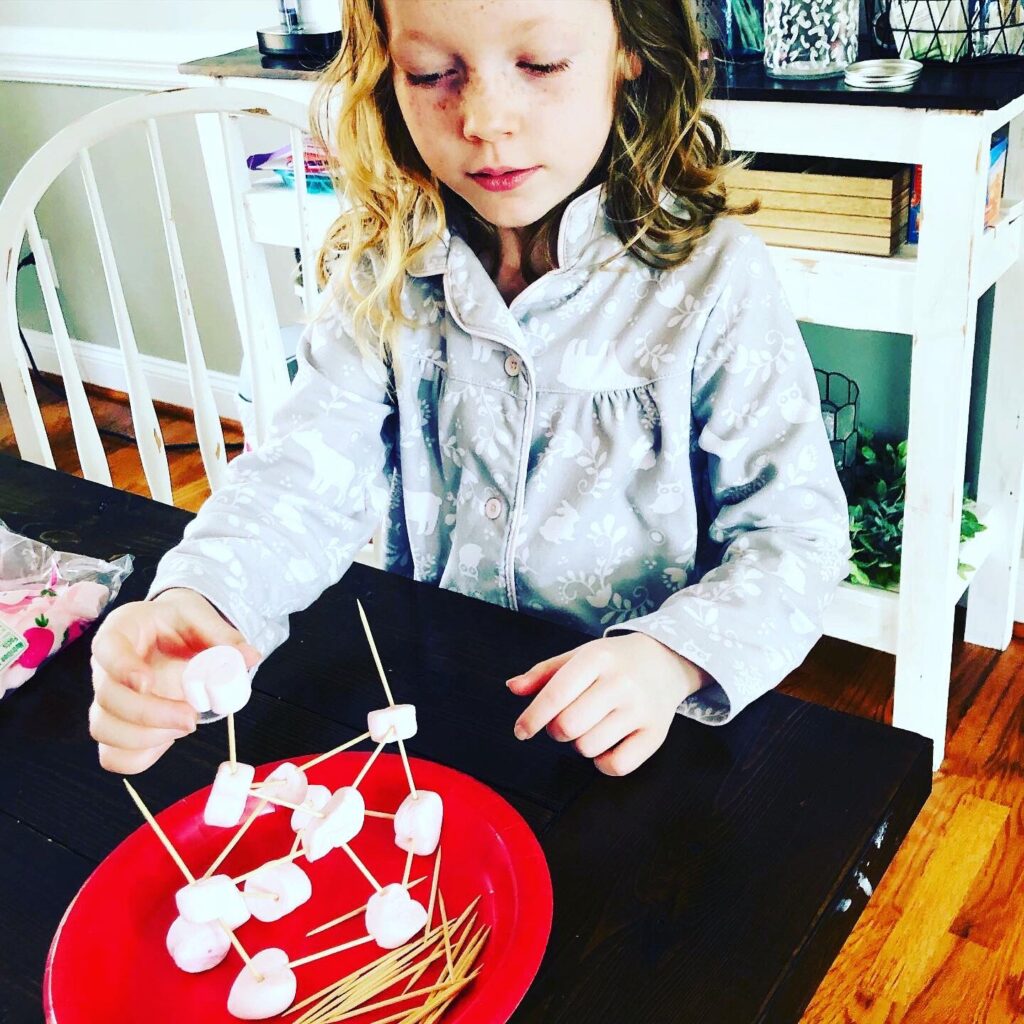 If you are concerned about the kids using toothpicks, pretzel sticks are always an option. Like I mentioned earlier they are just a little harder to work with.
Flat toothpicks are also another option since they don't have the sharp points. I was supervising this project so we did use regular toothpicks for our structures.
My daughter is six years old so I let her lead the way on this building activity. She had fun creating 3D structures and trying to keep them from falling apart.
You could also ask them to build certain 3D shapes like a cube or pyramid for more learning opportunities.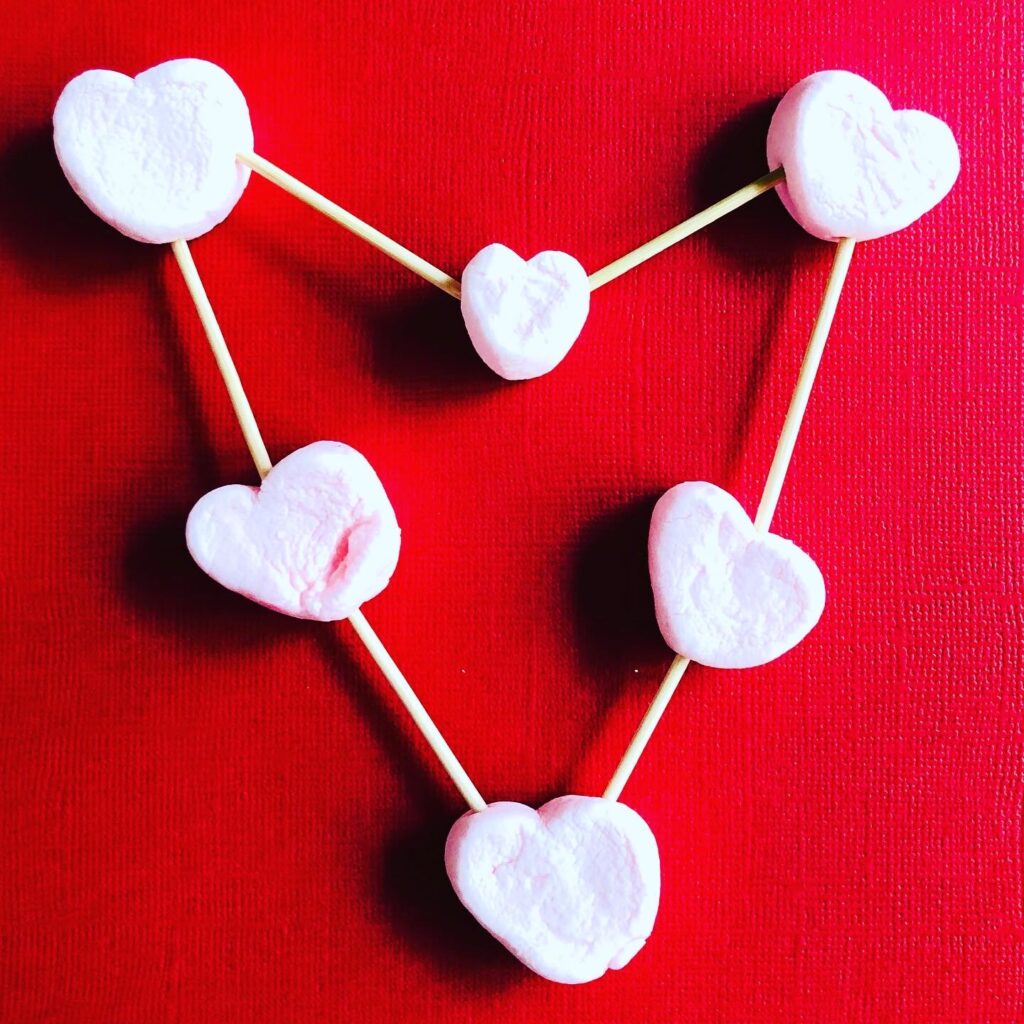 If you are working with toddlers or preschoolers, it would be fun to build 2D shapes or even use this activity to work on letter recognition.
This could also be a fun Valentine's Day Activity to do as a family this weekend! Have a challenge to see who can build the tallest structure without it falling down.
More Fun Valentine's Day Ideas
Heart Paper Plate Wreath Craft
Valentine Card Activity Tray & Book