Hello February! Heart crafts are one of my favorite things. I have always loved them since I was a kid. Even though we just made a Winter Snowflake Paper Plate Wreath, I couldn't resist kicking off the month with one full of hearts. Graylie had a friend over and this was the perfect craft for them. If you are having a play date or class party this month, you need to check out this easy Valentine Heart Paper Plate Wreath Craft.
This post does include affiliate links. That means I could earn a tiny portion of any sale that is made through clicking on any of these products with no additional cost to you. All support is greatly appreciated!
Keep supplies organized by setting up a craft tray.
Do I need to tell you again how much I love this tray from Dollar Tree? It is so awesome for all kinds of craft projects. I love seeing all the supplies organized in this tray even if it is for only a few minutes. I filled this tray with the following supplies:
Foam Heart Stickers
Red Heart Ribbon
Valentine Stampers
Red, Pink, and Purple Crayons
Glitter Heart Stickers
All of these supplies came from Dollar Tree except for the crayons. We already had plenty of those.
A Valentine Heart Paper Plate Wreath is a great craft for class parties and playdates.
I gave the girls the paper plates after I had cut out the middle. They had so much fun with this craft! The foam stickers are perfect for preschoolers. They loved having such a variety of stickers.
The stampers didn't really work well for this since we weren't using a flat surface. They have gotten plenty of use on other projects though. I let the girls decorate their wreaths with all the supplies. Then I punched two holes at the top to tie a ribbon loop.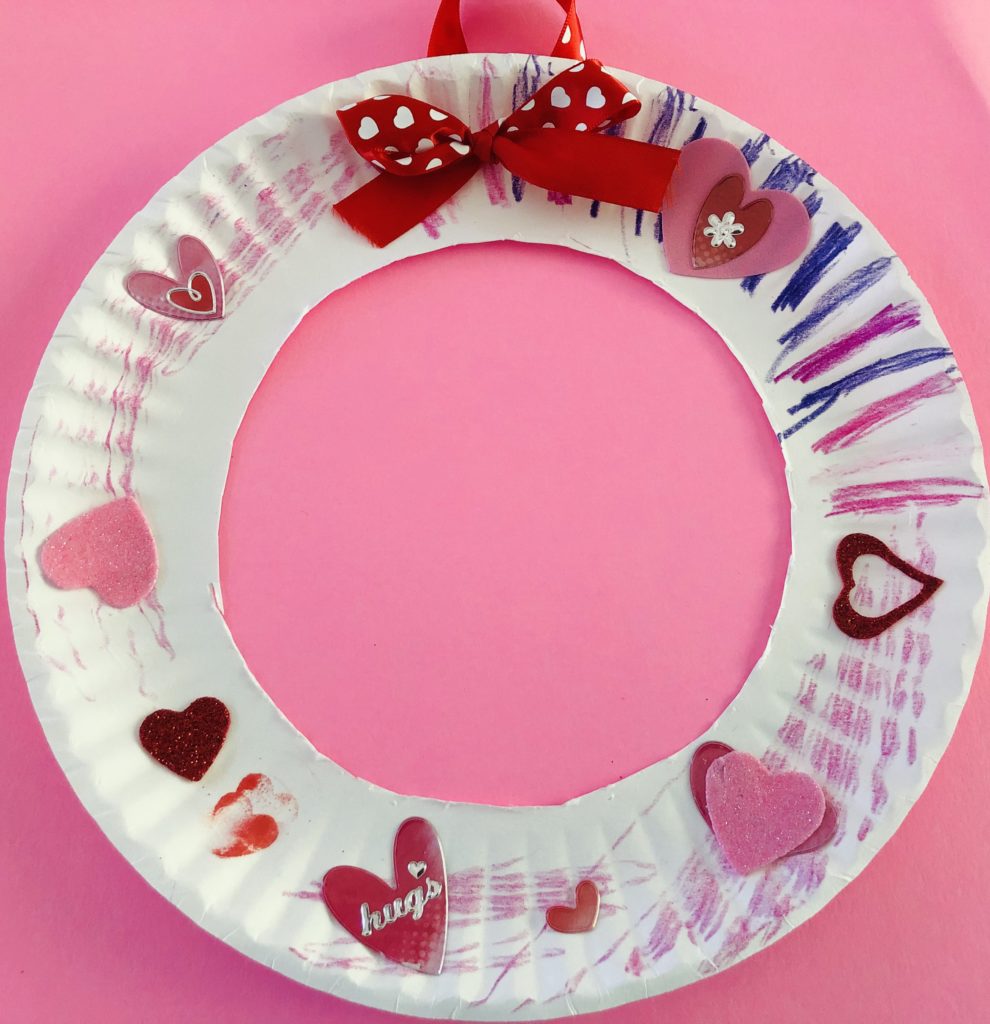 I didn't get a picture of her friend's craft before she took it home. They both did a great job though and they turned out adorable. I love making these wreaths too. It's a fun way to sit down and connect. Who doesn't enjoy coloring and using stickers?
I've done a similar project for class parties and the paper plate wreaths are always a hit! It's a fun way to let the kids make their own decorations for any holiday!