With Valentine's Day coming up next weekend, we have been crafting and decorating a little over here with all things pink and hearts. This Valentine Card Activity Tray and Board Book are both simple ideas to help celebrate the holiday.
The school announced over the weekend that there will not be a Valentine exchange in the classrooms this year. We still plan to make Valentines for friends though and spread the love from a distance!
This post does include affiliate links. That means I could earn a tiny portion of any sale that is made through clicking on any of these products with no additional cost to you. All support is greatly appreciated!
Valentine Card Activity Tray
It is no secret that I love using my Dollar Tree Divided Tray for craft activities. I'm honestly not a very organized person but this makes me happy. For another Valentine tray idea, check out our Valentine Heart Paper Plate Wreath.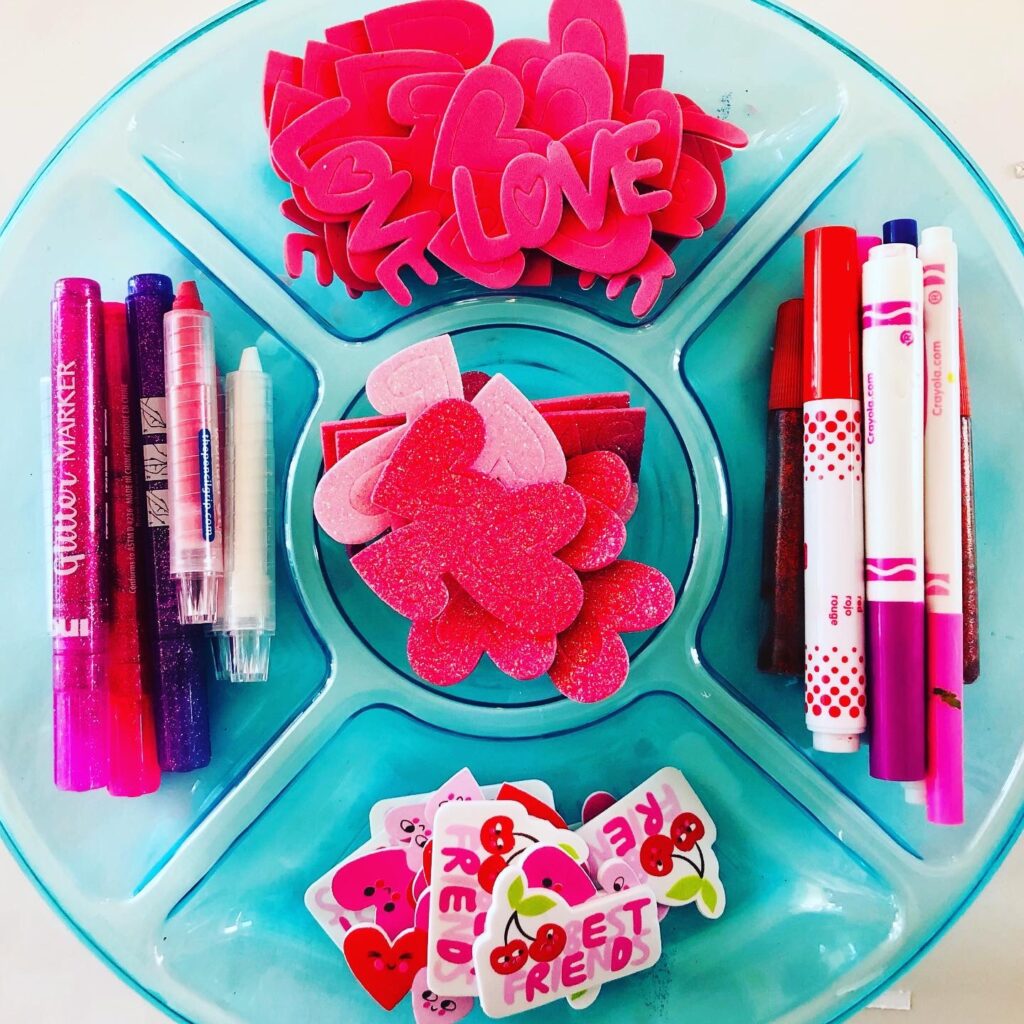 This card activity is super easy! Just fill a tray with holiday themed and colored craft supplies and let the kids get creative. For this tray I used foam stickers, markers, crayons and glitter glue. Here is a more detailed list of the supplies we used and even more ideas you could use.
Crayons
Glitter Glue
Yarn
Ribbon
Arrange the tray by putting similar supplies together. I know they won't stay organized but it's nice to start out that way!
We used blank white cards and foam hearts for this Valentine Card Activity. You could also use construction paper or even plain printer paper.
It was a fun afternoon activity to create cards for friends and family. Our school dismisses early in the afternoon so it's always nice to have something different planned especially on the cold and rainy days.
Once the kids are finished crafting, you can load the tray back with any unused supplies. Then you can pull it out a few days later when they are looking for something to do!
Adorable Valentine Board Book
If you are making Valentines or baking holiday treats over the next couple of weeks, be sure to check out this sweet book called Valentine's Day Treats. It is an adorable board book with beautiful illustrations showcasing all the magic of this beautiful holiday.
I read this while we were making Valentine cards and now we're excited to make something in the kitchen too! I'm thinking these Valentine Cake Mix Cookies might be a good place to start.
The book even has a fun Valentine's Day recipe included! This sweet story will definitely get you in the mood to start some fun traditions of your own.
Looking for more Valentine's Day Ideas? Be sure to take a look at our Sweetheart Strawberry Smoothie Recipe or Glitter Heart Crayons.