Do you love the holidays and take lots of pictures during this time of year? Now that the holiday season is behind us, it is time to do something with all those wonderful pictures. Why not create a Christmas Holiday Scrapbook?
During our first year of marriage, someone purchased us a Christmas themed photo album. It was one of my favorite gifts that year! I had already gotten into scrapbooking at that time but did not have a holiday album. So I decided to use that to start a holiday scrapbook for us.
This post does include affiliate links. That means I could earn a tiny portion of any sale that is made through clicking on any of these products with no additional cost to you. All support is greatly appreciated!
Why should I keep a Christmas Holiday Scrapbook?
My mom passed away last year so this holiday season was hard. When I went back to visit my family, my dad had put out the holiday album my mom had worked on over the years. Instead of making me sad, going through that album was very comforting. It was the inspiration I needed to get our albums updated.
Even if you aren't going through a loss, it is still important to document those memories! Kids love looking back at photos. Over the years we have stopped printing photos and they just end up stuck on our phones for no one to see. If you need help organizing printed photos, check out this post for a little inspiration!
Supplies for a Christmas Scrapbook
The first thing you need to create a Christmas Scrapbook is an album. These can be a variety of sizes. Our first album was 8 1/2 X 11. Now I use a 12 X 12 D Ring Album. There are also smaller albums that would be fun if you are just getting started.
You can go crazy with all the pretty paper and embellishments but it is not necessary. If you have never made a scrapbook before, just stick with the basics. The most important part is getting the photos in an album and doing a little journaling. Journaling can just be jotting down the dates so you can remember which year some of the photos were taken!
What to Put in a Christmas Scrapbook Album
Once you decide to do a Christmas Scrapbook, you may wonder what sorts of photos should you include. Here are just a few ideas of what I like to include in our holiday album.
Cover Page for the Holiday Album
Since our Christmas Scrapbook consists of multiple years, I like to have a cover page for this album. That can be a nice family photo or a collage of favorite photos over that time frame. Then I also include the years for what photos can be found inside.
Professional Holiday Photos
A lot of us decide to use the holidays to do professional photos. These are always great to include in Christmas cards. It is fun to look back at these photos especially of the kids as they grow.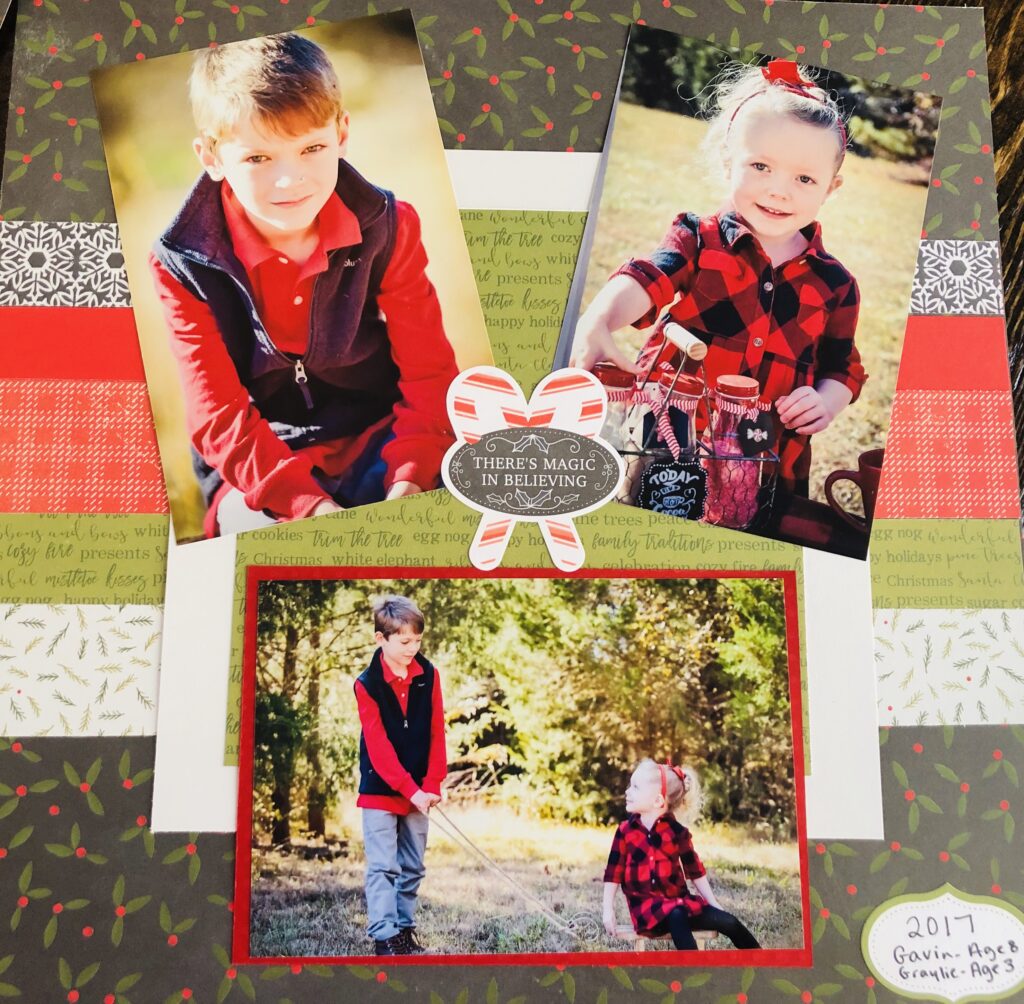 Photos of Holiday Traditions
You definitely want to document any holiday traditions your family enjoys. This could be anything from baking cookies together to attending a Christmas Eve church service. We try to visit a local gingerbread contest display each year so I make sure I get a few pictures of that outing.
Photos of Favorite Christmas Ornaments and Decorations
We work hard on decorating for the holidays! Make sure it is something that is remembered. Take some photos of the tree or some new ornaments you made. You can also check out our Christmas Tree of Memories post for more ideas on displaying your memories.
Holiday Cards from Friends and Family
I love receiving holiday photo cards from friends and family. The holiday album is the perfect place to store and display those. Sometimes I cut them down to just one photo to preserve space if I can.
These were all ideas to just get your started! Be sure to include all the photos that are important to you and your family. If starting a scrapbook is too overwhelming, go ahead and get a basic photo album and start putting photos into it. You will thank yourself when you are able to look back on those memories next year.
Please note: This post does include links to my Close to My Heart business site. I am an Independent Consultant and could get commission on these products. All of these opinions are my own and would be happy to answer any questions. I appreciate any support!