Hope your January is off to a great start! Here is a fun idea for the kids this month. This Cute Polar Bear Yogurt Snack would be great for after school or even as a special breakfast treat!
I actually made this for the first time last winter when we were doing a lot of school work from home. We were working on a scholastic weekly reader all about polar bears. This would also go great with any polar bear themed books.
This post does include affiliate links. That means I could earn a tiny portion of any sale that is made through clicking on any of these products with no additional cost to you. All support is greatly appreciated!
Polar Bear Yogurt Snack Ingredients
To make this easy polar bear snack craft, you only need three supplies or ingredients. We used vanilla yogurt, banana, and three M&M candy pieces.
Vanilla Yogurt
Banana
M&M Candy (one blue, two brown)
Polar Bear Yogurt Snack
Spread the vanilla yogurt into the bowl. I tried to make this as close to a circle as possible. Cut two slices of bananas. One of the slices you will cut in half for the ears. The other slice is for the nose.
Then place the two brown M&M pieces on the yogurt for the eyes. The blue M&M piece will go on top of the banana slice for the nose. Such a super cute and easy snack for winter!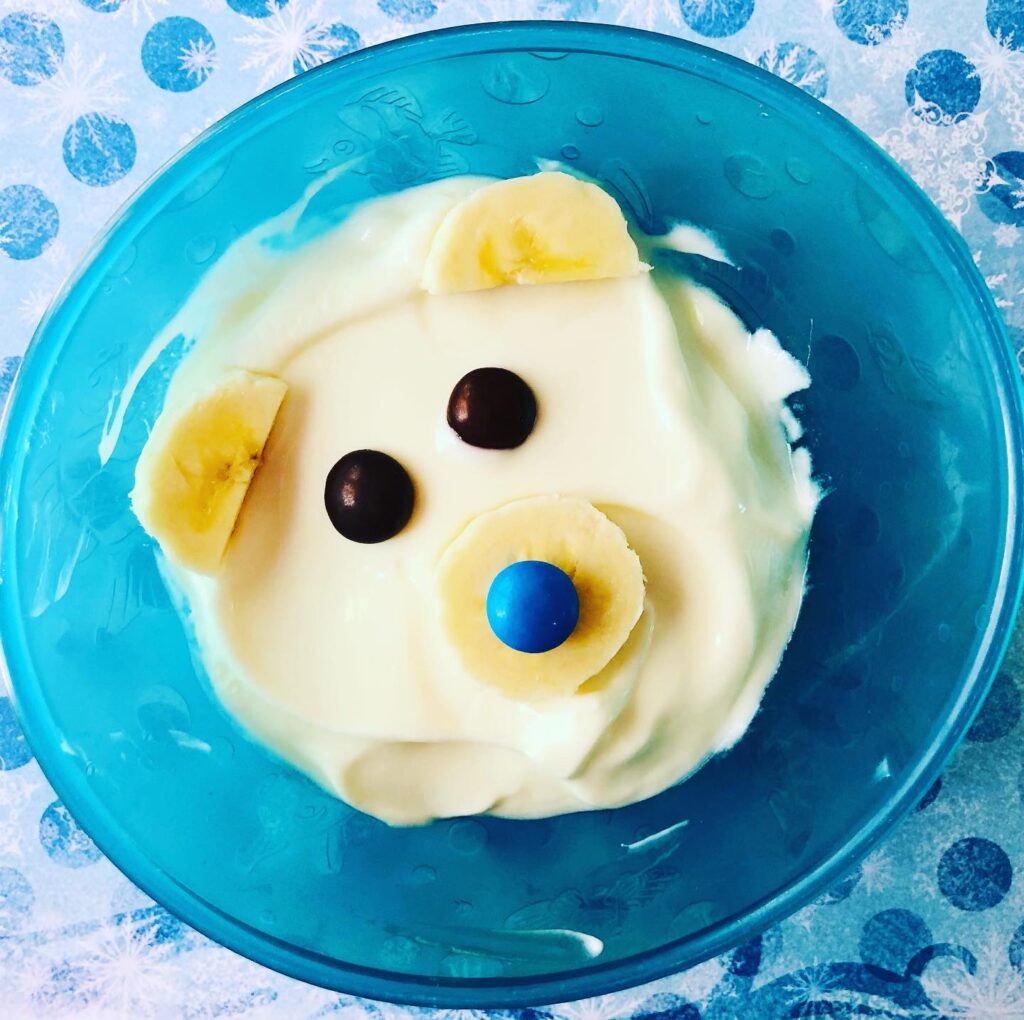 It can be difficult to keep the kids busy when it gets too cold to be outside for very long. I hope this idea and some of our other fun Winter Crafts and Activities for Kids are helpful. Most of these are great indoor activities for those cold winter days!
More cute arctic animal ideas!!!
If you need more fun ideas this month for arctic animals, please check out some of our other snacks and activities below.
Polar Bear Hot Chocolate Marshmallows
Penguin Cookies Edible Book Craft
Penguin Rescue Ice Block Excavation