Does anyone really even try to eat healthy during the holidays? I'm not sure. We do have our fair share of treats but also try to incorporate healthy foods as well. That is why I love this recipe for Cherry Almond Baked Oatmeal. It's perfect for Christmas morning.
I can start the day off with this healthy breakfast so I don't feel guilty eating all of the yummy treats later in the day. This delicious recipe also pairs really well with those must have Christmas Mimosas!
Welcome to the 5th annual 12 Days of Holiday Ideas event, hosted by Shirley of Intelligent Domestications and Erlene of My Pinterventures. Between Nov. 11th and December 6th there will be hundreds of new ideas shared by over 55 Co-host bloggers!
Go here to see our kick-off collection of Holiday ideas as well as all of this years talented participating DIY and Foodie Blogs. Download this years November and December calendars with all of the topics and dates so you can make plans to watch for ideas! Today we are sharing lots of fun recipes that will be perfect for Christmas morning!
We are hosting a BIG GIVEAWAY from our Sponsors this year! Be sure to scroll all the way down for more information and to enter to win!
This post does include affiliate links. That means I could earn a tiny portion of any sale that is made through clicking on any of these products with no additional cost to you. All support is greatly appreciated!
Cherry Almond Baked Oatmeal
This baked oatmeal recipe is the perfect combination of cherry and almond. It is one of my own favorite combos. I wish you could smell through the computer because it smells divine while baking in the oven.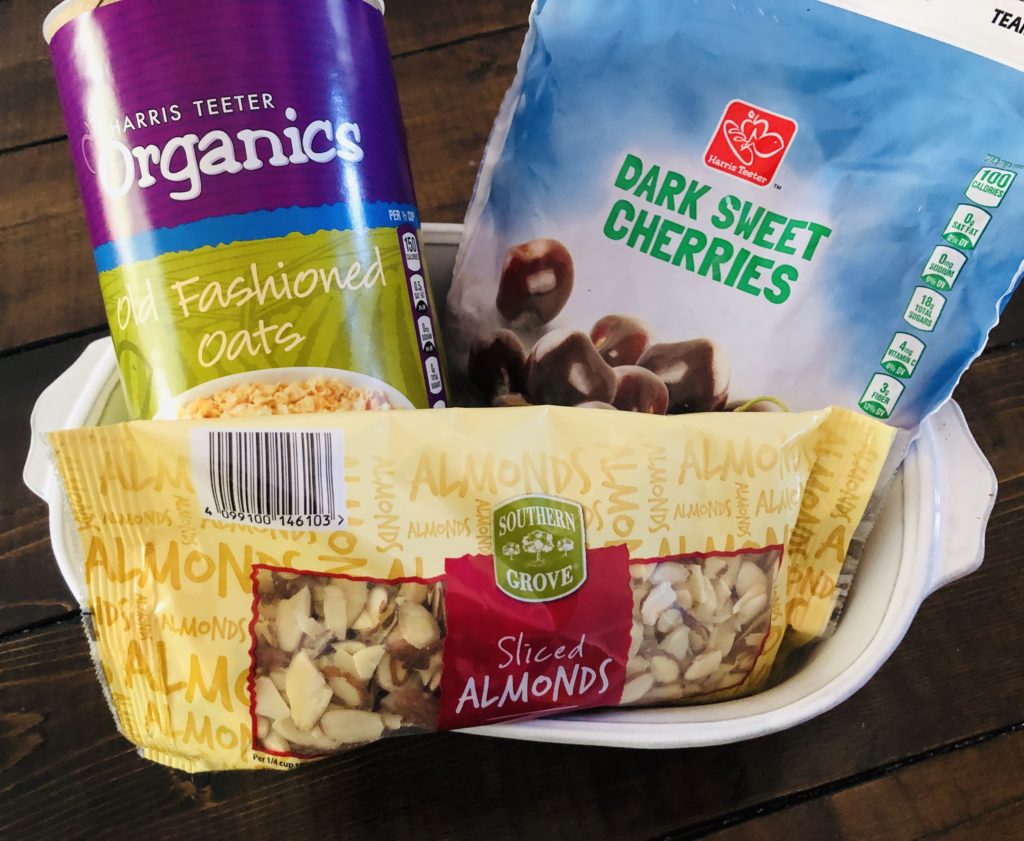 Ingredients
I used the following ingredients to make this recipe. For the milk, I used whole milk but you could use any variety. Even almond milk would be a great substitute in this recipe.
Instructions
Begin preparing this recipe by heating the oven to 375 degrees. Prepare a 2 quart casserole dish or 8X8 baking pan. I use butter but you could also use a cooking spray.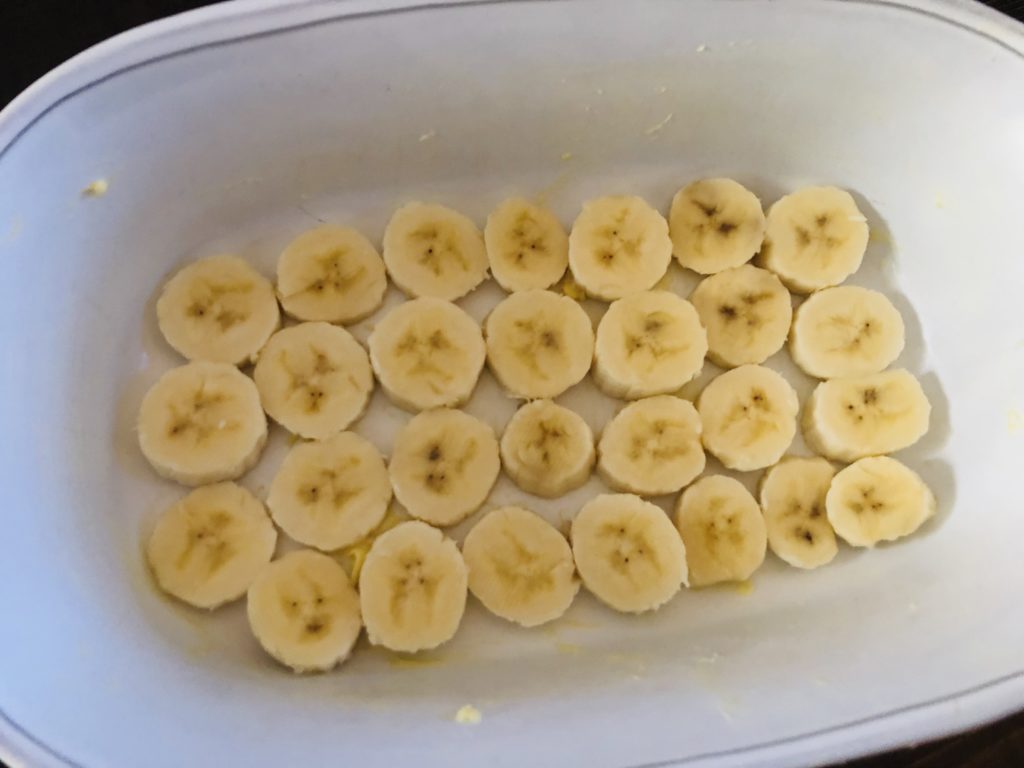 Slice the bananas and place them in a single layer on the bottom of the dish.
Next, quarter or half the cherries. This is easier to do while the cherries are still frozen. Then sprinkle a 1/2 cup of the cherries over the layer of bananas.
In a medium mixing bowl, combine the oats, 1/4 cup almonds, baking powder, cinnamon, and salt. Then pour that over the bananas and cherries.
Using that same bowl (to save dishes!), melt the butter in the microwave. Let it cool for a minute, then add the egg and almond extract. Beat the egg into this mixture and then add the milk and maple syrup.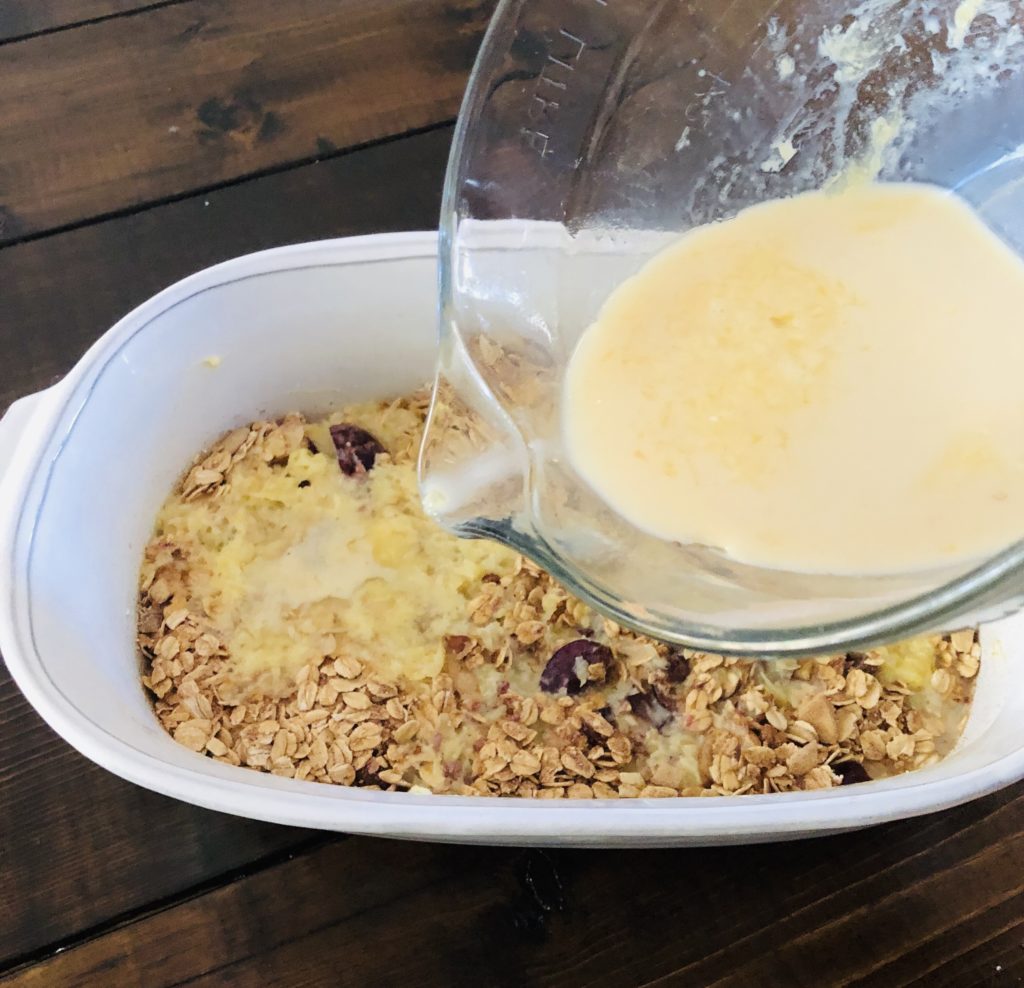 Once the liquids are combined, pour this mixture on top. Then sprinkle the remaining nuts and cherries on top.
Now it is ready to go into the oven! Bake for 40 minutes. The top should be brown and oats will be set. Let it cool about ten minutes before serving.
Yummy Healthy Breakfast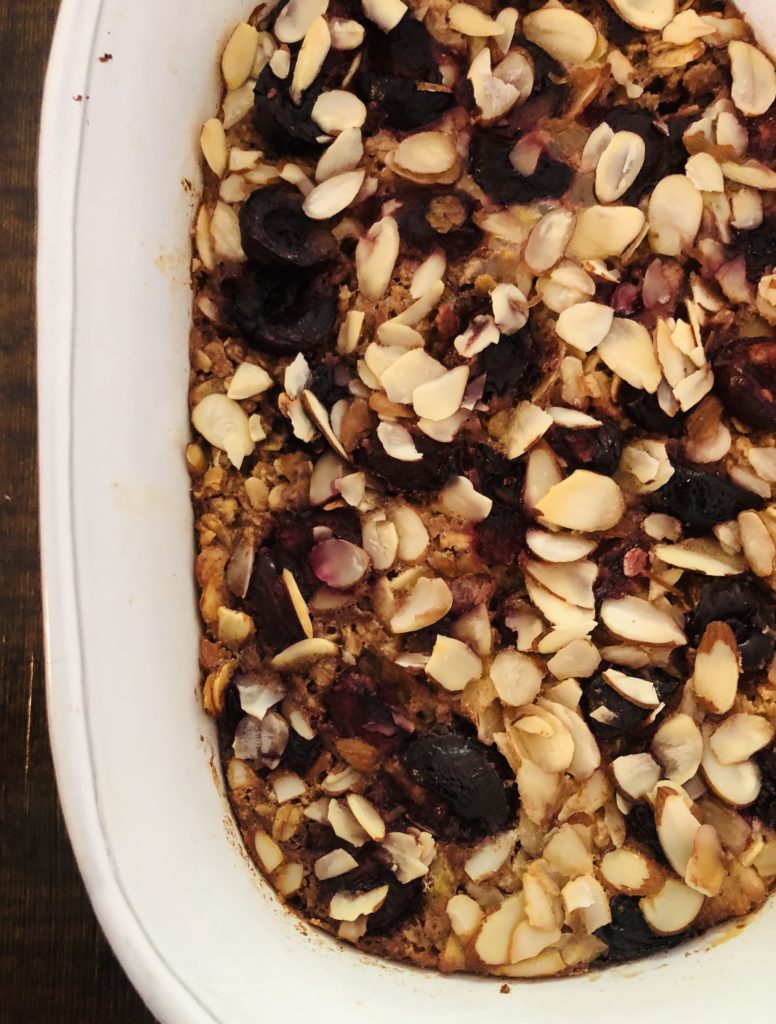 One of my favorite parts of this dish is that it is great leftover. I enjoy having it cold with a scoop of plain or vanilla yogurt. That makes it the perfect meal prep recipe! I also have a whole list of Overnight Oats Recipes that are great for that too.
If you enjoy almond, definitely check out my Buttery Almond Thumbprint Cookies for the holiday season. They are amazing!