Anyone else have a kid tree? We have one in our playroom and the kids love it. They have a lot of their handmade ornaments on it. Plus it has some of their favorite character ornaments. This year we are showing you how easy it is to do a Beanie Boo Christmas Tree for the kid tree.
Welcome to the final day of the 5th annual 12 Days of Holiday Ideas event, hosted by Shirley of Intelligent Domestications  and  Erlene of My Pinterventures. Between Nov. 11th and December 6th there will be hundreds of new ideas shared by over 55 Co-host bloggers!
Go here to see our kick-off collection of Holiday ideas as well as all of this years talented participating DIY and Foodie Blogs. Download this years November and December calendars with all of the topics and dates so you can make plans to watch for ideas! Today we are sharing our Christmas Trees!
We are hosting a BIG GIVEAWAY from our Sponsors this year! Be sure to scroll all the way down for more information and to enter to win!
This post does include affiliate links. That means I could earn a tiny portion of any sale that is made through clicking on any of these products with no additional cost to you. All support is greatly appreciated!
Beanie Boo Collection
My kids are obsessed with Beanie Boos! I guess you could say they are collectors. There was no doubt in my mind that we would have enough of these cute little stuffed animals to decorate the entire tree.
Last year they picked up the Ultimate Collector's Guide at the school book fair. They spent hours looking up all of their stuffed animals and reading about them. I highly recommend this book if you have a Beanie Boo lover in your life.
Decorating the Beanie Boo Tree
The kids gathered all of their Beanie Boos. Then they brought them into the playroom when we were ready to decorate the tree. I used the star tree topper and ribbon that I always use on the kid tree.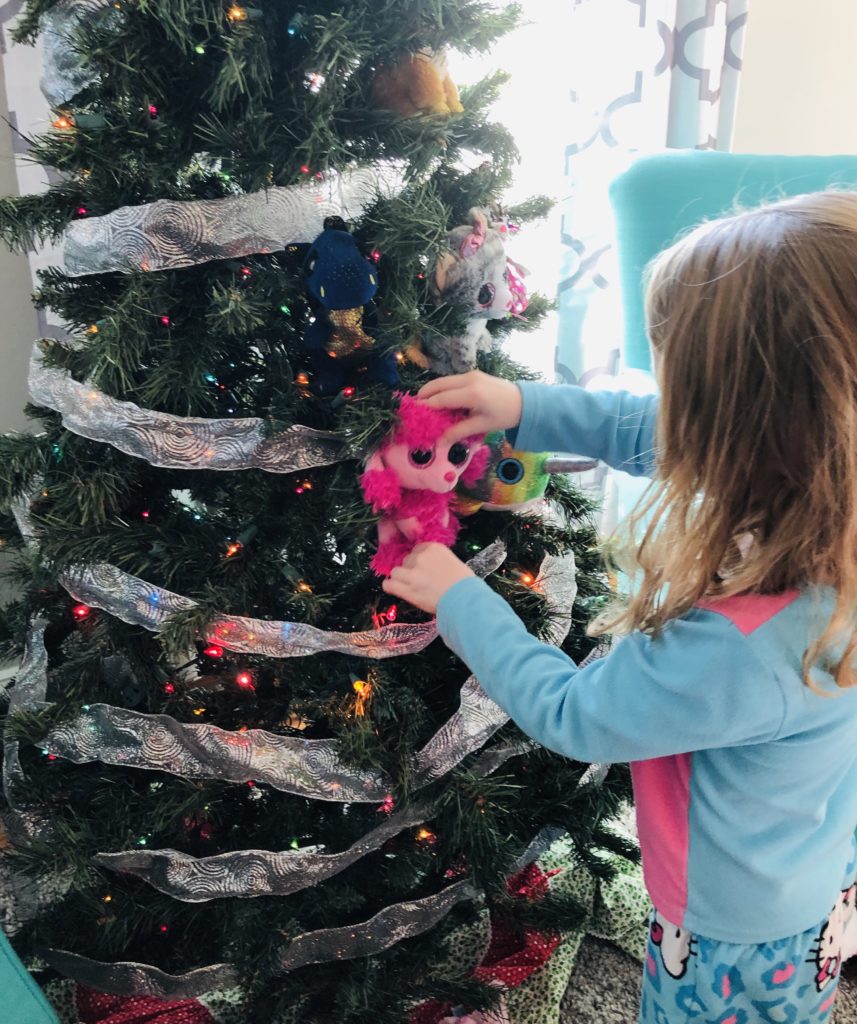 Then we just placed all the Beanie Boos in the tree. Some of them would just sit nicely on the branches. Others needed to pushed back into the tree a little.
If you aren't familar with Beanie Boos, each one comes with a little tag and has a name and birthday. The pink unicorn pictured above is Fantasia and is Graylie's favorite.
The kids had fun decorating their tree with all the Beanie Boos. I did go back and rearrange just a little bit. I couldn't help myself!
These little stuffed animals are really cute and make great stocking stuffers! They even make holiday ones. Our elves brought a couple of the holiday ones last year along with this Christmas book for our Book Advent Calendar.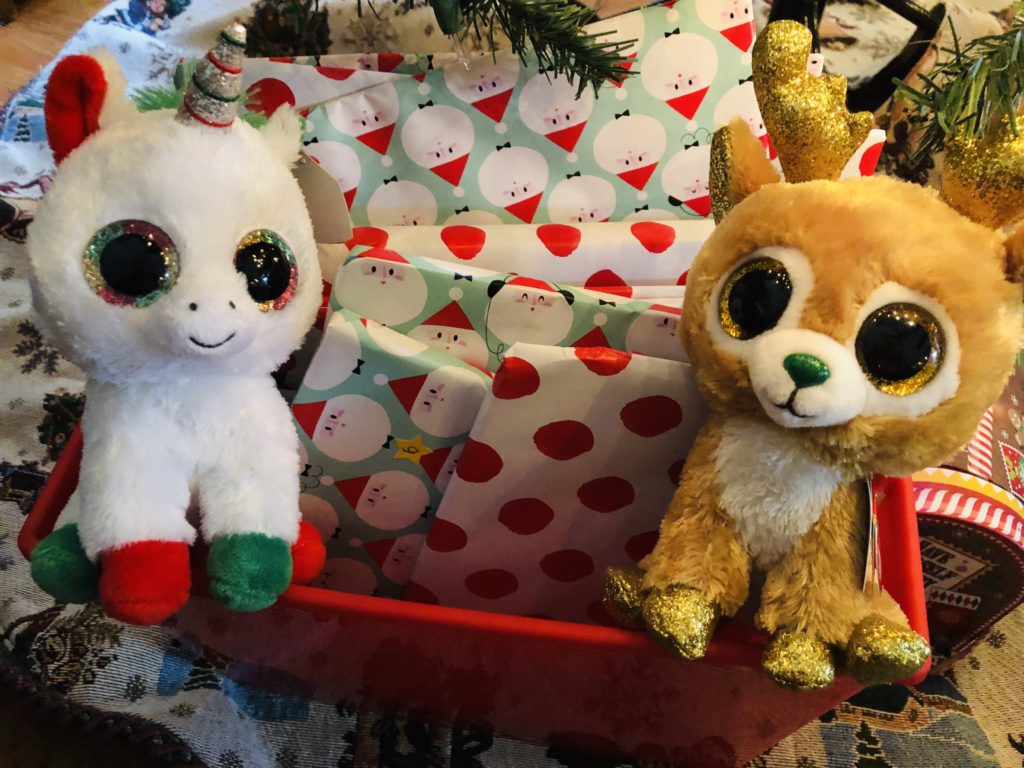 Beanie Boo Christmas Tree
They Beanie Boos looked SO cute on this tree! It ended up being a great decoration for their playroom. You can also check out their Holiday Reading Nook that is in this same room.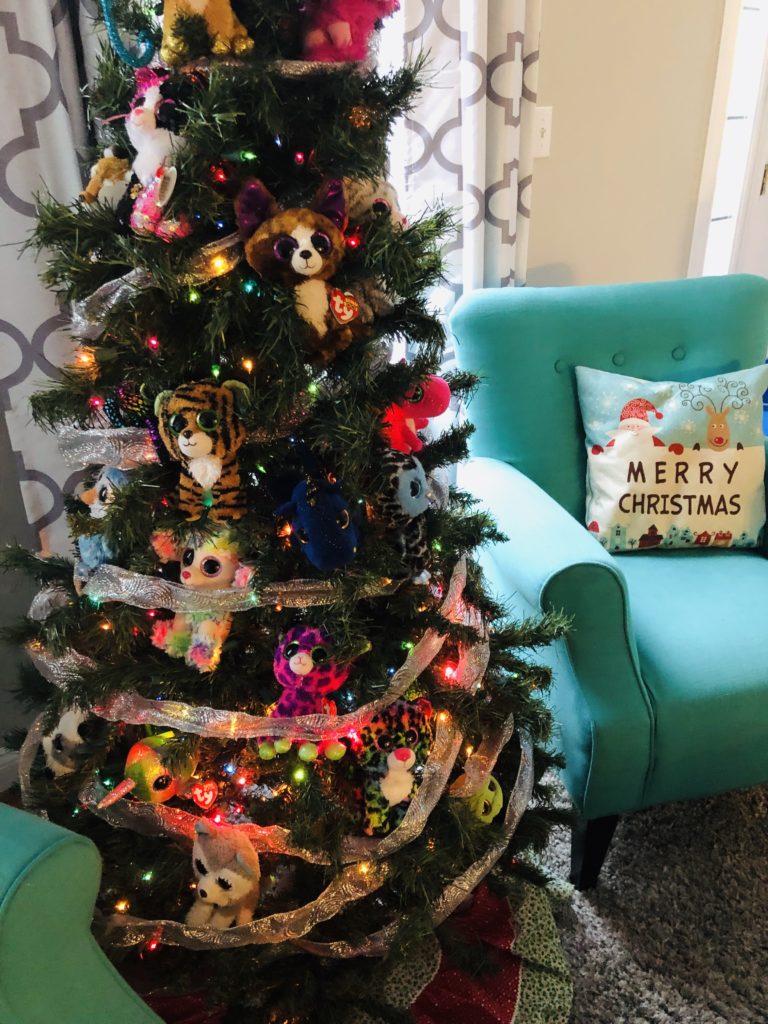 The kid tree is a lot of fun! We also have a Christmas Tree in our family room. It is full of photo ornaments and special ornaments we have received throught the years. I like to bring back ornaments when we travel as souvenirs.