Our reading nook is my favorite place in our house! I love reading stories there every day and watching the kids hang out there with their books and toys. It's fun to change out the books seasonally with books about different holidays. This year I decided to try to make it even a little more festive!
Welcome to Day 7 of the Fourth Annual 12 Days of Christmas Series!
We have teamed up with 50 plus bloggers to bring you a oodles of DIY Ideas and Recipes to make your holiday season merrier. There are 12 different posts in the series and we have spread them out over a four week period with three posts per week. Now is the time to subscribe!
GO HERE for the complete list of Dates and Topics plus a collection of most popular holiday ideas including ornaments, games, recipes and more from all 50 plus talented bloggers!
It's Day 7 and we are sharing Holiday Decor Ideas!
This post does include affiliate links. That means I could earn a tiny portion of any sale that is made through clicking on any of these products with no additional cost to you. All support is greatly appreciated!
---
 COZY HOLIDAY READING NOOK
I only did a few simple things to add some holiday spirit to this little space! We always display our library books on these shelves. We checked out some of our favorites and picked up a few new ones to read. One of our new favorites is When Posey Peeked at Christmas.


I also added a little trim to the shelves with Holiday Themed Washi Tape. It was so easy to apply and will just peel right off after the holidays. I'm thinking I may try to do this for every holiday. I also bought a cozy new throw blanket from Target and added one of our holiday stuffed animals.
I had purchased some pillow covers for our family room. Those pillows are needing to be replaced but it is much cheaper to just add a few cute pillow covers. I decided to use one in this area as well. It was a simple touch that definitely added to the coziness of the area.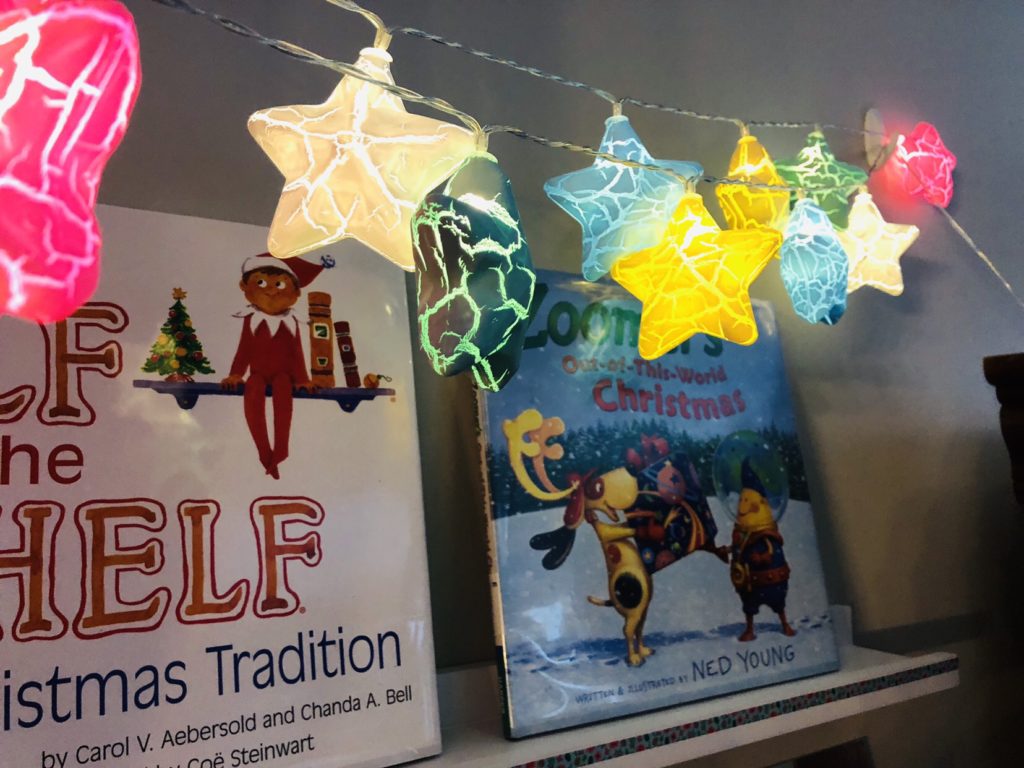 The Twinkle Star Lights are my favorite addition to this space! We had some small white lights already strung here but these are so cute and festive. They are battery operated so you don't have to worry about having somewhere to plug them in. I was able to hang them across our area with a couple of command hooks.
The kids love all the added decorations! We are also doing a Book a Day Advent Calendar to help celebrate this year. It will be fun to open and read the books in this space.


Scroll down for many more Holiday Decor Ideas to creative a festive atmosphere in your home!
---