Today's craft is a totally selfish project on my part! I love sharing ideas for you to craft with kids or make gifts for others. This would actually make a great gift too, but I made these Christmas Cookie Mason Jar Candles all for myself. I have been wanting to try candle making for a while now and this was the perfect opportunity!
Welcome to Day 8 of the Fourth Annual 12 Days of Christmas Series!
We have teamed up with 50 plus bloggers to bring you a oodles of DIY Ideas and Recipes to make your holiday season merrier. There are 12 different posts in the series and we have spread them out over a four week period with three posts per week. Now is the time to subscribe!
GO HERE for the complete list of Dates and Topics plus a collection of most popular holiday ideas including ornaments, games, recipes and more from all 50 plus talented bloggers!
It's Day 8 and we are sharing Christmas In A Jar Ideas!
This post does include affiliate links. That means I could earn a tiny portion of any sale that is made through clicking on any of these products with no additional cost to you. All support is greatly appreciated!
---
CHRISTMAS COOKIE MASON JAR CANDLES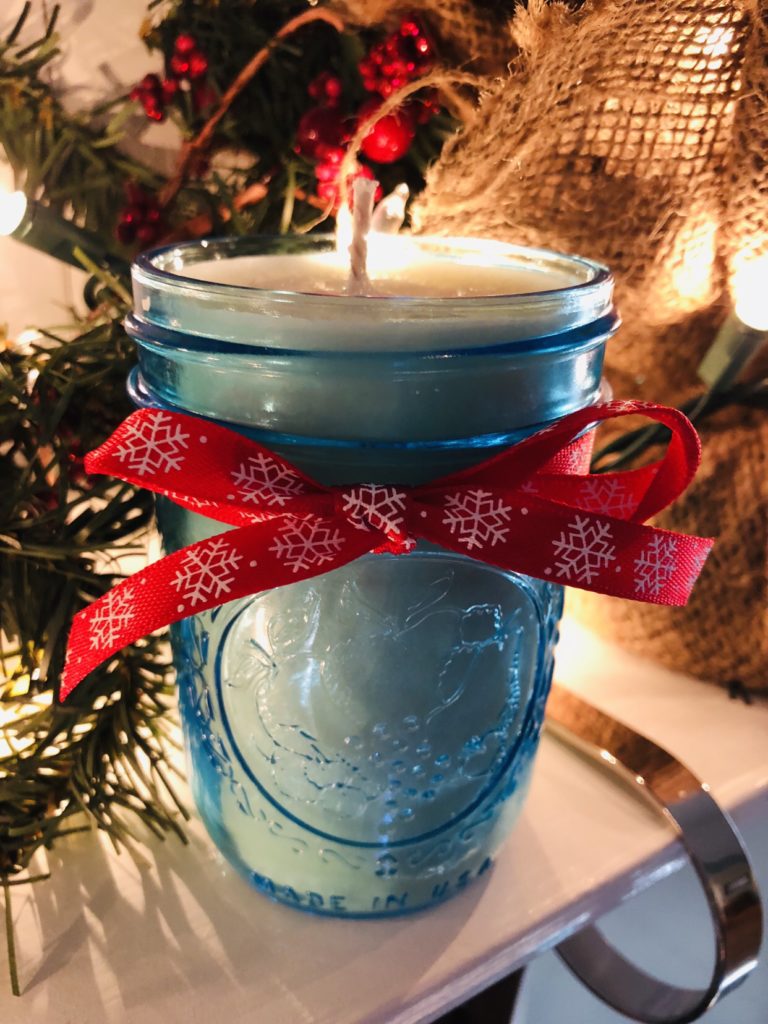 I am so excited to finally know how easy candle making can really be! This candle is currently burning in my kitchen and it smells heavenly. We need a "smell through the screen" option so I can share it with you. Now I don't have to bake cookies to get that warm and cozy cookie smell throughout my house.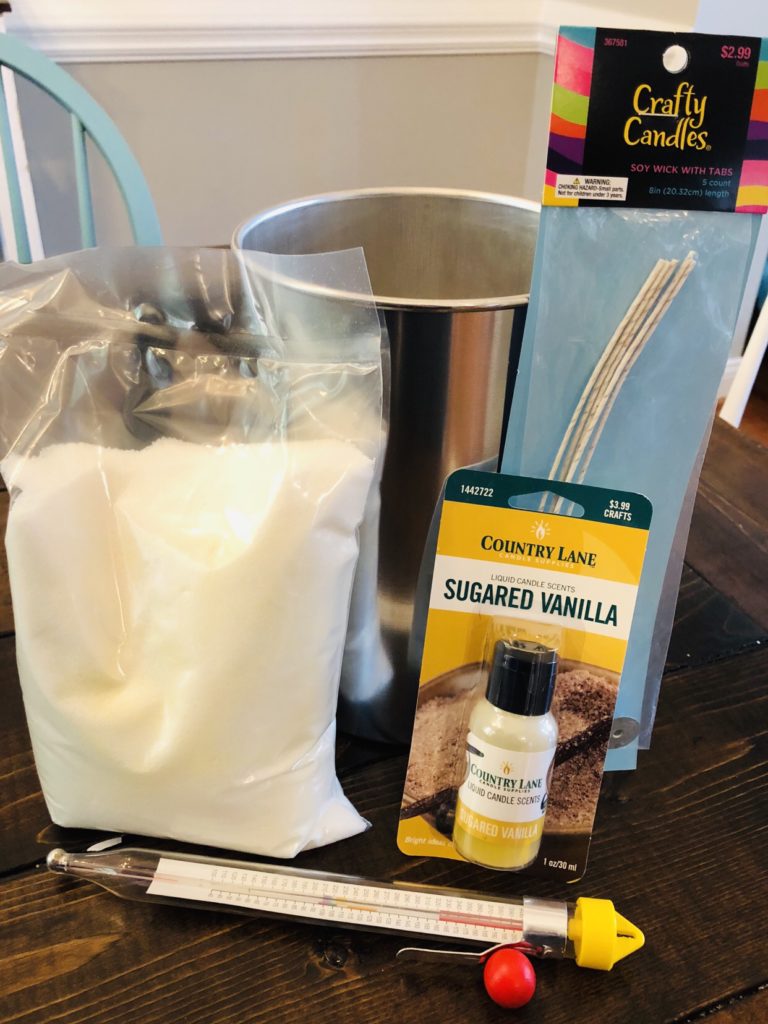 I actually purchased a kit to get started with this project but I will share the individual supplies with you. I didn't use the scent that came in the kit since I was going for a holiday feel. The one I had was also for votive candles so I had to purchase a set of longer wicks. You will need the following supplies:
To get started you will need to boil a large pan of water. While bringing the water to a boil, pour the wax into the pouring pot. Once the water is boiling, place the wax filled pouring pitcher into the large pan of boiling water. This will create a double boiler for you to heat your wax. Never use a pouring pitcher on direct heat! This can cause the wax to overheat and possibly ignite.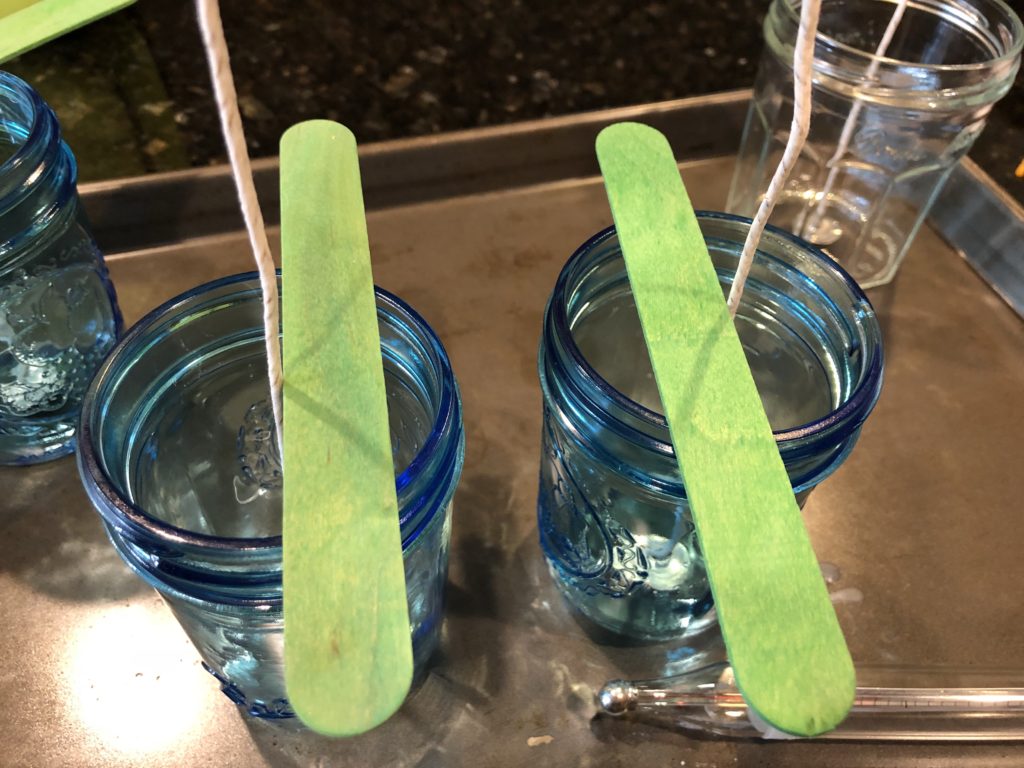 While the wax was beginning to heat up, I prepared my jars with the wicks. I used a hot glue gun to put them in place. Then I used some craft sticks for support to keep them from leaning. I did all of this in a baking pan to protect my counter top.
As the wax begins to melt monitor the temperature with the thermometer. Once the wax reaches 185 degrees, add the 1/2 ounce of liquid candle scent to the wax. Heat for a minute longer and then pour into the jars. I filled them about halfway. I let them cool for about 30 minutes and did a second pour. I had to add a couple more craft sticks to help support the wicks at that point.
I only used two jars and ended up having to pour the extra into a jelly jar. I think I filled mine up too much and could have easily spread this wax into three jars. This was my first attempt at candles though so I'll know to do that next time!
Like I said these candles smell amazing and would make really cute gifts. I'm looking forward to making more and trying some different scents.


Scroll down for many more Christmas In A Jar Ideas you are sure to love!
---