Today I am sharing with you my all time favorite cookie recipe! You will definitely want to make them for your next cookie exchange. These Buttery Almond Thumbprint Cookies are melt in your mouth delicious. I used a Raspberry Jam filling for mine but any flavor would work. Peach or Raspberry would compliment the almond flavor as well.
Welcome to Day 11 of the Fourth Annual 12 Days of Christmas Series!
We have teamed up with 50 plus bloggers to bring you a oodles of DIY Ideas and Recipes to make your holiday season merrier. There are 12 different posts in the series and we have spread them out over a four week period with three posts per week. Now is the time to subscribe!
GO HERE for the complete list of Dates and Topics plus a collection of most popular holiday ideas including ornaments, games, recipes and more from all 50 plus talented bloggers!
It's Day 11 and we have been in the kitchen making something sweet to share!
This post does include affiliate links. That means I could earn a tiny portion of any sale that is made through clicking on any of these products with no additional cost to you. All support is greatly appreciated!
---
BUTTERY ALMOND THUMBPRINT COOKIES



These cookies look pretty fancy but they are super simple to make. You only need the following simple ingredients:
For the Cookie:
1 cup butter, softened
2/3 cup sugar
1/2 tsp almond extract
2 cups all-purpose flour
1/2 cup jam
For the Glaze:
1 cup powdered sugar
4 tsp water
1 1/2 tsp almond extract
To get started, cream butter with an electric mixer for about 30 seconds. Add 2/3 cup sugar and 1/2 teaspoon almond extract. Continue to mix until combined. Gradually add in the flour. Cover and chill the dough for about 1 hour.
Once the dough is chilled it will be easier to work with. Go ahead and preheat the oven to 350 degrees. Roll the dough into 1-inch balls. Place the balls 2 inches apart on an ungreased cookie sheet. Using your thumb, make a small indention in the middle of the dough ball. Spoon about 1/2 teaspoon of jam into each indention.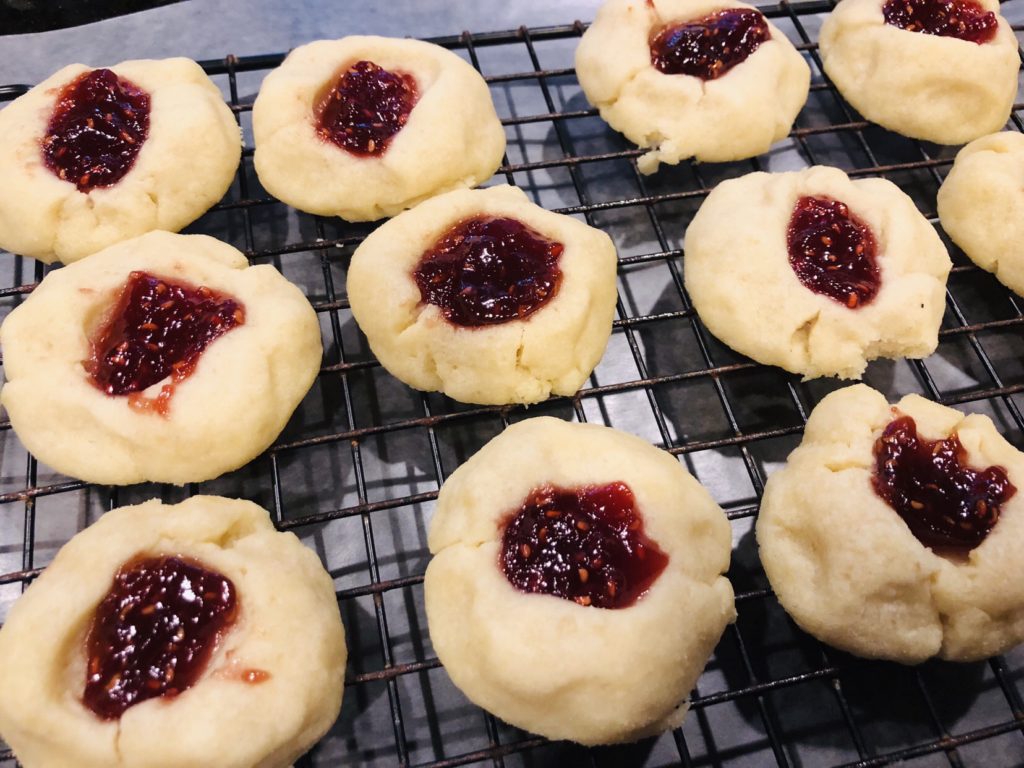 Bake for 12 – 14 minutes. Let them sit on the cookie sheet for at lease one minute before transferring them to a wire rack to finish cooling. While they are cooling, you can prepare the glaze.
To make the glaze, combine 1 cup powdered sugar, 1 1/2 teaspoons almond extract, and 4 teaspoons of water. Drizzle the glaze over the cookies with a spoon.
These cookies are truly amazing! They are almost TOO good because I want to eat them all. I recently asked for tips on how to stay on track this time of year in my Healthy Meal Planning Facebook Group. Number one would probably be to not make these cookies. Hey….it's the holidays though! I just hope you enjoy these as much as I do.