It's time for another ALDI Meal Plan! I get asked a lot about how I can shop at ALDI for all of our groceries. Maybe I'm just so used to shopping there that I know how to plan our meals around ALDI. Here is an example of the groceries I purchased a couple of weeks ago and the meal planning ideas to go along with the grocery haul.
Most of you are probably aware that ALDI is a great place to shop to save money on groceries! I always like to include the receipt and a breakdown of what I spend there for you to compare and reference.
This post does include affiliate links. That means I could earn a tiny portion of any sale that is made through clicking on any of these products with no additional cost to you. All support is greatly appreciated!
There are a few items that I get at Target that I am not able to get at ALDI. My son really likes to have Uncrustables for his school lunch. I've offered to make peanut butter and jelly sandwiches but for some reason these are his favorite. We are particular about peanut butter anyway. So that is another thing I have to get somewhere else. They also really like Clif Kid ZBARs for school snacks.
What did I purchase at ALDI for this meal plan?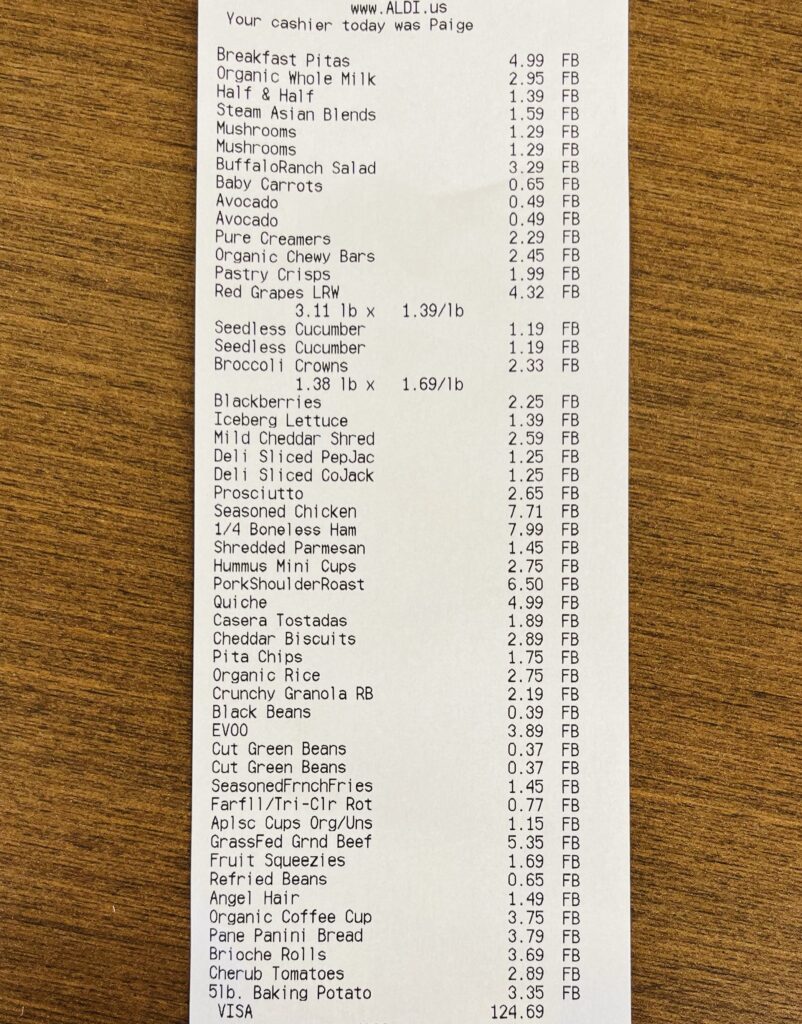 Here is a breakdown of what was purchased at ALDI for this meal plan. This grocery haul came to $124.69 which is perfect if your grocery budget is $125!
Produce
Mushrooms (2 8oz cartons) $2.58
Buffalo Ranch Salad Kit $3.29
Two Seedless Cucumbers $2.38
5 lb. Baking Potatoes $3.35
Dairy/Deli Items
Half Gallon Organic Whole Milk $2.95
Mild Shredded Cheddar Cheese $2.59
Deli Sliced Pepper Jack Cheese $1.25
Deli Sliced Colby Jack Cheese $1.25
Shredded Parmesan Cheese $1.45
Frozen Items
Breakfast Pitas (6 count) $4.99
Steam Asian Blends Vegetables $1.59
Seasoned French Fries $1.45
Pantry Items
Organic Granola Bars $2.45
Crunch Granola Raisin Bran Cereal $2.19
Extra Virgin Olive Oil $3.89
Two Cans Green Beans $0.74
Tri-Color Rotini Pasta $0.77
Organic Coffee K Cups $3.75
Meat Items
Teriyaki Chicken Breasts $7.71
Carnitas Pork Shoulder Roast $6.50
Grass Fed Ground Beef $5.35
I tried to stick to my list but there are a few items that ended up in my cart anyway! I couldn't resist the frozen Cheddar Biscuits. Those are delicious with a bowl of soup by the way. The breakfast pitas and the quiche were also not on the list but I like keeping these items in the freezer for quick lunches or breakfasts.
ALDI Meal Planning Dinner Ideas
Here are the dinner ideas that I shopped for at ALDI. These dinners actually stretched out over one week. There are a lot of meals here that will generate leftovers that can be used again for another meal.
Philly Cheesesteak Foil Pack Dinner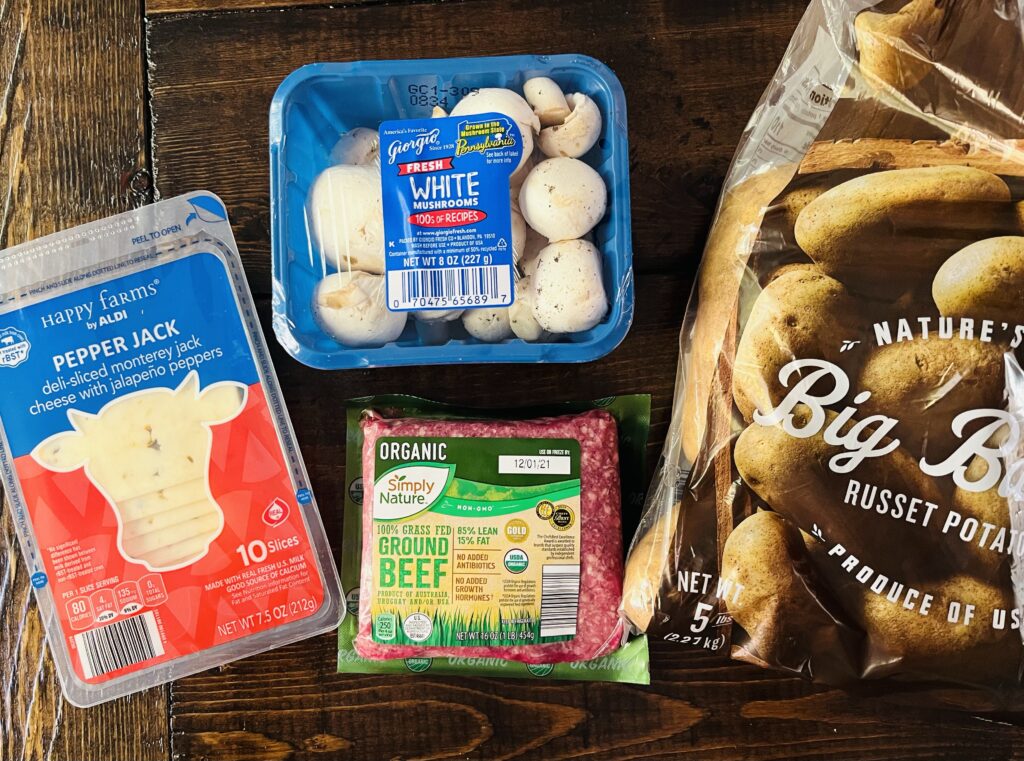 This Philly Cheesesteak Foil Pack Dinner is really good and easy to put together. I also add bell pepper but didn't need to purchase that item this week. The original recipe also uses diced onion. I usually serve this with green beans or salad.
Carnitas Tostadas
The Carnitas Pork Shoulder Roast might be my all time favorite ALDI item. It is so easy to cook in the crockpot all day. We actually ate on this for three days and created three different meals. To make the tostadas I spread refried beans on the tostada shells and heated that in the oven. Then we topped them with the carnitas pork, iceberg lettuce, avocado, and tomato. The meal was a hit with the whole family! If you are a fan of crockpot recipes, I also made a list of Crockpot Dinner Ideas that are easy and family friendly.
Carnitas Sliders
We made Carnitas Sliders out of some of the remaining pork shoulder. This is delicious on the Brioche Rolls and served with french fries and the Buffalo Ranch Salad Kit. This was a quick and easy dinner! ALDI also has a BBQ Seasoned Pork Shoulder that would be great prepared for this meal too.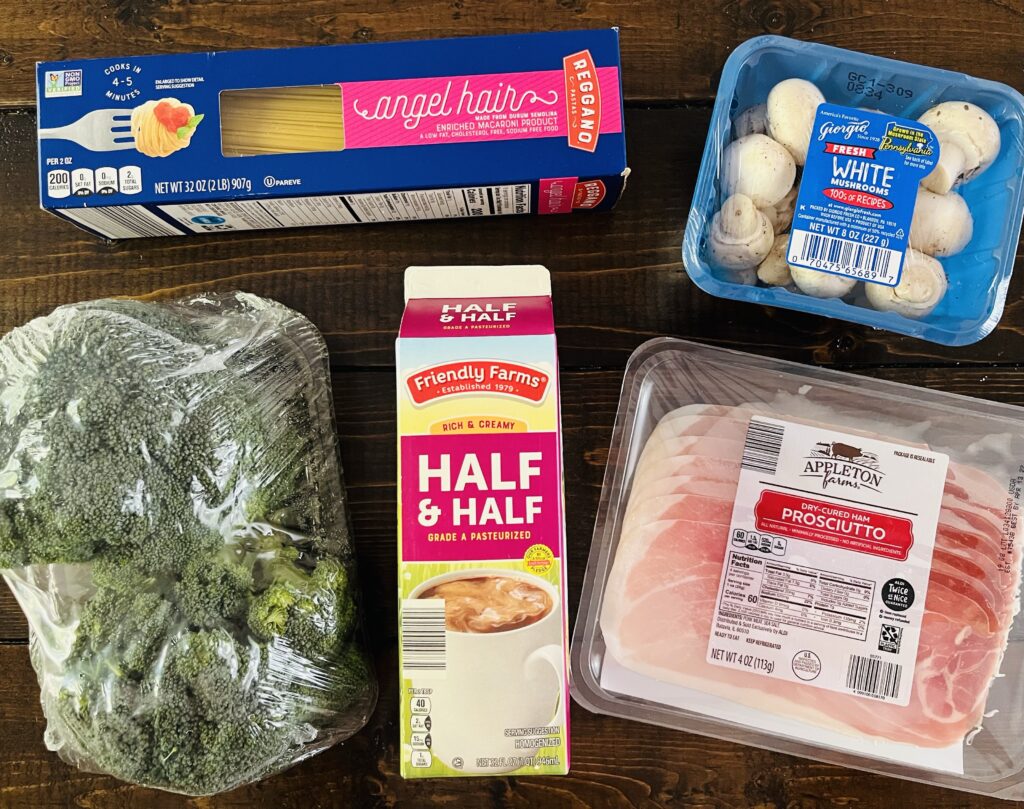 This pasta dish is one of my favorites! I follow this recipe but substitute the asparagus for broccoli. This time I also had to use half and half instead of heavy cream since they were out of that item. I always make extra pasta since the kids don't like a lot of sauce on theirs. That means I have plenty leftover for lunch.
Teriyaki Chicken with Rice and Vegetables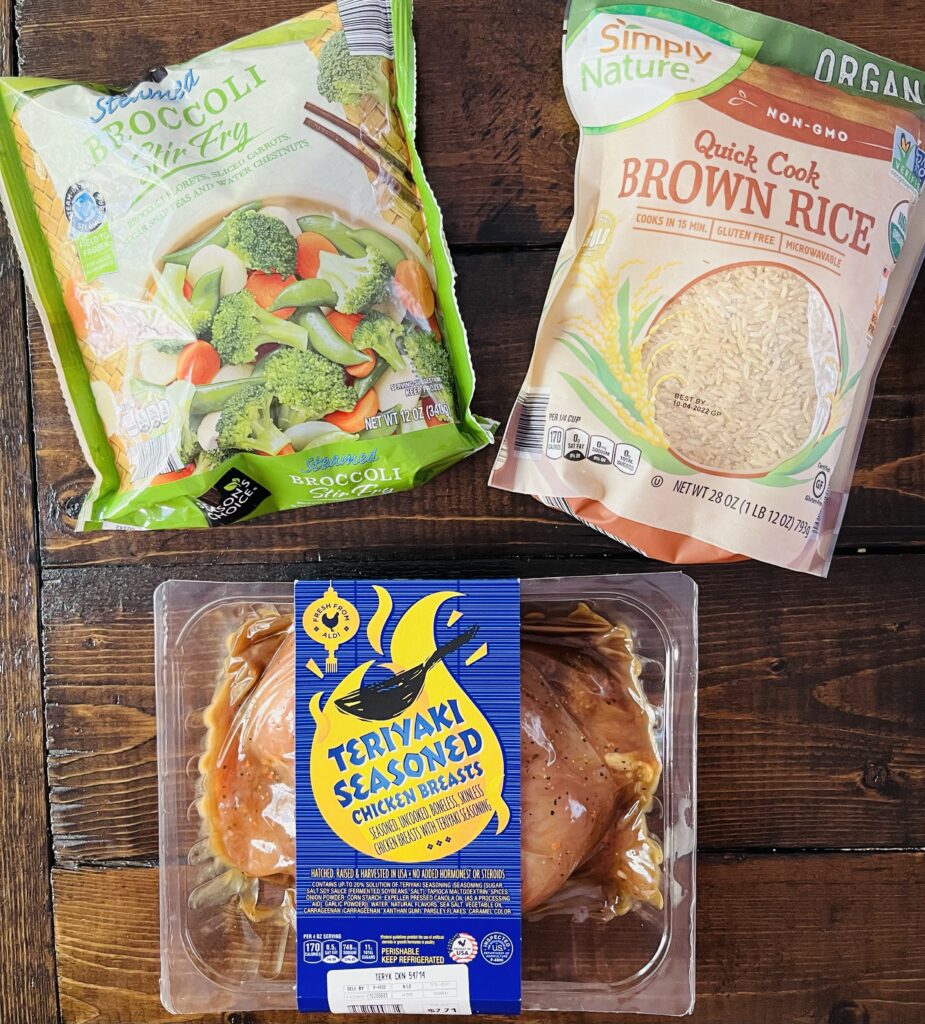 The seasoned chicken breasts at ALDI are a huge time saver! I usually buy the southwest or the cilantro lime for tacos or rice bowls. This Teriyaki Seasoned Chicken is fairly new. I prepared the chicken in the skillet but it also has directions for the oven or grill. The vegetables can easily be prepared in the microwave.
Ham Eggs and Potato Bake
The Ham Eggs and Potato Bake can be easily customized with whatever veggies or meat you enjoy. This recipe uses tomatoes and mushrooms. I usually do green peppers. On this shopping trip I ended up forgetting the eggs. Luckily I had plenty of eggs already in the refrigerator so I didn't have to go back to the store.
I hope some of these ALDI Meal Planning Dinner Ideas are helpful for your family! You can also check out our Easy ALDI Meal for Busy Moms for even more inspiration.