The Carnitas Pork Shoulder Roast might be my all time favorite ALDI item. It is so easy to cook in the crockpot all day. It is also an expensive way to feed my family. Groceries and food prices in general have skyrocketed! We can usually get two or three meals out of one roast.
This post does include affiliate links. That means I could earn a tiny portion of any sale that is made through clicking on any of these products with no additional cost to you. All support is greatly appreciated!
ALDI Carnitas Pork Roast Cooking Instructions
My favorite way to prepare the Carnitas Pork Roast from ALDI is to slow cook it in the crockpot all day. That way I can pop it in the crockpot in the morning and know that dinner will be almost done when we are all home in the evening.
If using a slow cooker, there is no prep involved. Just place the meat into the crockpot and cook on low for eight hours or high for four hours until meat reaches a minimum internal temperature of 160 degrees. Cook longer for shredded pork.
You can also prepare this roast in a conventional oven by baking it in an ovenproof baking dish at 325 degrees. Cover the dish with aluminum foil and bake for three hours. For shredded pork cook an additional hour to hour and half.
Meal Ideas for the ALDI Carnitas Pork Shoulder
This pork roast is delicious on its own served with a variety of sides. I like to make homemade potato wedges and green beans with it. Here are a few other meal ideas that your family might enjoy too though!
Carnitas Tostados
To make the tostadas I spread refried beans on the tostada shells and heated that in the oven. Then we topped them with the carnitas pork, iceberg lettuce, avocado, and tomato.
Carnitas Sliders
Carnitas Sliders are delicious made on the Brioche Rolls and served with french fries and the Buffalo Ranch Salad Kit. This is a quick and easy dinner! ALDI also has a BBQ Seasoned Pork Shoulder that would be great prepared for this meal too.
Carnitas Tacos
Carnitas Tacos are super easy to make with this roast. Fill a tortilla with the shredded pork and some of the buffalo ranch salad kit for a delicious Buffalo Ranch Carnitas Taco.
You can also use traditional taco toppings for this idea. We like to use the shredded Carnitas meat and add black beans, shredded cheddar cheese, salsa, and sour cream.
Southwest Carnitas Salad
Aldi Carnitas Shredded Pork also makes a wonderful addition to a dinner or lunch salad! You can use one of their delicious salad kits or use salad fixings of your choice. Prepare french bread or serve croissants on the side to have a meal the entire family will enjoy.
Carnitas Loaded Baked Potato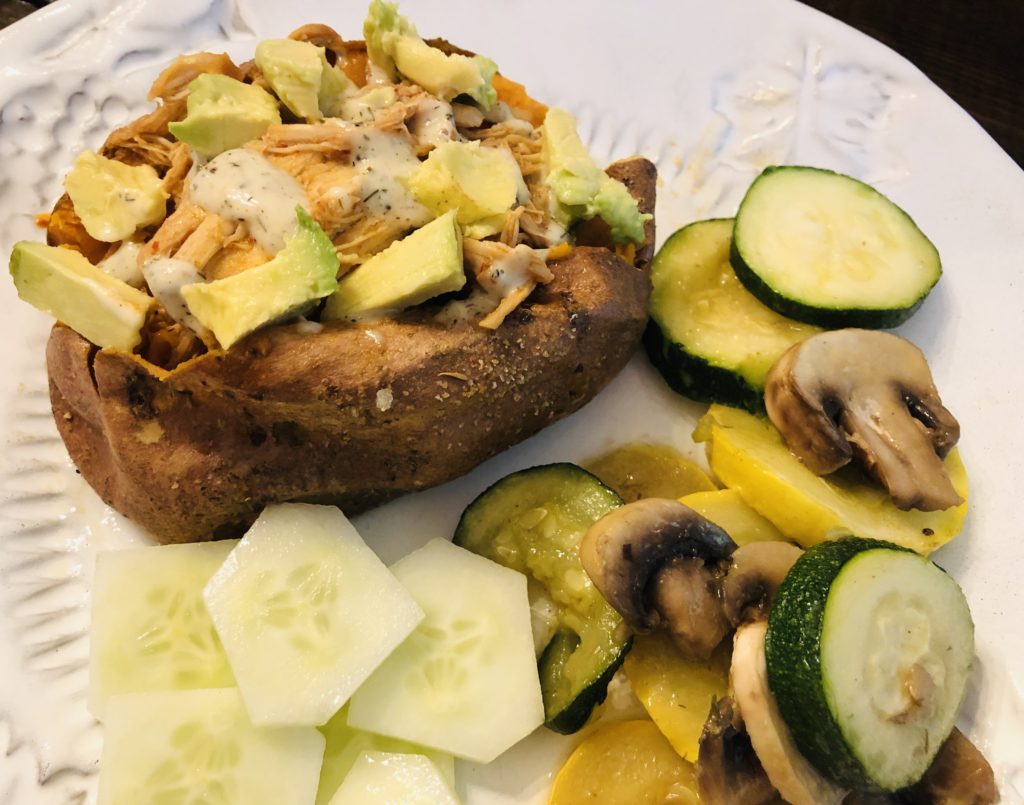 One of my favorite ways to use leftovers is to create a loaded baked potato bar. This roast is delicious on baked russet potatoes or sweet potatoes. You can top with a variety of options. I enjoy diced avocado and ranch dressing. It is also delicious with jalapeños, cheese, and sour cream.
This roast and more ALDI items are included in our posts Easy ALDI Crockpot Dinners and ALDI Meal Planning Dinner Ideas!