Would you like to host a painting party this fall? This could actually be fun for kids and adults! Set up a painting station outside if the weather is nice and have the kids paint turkeys.
We actually tested out this party idea a couple of years ago. Here in the Carolinas the weather is mild enough to do this outdoors but it could also work indoors.
I found a super cute painting tutorial. It is called How To Paint A Turkey On Canvas and gives step by step instructions. It looks very easy to follow. These kids decided to do their own thing though! That happens a lot around here and I just let them follow their own creativity.
Painting Party Set Up
With or without the tutorial, all you need is a canvas, paint brushes, and paint. We used flat canvas panels.
I filled empty egg cartons with these paint colors – brown, red, yellow, white, orange, and blue. Next time I would add green since they all wanted to add grass to their paintings.
I covered a long folding table with craft paper from Dollar Tree. Then set up the canvases, paints, and brushes. I also added jars of water and a drying cloth so they could clean their brushes.
Once they were ready to paint, I offered to go through the steps of the tutorial. That is when they decided to make their own turkey creations using the paint and supplies I had set out for them.
It worked out that I had covered the table since they requested the additional paint color. I was able to squirt the green paint directly on the paper for them. You could also let them decorate the table cover for an additional activity.
Clean up was a breeze with the egg cartons. Once the kids cleaned their paint brushes, I just had to let those dry.
While you have all the painting supplies set up, you could also create these adorable DIY Canvas Place Cards for Thanksgiving.
Turkey Painting Party Creations
The Turkey Canvas Paintings all turned out so cute! They each came up with a completely different design. It was so fun to see their finished art projects.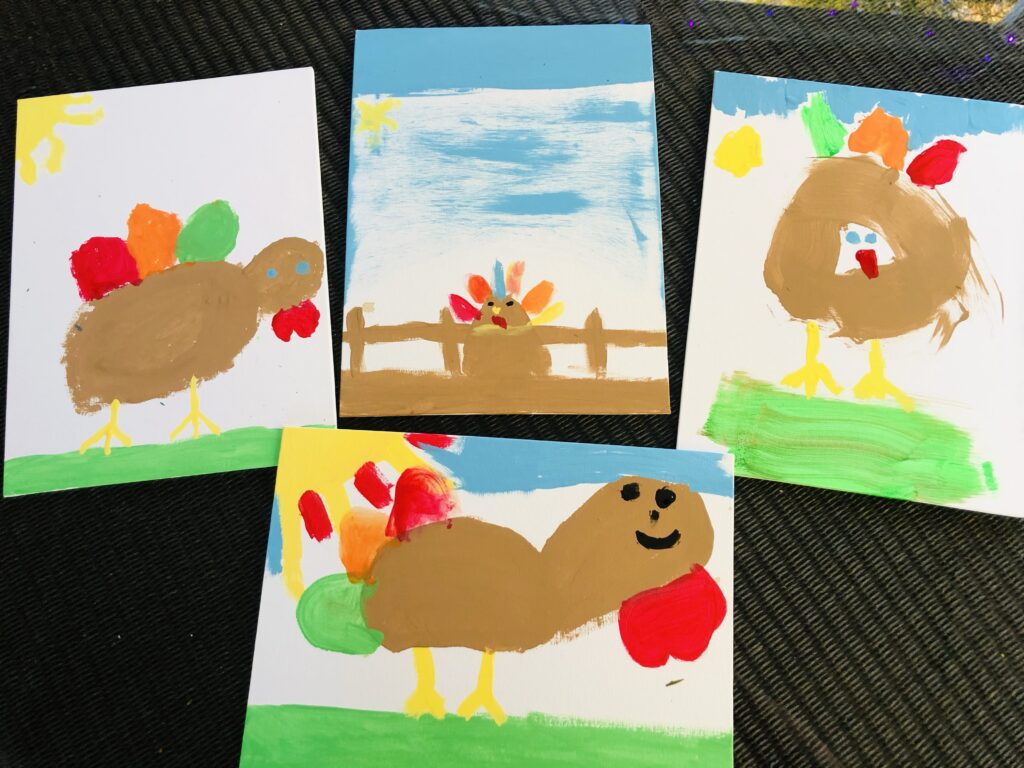 If you call it a party, be prepared to have a treat! These super easy Turkey Cookies would be a fun addition to the painting party. The kids could even help make them.