Are the holidays sneaking up on anyone else? Thanksgiving is already next week! It's always good to have an activity on hand to keep the kids busy while you prepare on Thanksgiving Day. This easy Turkey Napkin Ring Craft would be perfect.
Cardboard Tube Craft for Thanksgiving
These napkin rings are actually made out of a paper towel roll. I'm sure we all have one of those on hand. Crafting with Cardboard Tubes is such an easy and inexpensive activity for kids. We've made Cardboard Tube Bird Feeders and also used these for process art.
This post does include affiliate links. That means I could earn a tiny portion of any sale that is made through clicking on any of these products with no additional cost to you. All support is greatly appreciated!
In addition to the cardboard tube, we used Kwik Stix Paint and fun Thanksgiving Foam Stickers. Paint Sticks and Foam Stickers are staples in so many of our craft activities.
Turkey Napkin Ring Craft
Before beginning the craft, cut the cardboard tube into about one inch rings. Then let the kids use the paint sticks to color the outside of the rings. I only gave them fall colors to use for this project.
If you have never used Kwik Stix, you need to try these! They dry super fast and the colors are beautiful. I was impressed with how well they did on the cardboard since we normally use these for paper plate crafts.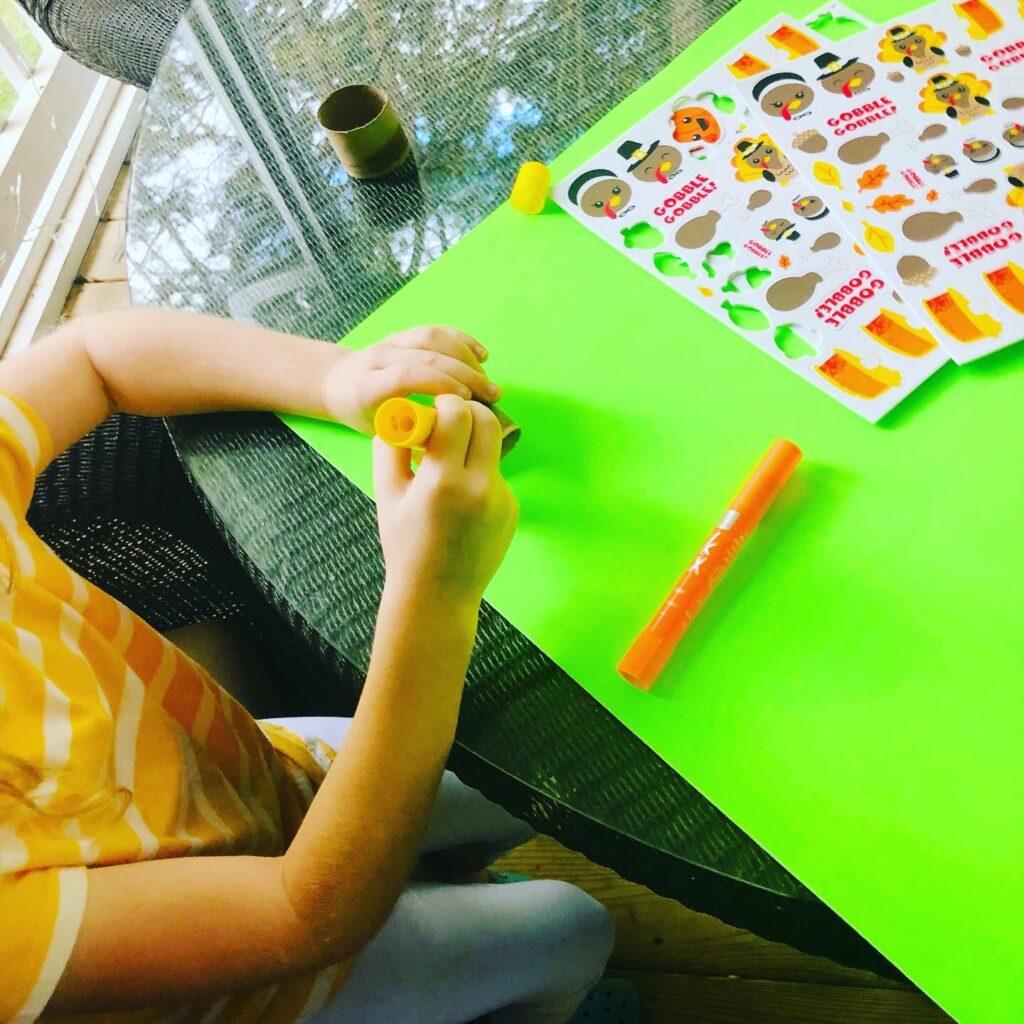 Once they are finished with the paint sticks, it is time to add the foam stickers! If you have little ones, using these stickers is so great for fine motor skills.
These little napkin rings are such a cute and easy project for the kids! They will love helping with the decorations. Homemade decorations are a fun addition to the kid's table too.
We like to keep it simple for Thanksgiving. This year will be even more simple since we will be avoiding large gatherings and most likely having a quiet feast at home.
Even during normal years, we like to cover the table with craft paper and use paper plates. You can read more about our simple tips for Thanksgiving here.