Thanksgiving is actually one of my favorite holidays now that I am an adult. As a kid Thanksgiving can seem kind of boring. It's usually food that only the adults like. The parents seem a little on edge and stressed out over all that needs to be done. Let's change that with these tips for a Fun and Stress-Free Thanksgiving with Kids.
I actually don't mind hosting Thanksgiving. Ultimately, there is no need to get stressed out. Throw all those thoughts of perfection right out the door! Your kids could care less if the house is spotless and there are 10 side dishes prepared and 5 varieties of pie.
The Thanksgiving memories we want to create are of fun family time. Yes, that includes yummy family recipes too. We don't want to remember a stressed out mom trying to do way too much!
This post does include affiliate links. That means I could earn a tiny portion of any sale that is made through clicking on any of these products with no additional cost to you. All support is greatly appreciated!
It's okay to buy the turkey!
Does anyone else find it stressful to cook the perfect turkey? Why would I do that when I can purchase an amazing smoked turkey from a local barbeque restaurant?
This turkey is so moist and delicious. Plus it comes with sauce and their handmade hushpuppies. I normally wouldn't say huspuppies are Thanksgiving food but these are yummy. They make a great little appetizer for the kids (and me) while I'm trying to get everything else ready too.
Use Paper Plates.
While we are on the subject of giving ourselves a break, let's talk about dinnerware. I know everyone may not agree with this. It's okay to use paper plates for your Thanskgiving Feast!
It's hard enough to clean up all the dishes from preparing the food. Get some cute Thanksgiving themed paper plates and napkins and call it a day. This will make it way easier for the kids to help clean up too.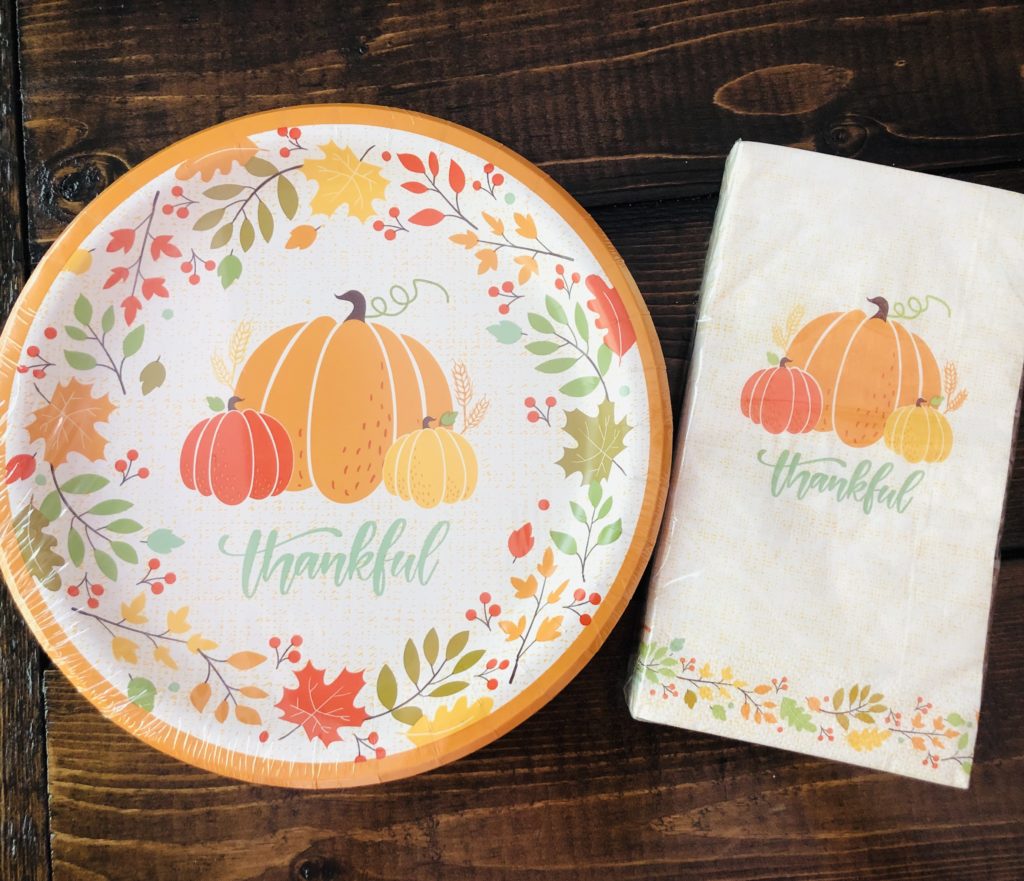 Skip the fancy tablecloth.
Tablecloths are a beautiful addition to the dinner table. Again, we are trying to keep this holiday simple and stress-free. We do not need to spend the morning ironing a tablecloth.
Last year I covered our table with white craft paper. When the guests arrived, I put out a bucket of crayons. We had the best time drawing hand turkeys and other illustrations. You can also order a Thanksgiving Activity Table Cover that looks like a lot of fun!
Kids love to help with decorations.
Start the day with a fun craft! Have an easy craft on hand that the kids can do without a lot of help. Get them involved in making table decorations. We made these cute turkey napkin rings last year.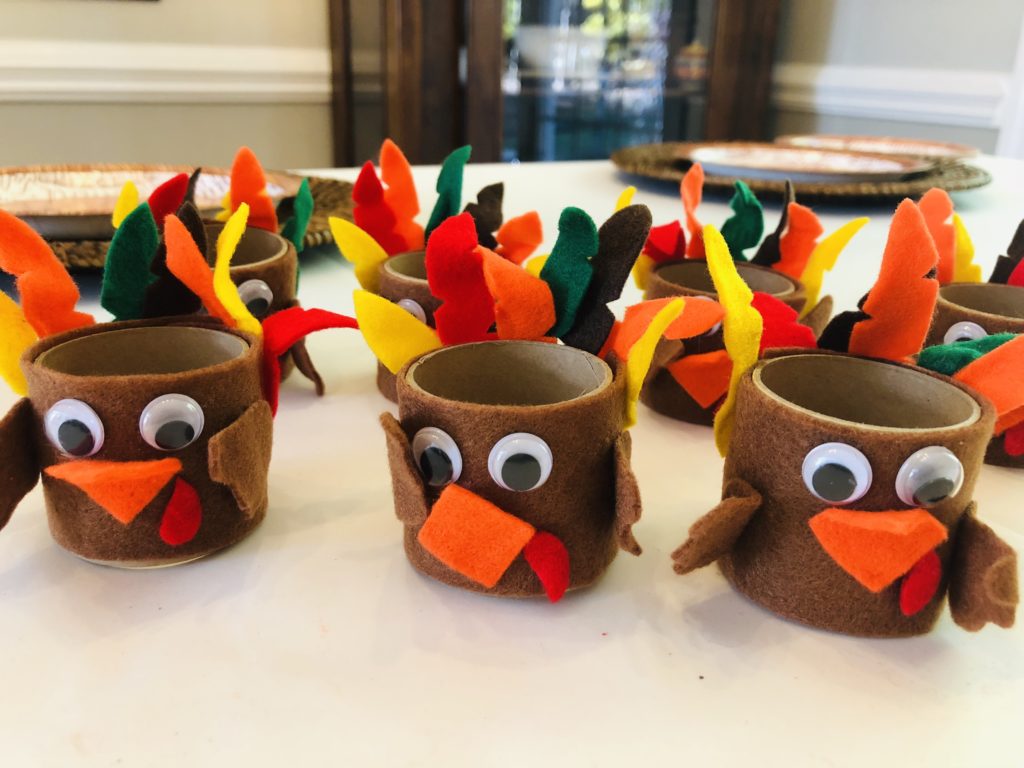 They were so proud to have their craft project as part of the table setting! These went perfectly with our paper plates and napkins.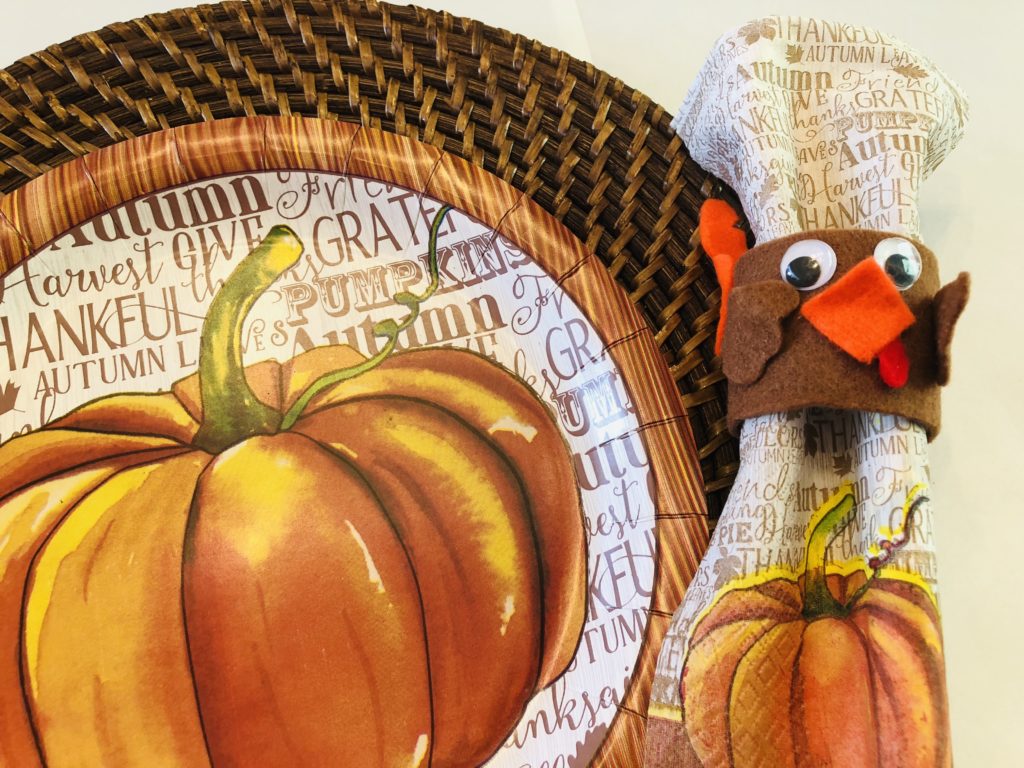 Include the entire family in food preparations.
My husband is known for his apple pie! I always know I can enlist his help when it comes to holiday dessert. He's also in charge of picking up and carving the turkey.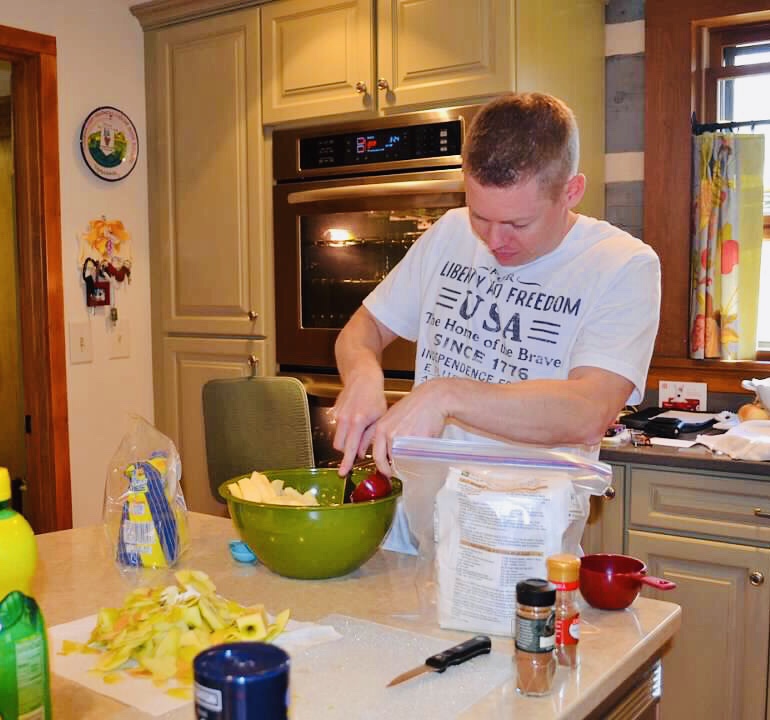 It's also good to let the kids help with food preparation. It gives them an activity and we all know some of the best memories are made in the kitchen.
My kids are not big fans of pie! It's always good to have a kid-friendly dessert. I learned this from my mother. She always made sure to bring Rice Krispie Treats to family gatherings so the kids would have something easy to eat.
Peanut Butter Popcorn Cake is a fun dessert for kids. The colors are perfect for a fall Thanksgiving feast. It is also a great recipe to make with kids.
Keep the menu simple.
Let your family help decide on the Thanksgiving menu. Find out what each person really wants to have on that special day. It will be fun to plan together and then everyone feels included.
In reality, we have the same few dishes every Thanksgiving. I think of it as a tradition. If we happen to visit another family member or friend, the menu may often be different. We always offer to bring the apple pie!
I hope these tips for a stress-free Thanksgiving with kids are helpful! The most imporatant part is to try to relax and enjoy the day. Be present with your family and please do not get caught up in perfection.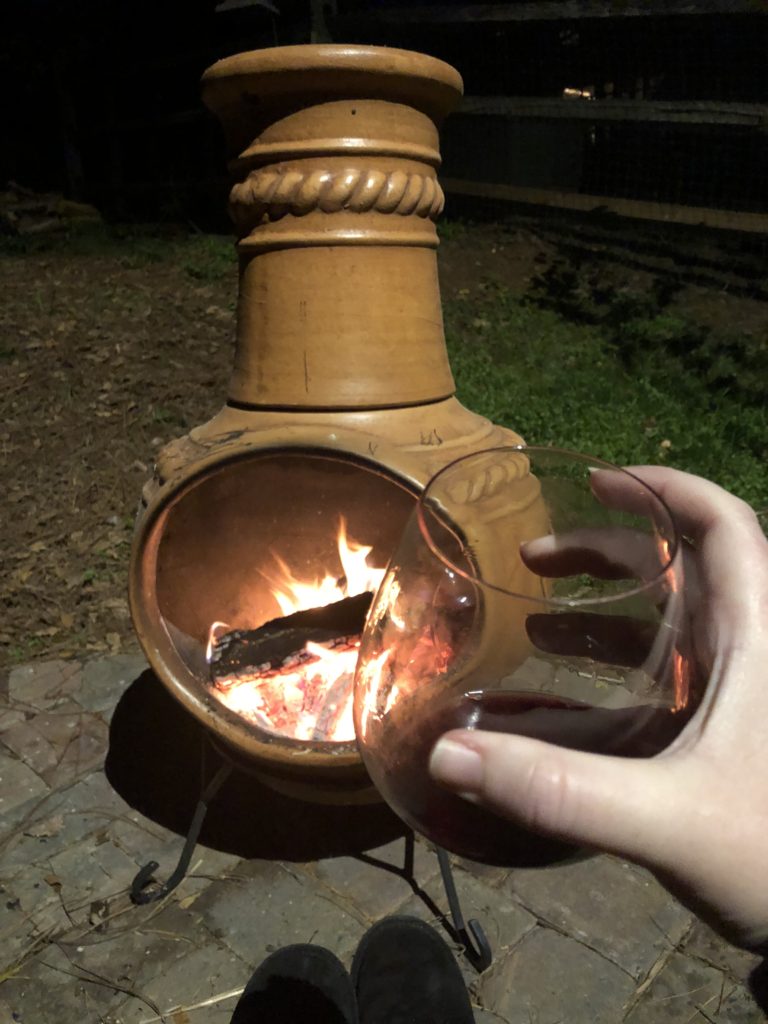 Also, these tips may not be for everyone. If it brings you joy to set the table with fine china, then by all means you should do that. Roasting a turkey may be a tradition that you grew up with. The point is to realize that you can do those things that you enjoy and don't stress about the rest!