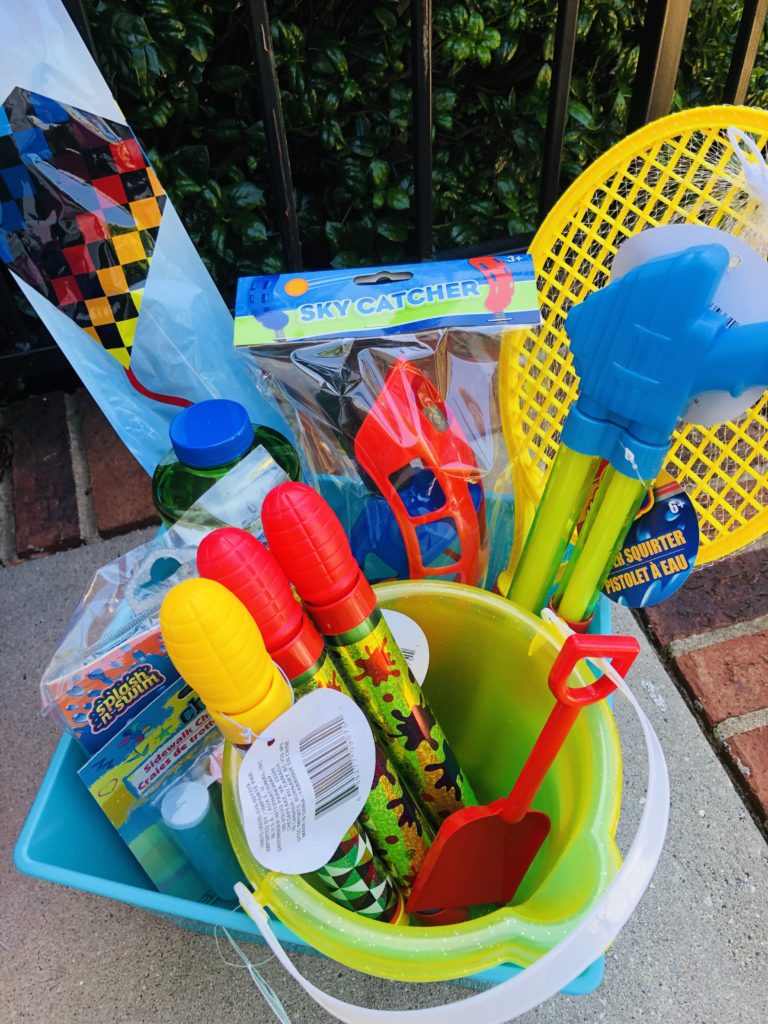 School is almost out for the summer here! My daughter graduated from preschool but my son still has one more week to go. We are all ready to relax and have some fun for a few weeks.
At the end of each school year I like to make a little summer fun basket for each of the kids. It is a way to say I am proud of them for such a great school year. Plus it also gives us a good start on some fun summer supplies.
This post does include affiliate links. That means I could earn a tiny portion of any sale that is made through clicking on any of these products with no additional cost to you. All support is greatly appreciated!
You already know I am a HUGE fan of Dollar Tree when it comes to crafting supplies! Well, summer supplies are no different. I really may need to stop going in there for a while. The aisles are full of fun beach toys, floats, balls, chalk, bubbles, and more.
So when it came time to put together a Summer Fun Basket for the kids this year, my first stop was Dollar Tree. The price is definitely right. It is also nice to not worry about if it gets broken outside or if the bubbles accidentally get spilled.
Check out the cool stuff I found for Gavin's basket! I tried to make them both pretty similar. It is getting a little harder to find inexpensive items for him now that he is getting older. He does still love pool toys, water squirters, and outdoor games though.
On the other hand, Graylie is super easy to find things for. She wants and loves EVERYTHING! We are heading to the beach in a few weeks so the sand toys and buckets will be perfect for that. I also thought it would be fun to fly kites there.
Besides all the fun items for the Summer Fun Basket, I was also able to get the container to hold everything at Dollar Tree. I love their collection of bright and colorful bins this time of year. I also plan on using them as refill stations for their water squirters this summer.
If you need some ideas for your Summer Fun Basket, here is a list of some of our favorites!
Bubbles
Sidewalk Chalk
Kites
Pool Floats
I can't wait to give the kids their Summer Fun Baskets next week. I know it looks like there are a lot of water squirters in these baskets. These are a hot item at our house though. Last summer, one of their favorite activities was having a water war with these in the backyard with neighborhood friends. It is an easy way to stay cool in the backyard and they got lots of exercise running circles around the house after each other!
This is such a fun time of year! I hope you are looking forward to the summer with your kids. I know the days can get long though and after a few weeks it can get tiring to keep looking for ways to keep everyone entertained. Be sure to check out my list of Easy Summer Boredom Busters if you need some ideas. We are also starting our second annual DIY Summer Camp next week. This was so much fun and definitely helpful for us last year.