Do you love the idea of decorating gingerbread houses? Me too! I love them and think they are such a fun family activity. This Sugar Cone Christmas Tree Craft is very similar but on a much smaller and easier scale. It is the perfect holiday activity to do with little ones!
This post does include affiliate links. That means I could earn a tiny portion of any sale that is made through clicking on any of these products with no additional cost to you. All support is greatly appreciated!
Sugar Cone Christmas Tree Craft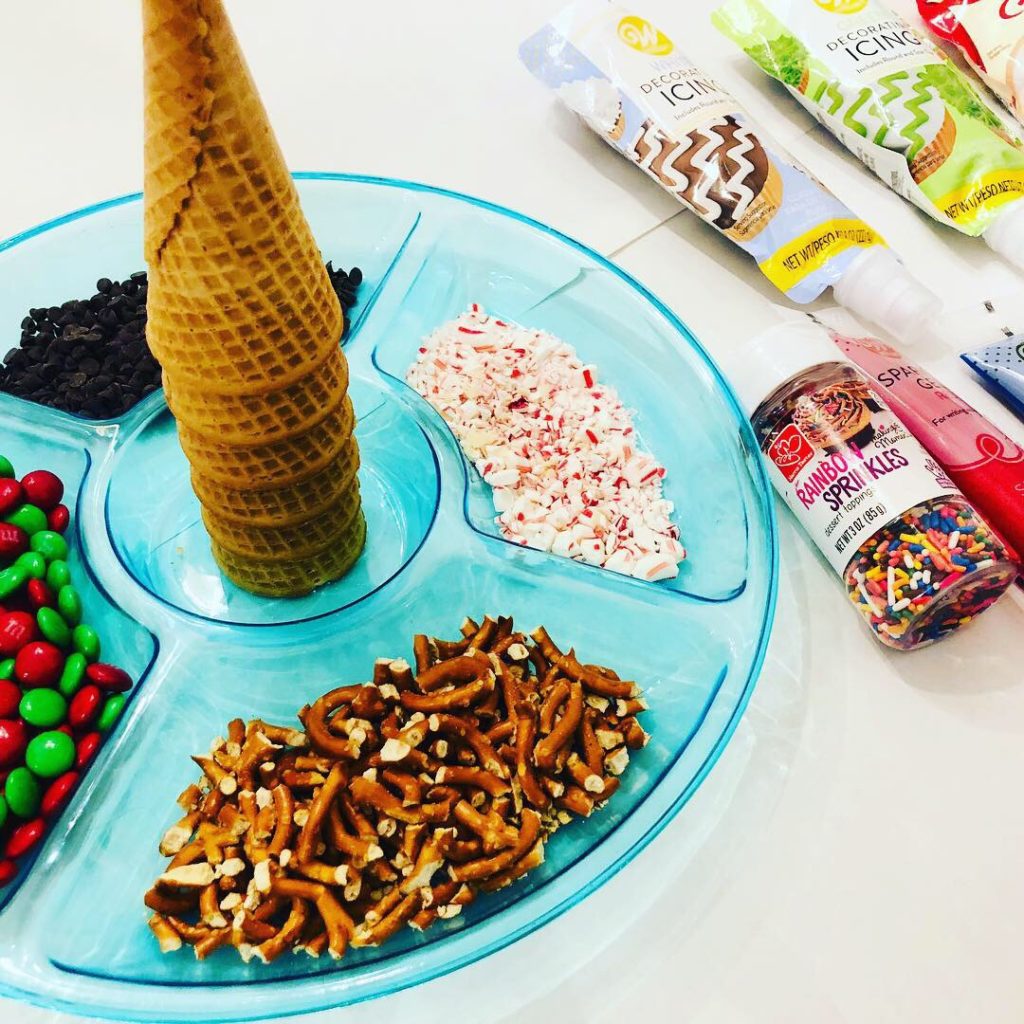 This Sugar Cone Christmas Tree Craft is so fun and easy! We did this together one evening and had the best time. Of course, it became a competition to see who could make the best Christmas Tree.
Christmas Tree Craft Supplies
We used a variety of supplies for this Christmas Tree Craft. I really just went through the pantry to see what would work. I had purchased icings knowing we could use them for holiday baking.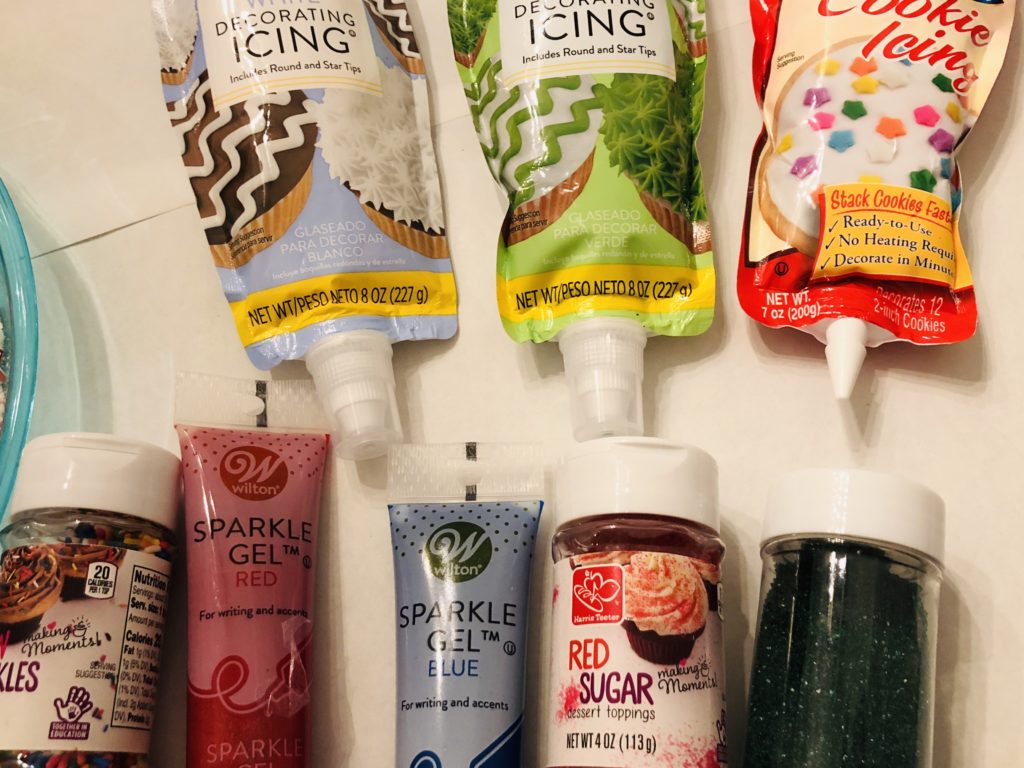 Once I gathered the supplies, here is what I ended up using for this craft.
Sugar Cones
Assortment of Sprinkles
Assortment of Icings
Mini Chocolate Chips
Crushed Candy Cane
Holiday M&Ms
Chopped Pretzels
I love organizing our crafts in the divided tray I found at Dollar Tree. Doesn't it look so pretty with these yummy ingredients? I laid out the sprinkles and icings next to the tray.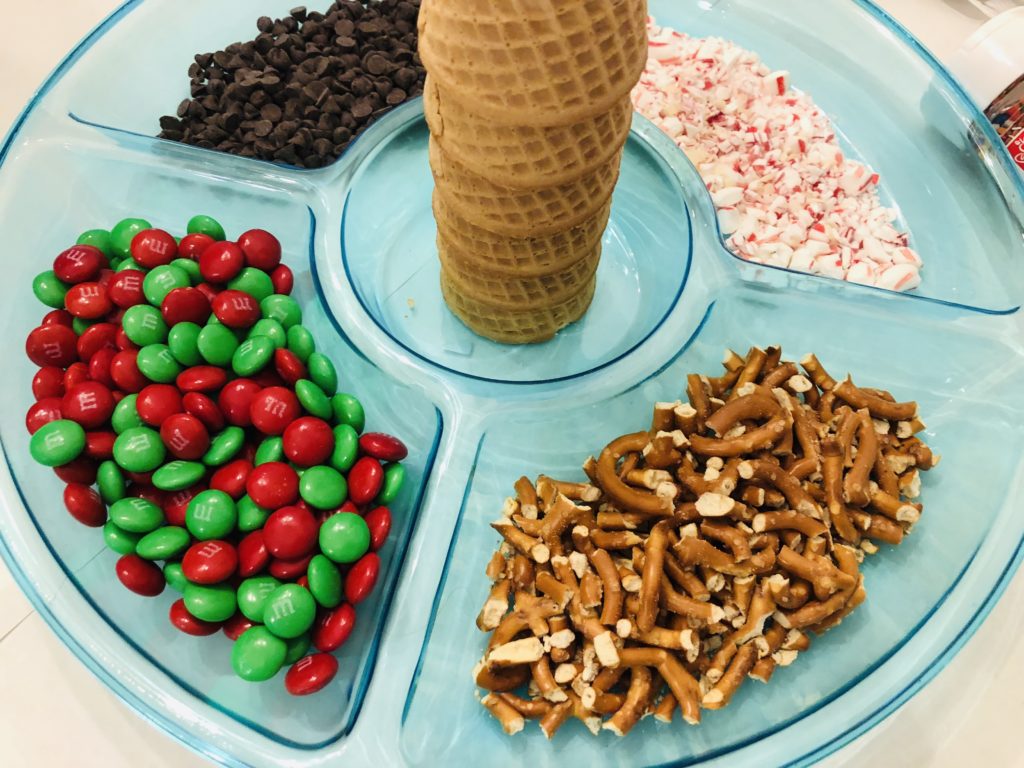 Invitation to Create Christmas Trees
Once I had the supplies and tray set up, I was ready to let everyone begin the craft. I call this an Invitation to Create Christmas Trees. There are no rules. Using the supplies on the table, we were able to design our very own Christmas Trees with the sugar cones.
I had covered the table with white craft paper. So, we were able to take the sugar cones and place them upside down directly on the table for crafting purposes. This also makes it so much easier for clean up. You could also use paper plates or bowls to help contain any mess.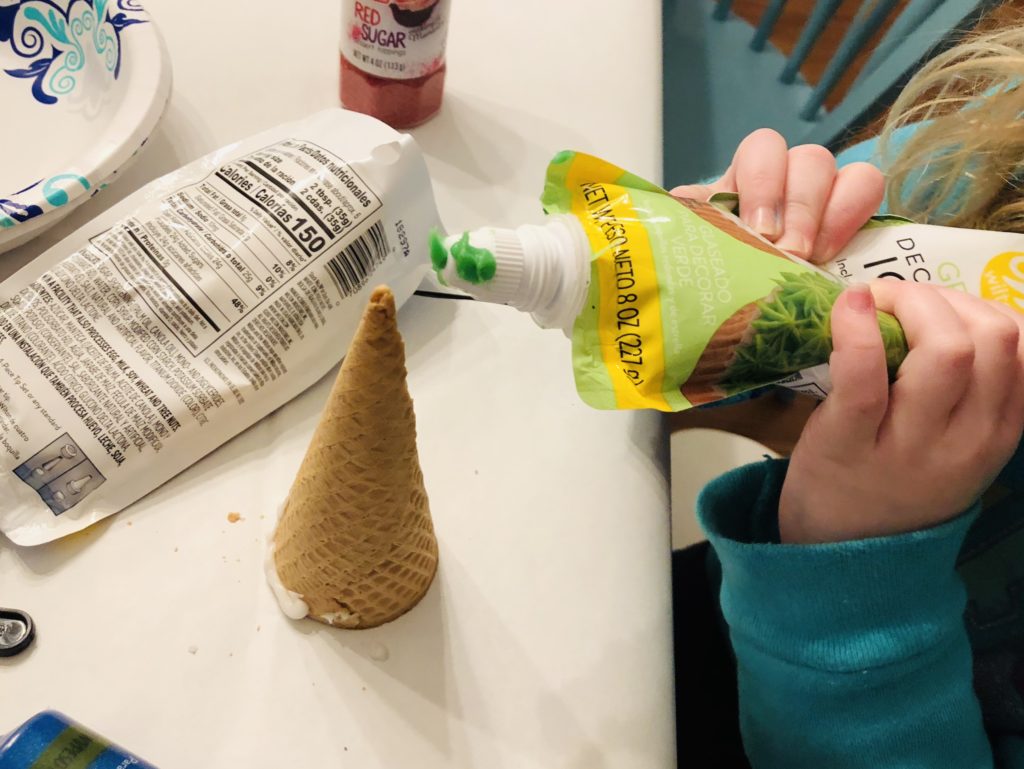 Fun holiday craft for little ones!
The icing tubes worked great for little hands. We squirted the icing directly onto the sugar cones. For some of them we used a plastic knife to smooth the icing down or to spread it around.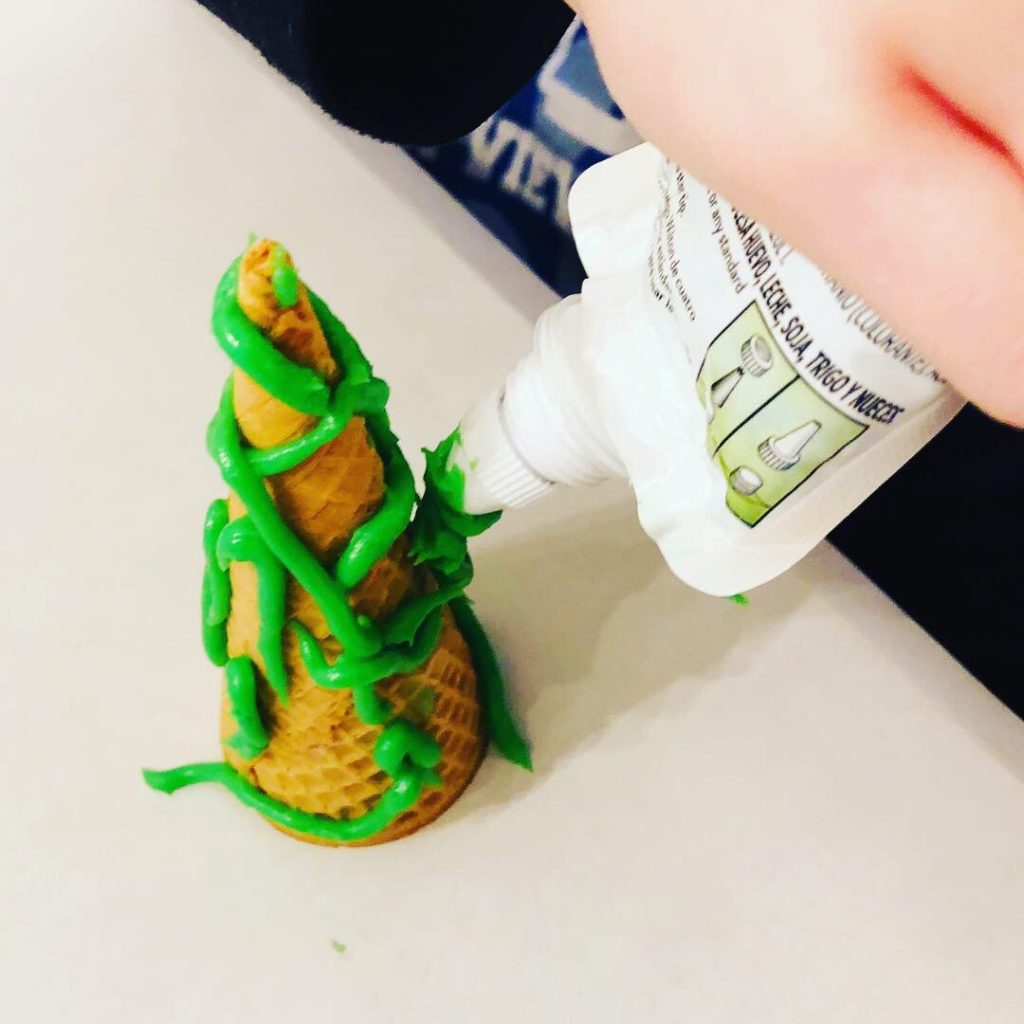 Once the icing part was complete, it was time to add the decorations. We added sprinkles, pretzel pieces, crushed candy cane, mini chocolate chips and holiday M&Ms. Some other fun decoration ideas might be red hots, chopped cookies, holiday cereal, skittles, gum drops or mints.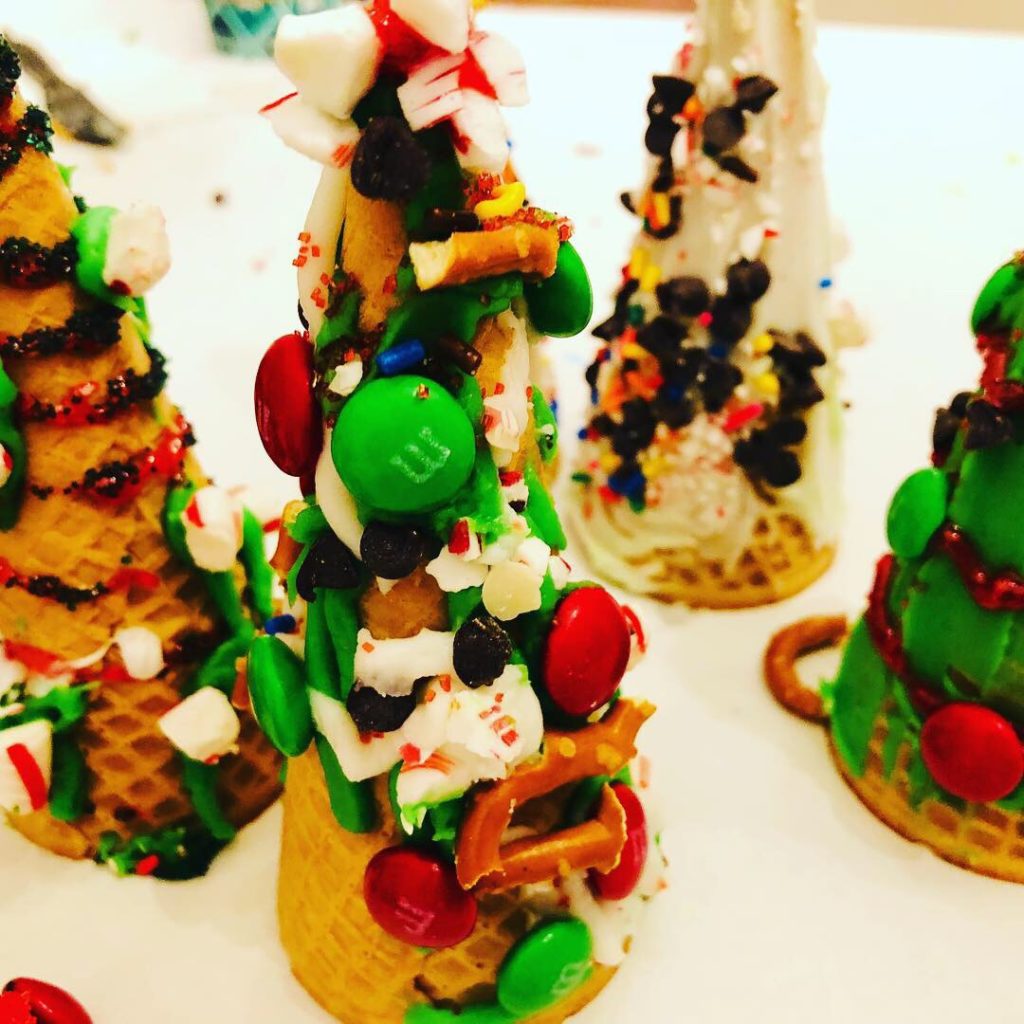 This ended up being way more fun than gingerbread houses! My kids usually argue over who gets to decorate which part of the ginerbread house. Plus we all get frustrated with trying to keep it together. Although, I hear hot glue could be a solution to that problem.
With the Sugar Cone Christmas Trees, everyone was able to decorate however they wanted. They loved having their own trees to decorate! Of course they had to taste them too and thought it was a yummy treat.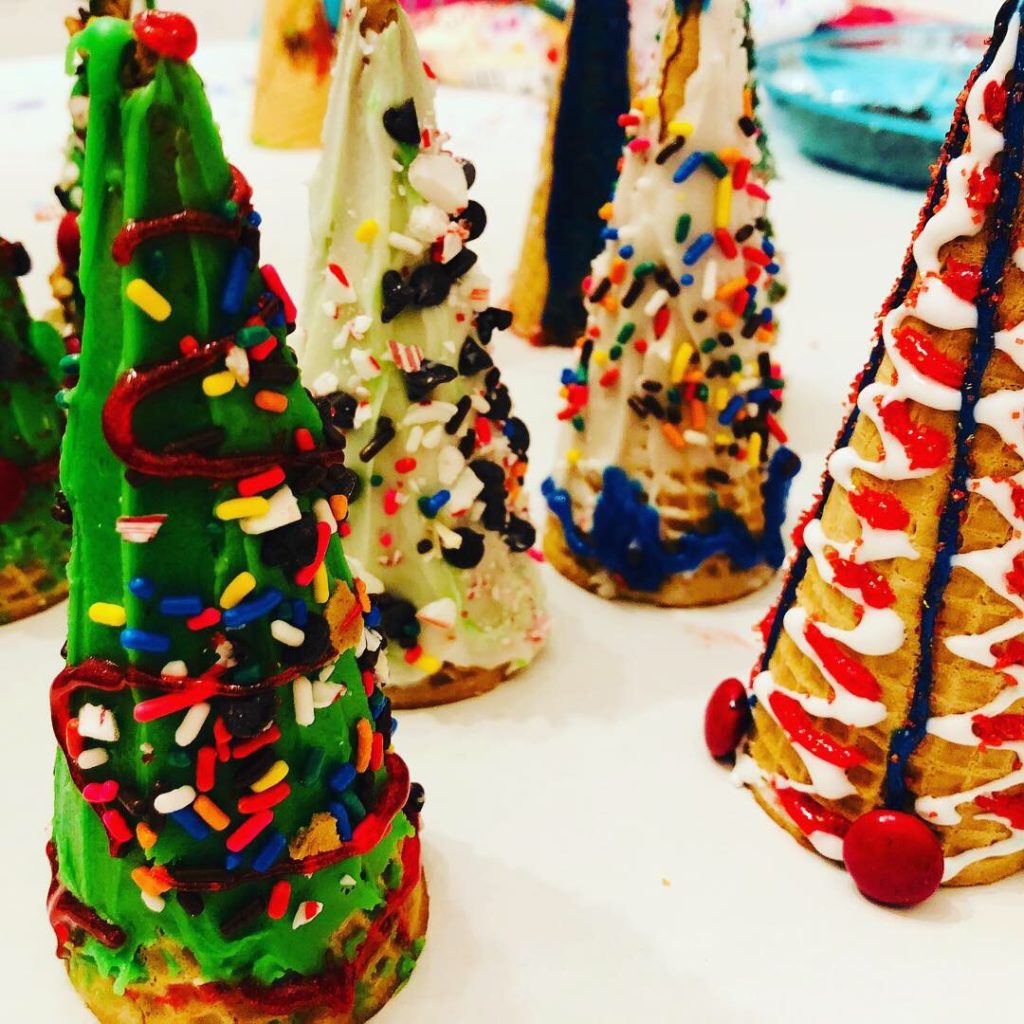 I hope you will try the Sugar Cone Christmas Tree Craft this Christmas! This would also make a great party or classroom craft. If you need more ideas for holiday crafts with little ones, be sure to check out our Paper Plate Wreath Craft and Christmas Cookie Play Dough Activity. All of these are great activities for preschoolers.