Does anyone else start to panic when the email appears for the Christmas Class Party Sign Up? The goal is to get logged in right away. We need to scope it all out before all the easy things are taken. I was always terrified of being left with the Christmas Class Party Games.
Welcome to the 5th annual 12 Days of Holiday Ideas event, hosted by Shirley of Intelligent Domestications  and  Erlene of My Pinterventures Between Nov. 11th and December 6th there will be hundreds of new ideas shared by over 55 Co-host bloggers. Today we are all sharing ideas for fun Christmas Party Games!
Go here to see our kick-off collection of Holiday ideas as well as all of this years talented participating DIY and Foodie Blogs. Download this years November and December calendars with all of the topics and dates so you can make plans to watch for ideas!
This post does include affiliate links. That means I could earn a tiny portion of any sale that is made through clicking on any of these products with no additional cost to you. All support is greatly appreciated!
We are hosting a BIG GIVEAWAY from our Sponsors this year! Be sure to scroll all the way down for more information and to enter to win!
I don't know why I was so scared of the party games! On the other hand, I'm the first one to sign up to do the craft. It takes no time to throw together the supplies for a cute Christmas Paper Plate Wreath Craft.
Today I am excited to be partnering with Oriental Trading, one of our sponsors, to share some easy party games that work great for class parties! We were even able to try a few of these games out for ourselves. Now I'll be the first one to sign up for games when that sign up shows up in my inbox!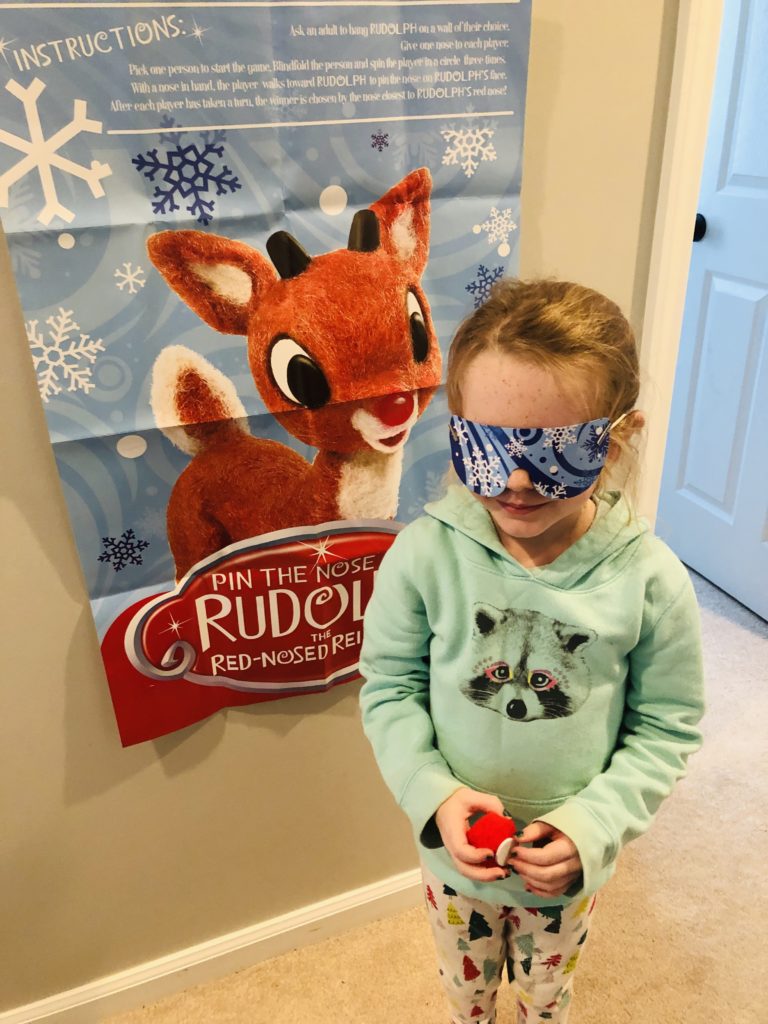 Pin the Nose on Rudolph the Red-Nosed Reindeer is a super cute party game for kids of all ages. I think preschoolers will especially enjoy this one.
This game includes the adorable Rudolph Poster, a blindfold and eight large red pom poms with glue dots. The set up is simple. Just hang the poster on the wall and attach the glue dots to the red pom poms.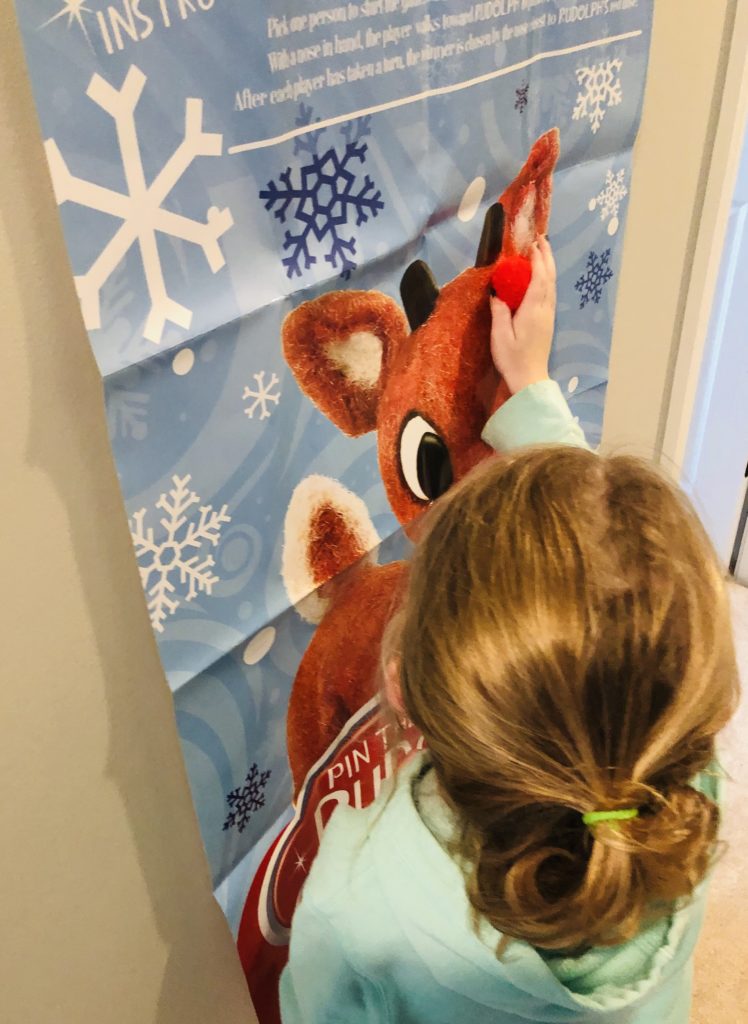 When the kids are ready to play, they will each take a turn trying to pin the red nose on this cute reindeer. Up to eight kids can play at one time.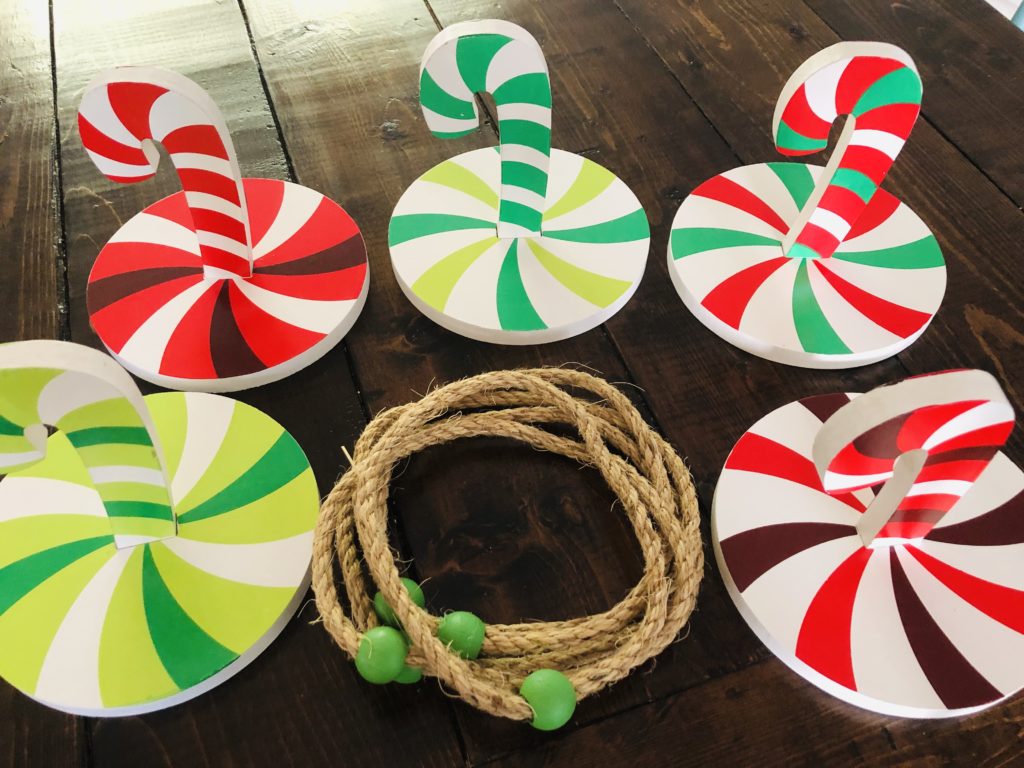 Kids will love playing this Candy Cane Ring Toss Game!  This game includes 5 assorted candy cane hooks and 5 rope rings. Simply arrange the candy cane hooks into a course and let the fun begin!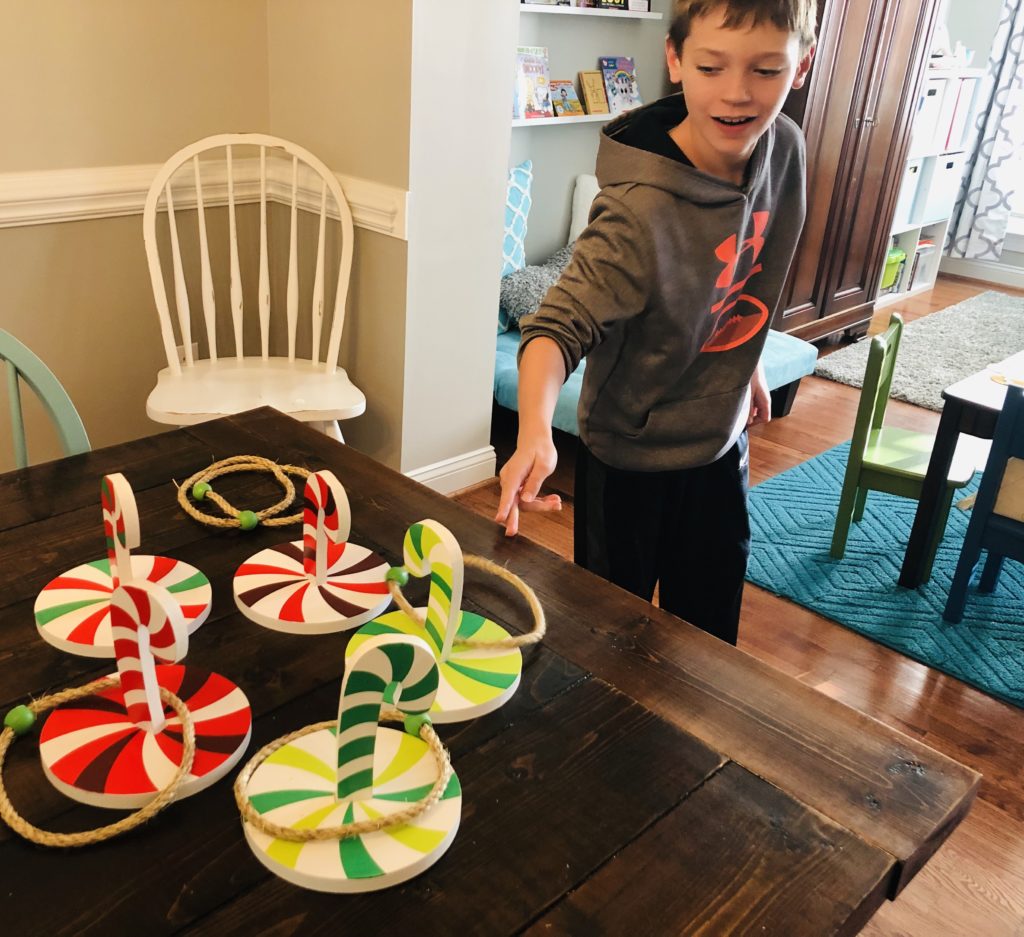 Five kids can play this game at once. It is a great game for kids of all ages! You can make it harder or easier by adjusting how far they are allowed to stand when tossing the rings.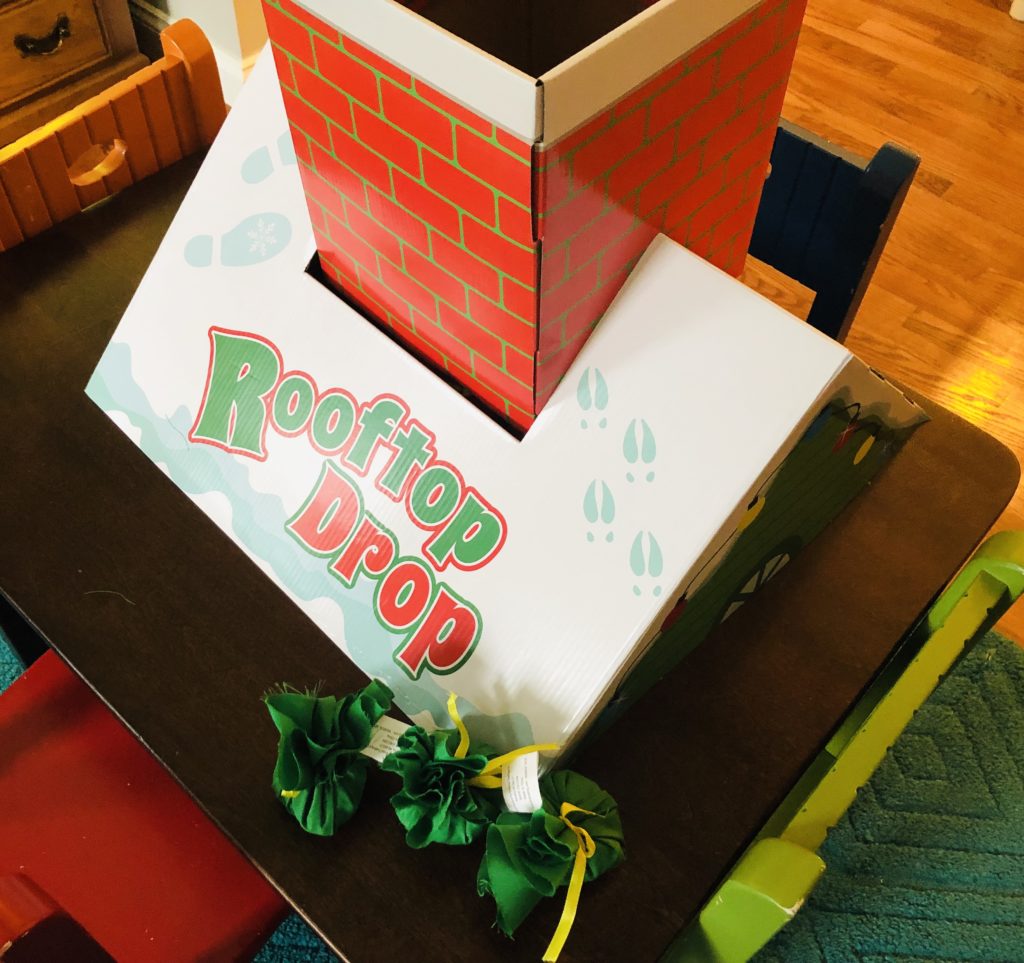 The Rooftop Drop Game is Christmas themed, down to the game board shaped like a rooftop with a chimney and bean bags that look like the sacks of presents that Santa would toss into his sleigh.  It is a fun holiday twist on the classic bean bag toss game!
It comes with six bean bags in green and red. Set up a red team and a green team and see who would be the best present delivery person. This game is a perfect Christmas party activity for kids.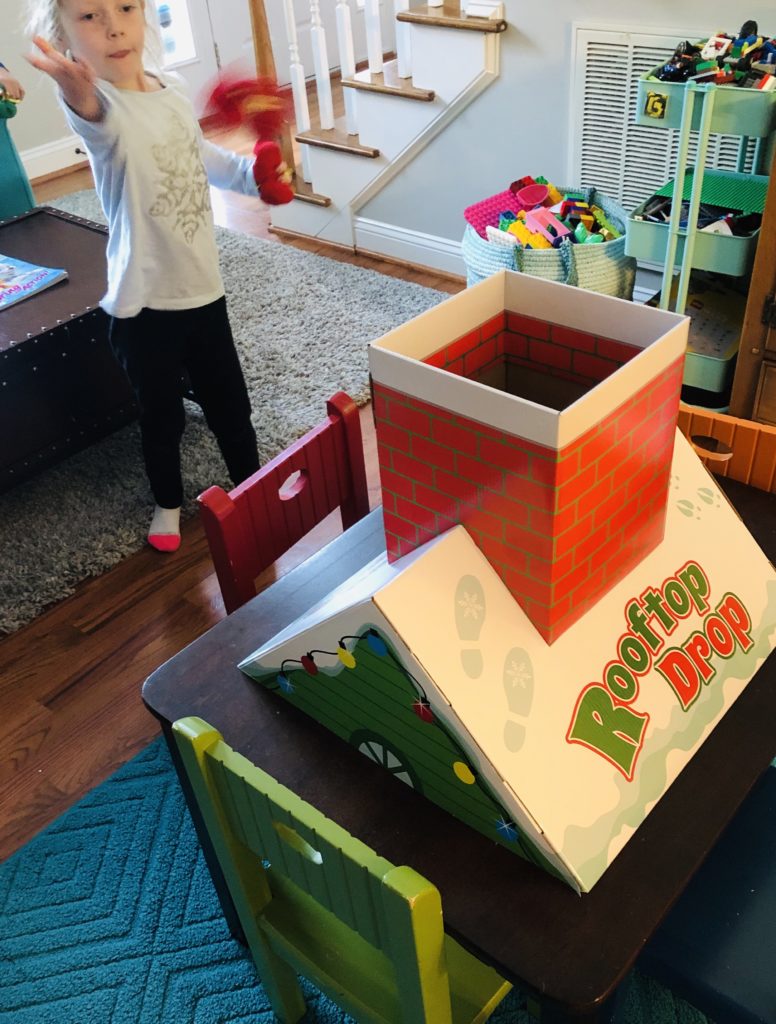 Seriously, it doesn't get much easier than this when it comes to holiday party games for kids! My two enjoyed playing all of these games and can't wait to play with their classmates now.
If you want to take it a step further, bring in this super cute Santa's Toy Box Assortment for the kids to win as prizes for these fun games. My kids went crazy when they saw this!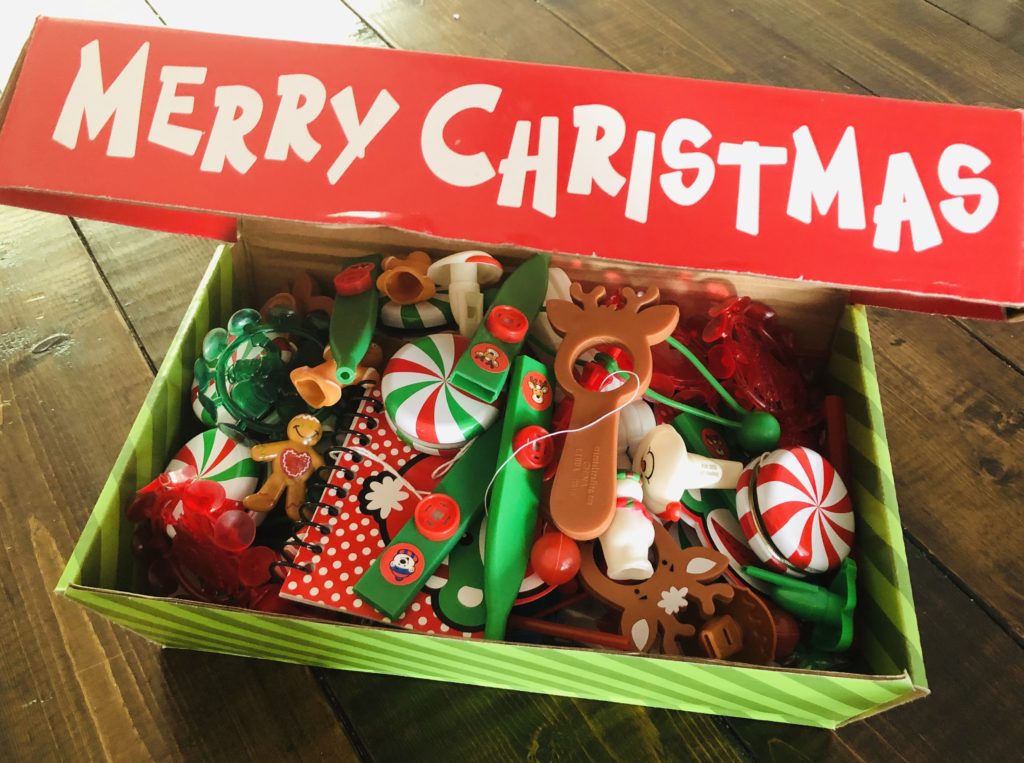 The box that holds the prizes is shaped like a festive treasure chest! This assortment includes 100 pieces of puzzle games, bouncing balls, kazoos, yo-yos, notepads, coloring books and more.
You will be the classroom hero when you sign up to bring any of these items! Keep an eye out for the Free Shipping Codes with Oriental Trading. They often have Free Shipping on any order which would be perfect when it comes time to order classroom party supplies.