If you are a paper crafter, what do you do with all those paper scraps? I use a lot of scrapbooking kits. It makes it so easy since everything coordinates and there is usually a guideline on how to put the pages together. I always have lots of beautiful scraps of paper leftover once I am done with the layouts.
My favorite scrapbooking kits are from Close to My Heart. They come with a cutting guide and detailed instructions on creating beautiful pages. The Jingle Joy Collection is the holiday kit that is currently available. There is also the Holly & Ivy Collection that was just released.
This post does include affiliate links. That means I could earn a tiny portion of any sale that is made through clicking on any of these products with no additional cost to you. All support is greatly appreciated!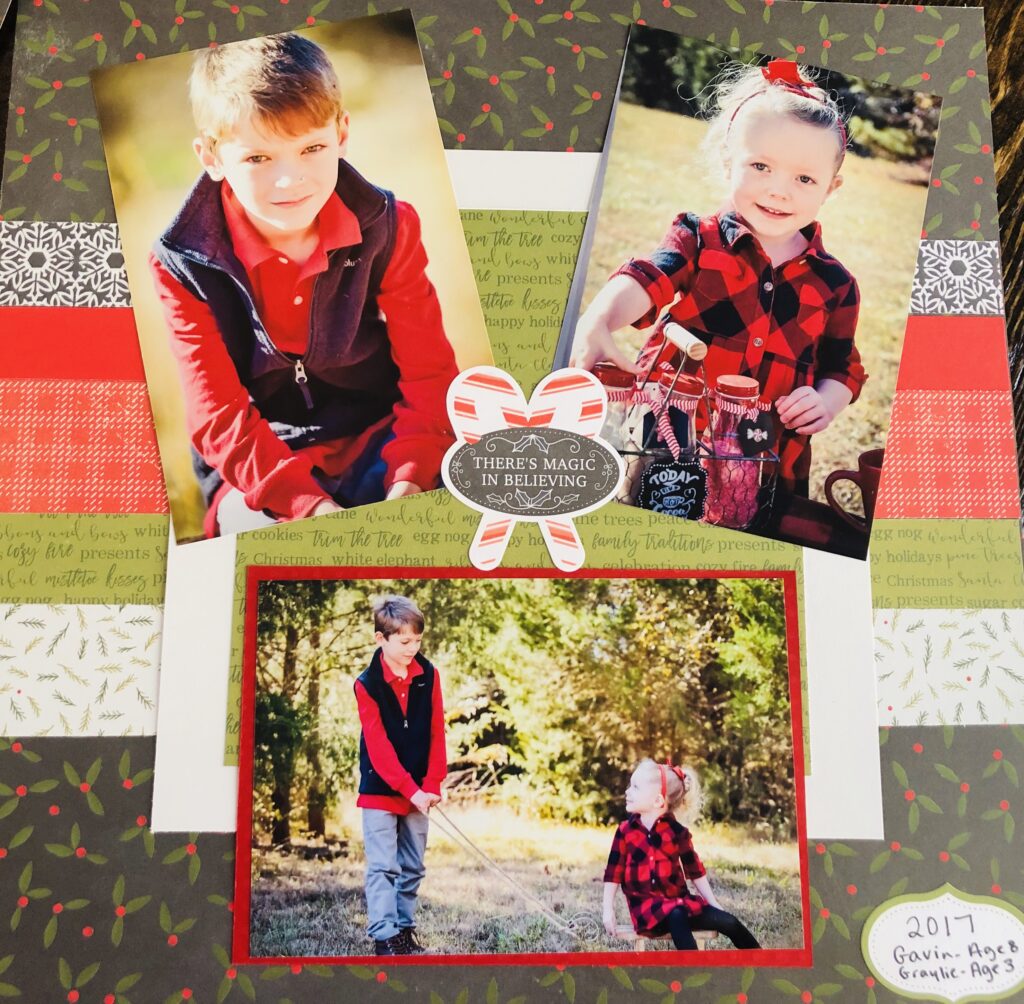 Out of all the things I scrapbook, Christmas is definitely what I do the most! I even have an entire album dedicated to just holiday photos.
The kits make it so easy to get all those pages done! They come with beautiful papers and embellishments. Since everything already coordinates, it makes it so simple to turn the remaining pieces into beautiful handmade cards. As crafters we love to find ways to use all of our supplies!
Paper Scraps Card Background Technique
Today I will show you a quick and easy technique that I use to create card backgrounds from leftover papers. I used paper scraps to put together some quick holiday cards.
The first step is to gather all of the leftover paper from your project. This doesn't have to be from a kit specifically. If you have lots of scrap paper, just put together a few patterns that go together and use those.
Then, cut the papers into strips using a paper trimmer. I usually cut them anywhere from 1/2 inch to an inch. I like to cut them into varying sizes so I usually don't do exact measurements.
Once you have several paper strips, adhere the strips onto a piece of light weight cardstock using a tape runner. I used a 12 X 12 sheet for this project.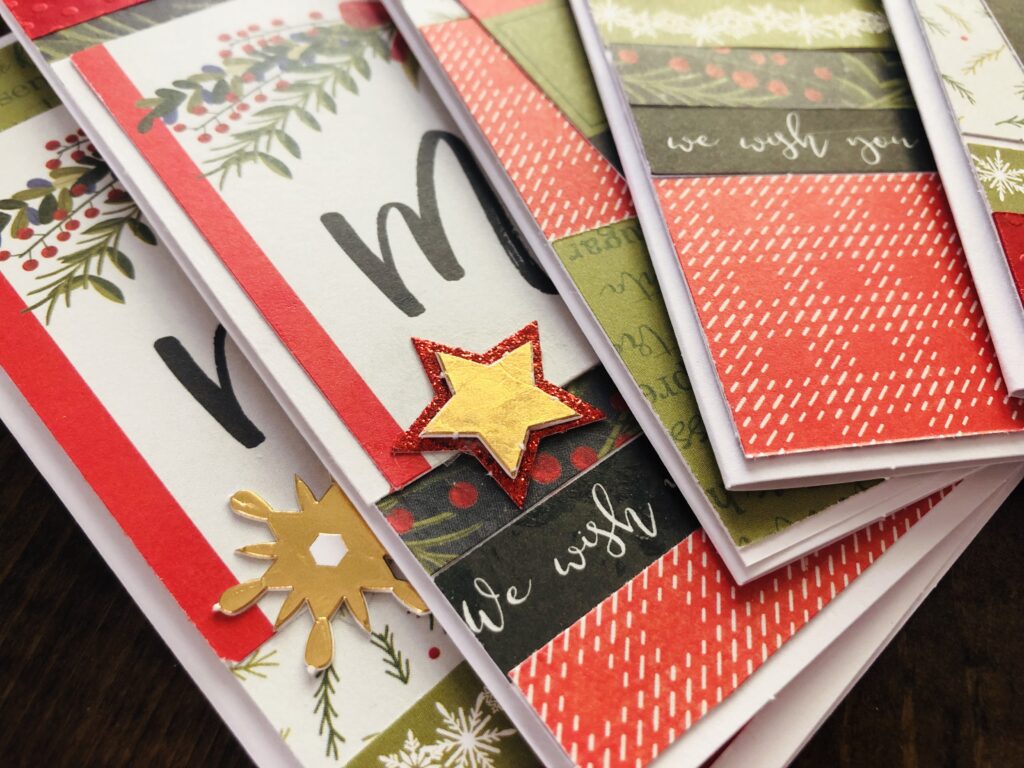 Once I have all of the paper strips adhered, I cut the background into six pieces to adhere to white notecards. I cut them into a 4 X 5 1/4 size for the cards I use. Using a tape runner, I attach the backgrounds to these cards. Then I look through the leftover embellishments from the kit to finish these cards. You could also use stamp sets to add a few sentiments to the cards.
Quick Holiday Cards Using Paper Scraps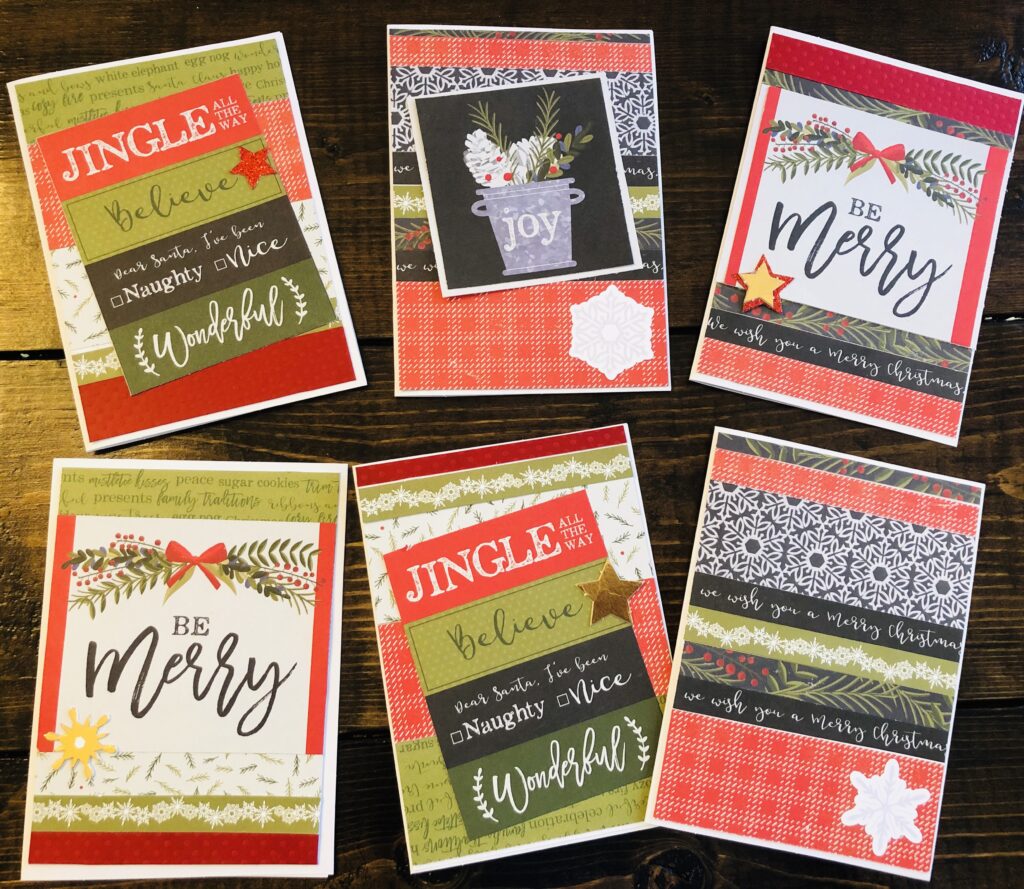 These Quick Holiday Cards were so much fun to create! I'm looking forward to starting a new kit now. Using this technique, helps me build my card supply so I always have a beautiful card on hand.
I hope this has provided some inspiration on ways to use your paper scraps! Maybe you'll even create your own holiday cards to send to friends and family.
Please note: This post does include links to my Close to My Heart business site. I am an Independent Consultant and could get commission on these products. All of these opinions are my own and would be happy to answer any questions. I appreciate any support!