Have you decorated for Christmas yet? I'm actually an after Thanksgiving kind of girl. I don't mind seeing decorations though and love when my friends share pictures of their beautiful trees and decor. It gives me time to get my ideas together. I did make this easy Chevron Burlap Christmas Wreath earlier this week.
Welcome to the 5th annual 12 Days of Holiday Ideas event, hosted by Shirley of Intelligent Domestications and Erlene of My Pinterventures Between Nov. 11th and December 6th there will be hundreds of new ideas shared by over 55 Co-host bloggers!
Go here to see our kick-off collection of Holiday ideas as well as all of this years talented participating DIY and Foodie Blogs. Download this years November and December calendars with all of the topics and dates so you can make plans to watch for ideas! Today we are sharing beautiful wreath ideas.
We are hosting a BIG GIVEAWAY from our Sponsors this year! Be sure to scroll all the way down for more information and to enter to win!
This post does include affiliate links. That means I could earn a tiny portion of any sale that is made through clicking on any of these products with no additional cost to you. All support is greatly appreciated!
I am so excited to share this wreath with you! Dollar Tree is a great place to get your embellishments and supplies for wreaths. Last year I made a cute and simple wreath using one of their adorable red truck ornaments.
Burlap Wreath Supplies
This year I am partnering with one of our sponsors Burlap Fabrics. I was so excited to try their amazing Chevron Burlap Ribbon for this wreath.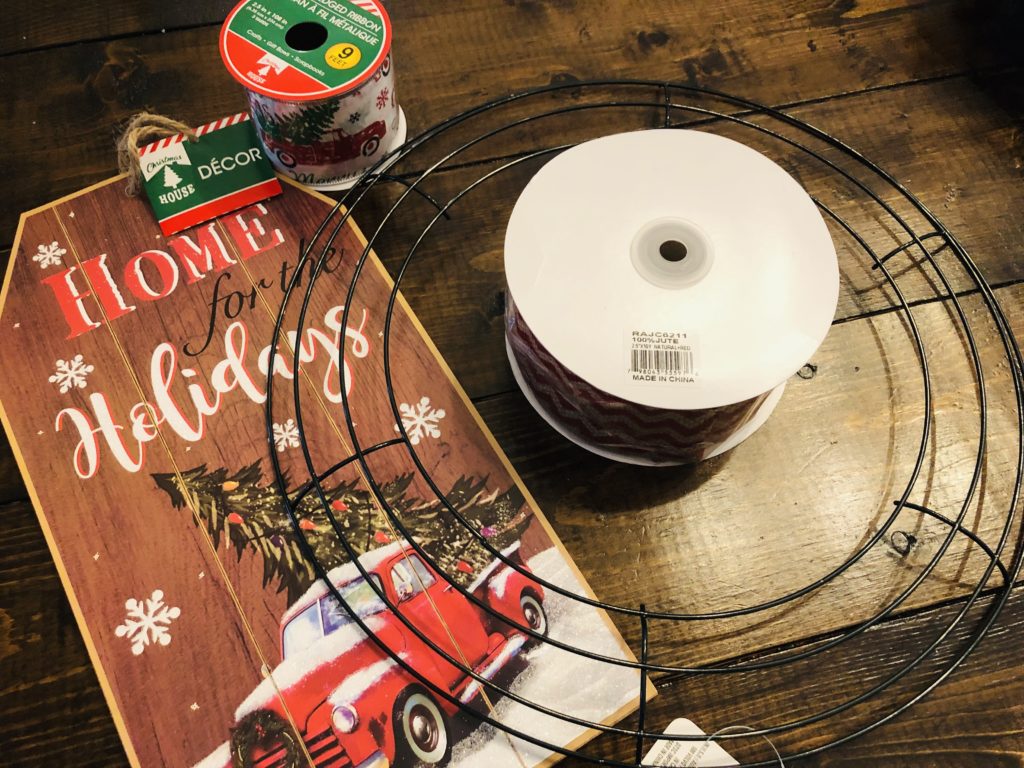 Also I was thrilled to find this beautiful Red Truck Sign at Dollar Tree a few weeks ago. It coordinates beautifully with the red chevron burlap ribbon. The sign ended up being the perfect embellishment for this wreath.
Here are the supplies I used for this Red Chevron Christmas Burlap Wreath. I found all the supplies at Dollar Tree except for the burlap ribbon.
Red Chevron Burlap Ribbon
Pipe Cleaners cut into 4 to 6 inch pieces
Additional Decorative Ribbon
Christmas Chevron Burlap Wreath Tutorial
This wreath was very simple to make! Let me tell you the steps I used. I hope to make a tutorial video in the next few weeks that would also be a great visual guide.
To get started I put a piece of pipe cleaner through the burlap ribbon. Then I used the pipe cleaner to attach that end of the ribbon to the outer ring of the wreath form.
Once the ribbon was secured with the pipe cleaner, I pushed a loop up through that first section next to the pipe cleaner. Then I pushed through two more loops until I got to the inner ring of the wreath form.
Once I got started, I just repeated this process throughout the remainder of the wreath form. I used 2.5 inch ribbon and was able to fit three sets of loops inside each section of the wreath form.
Also my ribbon was 10 yards and I did have to go into a second roll of ribbon. I estimate that I used about 12 yards of burlap ribbon for this wreath. Once I got to the end of the ribbon, I used another piece of pipe cleaner to secure each end of ribbon.
Let me just admit something, I was pretty proud of myself over this wreath. I have tried making wreaths like this in the past with no success. This one is definitely not perfect but hey, I did it!
Embellishing the Burlap Wreath
If you were not adding any embellishments to the wreath, this would be the time to fluff the ribbons. I decided to wait until I added the sign so I could fluff around it.
To attach the sign to the wreath, I removed the jute string that was already on it. Then I used a longer piece of ribbon to attach the sign to the top of the wreath form.
After the sign was in place, I glued a bow on top the hole in the top of the sign. I used a cute red truck patterned ribbon I found at Dollar Tree. Then I continued to fluff out the ribbon loops on the finished burlap wreath.
I could probably keep fluffing this wreath forever! These wreaths are not made to look perfect. They all look different based on the type of ribbon that is used and that is what I love about them.
This wreath is super simple to make and an adorable addition to your holiday decor. Be sure to check out my Farmhouse Style Wreath Makeover if you have wreaths that just need a little updating.