Who's getting excited to start decorating for the holidays? Some of you maybe already have. We haven't pulled out any decorations yet since we usually wait until after Thanksgiving. I did update the wreath for my front door a few weeks ago. This weekend I made a Simple Dollar Tree Christmas Wreath for our back door.
Welcome to Day 1 of the Fourth Annual 12 Days of Christmas Series!
We have teamed up with 50 plus bloggers to bring you a oodles of DIY Ideas and Recipes to make your holiday season merrier. There are 12 different posts in the series and we have spread them out over a four week period with three posts per week. Now is the time to subscribe!
GO HERE for the complete list of Dates and Topics plus a collection of most popular holiday ideas including ornaments, games, recipes and more from all 50 plus talented bloggers!
It's Day 1 and we are sharing DIY Wreath Ideas!
---
SIMPLE DOLLAR TREE CHRISTMAS WREATH
This post does include affiliate links. That means I could earn a tiny portion of any sale that is made through clicking on any of these products with no additional cost to you. All support is greatly appreciated!
I am so excited to share this wreath with you! Dollar Tree is a great place to get your ribbon and embellishments for wreaths. I made a similar wreath for 4th of July. When I saw they had burlap ribbon for Christmas, I knew I wanted to try this again. Plus I could not resist that adorable red truck ornament!
Dollar Tree Wreath Supplies
For this wreath you will only need the following supplies:
Ribbon – 2 rolls for the body of the wreath plus ribbon for the bow
Red Truck Ornament or other embellishment
Glue Gun

How to make a Dollar Tree Christmas Wreath using the Red Truck Ornament.
The steps to making this wreath are super simple and will only take about 10 minutes!
Wrap the ribbon around the wreath ring as shown above. This took exactly two rolls of ribbon. Each roll was 9 feet of ribbon.
Use the glue gun to secure the ends of the ribbon.
Using a third roll of ribbon, make a bow to attach to the top of the wreath. I had purchased an extra roll of burlap ribbon and a roll of red ribbon since I couldn't decide which one I wanted to use. I went with the red ribbon.
Remove the hanger from the ornament.
Attach the ornament to a small strip of wide ribbon using a glue gun.
After adhering the ornament, glue the other end of the ribbon to the back of the wreath.
Glue a small ribbon loop to the top of the wreath so it can hung.
Dollar Tree Red Truck Christmas Wreath Craft
This little red truck ornament really make this wreath turn out super cute! I  hope to find more of these ornaments for additional crafting projects. With only a few supplies, you can put this wreath together very quickly. That makes it the perfect project for holiday craft fairs!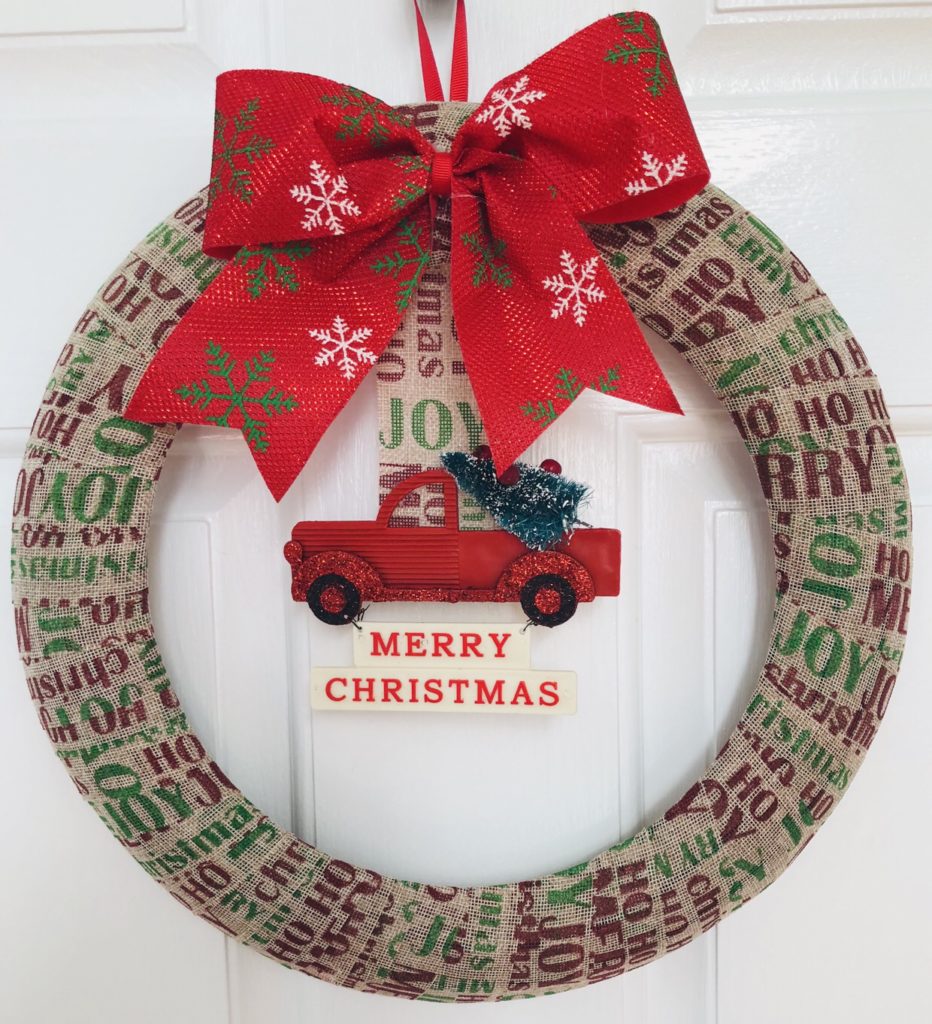 This wreath is super simple to make and an adorable addition to your holiday decor. My kids both actually commented on how cute it was. They normally only get excited over our kids' crafts!
Be sure to check out your local Dollar Tree early in the season for best selection. These supplies only cost me about $5 and the entire wreath only took about 5 minutes! You can't beat that! 🙂