The holidays are coming! That means lots of fun parties and lots of party food! We are currently not on a Whole 30 but I wanted to share these Whole 30 Approved Party Food Recipes with you.
I think it is a great idea to do Whole30 during the holiday season. I am just not that brave though. After successfully completing our January Whole 30, one thing I know is that social settings can be challenging. It is best to be prepared!
If you are thinking of doing the Whole 30 during the holidays, you need to check out these party food recipes. They are all amazing and will help you not feel deprived. That is one of the keys to success! One of my favorite things about Whole 30 is that you can eat until your full. There is no counting calories.
This is one of my personal favorites! It would be a great dish to take to a party any time of day. We did our Whole 30 during football season. It was a treat to make it on Sunday afternoons for our family and friends.
This chicken recipe has my mouth watering! It would be an amazing appetizer or dinner to go along with fresh vegetables and Dump Ranch to dip it in.
Guacamole would be another mouth watering recipe to have on the party table! It would go perfectly with the Fajita Chicken Wings too. Tortilla Chips may be out of the question, but you'll never miss them. Just pair this with some crispy celery or plantain chips.
Who doesn't get excited about bacon? This yummy recipe is super easy and ready in 30 minutes! If you prefer prosciutto, you can easily swap it out for the bacon in this recipe too.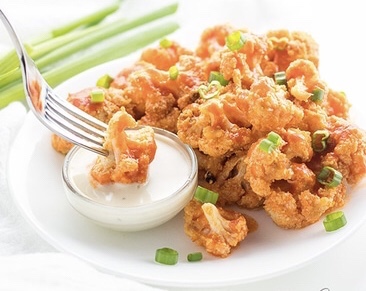 These Cauliflower Bites are battered in ground almonds. This is another recipe that would be amazing dipped in Dump Ranch. Can you tell I'm a bit of a fan?

Here is another amazing bacon recipe for you! This is one I should definitely make for my son. I can see this being a hit at any party. Again….dump ranch for the win!
I'm actually a huge fan of okra! I grew up eating fried okra at my grandmother's house. So this recipe sounds amazing to me. She tells you how to roast the okra so that it does not have that slimy feel or texture.
If you love spicy foods, this one is for you! This chicken wing recipe uses a spicy dry rub mixture. They are baked in the oven but broiled at the end to make them nice and crispy.
I hope you find some of these recipes helpful if you are doing a Whole 30 or just trying to eat healthy during the holidays. I plan to try some of these myself in hopes of avoiding the normal 5 pound holiday weight gain!
This post does include affiliate links. That means I could earn a tiny portion of any sale that is made through clicking on any of these products with no additional cost to you. All support is greatly appreciated!