Last weekend when we had Gavin's birthday party, I was so excited to try Walking Tacos as part of the party menu. I have seen this idea on Facebook and all over Pinterest. It is such a fun idea plus it is a cheap and easy way to feed a crowd.
If you have read any of my meal planning posts, you probably already know I love to shop at ALDI. It is such a great place to grocery shop when you are trying to stick to a budget. As soon as I decided I wanted to make the Walking Tacos, I picked up all my ingredients there.
What are Walking Tacos?
Let me take a step back real quick. You may not be familiar with the term Walking Tacos. I have a tendency to get a little ahead of myself. Walking Tacos are essentially deconstructed tacos that you eat from a bag. The popular way to do this is from a snack bag of Doritos or Fritos. You could also just use plastic sandwich bags to lower your cost even more.
Not only is this on-the-go taco a cheap and easy meal, it is also super simple for clean up. We all know the worst part of hosting a party or gathering is the clean up at the end. With this recipe, the kids were able to throw it all in the trash themselves.
Setting Up the Walking Taco Station
One of the amazing things about Gavin's video game party was that I was able to get the food ready while the kids were busy in the game truck. I had ordered pizza ahead of time so I only needed to prepare the Walking Tacos.
I started by cooking a batch of taco meat. My kids don't really like meat in their tacos, but I knew some of the other boys might enjoy that.
While I was preparing the meat, I also heated up black beans on the stove. This can easily be a vegetarian meal as well or at least give you that option for your party guests.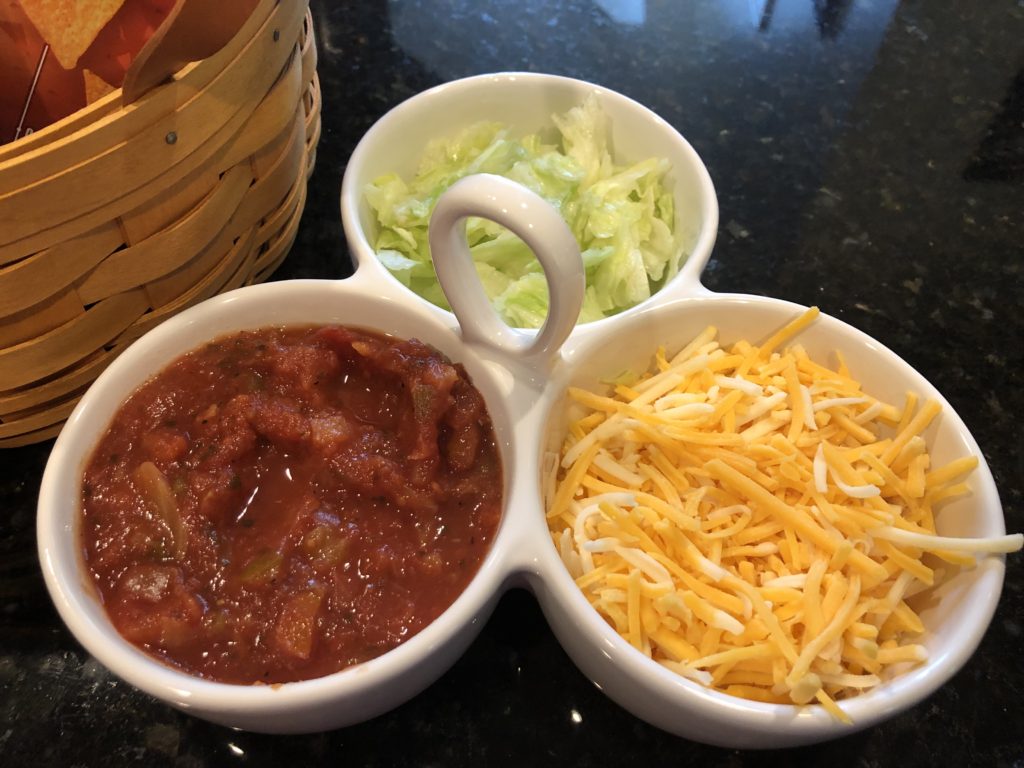 I threw the chips into a basket. The combo pack I purchased at ALDI did not come with as many taco options as I would have liked. For some reason I thought it included corn chips but I was wrong. Next time I'll grab an extra pack of corn chips for more options.
I also set out chopped lettuce, salsa, sour cream, and shredded cheese. You could also include guacamole, pico de gallo, olives, or any other toppings you normally enjoy on tacos.
I left the taco meat and beans on the stove to stay warm. I just helped the kids add these to their bags. It would be nice to already have this prepared in a crockpot to make it even easier.
They were able to use plastic forks to eat this right out of the chip bag. I like to kind of crush everything up in the bag once I get it all inside. It also helps to crush the chips before you open the bag and begin to add all the toppings.
As you can see this is a very simple way to serve your party guests! This is a crowd pleasing recipe for all ages. The kids loved it but I know my adult friends would enjoy it as well.
Walking Tacos Party Food
Serve Walking Tacos at your next party or gathering for a cheap and easy way to feed a crowd.

Ingredients
Doritos or Fritos Snack Bags

Cooked Taco Meat

Black Beans

Shredded Cheese

Sour Cream

Salsa

Chopped Lettuce
Instructions
Crush chips before opening snack bag.

Open bag and add meat and/or beans to the chips.

Top with remaining ingredients of your choice.
This post does include affiliate links. That means I could earn a tiny portion of any sale that is made through clicking on any of these products with no additional cost to you. All support is greatly appreciated!