When I'm looking to save extra money, the grocery budget is the first place I go! I have learned that I can still eat healthy and stay on budget when I shop at Aldi and use local sales flyers. By doing some easy meal planning and prep I can save time, money, and my sanity. I don't do massive meal prep sessions. That seems really overwhelming to me. I keep dinners simple and use leftovers as much as possible. Here are some ways that I do prep throughout the week that have made a big difference for me.
Try these simple money saving meal prep tips!
This post does include affiliate links. That means I could earn a tiny portion of any sale that is made through clicking on any of these products with no additional cost to you. All support is greatly appreciated!
We love our Ninja Blender. Having the single serving cups that can be sent straight the blender has been life changing for me. The kids eat a Peanut Butter Chocolate Banana Smoothie for breakfast every morning. We have extra cups so I am able to prep these in advance. I usually prep three at a time and fill the cups with all the ingredients except for the frozen bananas and milk. Then I fill a freezer safe container with all of our over ripe bananas. I peel the bananas and break them into pieces before putting them in the freezer.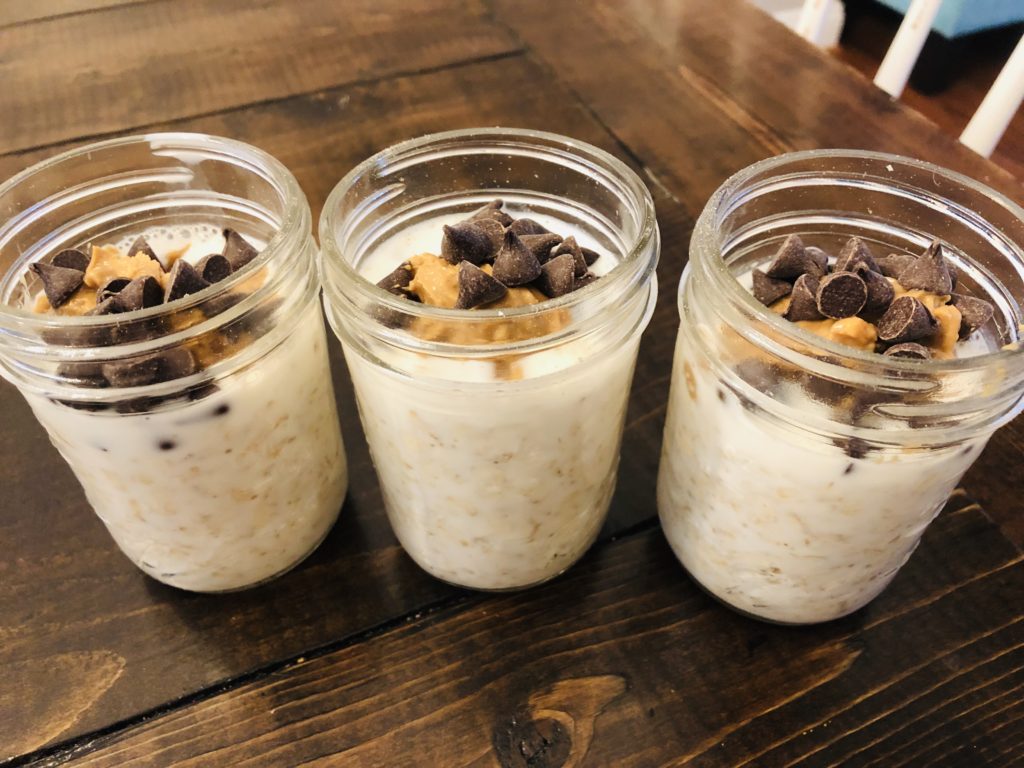 In a previous life I may have been slightly addicted to Starbucks. I loved going through the drive thru in the mornings for my latte and classic oatmeal. I don't even want to think about how much that probably added up to. Now I make my own coffee and realized how easy and yummy overnight oats can be. I love the Peanut Butter Chocolate recipe since I have a bit of a sweet tooth. I also prep these three at a time and they are just as good on the third day.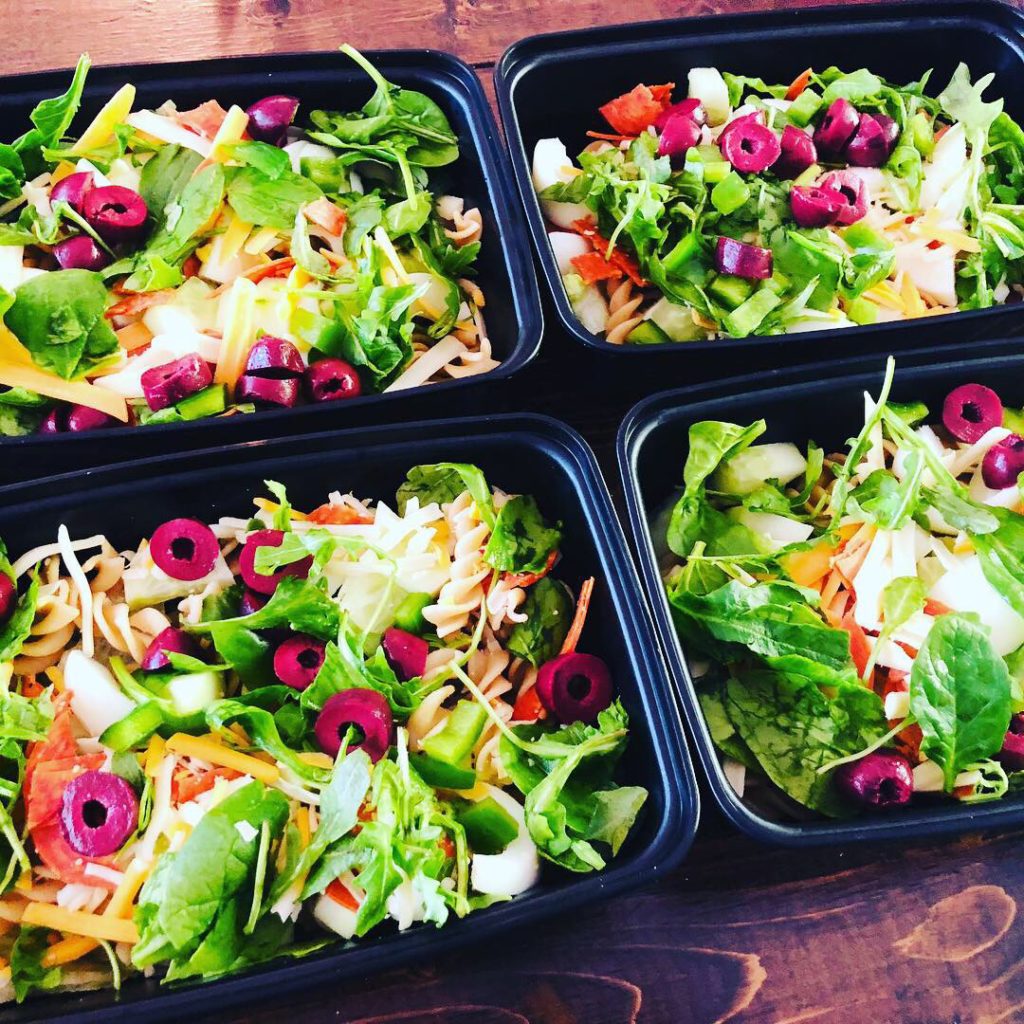 Whenever I take the time to prep our lunches, I am never disappointed! One of my favorites is to use leftover pasta to make yummy salads. It is so simple to throw together. Just add whatever veggies you have on hand to the pasta along with some cheese, boiled egg and/or deli meat. We really like to add pepperoni and kalamata olives. Then I just toss it with olive oil and seasoning salt.
Recently I just tried doing a lunch prep with my bento boxes. I went to Aldi and purchased some fun items like individual hummus and guacamole, salad mix, Babybel cheese, and more. I was able to put together 10 lunches that my husband, son, and myself all enjoyed. These are all cold lunches so they were perfect for school or work.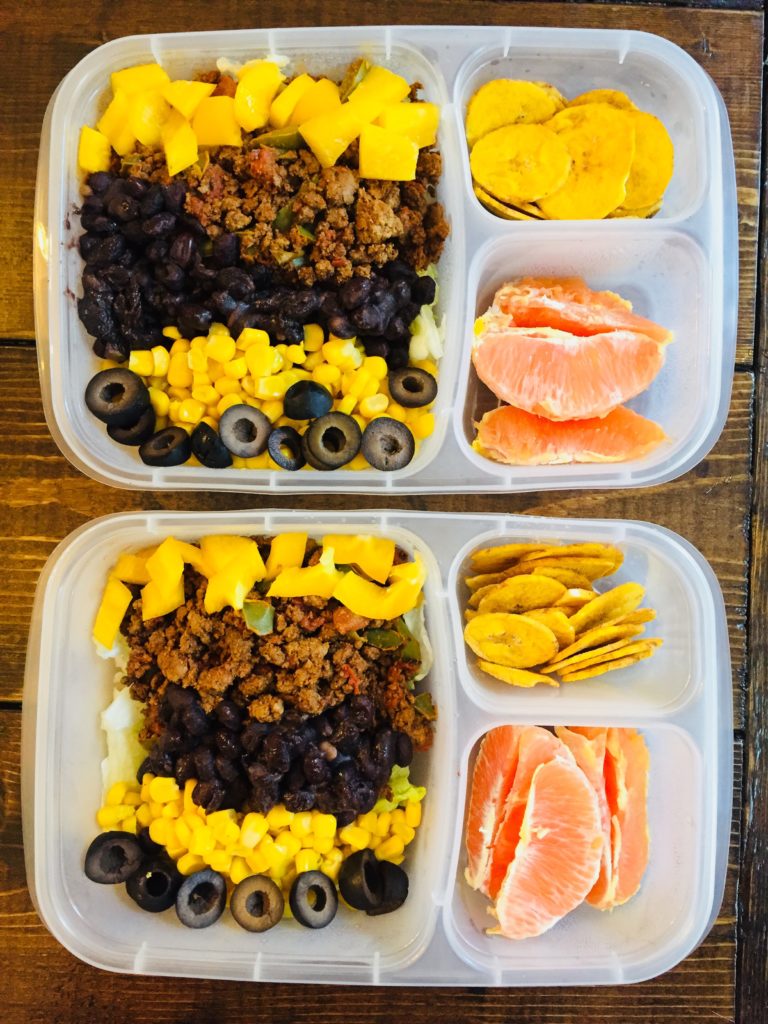 I also enjoy creating bento box lunches with leftovers. The one pictured above is a taco salad. I just put leftover taco meat, corn, and black beans over a bed of iceberg lettuce. I topped it with olives and yellow bell pepper. It can also be eaten cold. These containers are microwave safe though in case your prefer a warm lunch.
Wash and Store Produce
This one is so simple that I almost didn't mention it. It is key to having healthy food on hand though. If you go ahead and wash your produce and store it, you are more likely to eat it and waste less food. Don't worry about having the perfect containers. I think we get held back by perfection sometimes. I know I do. Just pull out whatever containers you have and use those.
Make Your Own Snack Bags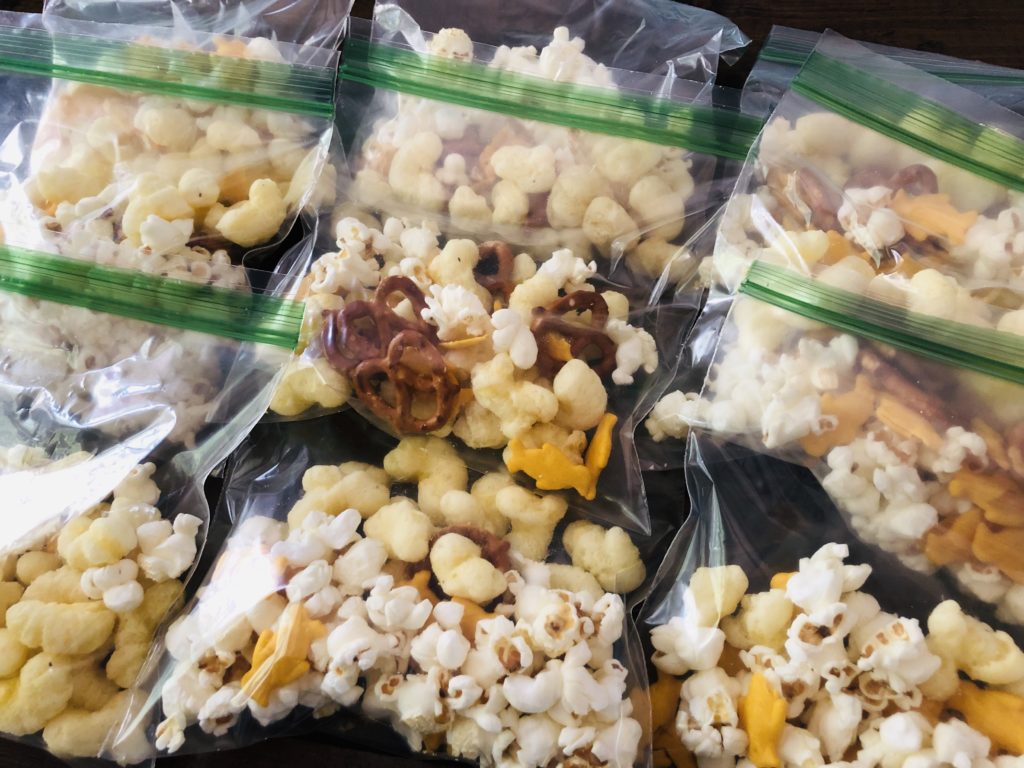 This is a Money Saving Meal Prep Tip I recently got from my friend Erin at Simple Purposeful Living. She reminded me how much you can save by bagging your own snacks. My kids really get into this one. When we go to Aldi, I let them pick out a few different snacks. When we get home, they bag them up into individual snack bags. It has been working great for us and I love that it is an activity they can do while I am unloading groceries or washing up our new produce.
If you have young kids, making your own yogurt and applesauce pouches can save you lots of money! It also means you always have a healthy snack for them on hand. These pouches are so easy to make and they are dishwasher safe.
Weekly Meal Planning (The #1 Money Saving Meal Prep Tip)
It is a known fact that planning your meals can save you money! I try to sit down each week and write down a few meals we can have the following week. When my friend Erin created her meal planner, I couldn't wait to get my hands on it. I get tired of being on my phone so an app just didn't work for me. This meal planner has 52 pages so it will last for a full year. It also includes a tear off grocery list on every page that was the cherry on top for me!
Meal planning is definitely the #1 Money Saving Meal Prep Tip! When you plan your meals, there is no more racking your brain on what to feed your family. Prepping the food starts to become natural since you know what ingredients need to be prepared.
I hope you find these ideas helpful! Please let me know what money saving meal prep tips you would add to list as well. If you are interested, I also have a Healthy Meal Planning on a Budget Facebook Group that I would love for you to join. I am definitely no expert but I love communities that can come together and inspire each other.