We are doing another round of Whole30 this month. In case you are not familiar, let me give you the highlights before I share our Simple Steps to a Successful Whole30.
The Whole30 is a healthy eating challenge to help you change your relationship with food. The idea is to eliminate certain foods for thirty days to see how your body feels. It is about changing your lifestyle to eat healthier and reduce cravings.
We were successful with this program almost two years ago. It left us feeling great and making healthier choices. As most of you may know, it's super easy to let bad habits creep back in.
After a summer of having fun with the kids, I realized I needed to do something. We definitely had our fair share of pizza, Chickfila, and ice cream. Do I have any regrets? Absolutely not!
Now that we are back to a school routine, I am excited to do this Whole30 Challenge again. It can be tough but here are the steps we take for a Successful Whole30!
This post does include affiliate links. That means I could earn a tiny portion of any sale that is made through clicking on any of these products with no additional cost to you. All support is greatly appreciated!
Read the Book.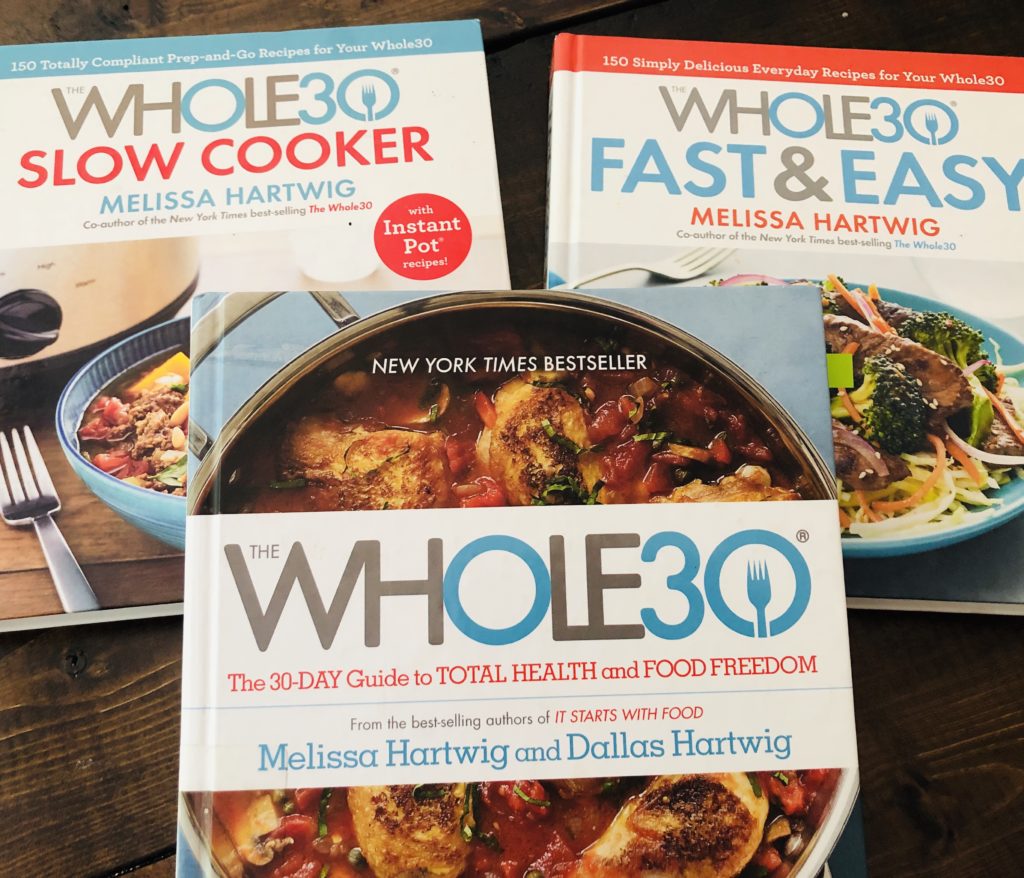 Before you even think about doing the Whole30, you must read the book It Starts With Food or The Whole30: The 30-Day Guide to Total Health and Food Freedom. These books have all the rules and also a guideline for how you may feel throughout the 30 days.
I checked these books out from our local library along with some of the great cookbooks they offer. One of my favorites is The Whole30 Fast & Easy Cookbook. Since I try to use my crockpot at least once a week, I also enjoy The Whole30 Slow Cooker.
Purge your pantry if you can.
Get rid of all those tempting crackers and cookies if you can. Since we have two young kids in the house, I'm not able to completely purge all the snack foods. So far I've done okay. I keep their snacks out of the pantry. Those snacks are in a basket in a completely different cabinet.
Make a plan.
If you aren't used to meal planning, this will be a life changing experience for you! The only way to succeed at the Whole30 is to have a meal plan. It doesn't have to be fancy.
Before making the meal plan, take some time to go through cookbooks or look around Pinterest. There are so many amazing Whole30 recipes! You will be surprised by how good the food is on the Whole30.
For our first round, I documented what we ate every week. Feel free to check out some of those meal plans.
Go to the grocery store before you start.
I find grocery shopping a lot of fun actually! Since we had done this before, I knew a lot of the Whole30 approved items I wanted to purchase. I always start off with a trip to Trader Joe's.
Like I said before, for this program to be a success you will need a plan. Before Day 1, I make sure I have the ingredients to get us through at least a couple of days.
I usually end up going to several stores to get what we need. That may not be necessary though. I always shop at Trader Joe's, Harris Teeter, and Aldi.
Prep your food.
Food prep doesn't have to be complicated. Take a little time to wash all that beautiful produce. You'll be more likely to eat it if it is washed and ready to go.
When you wake up on Saturday morning to cook bacon, go ahead and cook the entire package. Then you can use the leftovers on top of a salad.
We do the same thing when we grill meats. We may not eat the entire package of chicken or hotdogs but they make great leftovers.
Do a little meal prep.
This takes it a step further. Not only will the food be ready, the meal will be completely ready. I try to do a little meal prep once a week.
My Whole30 Meal Prep usually consists of baking a large batch of potatoes. I do a mix of russet potatoes and sweet potatoes. These are great to have on hand for lunch and dinner.
I also like to make a big batch of soup and portion it into individual containers. We will have these for lunch most days. If we end up not eating it, I can put them in the freezer after a couple of days. It's always nice to have meals on hand in the freezer.
Have emergency snacks on hand.
The Whole30 program does discourage snacking. Let's face it though. Life happens and sometimes you are stuck in traffic, working late at the office, or running from activity to activity with the kids.
My husband also does the program with me. He works out every day so it's not realistic for him to not have a snack. So I keep RX bars, pistachios, nut butter pouches, and beef sticks on hand.
Think about what might be hard.
It's always good to think about what the struggles might be before starting something new. For me it was coffee. I've never drank black coffee. Plus the Pumpkin Spice Latte was just released when we started. It's my favorite!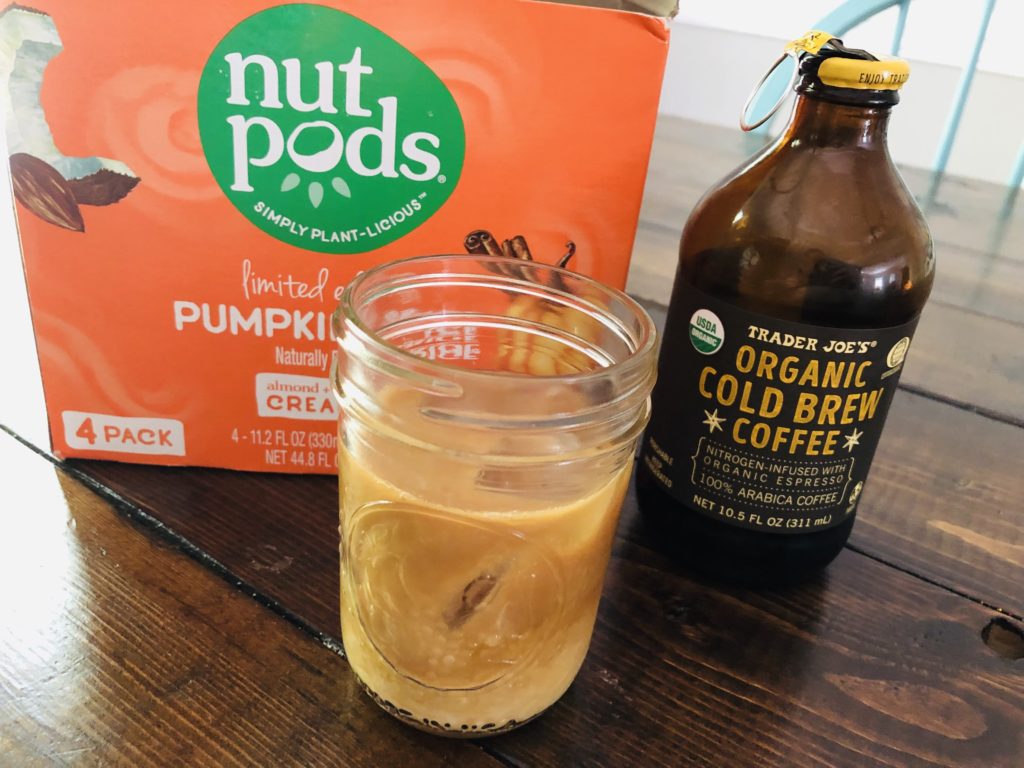 Since sugar and cream are definitely not part of the Whole30, I gave nutpods a chance. They even have Pumpkin Spice! Sure it's not the same but it's actually really good.
Another kind of challenging thing was that we started right at Labor Day Weekend. There will always be something going on and I realize we just have to prepare.
We were still able to cook out. We had hamburgers and hotdogs without the buns. I made our own sweet potato chips and added veggies to our plates. Guess what? It was amazingly delicious!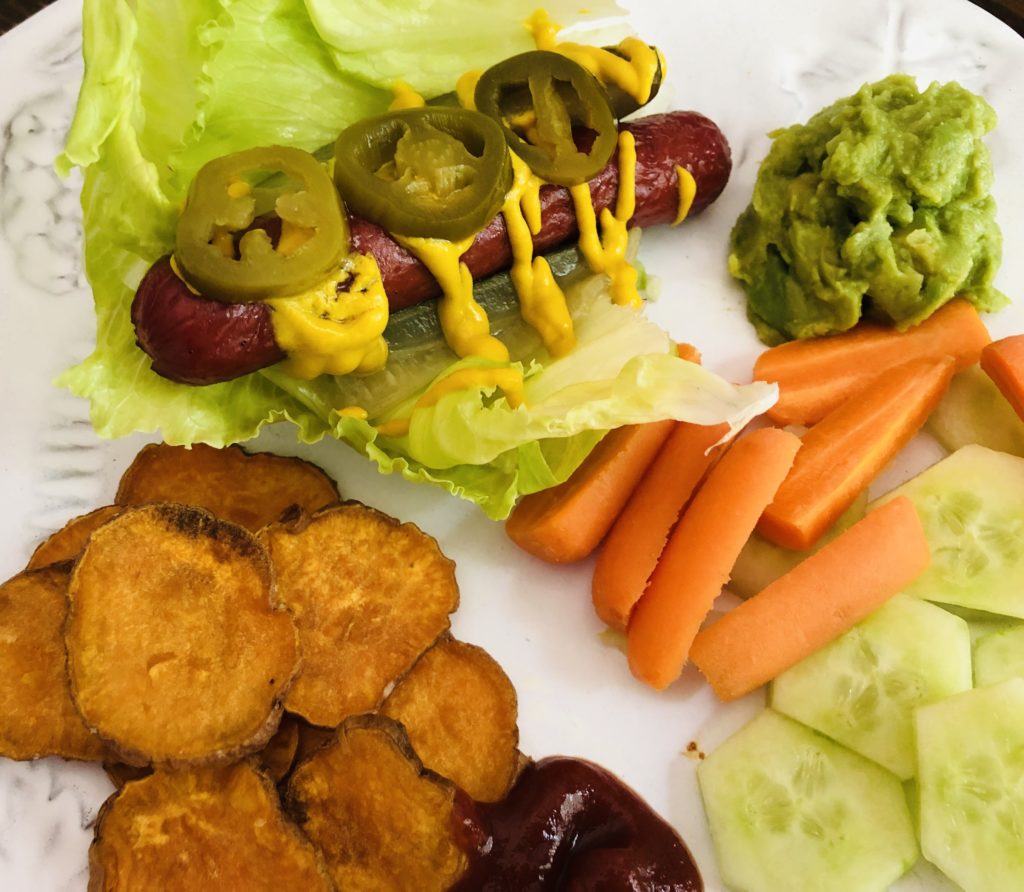 If you are considering the Whole30 program, I hope this is helpful! I like to take pictures of what we are eating. It's like a food journal to me so I can go back and see what we have been eating. It is super helpful if you get in a rut!